This recipe is our vegetarian adaptation of Hoppin' John, a southern dish traditionally served on New Year's Day to bring good luck and wealth in the year ahead. The black-eyed peas, vegetables, and collards are simmered until saucy and fragrant. The stew is served over perfectly cooked white rice and alongside fluffy, rich cornbread. All these delectable elements cook simultaneously so that there is little work to do after your Suvie has finished cooking – a perfect meal to prep the night before and have ready the next night. This dish cooks up spicy, but you can omit the cayenne if you're not a fan. The chili powder adds smokiness without adding too much extra heat. Even if you don't prepare this dish on January 1st, we hope this meal will bring you great fortune any time of year.
Note: do not add water to reservoir before broil
Vegetarian Black Eyed Peas and Collard Stew with Cornbread
Please always check your food to ensure your food has been cooked to safe serving temperatures. Please see our guide
here
for recommended FDA Time & Temperatures.
Servings: 4
Difficulty: 5 hours and 40 minutes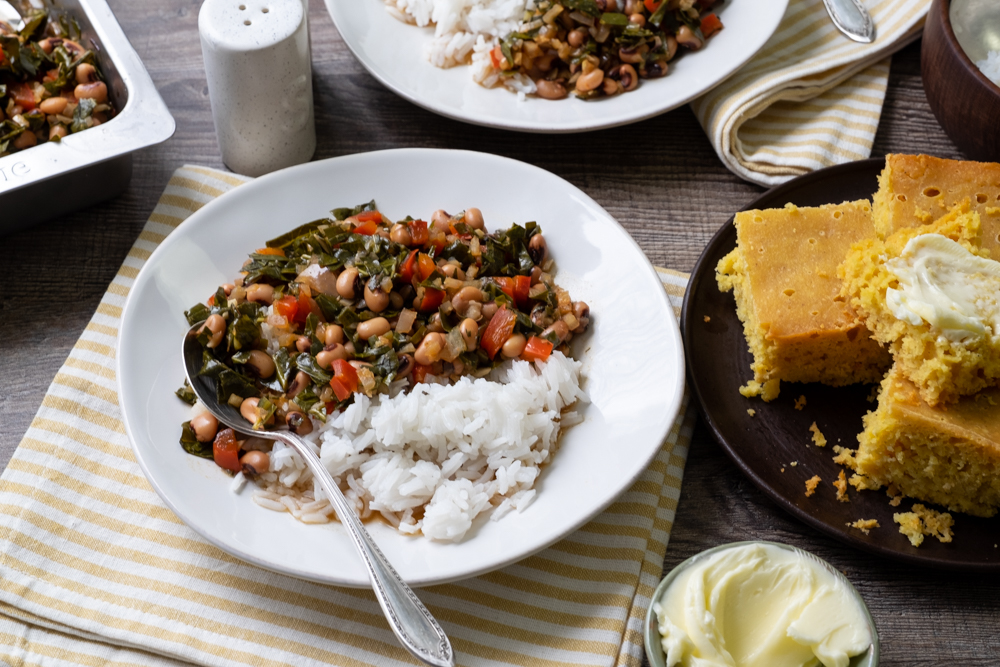 Ingredients
2 garlic cloves
1 half large red onion
1 small jalapeno
1 small red bell pepper
4 oz collard green leaves
1 tbsp fresh ginger, grated
2 tsp chili powder
⅛ tsp cayenne pepper (optional)
1 (14.5 oz) can black-eyed peas, drained and rinsed
1 tbsp olive oil
1 cup vegetable stock
1 cup white rice
3 eggs
½ cup sour cream
1 cup milk, any percentage
2 tbsp honey
1 cup all-purpose flour
1 cup coarsely ground cornmeal
1 tbsp baking powder
2 tsp salt
Butter for serving
Directions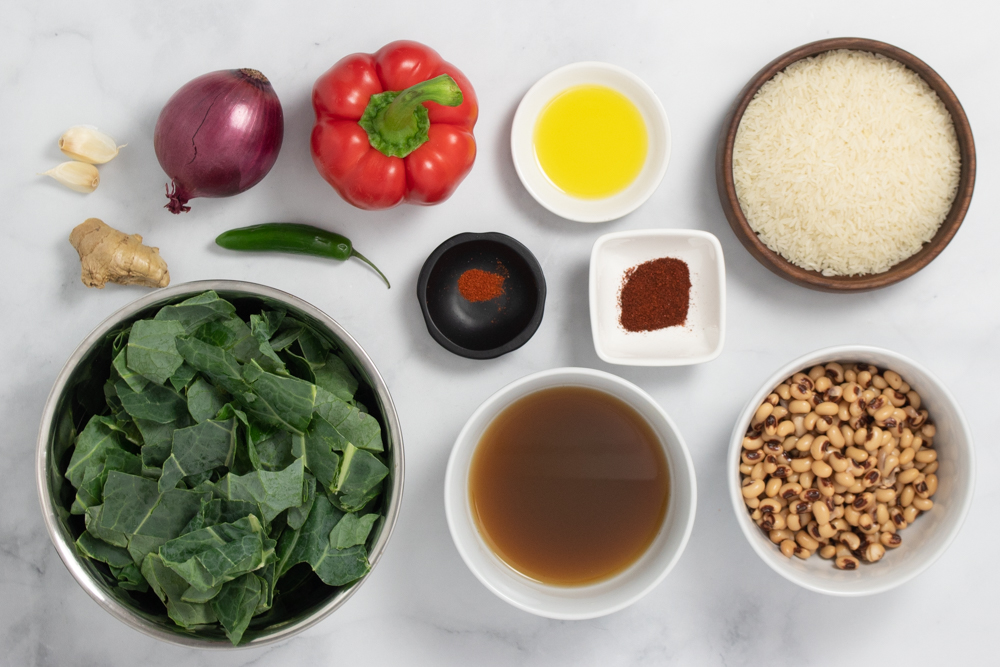 1) Mince the garlic. Finely chop the red onion and jalapeno. Stem and seed the red bell pepper, then cut into ¼" pieces. Massage collards with your hands to soften then finely chop the leaves.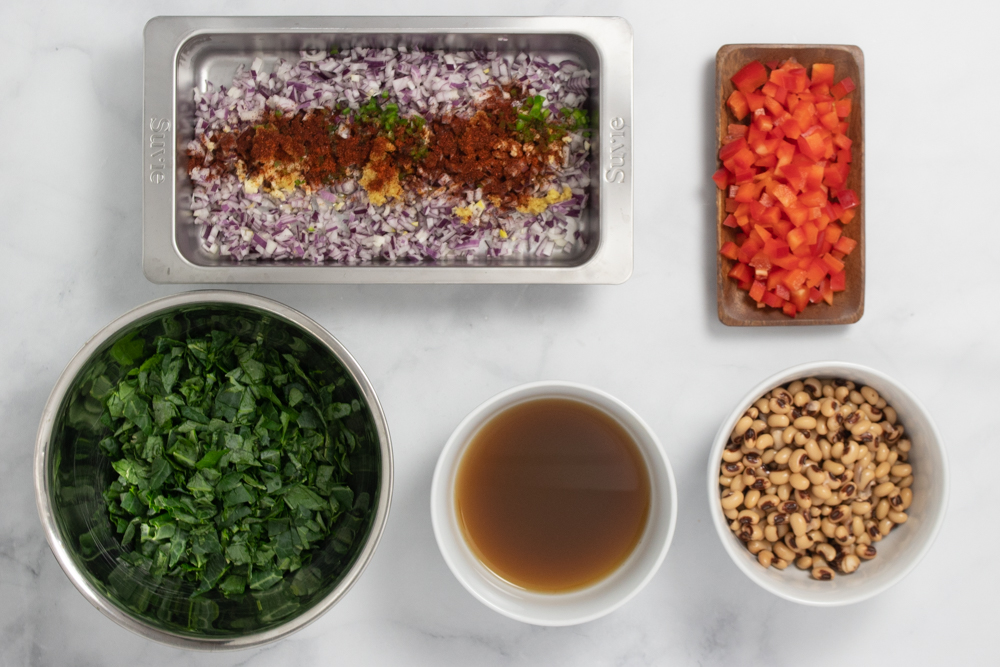 2) Combine olive oil, garlic, red onion, jalapeno, ginger, chili powder, and cayenne pepper in a Suvie pan and broil for 10 minutes. *Do not add water to reservoir before broil*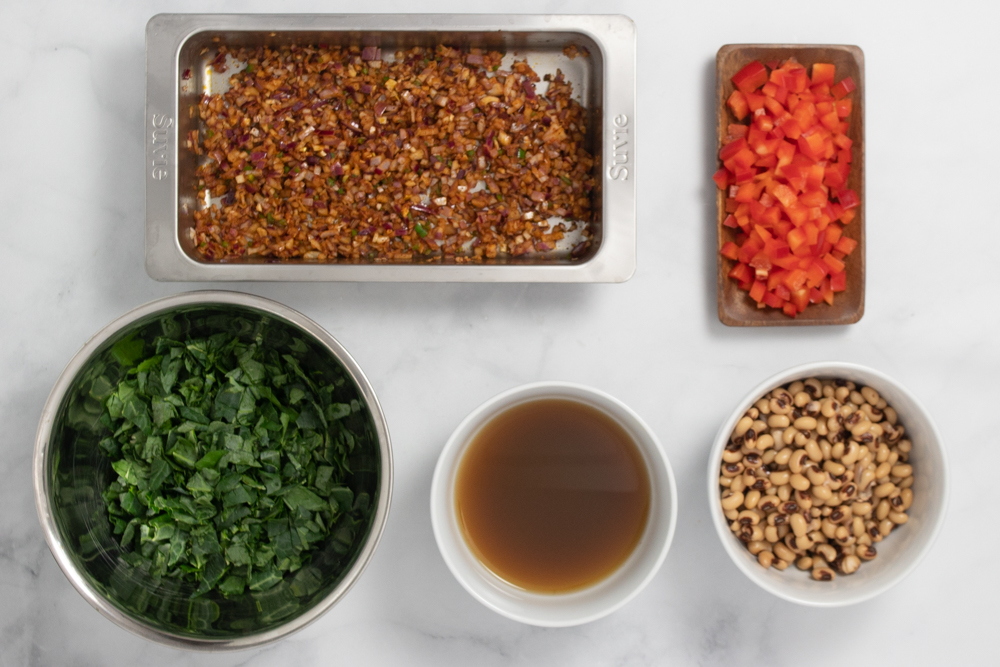 Alternatively, saute in a large skillet over medium heat until softened, about 8 minutes. Stir in the red bell pepper, collards, black-eyed peas, ½ tsp salt and vegetable stock.
3) Transfer to a Suvie pan (if you didn't start with one), cover with foil and insert into the upper right section of your Suvie. Place rice in starch pan and insert into the lower right section of your Suvie.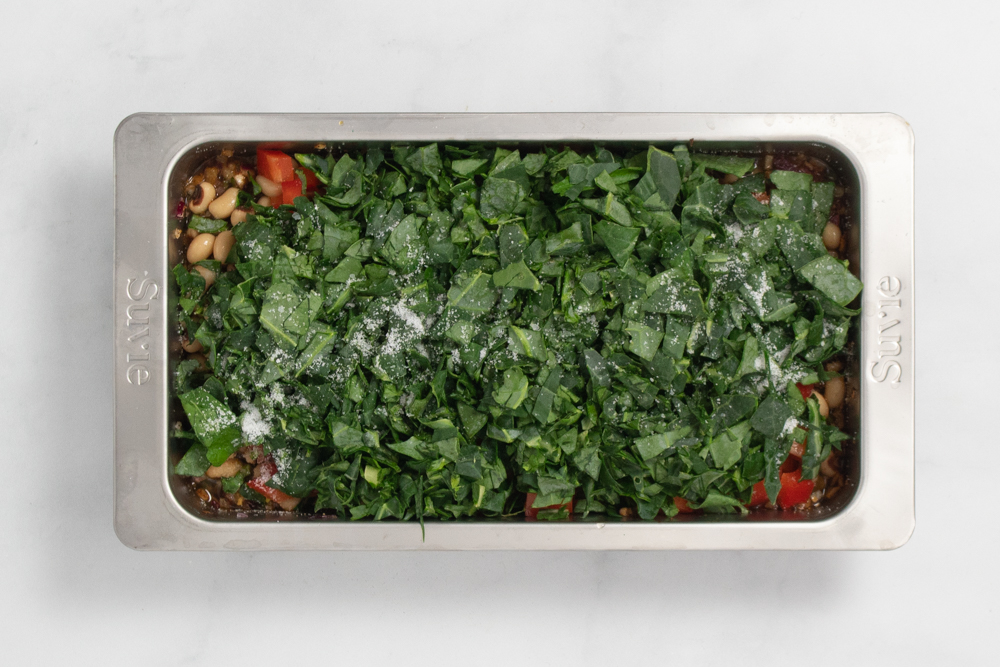 4) In a medium bowl, whisk together eggs, sour cream, milk, and honey. In a large bowl whisk together the flour, cornmeal, baking powder, and salt.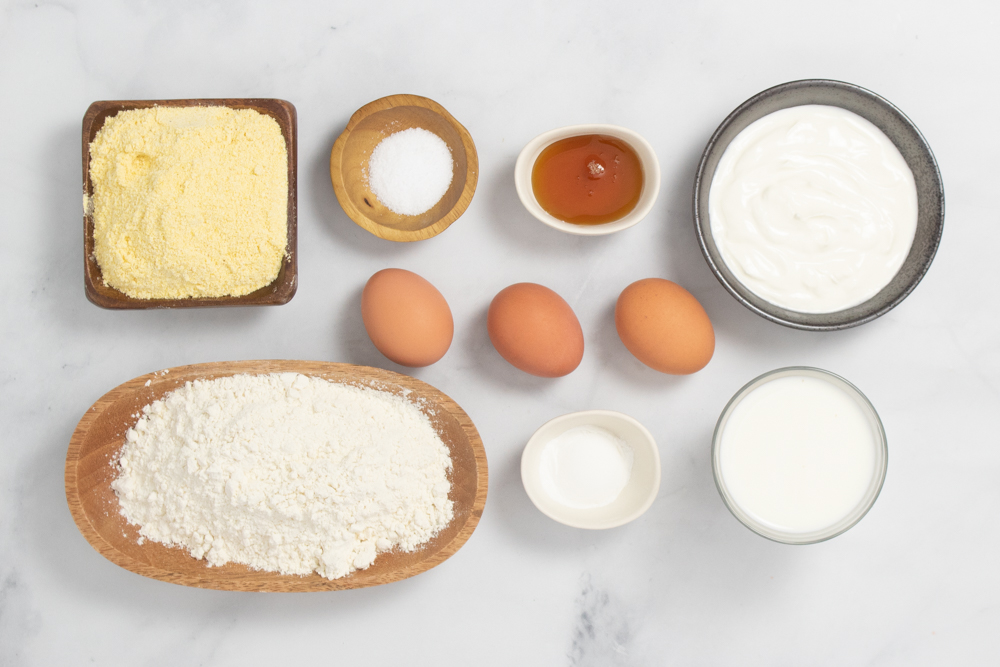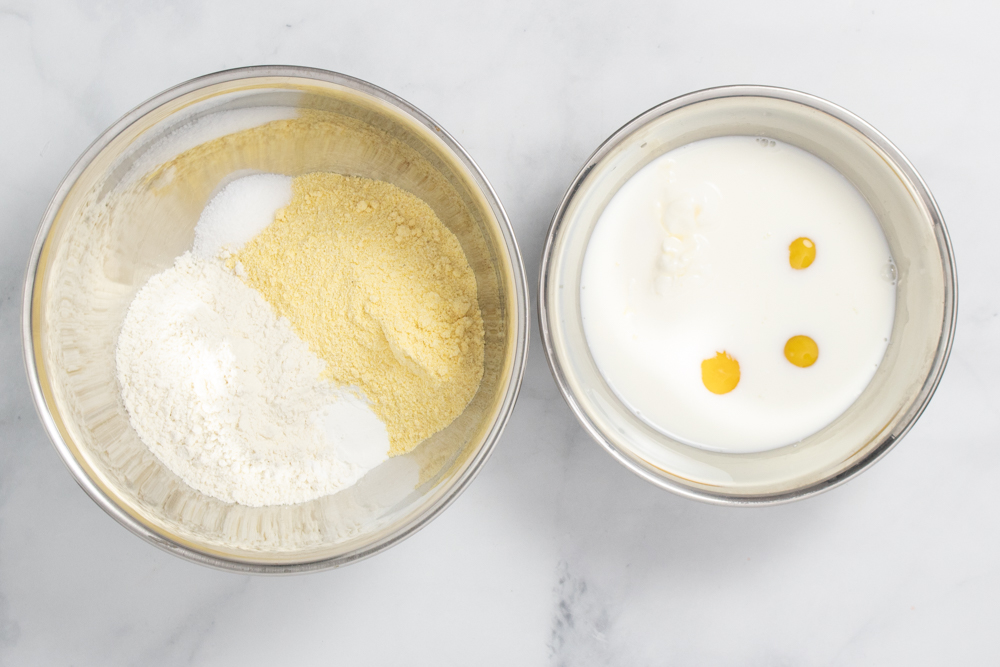 5) Add the wet ingredients to the dry, and stir gently to combine.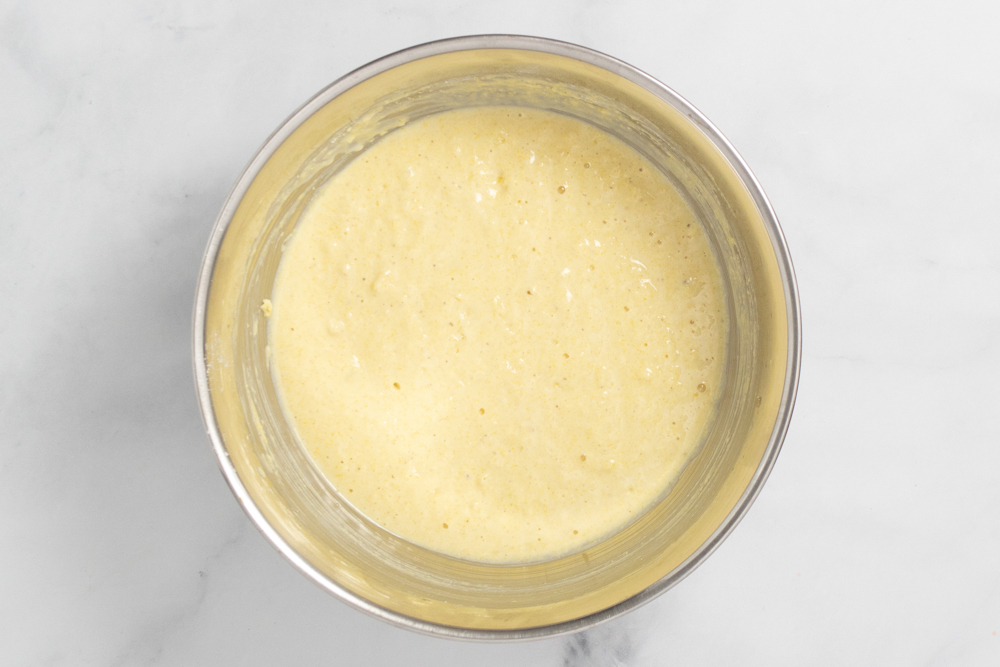 6) Spray a Suvie pan with non-stick cooking spray. Pour the batter into the pan, smoothing the top with a spatula.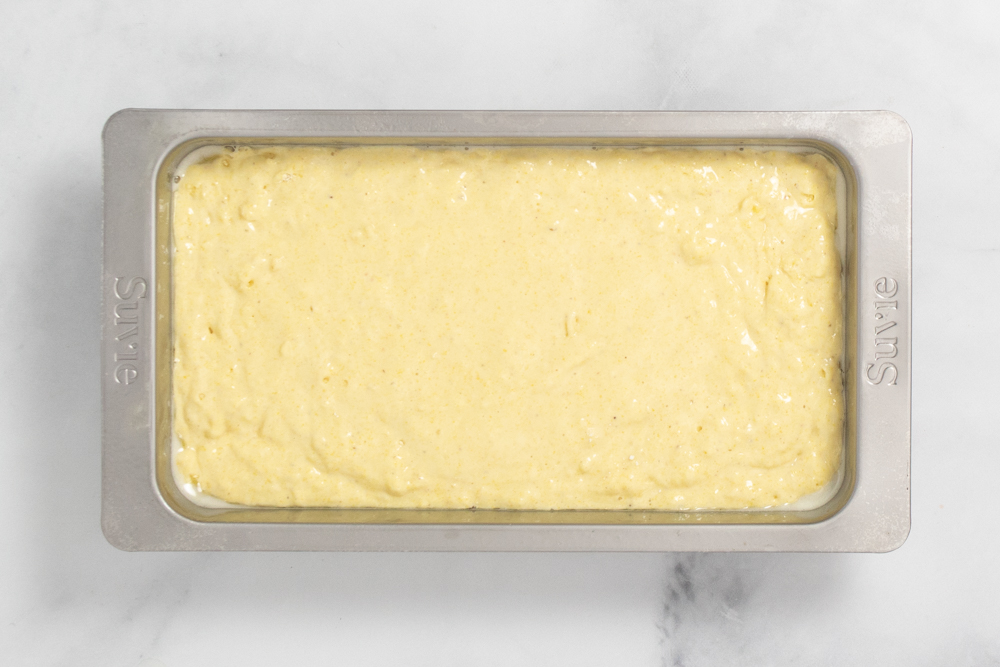 7) Insert pan into the upper left section of your Suvie. Set to cook or schedule.
Slow Cook Settings
LOW 4 hours
Starch: 18 minutes
8) When the black-eyed peas and collards have finished cooking remove from your Suvie and season to taste with salt and pepper.
9) Divide the peas and collards, and rice between 4 plates. Cut cornbread into pieces and serve with butter.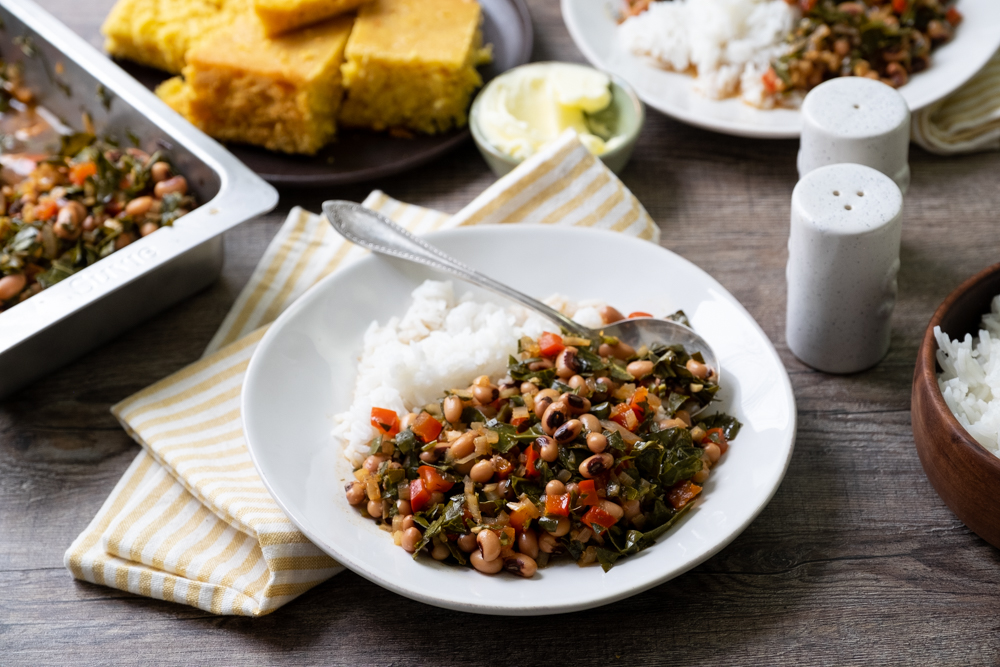 Wine Pairing
Sauvignon Blanc wines tend to have a strong hint of herbaceous and plant-like aromas similar to those found in green peppers, jalapeños, grass, and nettles. These green and herbal notes make Sauvignon Blanc a perfect wine to pair with this dish.