Start the day with this beautifully vibrant and extra fluffy strawberry loaf. We've used fresh and freeze dried strawberries for a juicy burst of flavor and bright pop of color. Greek yogurt does double duty in this recipe, keeping the loaf moist from the inside and adding cool creaminess when used as a spread. 
Strawberry Greek Yogurt Loaf
Please always check your food to ensure your food has been cooked to safe serving temperatures. Please see our guide
here
for recommended FDA Time & Temperatures.
Servings: 16
Difficulty: 1 hour
Ingredients
12 tbsp (1½ sticks) unsalted butter, room temperature
½ cup granulated sugar
1½ tsp vanilla extract
3 large eggs
2½ cups all purpose flour, divided
2 tsp baking powder
1 tsp baking soda
¼ tsp kosher salt
1 cup full fat, plain Greek yogurt
2 cups fresh strawberries, sliced
½ cup freeze dried strawberries
2 tbsp powdered sugar
¼ cup water
Directions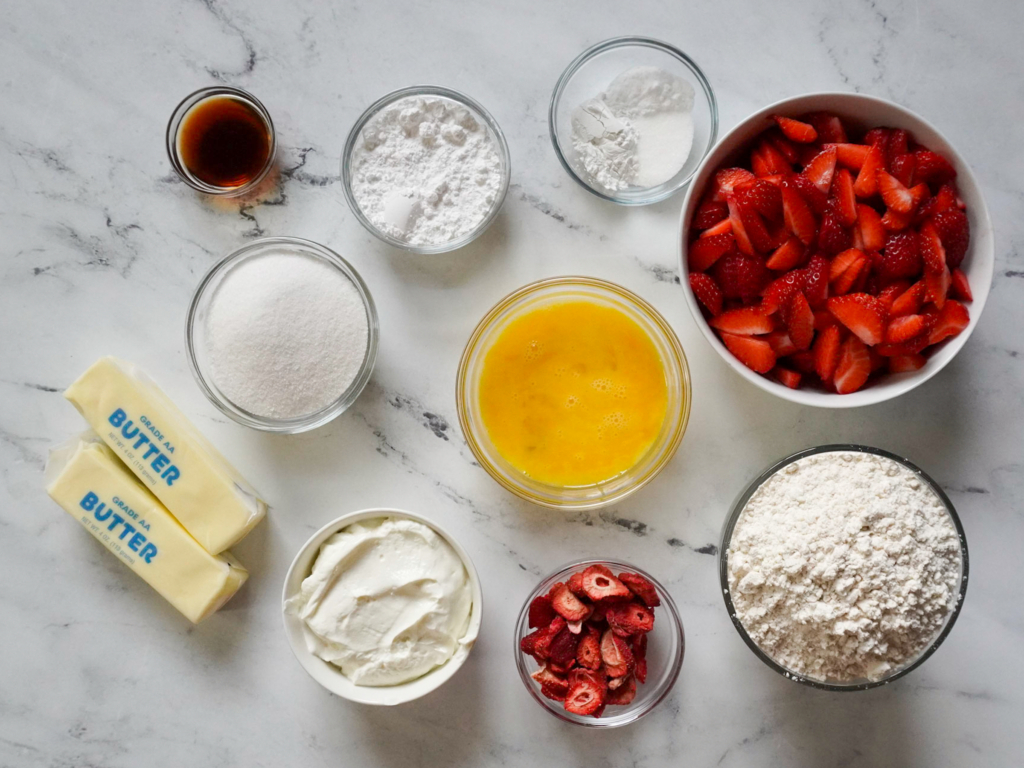 1) Spray a Suvie pan with cooking spray, line with parchment, and mist lightly with additional cooking spray. In the bowl of a stand mixer fitted with a paddle attachment, beat 12 tbsp softened butter and ½ cup granulated sugar on high until light yellow and smooth, about 2 minutes, scraping down the bowl as needed.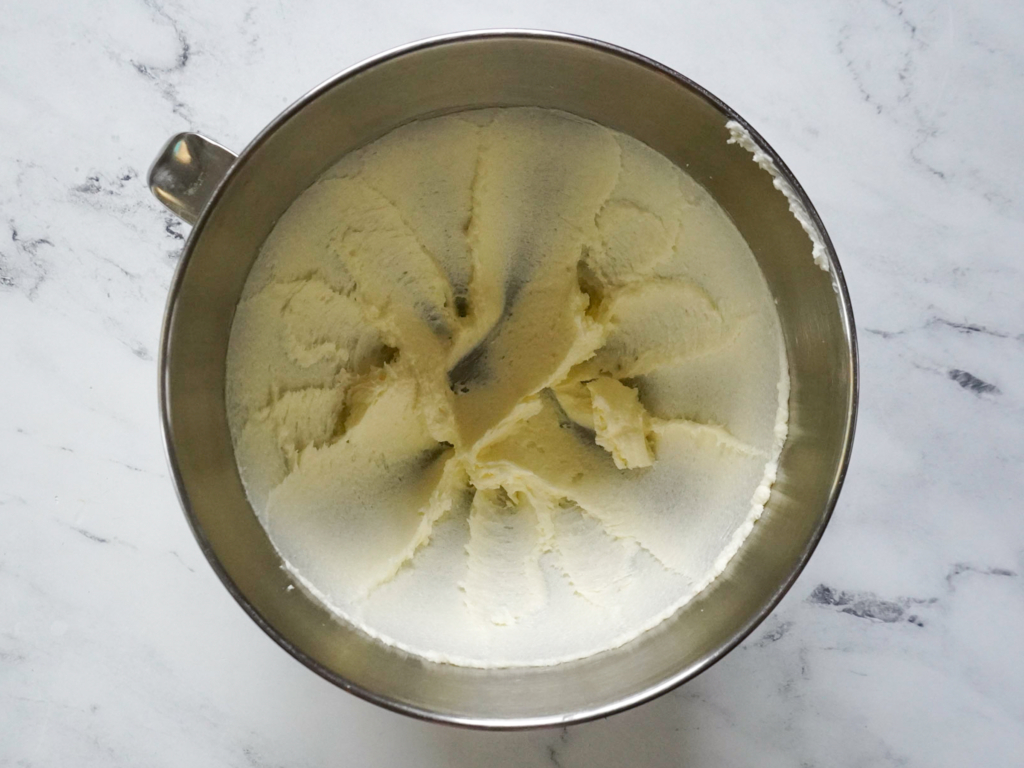 2) Add 1½ tsp vanilla extract and 3 eggs to the butter mixture and beat on medium until fully incorporated, about two minutes.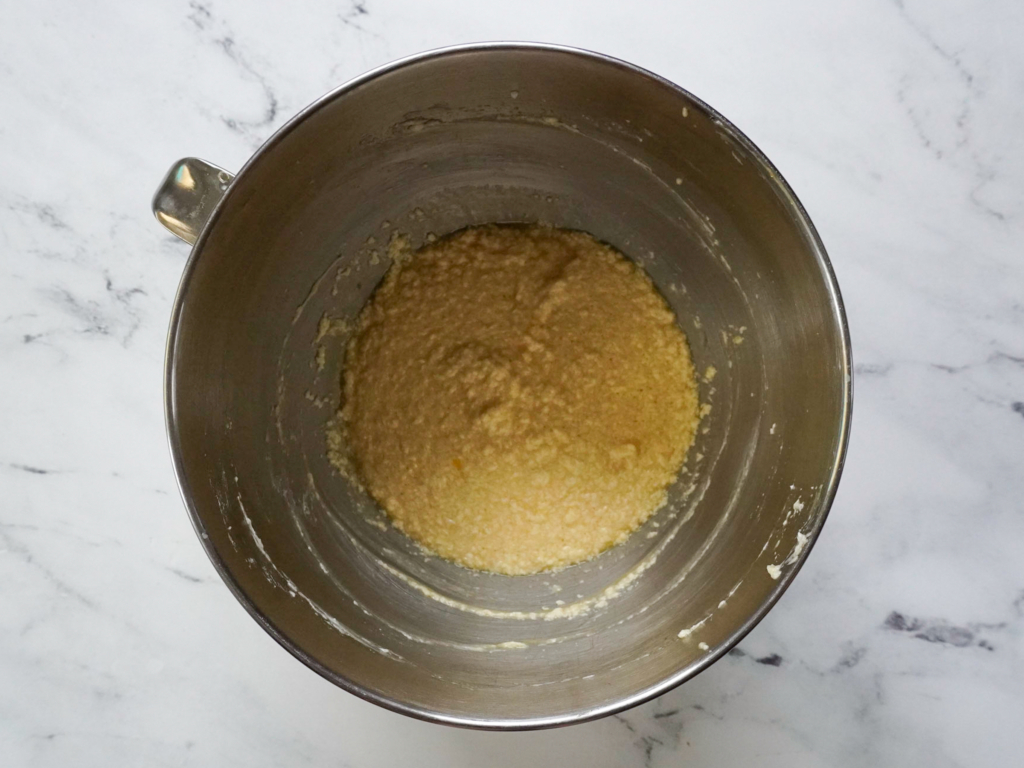 3) In a medium bowl, mix together 2 cups flour, 2 tsp baking powder, 1 tsp baking soda, and ¼ tsp kosher salt.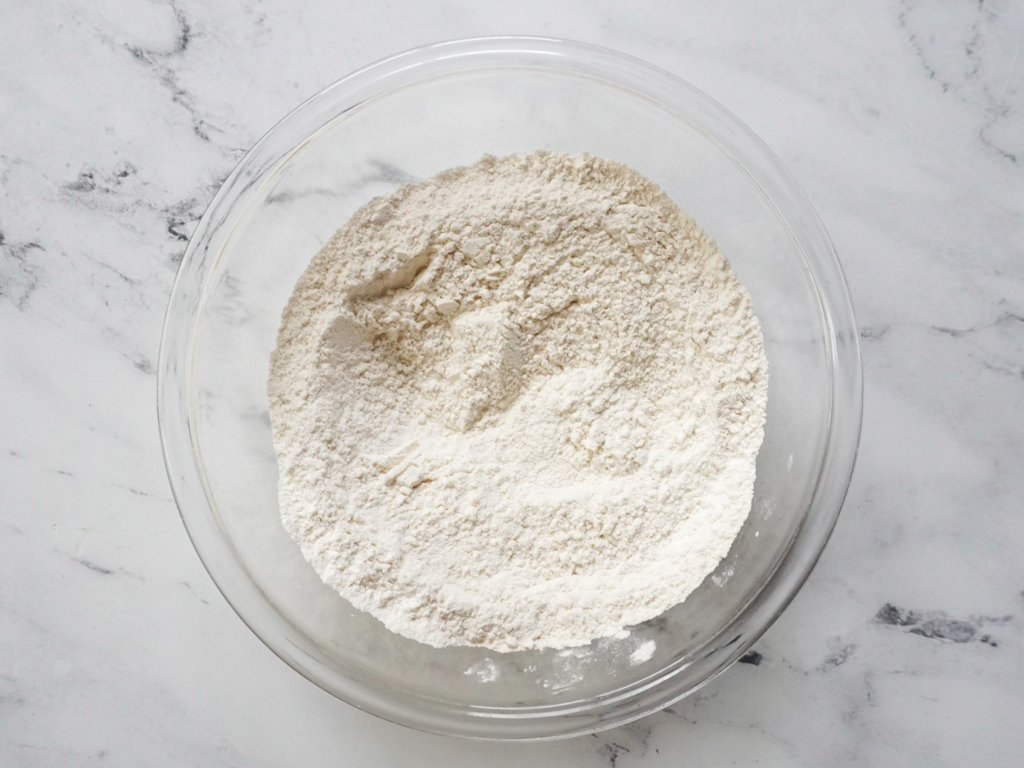 4) Reduce mixer speed to low. Alternate adding flour mixture and 1 cup Greek yogurt to the butter mixture, allowing each to be incorporated before adding the next, about 30 seconds each. Once all flour and yogurt has been added, increase speed to medium-high and beat until smooth, about 1 minute, scraping down the bowl as needed.
5) In a large bowl, coat the 2 cups fresh strawberries in remaining ½ cup flour. Add the strawberries to the batter and mix on low for 30 seconds, until fully incorporated.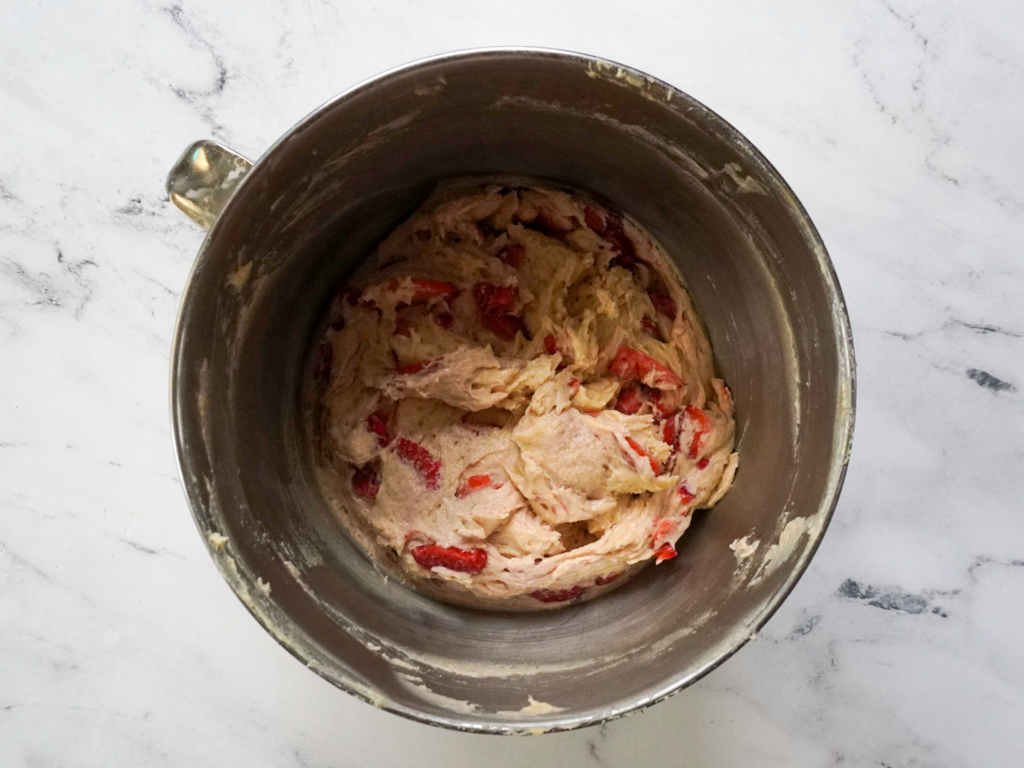 6) Scrape down the sides of the bowl with a rubber spatula. Add the batter to the prepared pan and place in the bottom zone of Suvie. Input settings and cook now. Cover loaf with foil after 15 minutes of baking.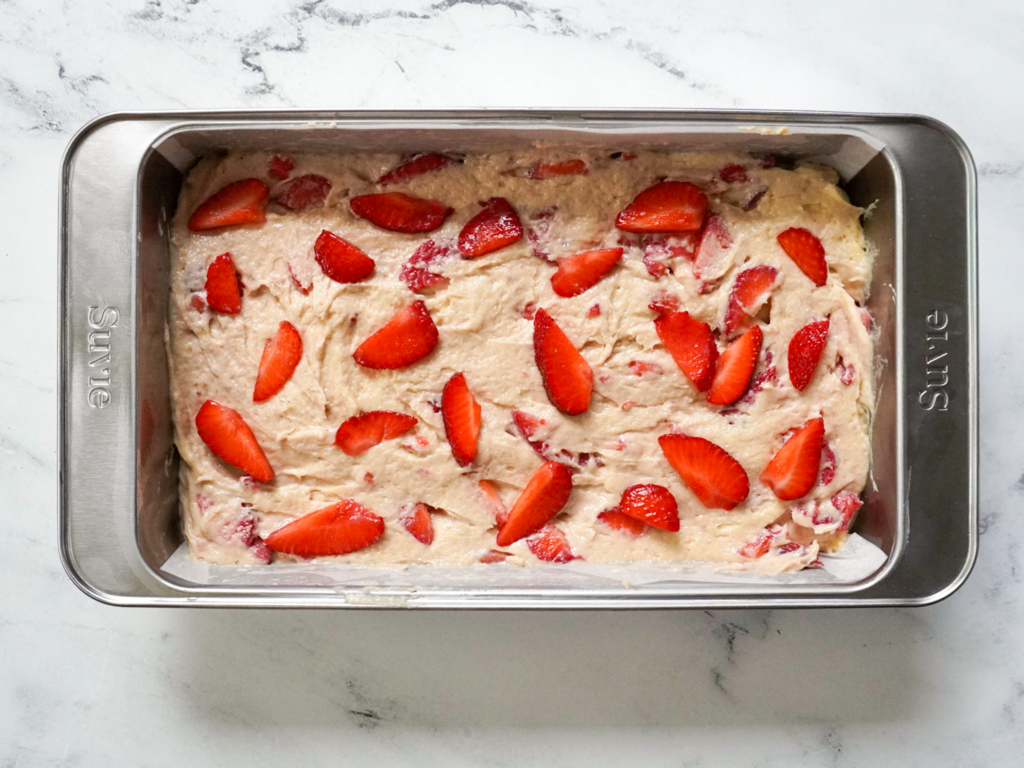 Suvie Cook Settings
Bottom Zone: Bake at 350°F for 1 hour (for Suvie 2.0, Bake at 400°F for 1 hour)
Top Zone: None
7) While the loaf bakes, add ½ cup freeze dried strawberries to a food processor and run for 1 minute, until strawberries become a uniform powder. In a medium bowl, combine strawberry powder with 2 tbsp powdered sugar and 1/4 cup water.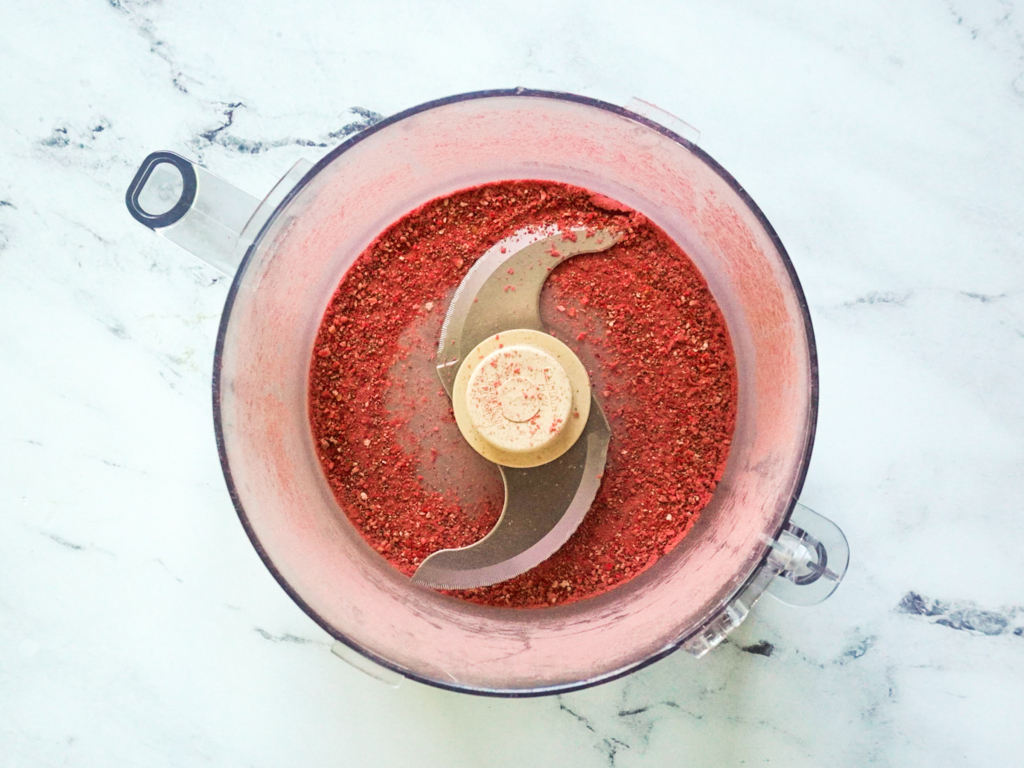 8) After the loaf has baked, remove from Suvie and allow to cool 15 minutes in pan. Remove loaf from pan with parchment slings. Top with strawberry glaze, slice, and serve.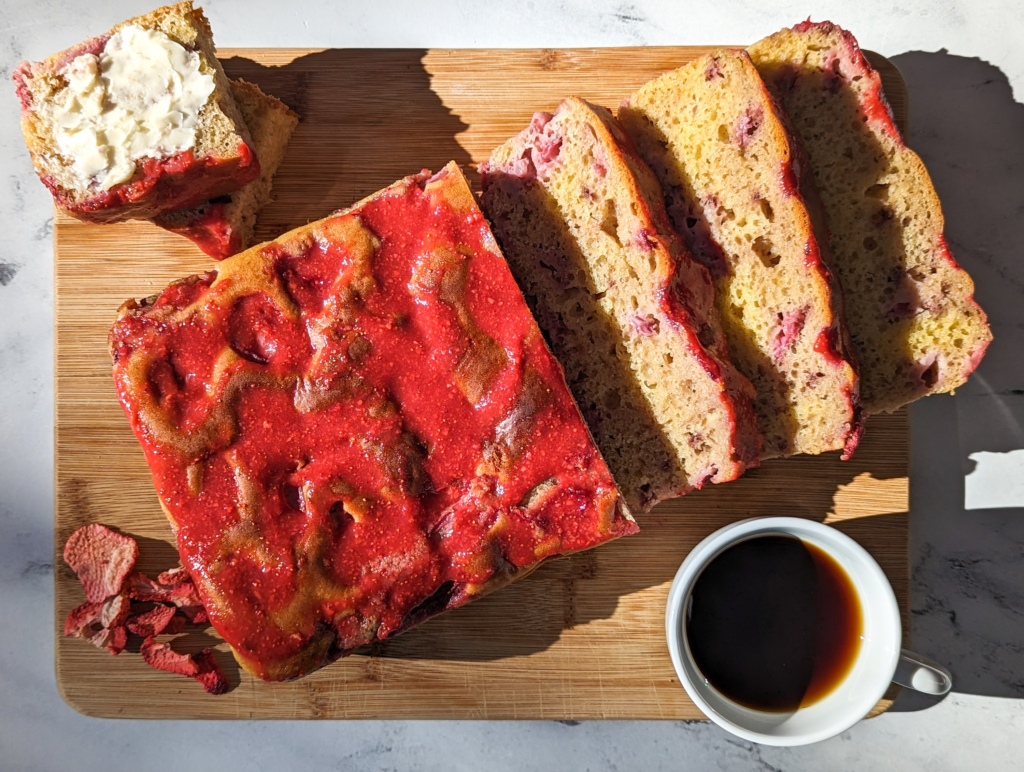 Nutrition
Nutritional Information per serving (16 servings per recipe): Calories 204, Total Fat 10.1g, Total Carbohydrates 23.2g, Total Sodium 187.8mg, Total Protein 4.3g