Whether you're making brisket or barbacoa it's always nice to have a couple side dishes to round out your barbecue. Ample amounts of mustard and dill pickles make this Texas-style potato salad tangy and pungent. Mayonnaise, however, adds a creaminess that keeps this dish from going into mouth-puckering territory. The cornbread is savory, cheesy, spicy, and southern style, which means unlike northern style cornbread there is no sugar. If you wanted to drizzle a little honey on your finished cornbread, we could probably forgive you, but most Texans won't!
Texas Sides: Potato Salad and Cheesy Jalapeño Cornbread
Please always check your food to ensure your food has been cooked to safe serving temperatures. Please see our guide
here
for recommended FDA Time & Temperatures.
Servings: 6-8
Difficulty: 2 hours and 30 minutes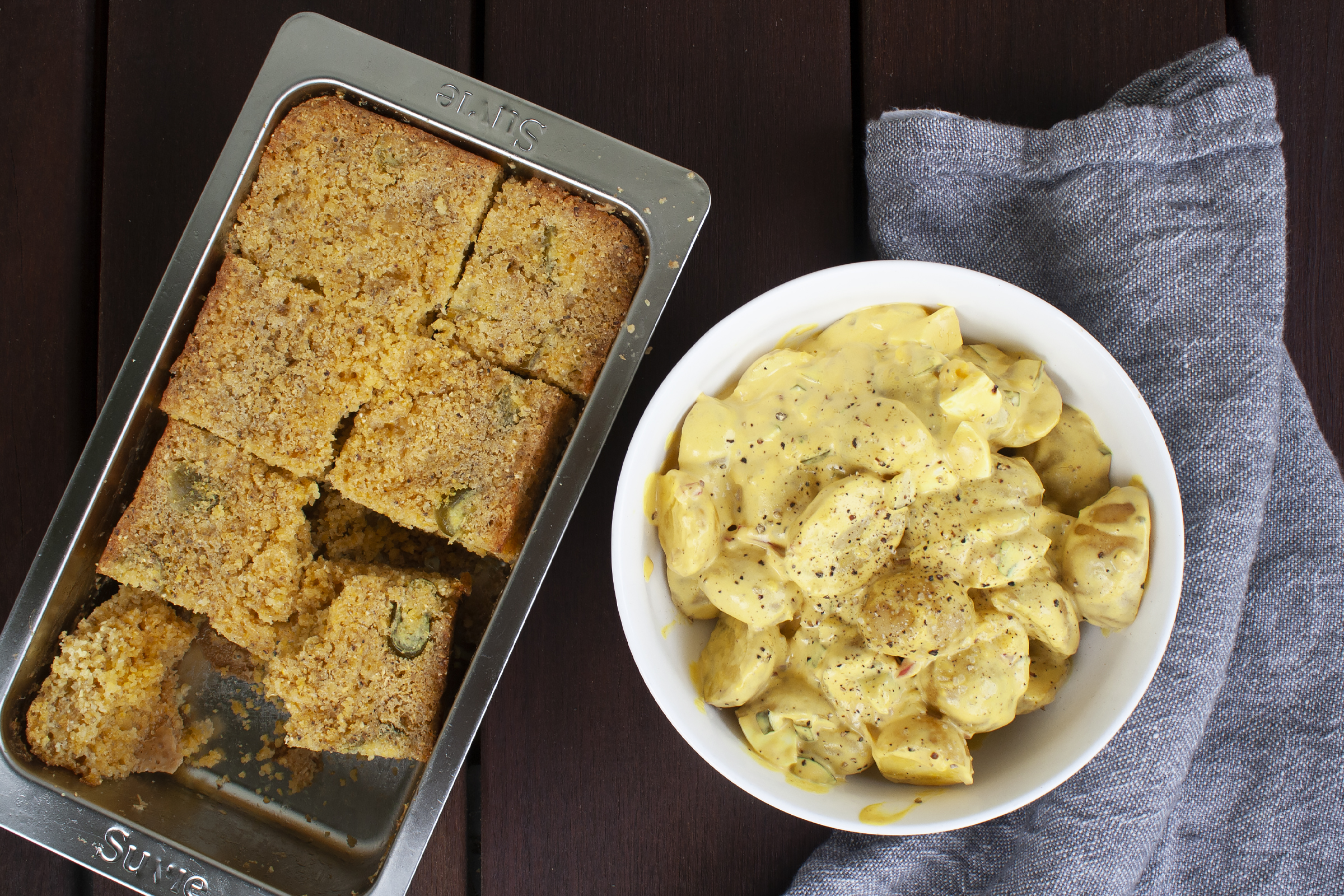 Ingredients
For the Potato Salad
1 lb baby or spring potatoes
3 tbsp mayonnaise
3 tbsp yellow mustard
1 tbsp red wine vinegar
1 hard boiled egg, roughly chopped
¼ cup dill pickles, chopped
2 tbsp finely chopped red onion
For the Cornbread
2 cups cornmeal
1 tsp baking soda
1 tsp baking powder
¾ tsp salt
1 ¾ cups milk
4 tbsp butter, melted
2 large eggs
¼ cup sliced, pickled jalapenos
1 cup shredded cheddar cheese
Directions
1) Whisk together 2 cups cornmeal, 1 tsp baking soda, 1 tsp baking powder, and 3/4 tsp salt in a large bowl. In a separate bowl, whisk together 1 3/4 cups milk, 4 tbsp melted butter, and 2 eggs. Add the milk mixture to the cornmeal, stirring to incorporate.
2) Stir in 1/4 cup jalapeños and 1 cup cheese. Pour mixture into a greased and parchment-lined Suvie pan. Place pan the bottom zone of Suvie. Input settings, and cook now or schedule.
Suvie Cook Settings
Bottom Zone: Slow Cook High for 2 hours
3) Place 1 lb potatoes in the Suvie starch strainer set within the Suvie pasta pot (green handles). Cover pot with lid and place inside the Suvie Starch Cooker, ensuring the pot is centered on the lid. Input settings and cook now or schedule.
Suvie Starch Cooker Settings
Potatoes, Uncut, 60 minutes
4) Meanwhile, whisk together 3 tbsp mayonnaise, 3 tbsp mustard, 1 tbsp red wine vinegar, and 1 tsp salt until smooth. Gently stir in 1/4 cup pickles, 2 tbsp red onion and egg. Place bowl in the refrigerator until the potatoes have finished cooking.
5) Once the potatoes have finished cooking, cut potatoes in half and add to the bowl with the mayonnaise mixture, tossing to coat. Season potato salad to taste generously with salt and pepper.
6) Remove cornbread from Suvie pan, cut into slices, and serve.
Nutrition
Nutritional Information per serving (6 servings per recipe): Calories 500, Total Fat 23g, Total Carbohydrates 59g, Total Sodium 822mg, Total Protein 16g