This light fish recipe is a bright alternative to heavy cold weather dishes. White fish, with its mild flavor, adapts well to any sauce and is a great canvas for fresh tomatoes and citrusy lemon juice. This sauce also soaks into the wild rice and green beans making it an easy preparation dish as you don't have to season each component separately. If you're serving this dish to kids or people sensitive to alcohol, skip the white wine as the alcohol might not all cook-off during the broil. Tuck in and enjoy this healthy and light fish recipe any time of year.
Note: good tomatoes can be difficult to find in the winter months. We recommend opting for local vine-ripened tomatoes grown indoors over tomatoes shipped internationally. They will be a little bit more expensive but for a tomato-forward dish such as this, good tomatoes are worth it.
Tomato-Basil Halibut with Wild Rice and Green Beans
Please always check your food to ensure your food has been cooked to safe serving temperatures. Please see our guide
here
for recommended FDA Time & Temperatures.
Servings: 4
Difficulty: 2 hours and 15 minutes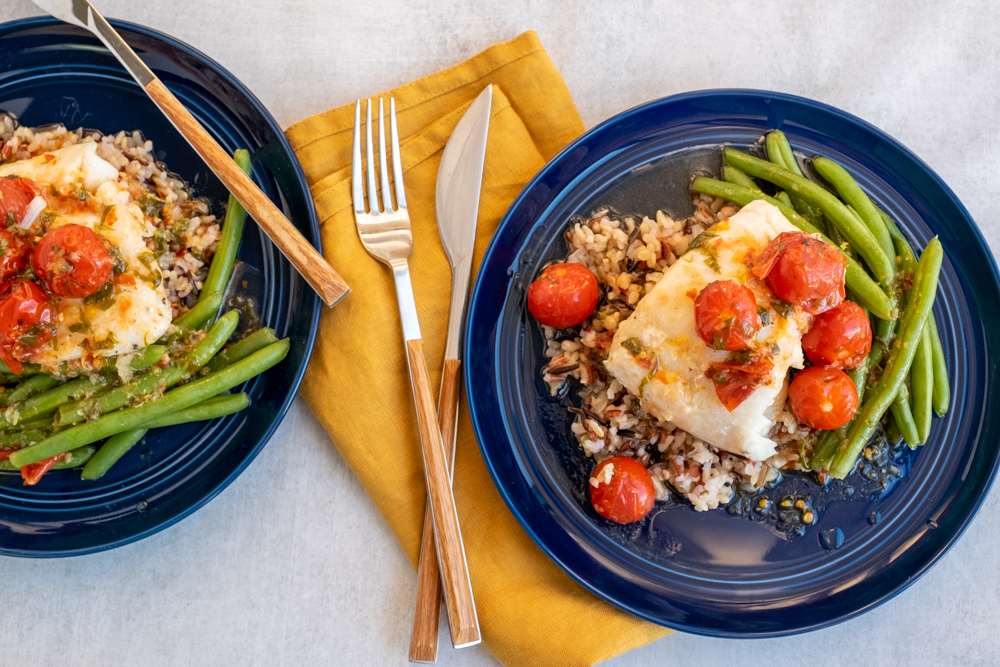 Ingredients
3 tbsp olive oil, divided
¼ tsp fresh ground black pepper (more to taste)
1 lb fresh halibut, cut into 4 fillets (or four 4 oz fillets, can use any other white fish)
⅔ cup wild rice
8 oz green beans
½ tsp crushed red pepper flakes (omit if sensitive to spice)
2 large cloves garlic, finely minced
1 pint cherry tomatoes
¼ cup dry white wine
½ cup fresh basil, finely chopped
2 tbsp fresh lemon juice
½ tsp fresh lemon zest
1½ tsp sugar
Directions
Pat halibut dry and sprinkle with salt and pepper. Add the halibut and 2 tbsp olive oil to a vacuum-sealed bag and seal (here's our DIY vacuum-sealer guide). Add to a Suvie pan, fill pan with enough water to cover the fish and load into upper right zone of Suvie.
Pour wild rice and 2 tsp salt into starch pan and load into starch zone. Add green beans to another Suvie pan and load into upper left zone of Suvie.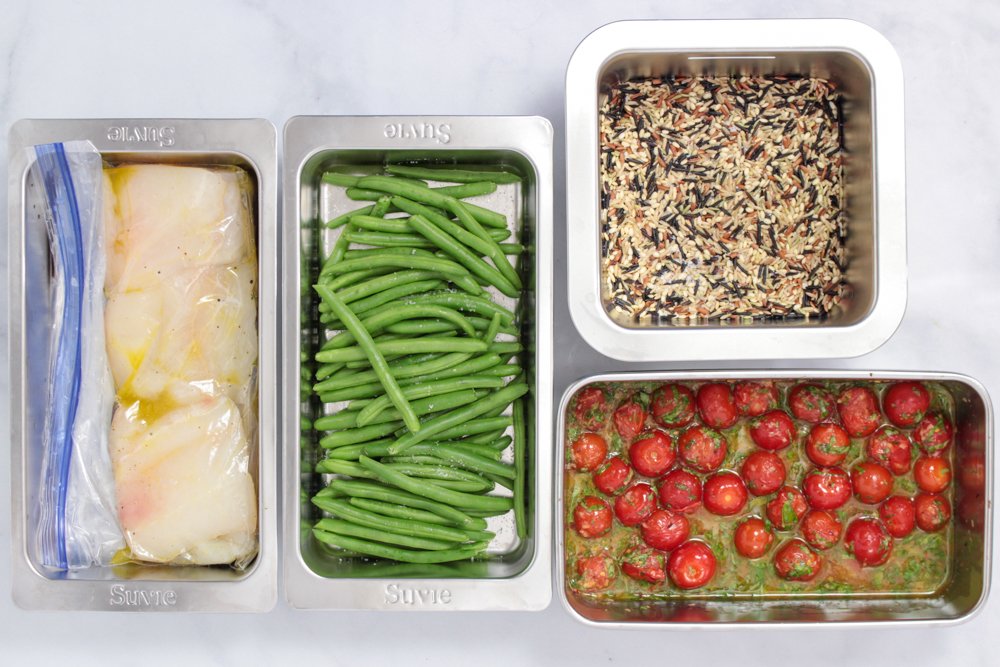 Fill reservoir, enter cook settings and cook now or schedule.
My Cook > Multi-Zone
Protein: 130 degrees, 45 minutes
Veg: 8 min
Starch: 45 min
During the cook combine 1 tbsp olive oil, red pepper flakes, garlic, tomatoes, white wine, basil, lemon juice, lemon zest, sugar, ½ tsp salt, and ¼ tsp pepper in a Suvie pan.
After the cook, remove the green beans and halibut from Suvie. Drain the water from the halibut pan and excess water in the green beans pan. Toss green beans with a drizzle of olive oil and salt and pepper to taste.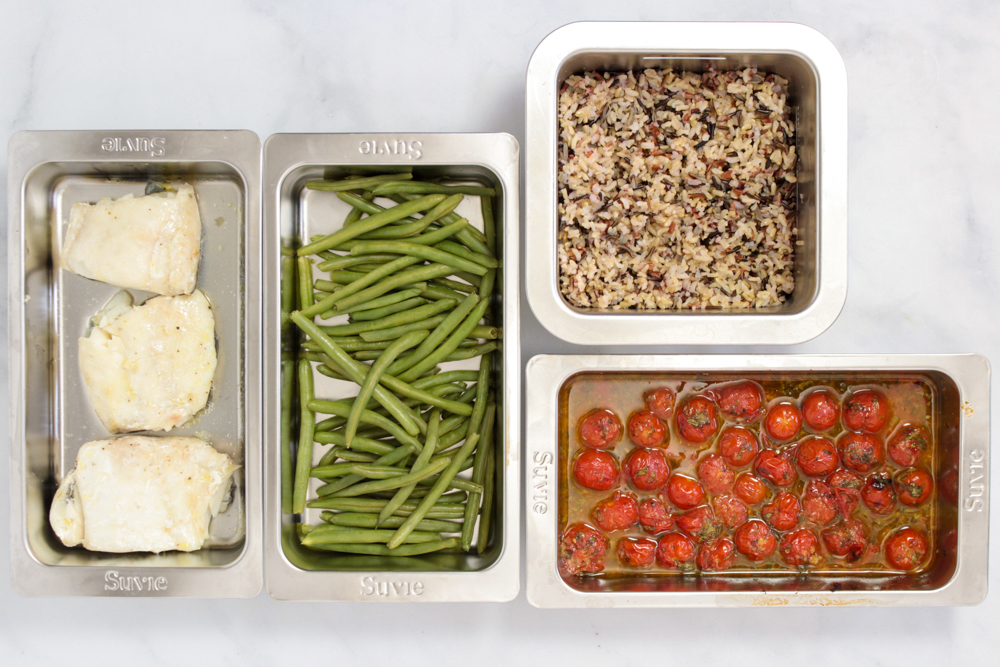 Load pan with green beans and pan with tomatoes into Suvie and broil for 10 minutes, stirring halfway through the broil.
After the broil, remove pans from Suvie. Divide the rice and green beans between four plates. Top with the halibut and then the tomato sauce.