Tortilla soup is a flavorful tomato-based soup that is packed with vegetables and fried corn tortillas. Originally hailing from Mexico City, tortilla soup is known for the wide array of garnishes that it is traditionally served with such as pieces of avocado, cheese, chiles, and sour cream. In the United States tortilla soup is often made with chicken; however, we have opted to forgo meat in order to let the flavor of the vegetables shine. Is desired, thin strips of chicken breast can be added in Step 2 with the broth.
Note: If you would like to schedule this meal and do not want to wait for the broiler to cool before refrigerating, saute the onion, jalapeno, garlic, chile powder, vegetable oil, and 1 tsp salt in a large skillet over medium-high heat until softened, about 6 minutes, instead of broiling in Step 1.
Tortilla Soup
Please always check your food to ensure your food has been cooked to safe serving temperatures. Please see our guide
here
for recommended FDA Time & Temperatures.
Servings: 4
Difficulty: 3 hours and 50 minutes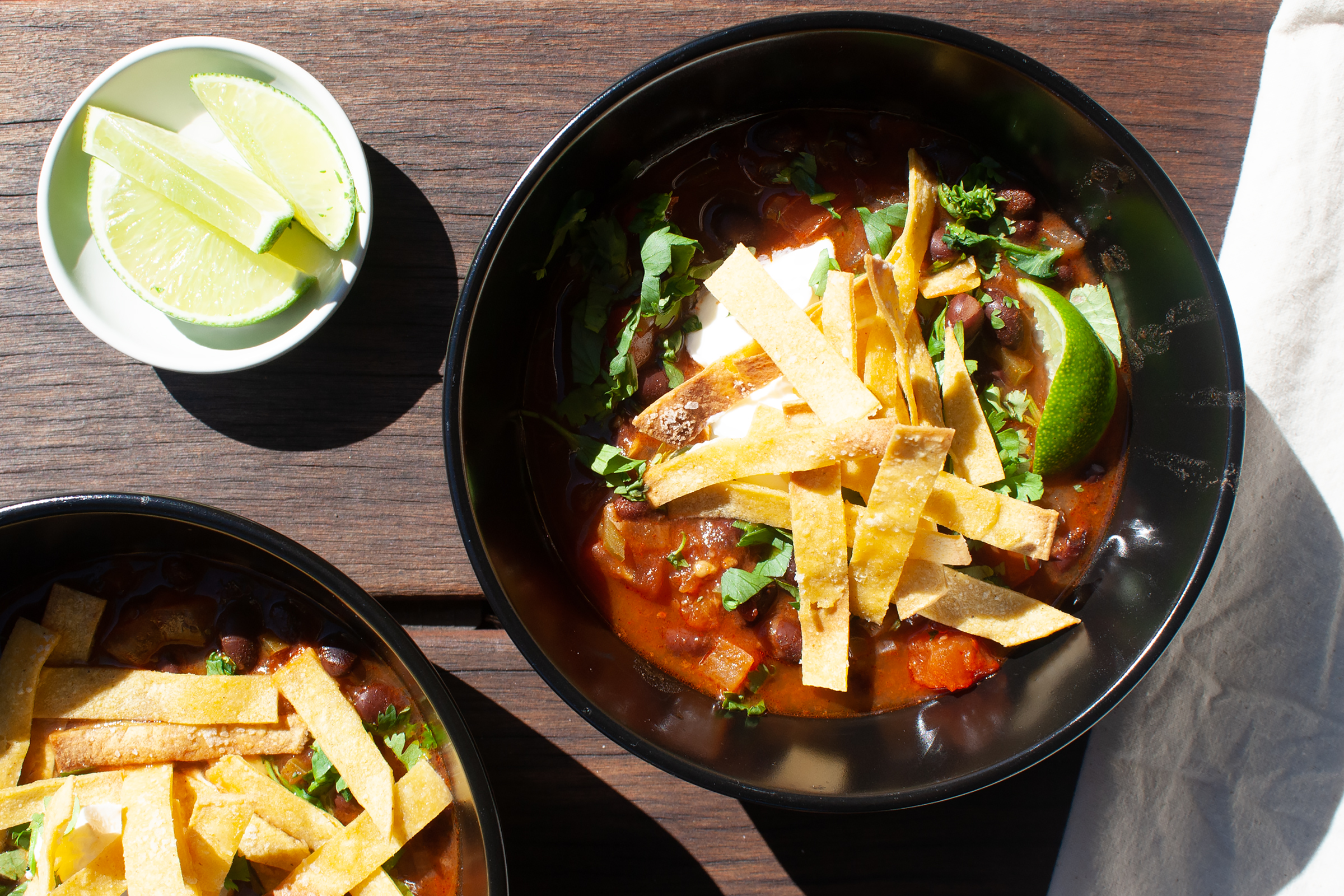 Ingredients
1 cup finely chopped white onion
1 jalapeno, stemmed, seeded, and minced
2 garlic cloves, minced
1 tsp chile powder
2 tsp vegetable oil
1 chipotle chile in adobo, minced, plus 1 tbsp sauce
1 tbsp tomato paste
1 large tomato, cored and roughly chopped
4 cups vegetable broth
1 (15 oz) can black beans, drained and rinsed
2 corn tortillas
Optional Garnishes: diced avocado, chopped cilantro, lime juice, sour cream
Directions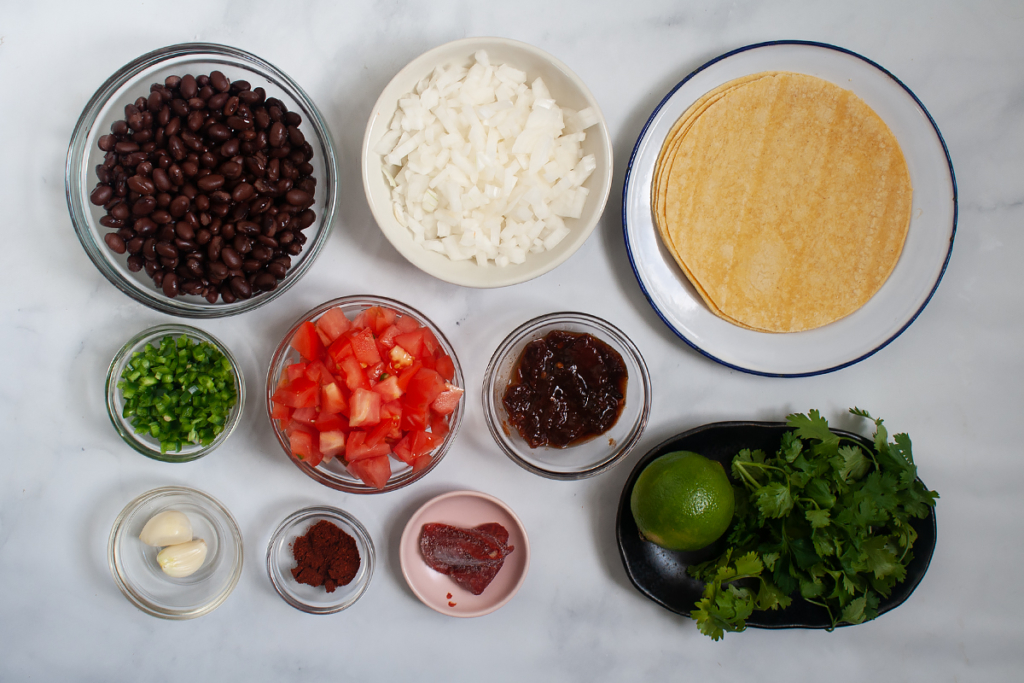 1) Stir together white onion, jalapeno, garlic, chile powder, vegetable oil, and 1 tsp salt in a Suvie pan. Insert pan into your Suvie and Roast at 400°F for 15 minutes, stirring occasionally, until softened.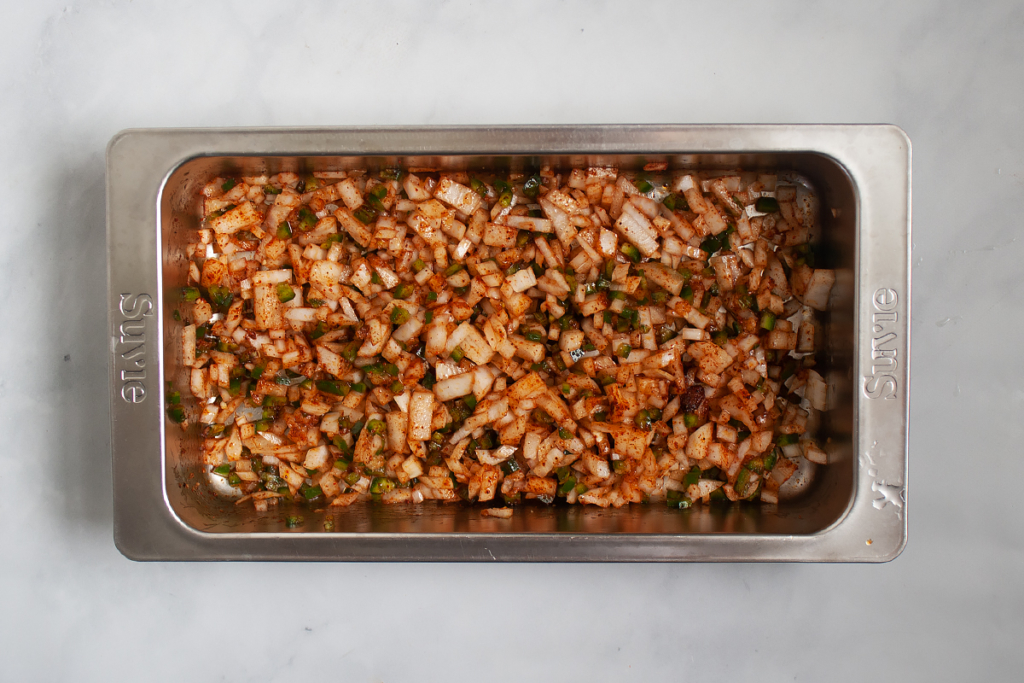 2) Remove pan from your Suvie and stir in chipotle chile, tomato paste, tomato, vegetable broth, and black beans.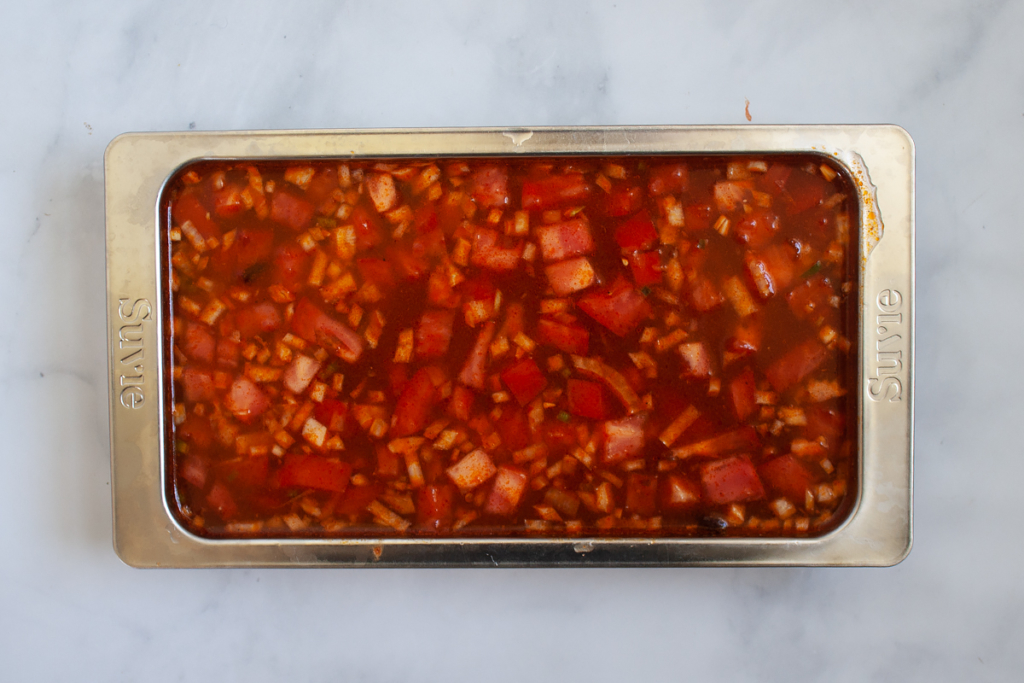 Stir to incorporate and return to your Suvie. Input settings, and cook now or schedule.
Suvie Cook Settings
Bottom Zone: Slow Cook High for 2 hours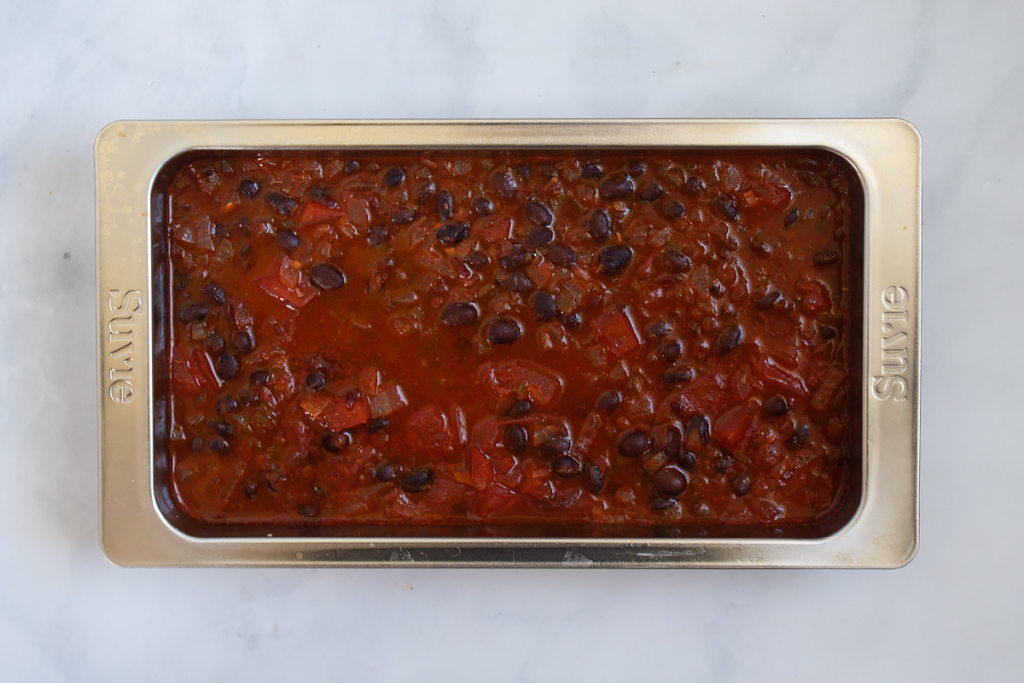 3) Remove pan from your Suvie and cover to keep warm. Cut tortillas in half and then cut into ½-inch wide strips.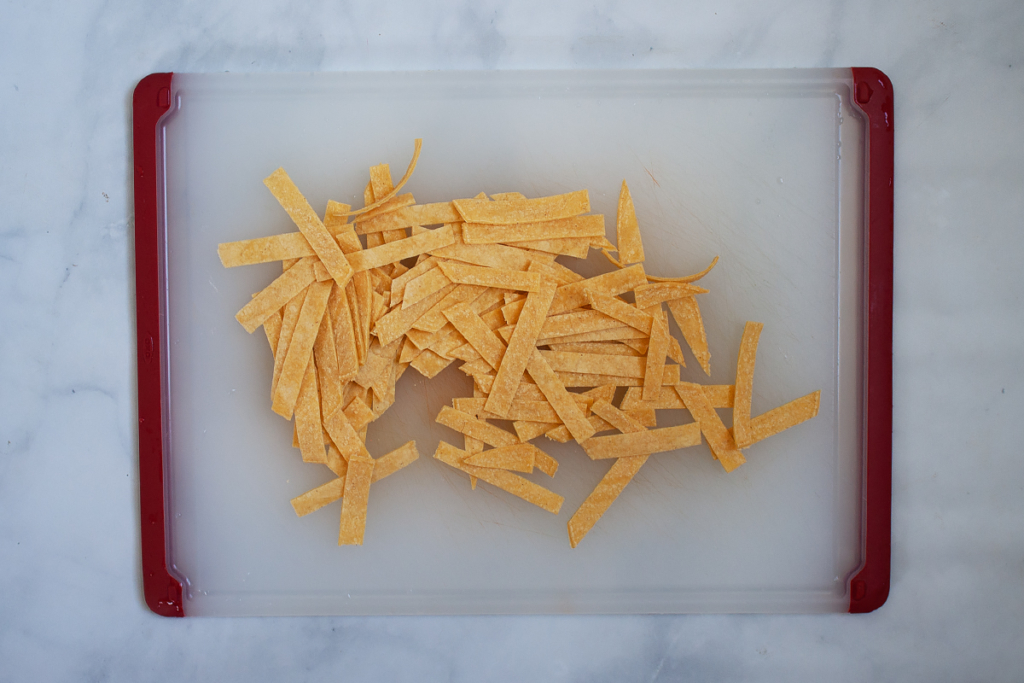 Spray tortillas with cooking spray, sprinkle with table salt and assemble in a single layer between 2 Suvie pans. Insert pans into your Suvie and broil for 10 minutes, rotating pans halfway through cooking.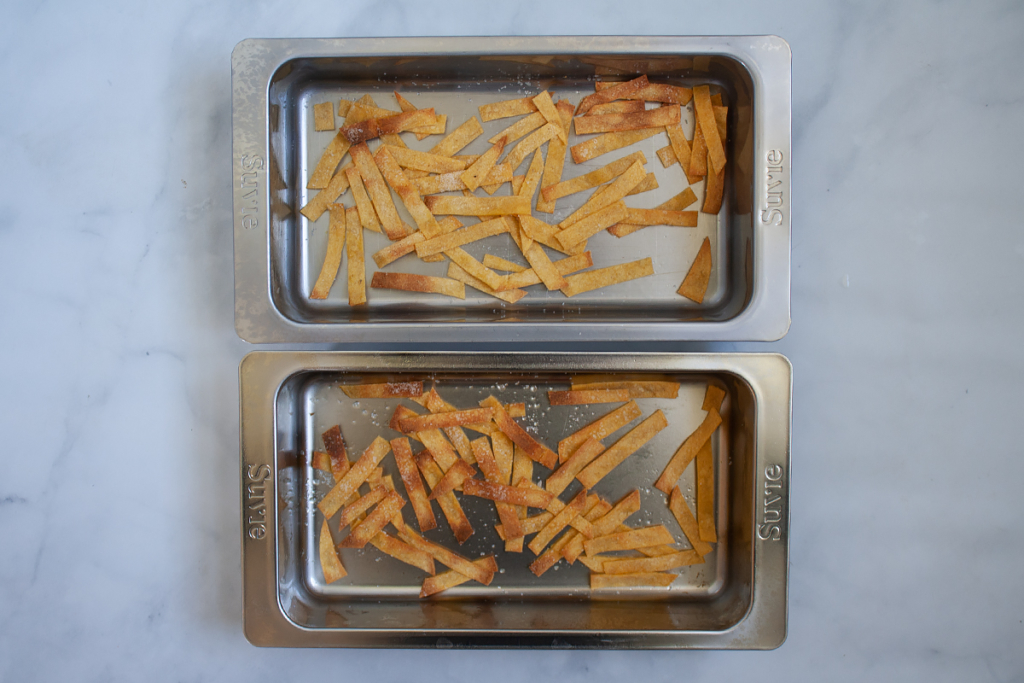 4) Season soup to taste with salt and pepper and divide between bowls. Top with tortilla strips and optional garnishes.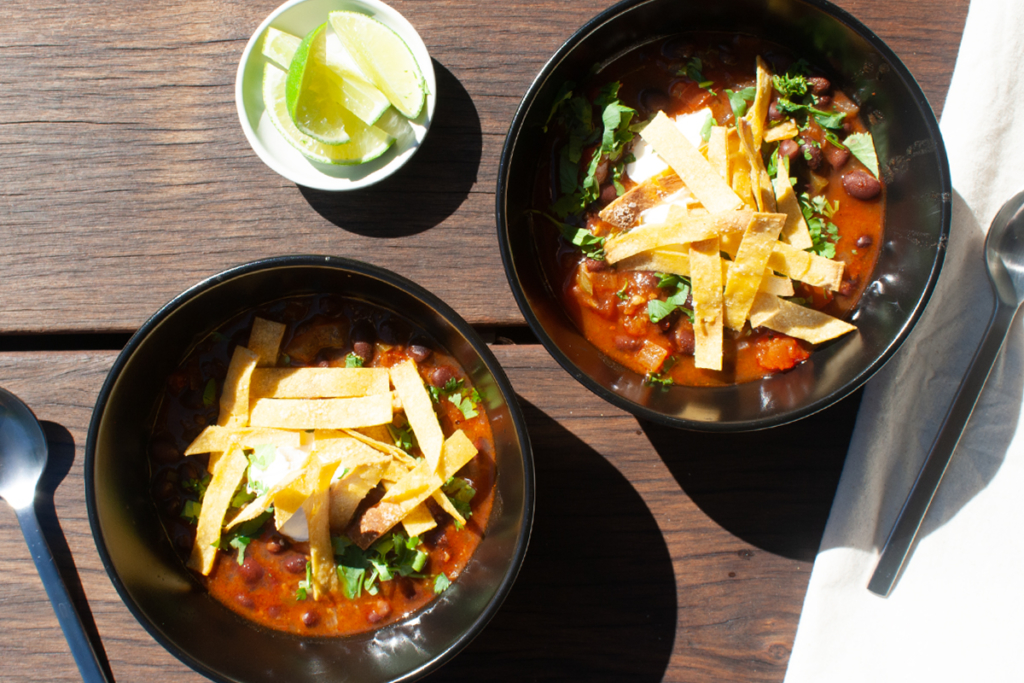 Note: If you would like to make this recipe in Suvie 1.0, insert pan into the top zones of Suvie, fill reservoir, and set to Slow Cook on High for 2 hours.
Nutrition
Nutritional Information per serving with 1 tbsp sour cream and ¼ avocado to garnish (4 servings per recipe): Calories 280, Total Fat 9g, Total Carbohydrates 40g, Total Sodium 910mg, Total Protein 11g