Enchiladas are a versatile dish that can be made with a variety of different fillings and sauces. In this recipe, the tortillas are stuffed with onion, bell peppers, black beans, and cheese in a verdant green sauce. The flexibility of this dish allows for many substitutions: you can swap out black beans for pinto beans, enchilada sauce for the tomatillo salsa, corn tortillas for flour tortillas, and mixed vegetables for the peppers and onions; however, keep the volumes consistent so that you have just the right amount of filling.
Vegetable Enchiladas
Please always check your food to ensure your food has been cooked to safe serving temperatures. Please see our guide
here
for recommended FDA Time & Temperatures.
Servings: 4
Difficulty: 3 hours and 50 minutes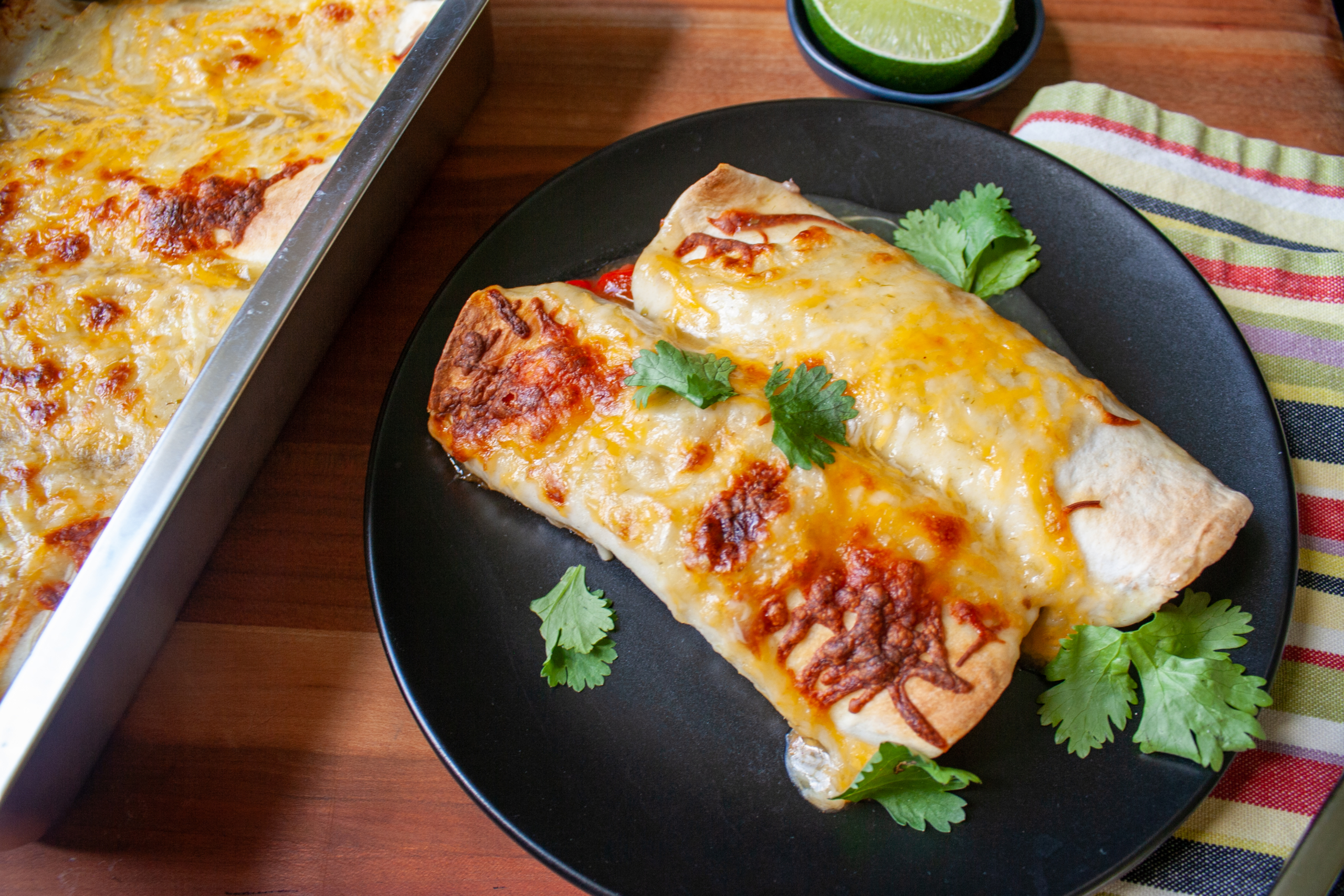 Ingredients
1 small onion, finely chopped, about 1 cup
1 large red bell pepper, stemmed, seeded, and thinly sliced, about 1½ cups
3 cloves garlic, minced
2 tsp vegetable oil
2 tsp chipotle chile powder
1 tsp ground cumin
½ tsp ground coriander
1 (15.5 oz) can black beans, drained and rinsed
2 cups tomatillo salsa, salsa verde, or green enchilada sauce
8 (6-inch) corn or flour tortillas
1 cup shredded monterey jack cheese (about 4 oz)
¼ cup cilantro leaves (optional)
Directions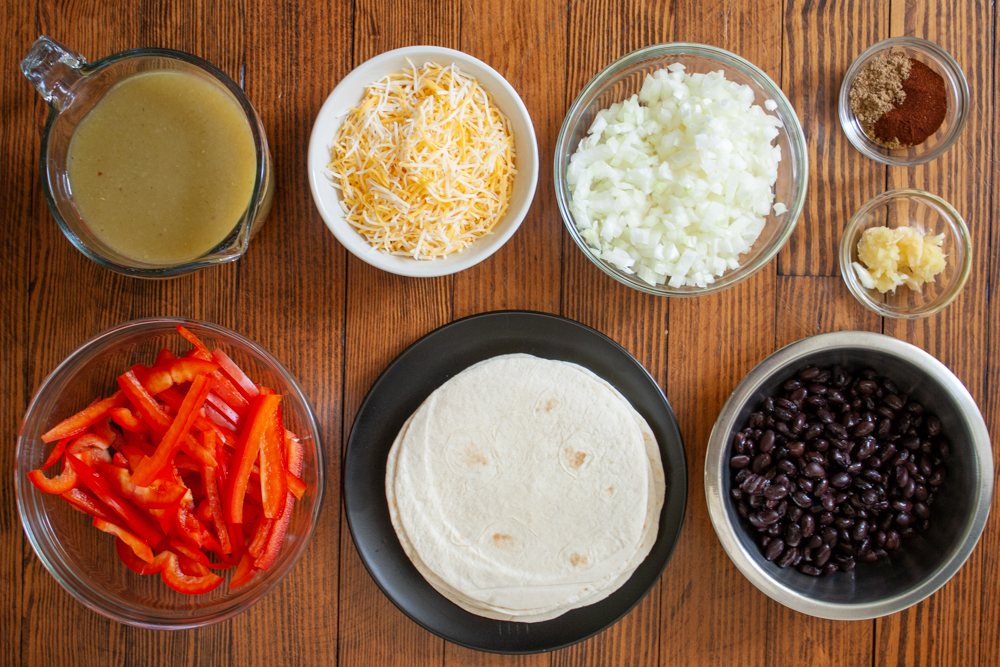 Divide the onion, red bell pepper, garlic, vegetable oil, chipotle chile powder, cumin, and coriander between 2 Suvie pans, stirring to incorporate.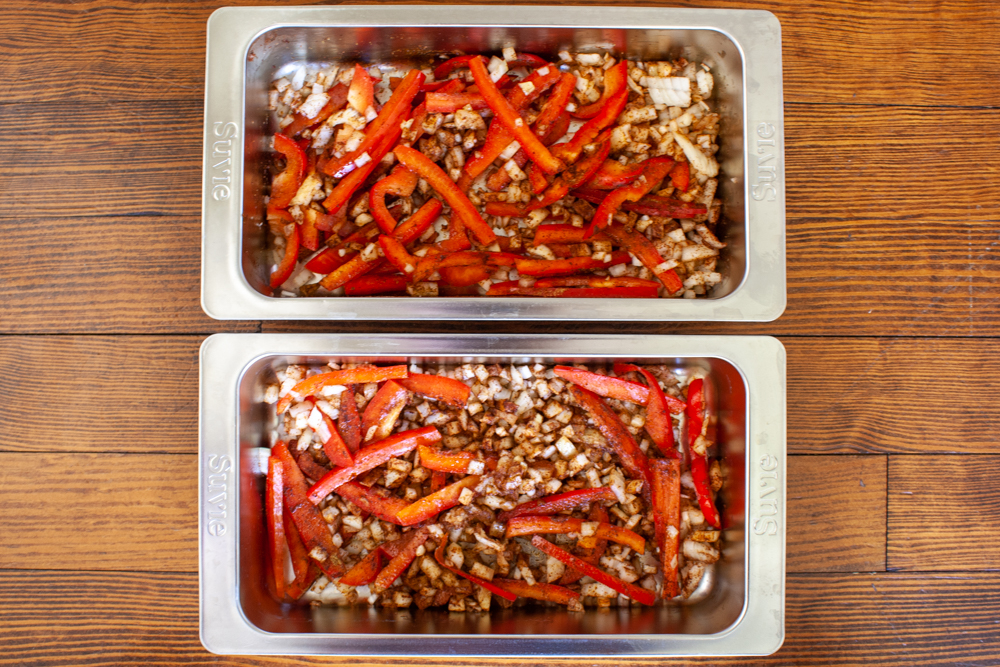 Insert pans into the upper zones of your Suvie and broil for 10 minutes, stirring halfway through cooking. 
While the vegetables broil, mash half the black beans with a potato masher or fork until pasty and thick.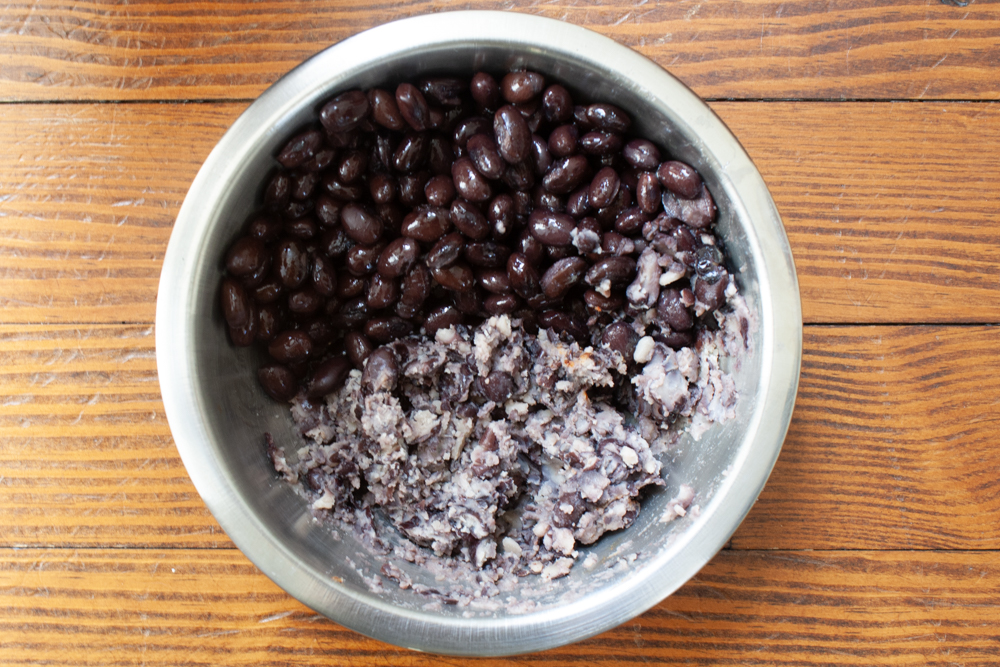 Remove pans from your Suvie.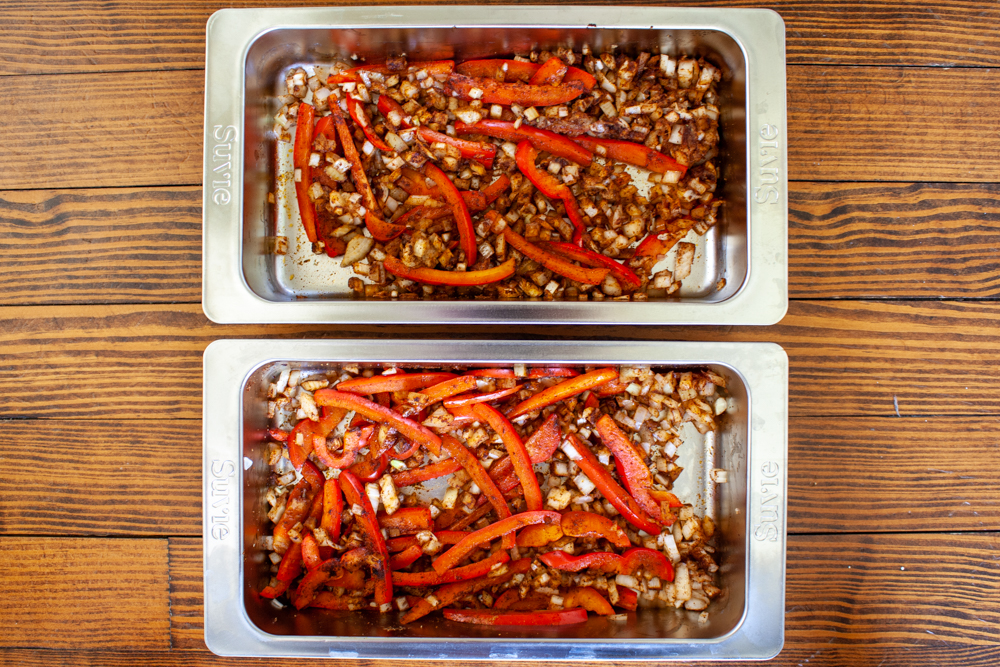 Combine the peppers and onions in one Suvie pan and add the mashed black beans, whole black beans, ½ cup tomatillo salsa, 1 tsp salt, and ½ cup cheese. Stir to combine, reinsert pan into your Suvie. Input settings and cook now or schedule.
My Cook > Slow Cook Settings
HIGH, 2 hours
Starch: 0 minutes
Remove pan from you Suvie and stir to reincorporate. Spread ¼ cup tomatillo salsa over the bottom of two clean, dry Suvie pans. Spread ⅓ cup vegetable filling in a tortilla, roll up tortilla and place seam side down at an angle on top of tomatillo salsa. Repeat with remaining tortillas until you have 4 filled tortillas per pan. Pour remaining tomatillo salsa over the tortillas and top with remaining cheese.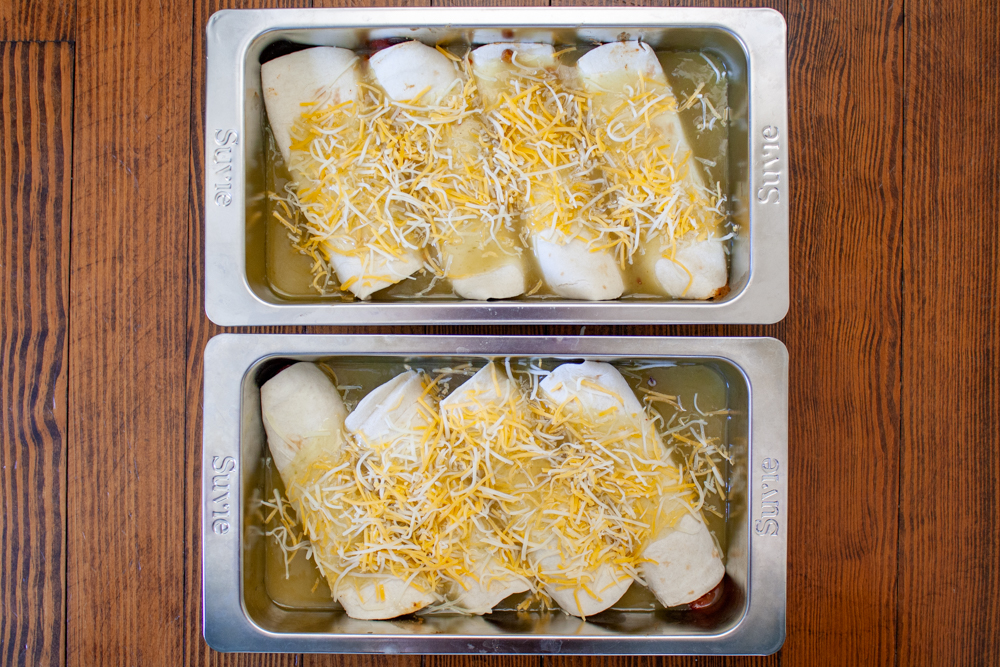 Place pans in your Suvie and broil for 10 minutes, or until cheese is melted and bubbling, rotating pans halfway through cooking.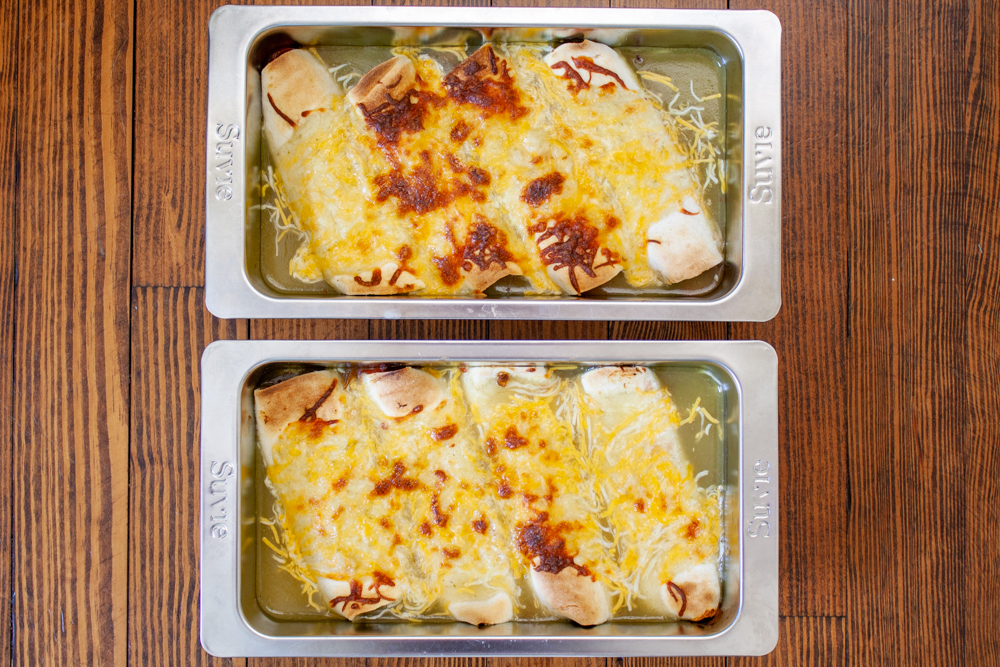 Divide enchiladas between plates, garnish with cilantro, and serve.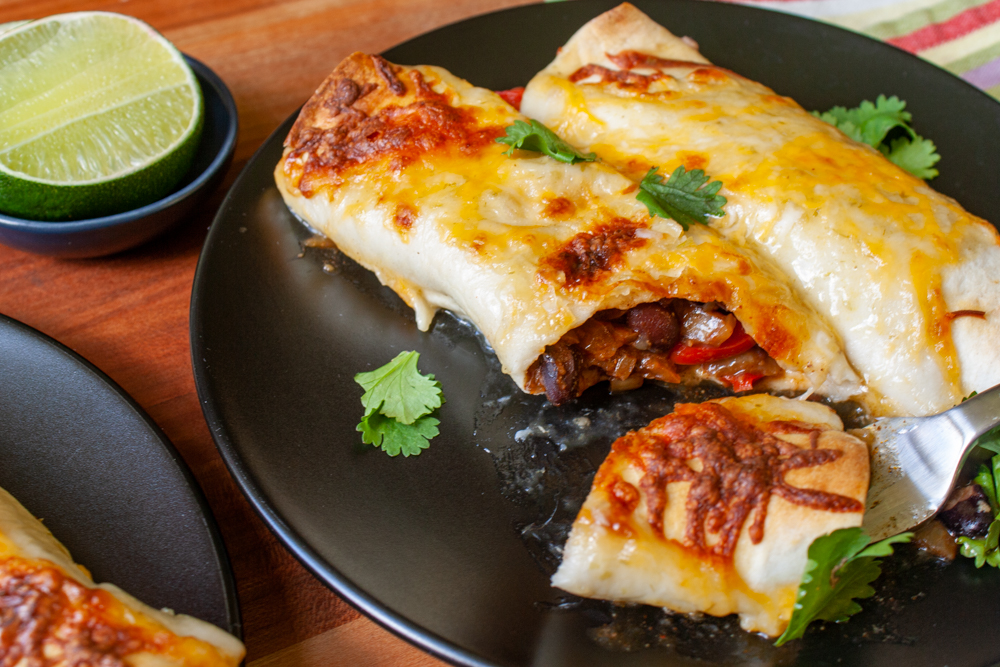 Nutrition
Nutritional Information per serving (4 servings per recipe): Calories 435, Total Fat 18g, Total Carbohydrates 56g, Total Sodium 582mg, Total Protein 16g