This "adult" dessert is a tipsy and delicious combination of bourbon-infused peaches, whipped cream, and shortbread. The easy 3-ingredient shortbread cookie is a great way to show off the baking capabilities of your Suvie. This shortbread crust also provides a sweet and playful textural component to this recipe. The peaches are 'oven-stewed' with a heady mix of bourbon whiskey, brown sugar, butter, and vanilla. The baking spice aromas of the whiskey infuse the peaches with notes of cinnamon, clove, and nutmeg without the need for additional ingredients, and keep this recipe pantry-friendly.
Boozy Bourbon Peaches and Cream
Please always check your food to ensure your food has been cooked to safe serving temperatures. Please see our guide
here
for recommended FDA Time & Temperatures.
Servings: 4
Difficulty: 1 hour and 5 minutes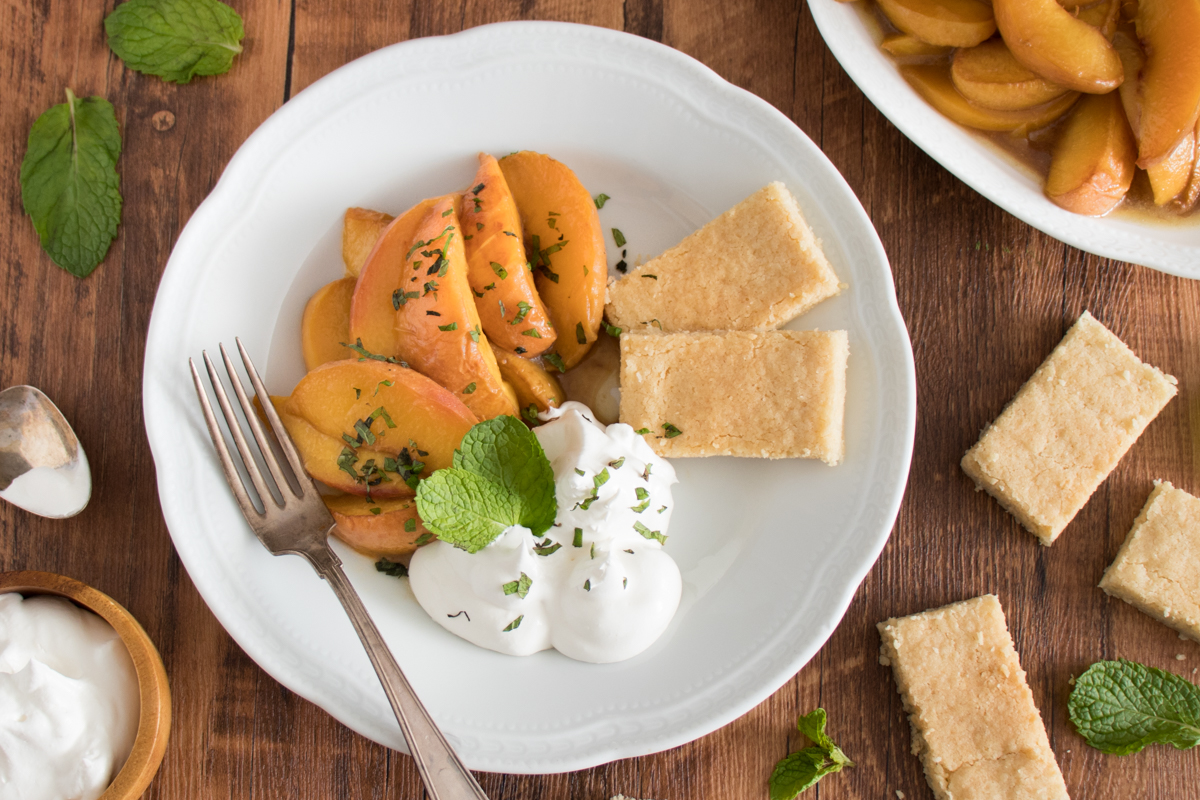 Ingredients
½ cup (8 tbsp), plus 3 tbsp salted butter, softened
¼ cup granulated sugar
1 cup all purpose flour
3 peaches, cut into wedges
2 tbsp brown sugar
2 tbsp bourbon whiskey
2 tsp vanilla extract
1 cup whipped cream
4-5 mint leaves
Directions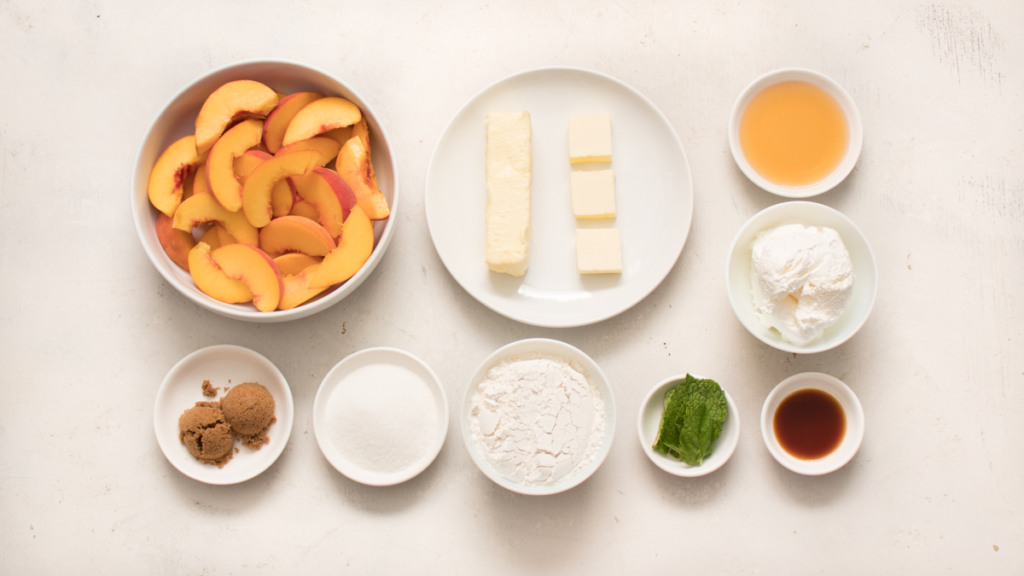 1) In the bowl of a stand mixer fitted with a paddle attachment, beat ½ cup softened butter and ¼ cup granulated sugar together on medium speed until light and airy, about 3 minutes. Reduce the mixer speed to low and slowly add 1 cup of flour until combined.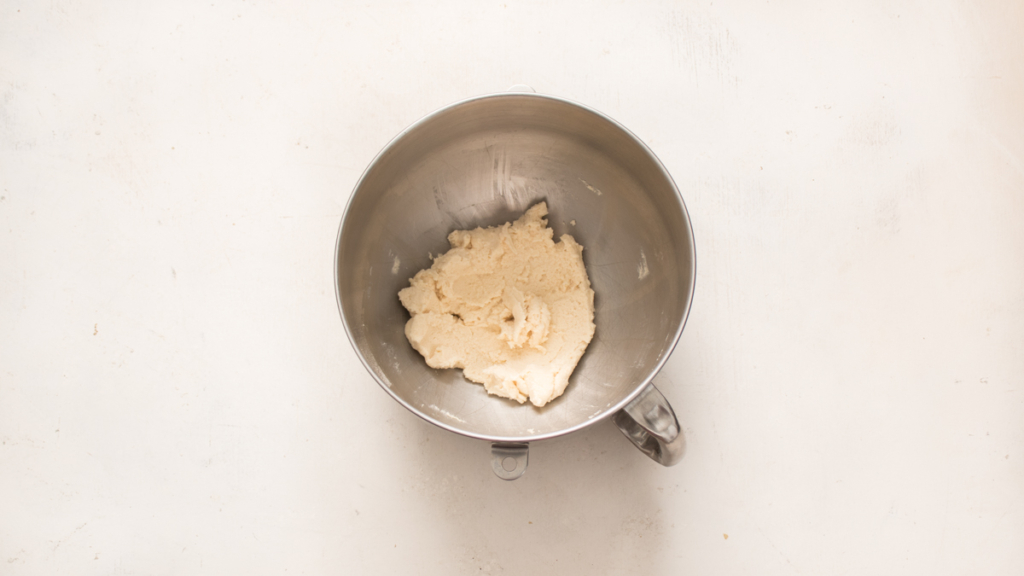 2) Line a Suvie pan with just enough parchment to cover the bottom of the pan. Transfer shortbread batter to the parchment-lined pan, spread out in an even layer, cover with plastic, and refrigerate for 30 minutes.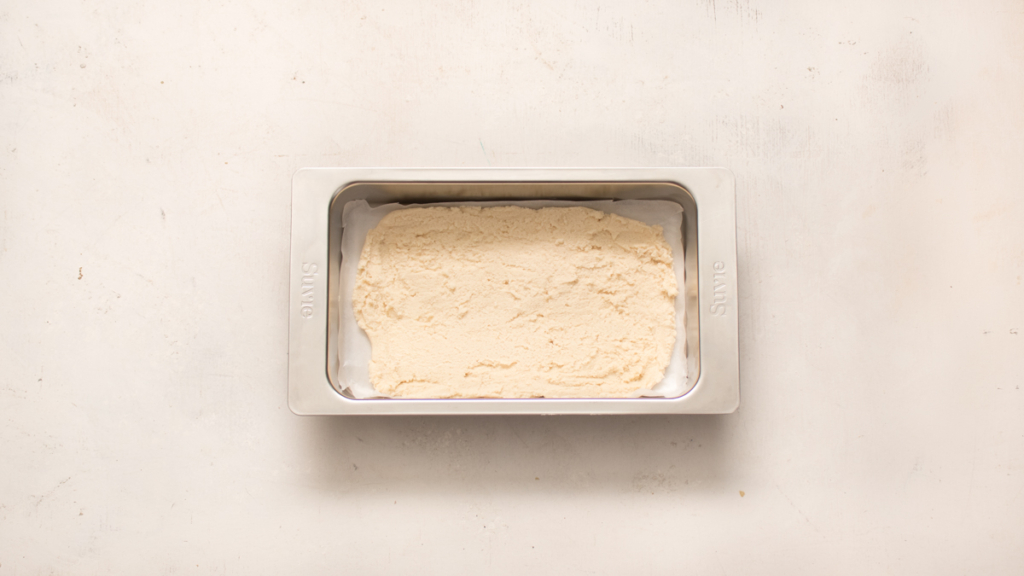 3) While the shortbread is cooling, place peaches, 3 tbsp butter, 2 tbsp brown sugar, 2 tbsp bourbon, and 2 tsp vanilla in another Suvie pan. Place the pan in the bottom zone of your Suvie and bake at 400°F for 30 minutes.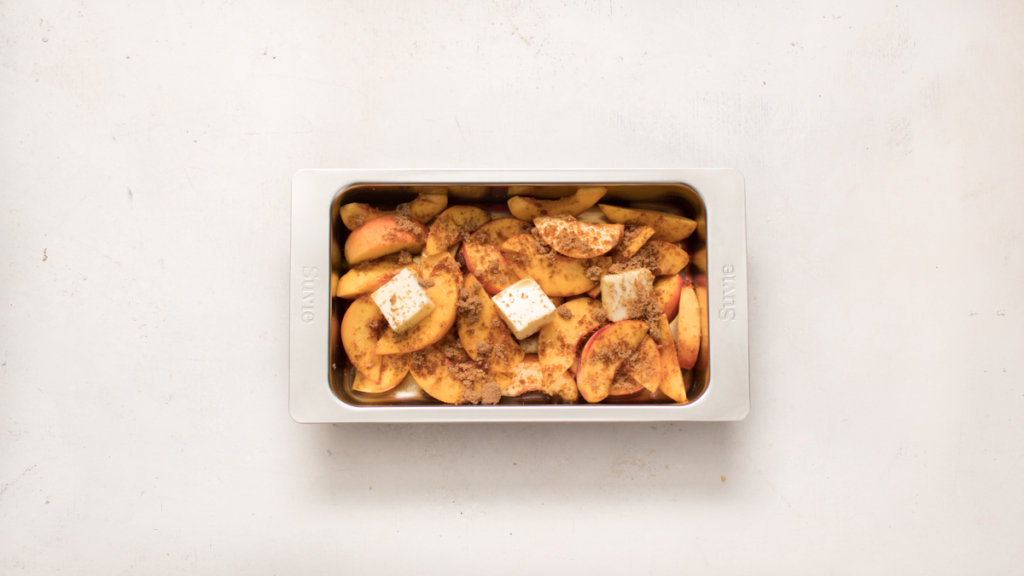 4) After the cook, remove the pan from your Suvie, and gently stir. Set peaches aside at room temperature to cool.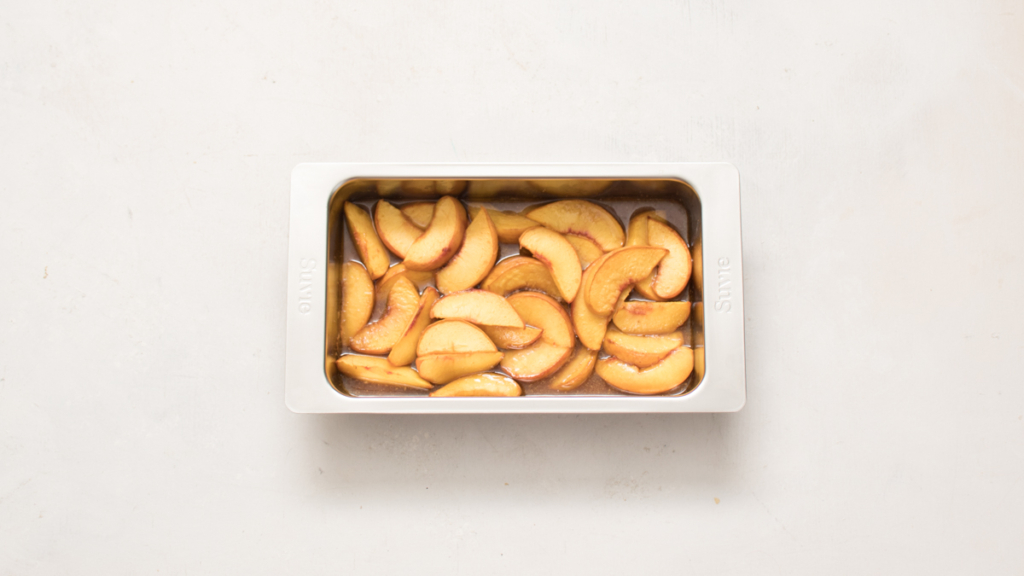 5) Unwrap the Suvie pan containing the shortbread batter and place in the bottom zone of your Suvie. Input settings and cook now.
Suvie Cook Settings
Bottom Zone: Bake at 350°F for 35 minutes
Top Zone: Bake at 350°F for 0 minutes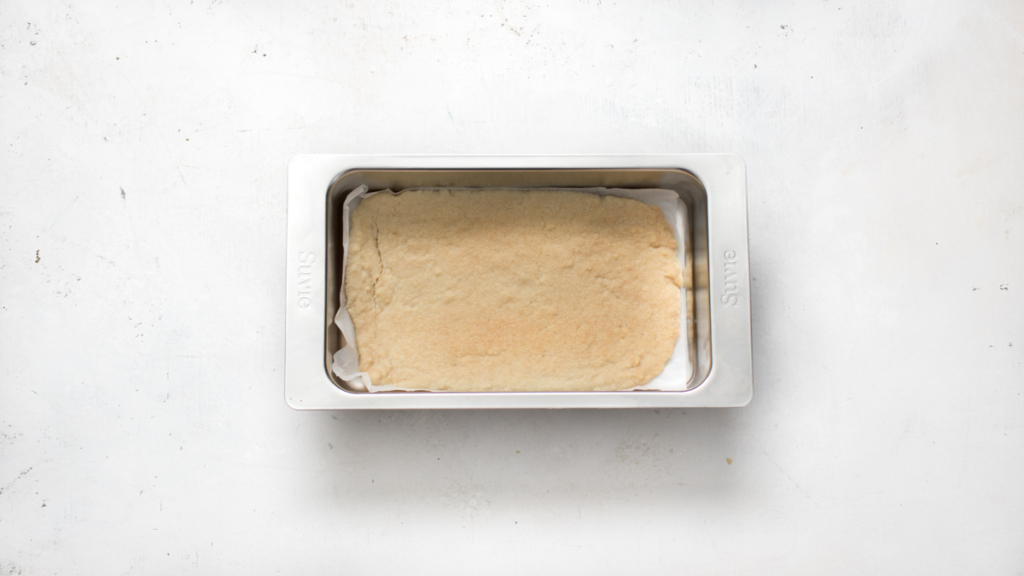 6) After the cook, remove the pan from your Suvie, and set aside for 10 minutes or until the shortbread is cool enough to handle (warm shortbread is easier to cut and portion). Portion the shortbread into cookies and set aside to cool completely, about 15 minutes more.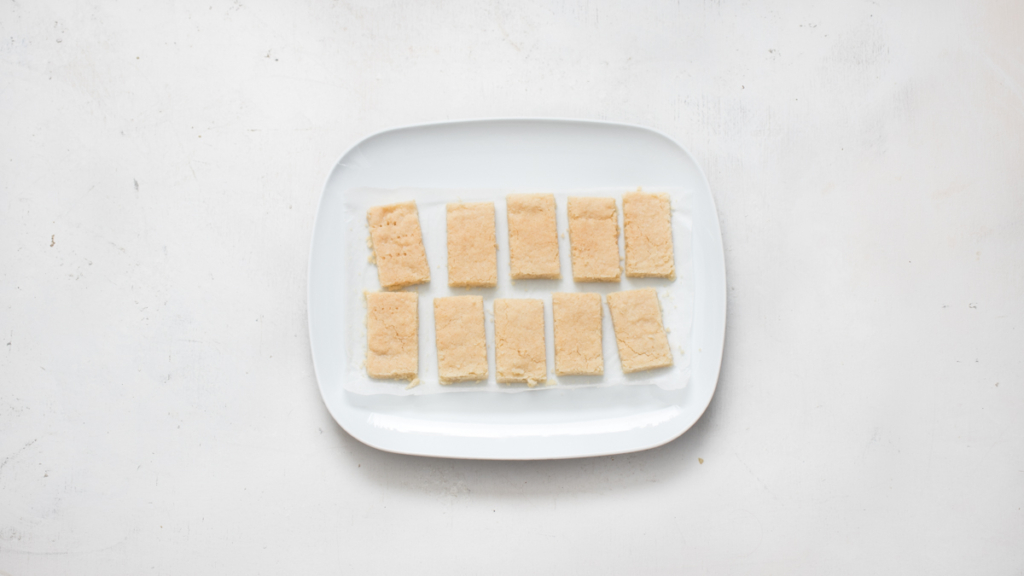 7) Divide peaches, whipped cream, and shortbread cookies between 4 plates or bowls. Chop or tear 4-5 mint leaves and sprinkle over the dessert before serving.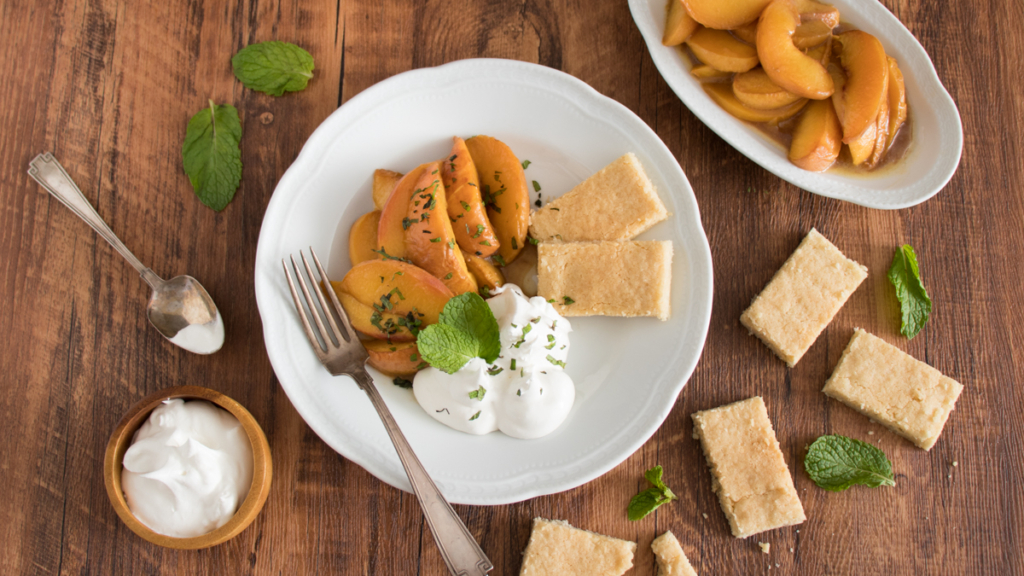 Nutrition
Nutritional Information per serving (4 servings per recipe): Calories 616, Total Fat 41g, Total Carbohydrates 52g, Total Sodium 230mg, Total Protein 5g.