We love fresh artichokes, but honestly they're a lot of work to clean, trim, and chop, and we'll reach for canned whenever they play a supporting role and are not the star of the show like in this recipe. Chicken, olives, lemon, garlic, and onion are braised with the artichokes until tender and saucy. The braising liquid tastes fantastic spooned over rice, but would also be great to soak up with pita bread. Whichever side you choose we think this meal is a hit – no thistle trimming required.
Braised Chicken with Olives and Artichokes
Please always check your food to ensure your food has been cooked to safe serving temperatures. Please see our guide
here
for recommended FDA Time & Temperatures.
Servings: 4
Difficulty: 2 hours and 35 minutes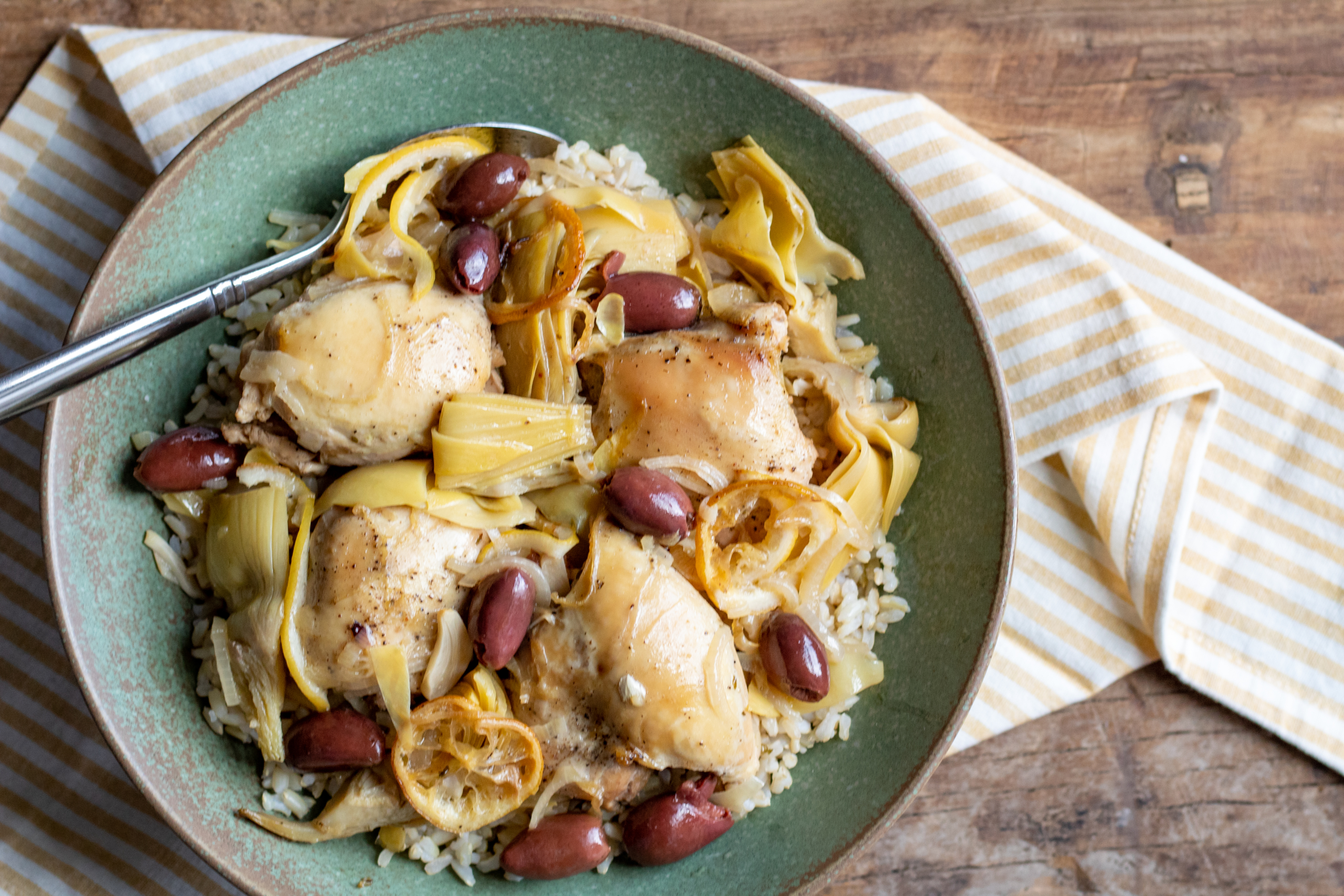 Ingredients
1 ¼ lbs boneless, skinless chicken thighs
1 small onion, halved and thinly sliced
2 garlic cloves, thinly sliced
1 lemon, thinly sliced, seeds removed
2 tbsp olive oil, divided
1 (14.5 oz can) artichokes, drained and rinsed
½ cup mixed Greek olives
1 cup chicken broth
1 cup brown rice
Directions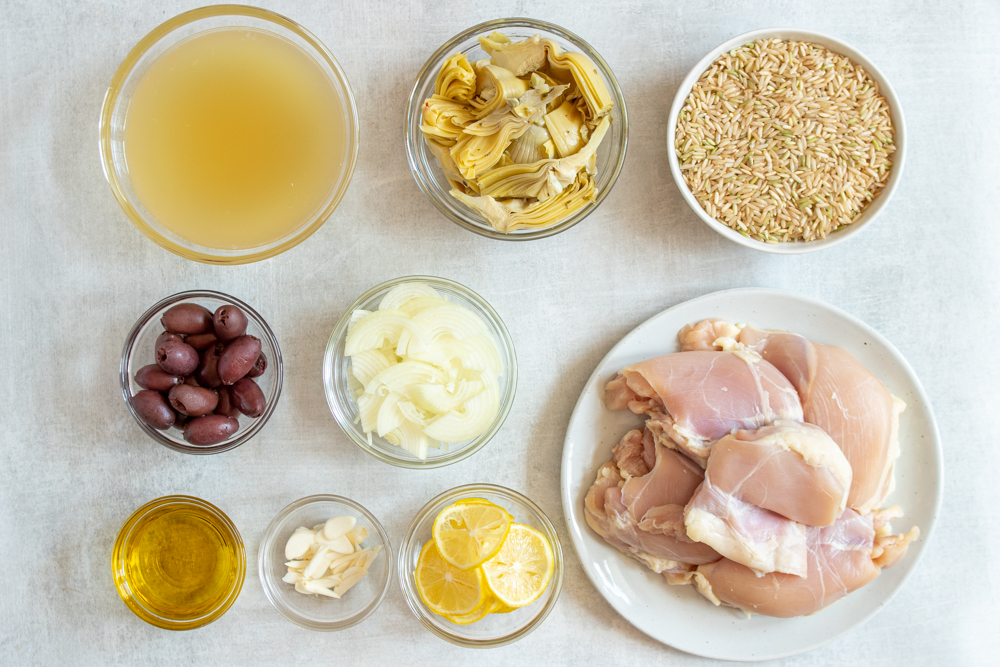 1) Divide 1 sliced onion, 2 sliced garlic cloves, 1 thinly sliced lemon, and 2 tbsp olive oil between two Suvie pans. Place pans in Suvie and broil for 10 minutes, rotating pans halfway through cooking.
2) Remove pans from Suvie and combine the onion mixture in one Suvie pan. Add 1 can artichokes, 1/2 cup olives, 1 cup chicken broth, ½ tsp salt, and ½ tsp freshly ground black pepper to the pan with the onions, stirring to incorporate.
3) Pat 1 1/4 lbs chicken dry, season with salt and pepper and nestle into the pan with the remaining ingredients. Return pans to bottom zone of Suvie, input settings and cook now or schedule.
Suvie Cook Settings
Bottom Zone: Slow Cook High, 2 Hours
4) Place 1 cup brown rice in the Suvie rice pot (black handles) and place inside the Suvie Starch Cooker, ensuring pot is centered. Input settings and cook now.
Suvie Starch Cooker Settings
Rice, Brown, 1 cup
5) After cooking, fluff rice with a fork and season to taste with salt and pepper. Divide rice between plates, top with chicken, and spoon artichokes, olives, and pan sauce around the chicken.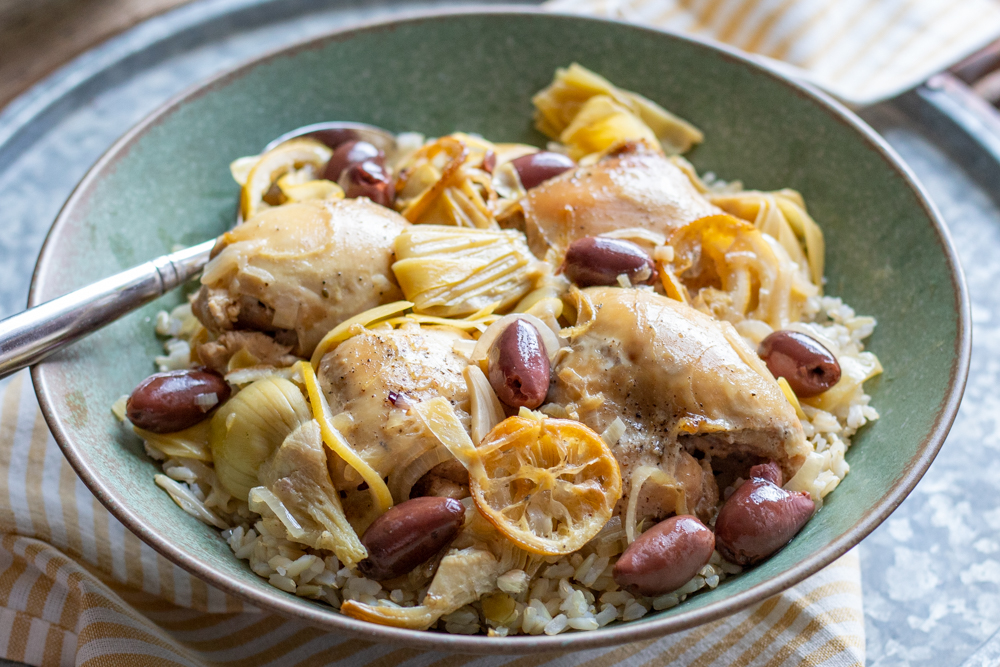 Nutrition
Nutritional Information per serving (4 servings per recipe): Calories 420, Total Fat 28g, Total Carbohydrates 53g, Total Sodium 1267mg, Total Protein 30g