This recipe for braised pork is a hearty and comforting dish that relies on the power of red wine, tomato paste, and a few key vegetables to really make it shine. We think the pork is ideal on top of buttery mashed cauliflower. For textural contrast, we're pairing the pork and cauliflower with a tangy and crunchy red cabbage slaw that's a snap to make. We think this meal is delicious for anyone, but those adhering to a Keto diet will find that it fits in their meal plan. If you'd prefer mashed potatoes instead of cauliflower you can substitute an equal amount of small, boiling potatoes, but increase the starch time to fifty minutes.
Note: We do not recommend scheduling this cook, as the raw cauliflower should not sit unrefrigerated.
Braised Pork over Cauliflower Mash with Cabbage Slaw
Please always check your food to ensure your food has been cooked to safe serving temperatures. Please see our guide
here
for recommended FDA Time & Temperatures.
Servings: 4-6
Difficulty: 4 hours and 32 minutes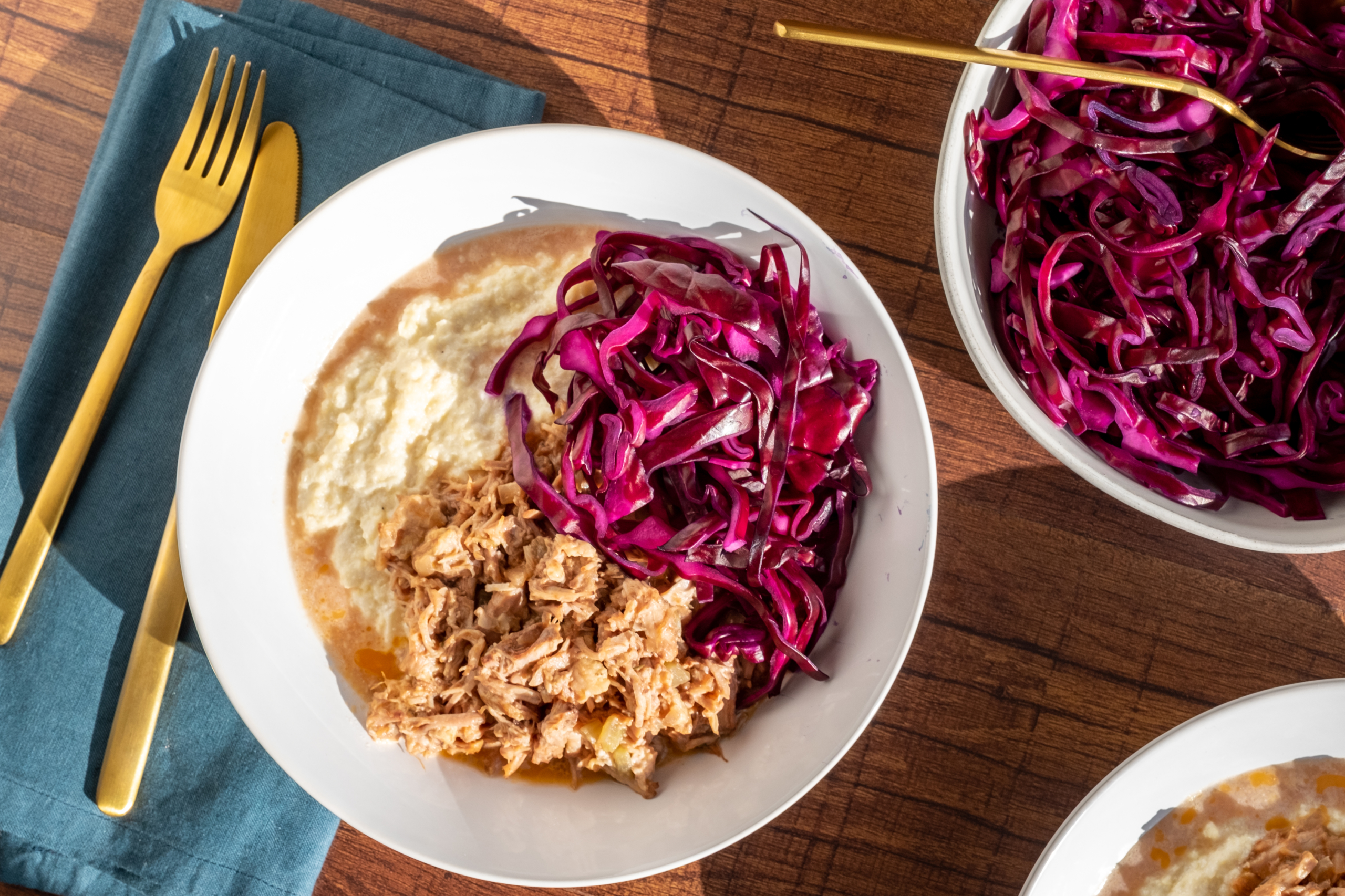 Ingredients
2 lbs pork shoulder, cut into 1 ½" pieces
1 tablespoon vegetable oil
1 onion, finely chopped
2 celery stalks, finely chopped
4 garlic cloves, minced
2 tbsp red wine vinegar
2 tablespoons tomato paste
½ cup red wine
2 sprigs thyme
2 bay leaves
12 oz cauliflower florets, cut into 1" pieces
4 tbsp unsalted butter, softened
1/4 cup heavy cream, warmed
1 small red cabbage
Directions
1) In a large bowl, toss together 2 lbs pork shoulder, 1 tbsp vegetable oil, 1 onion, 2 celery stalks, 4 garlic cloves, 2 tsp salt and 1 tsp ground black pepper. Divide mixture evenly between two Suvie pans and broil for 15 minutes.
2) While the pork broils, cut cabbage in half and then thinly slice halves into thin ribbons (if you have a mandolin, this is a great time to use it). Transfer cabbage to a bowl with 2 tbsp red wine vinegar and 1 tsp salt, stirring to incorporate. Set aside.
3) After the pork has finished broiling, remove pans and evenly divide 2 tbsp tomato paste, 1/2 cup red wine, 2 sprigs thyme and 2 bay leaves between both pans, stirring to incorporate. Return pans to Suvie. Input settings and cook now or schedule.
Suvie Cook Settings
Bottom Zone: Slow Cook on High for 3 hours
4) Place cauliflower in the Suvie starch strainer set within the Suvie pasta pot (green handles). Place lid on pot and place pot inside the Suvie Starch Cooker, ensuring the pot is centered on the hot plate. Input settings and cook now or schedule.
Suvie Starch Cooker Settings
Potatoes, Cut, 45 minutes
5) After the pork and cauliflower have finished cooking, remove all pans from your Suvie. Transfer cauliflower to a large bowl with 4 tbsp butter, 1/4 cup heavy cream, 1 tsp salt, and ½ tsp black pepper. Mash cauliflower with a fork or potato masher until smooth.
6) Shred pork with two forks. Season to taste with salt and pepper. Divide cauliflower mash between plates and top with the pork. Serve cabbage on the side.
Nutrition
Nutritional Information per serving (6 servings per recipe): Calories 325, Total Fat 21g, Total Carbohydrates 15g, Total Sodium 1,254mg, Total Protein 16g.