While most Cajuns reside in Louisiana, a large population of Cajuns also live in the Southeast corner of Texas. Cajun food culture has influenced the cuisine of Texas, and vice versa, creating a unique blend and array of dishes. The term barbecue is a bit of a misnomer here as traditionally there is no grilling or barbecuing required for this dish. Luckily, the simplicity of this meal makes replicating it at home a breeze. The spicy, tangy, and savory sauce is the perfect poaching liquid for the shrimp and is ideal for soaking up with a hunk of crusty bread.
Cajun Barbecue Shrimp
Please always check your food to ensure your food has been cooked to safe serving temperatures. Please see our guide
here
for recommended FDA Time & Temperatures.
Servings: 4
Difficulty: 2 hours and 5 minutes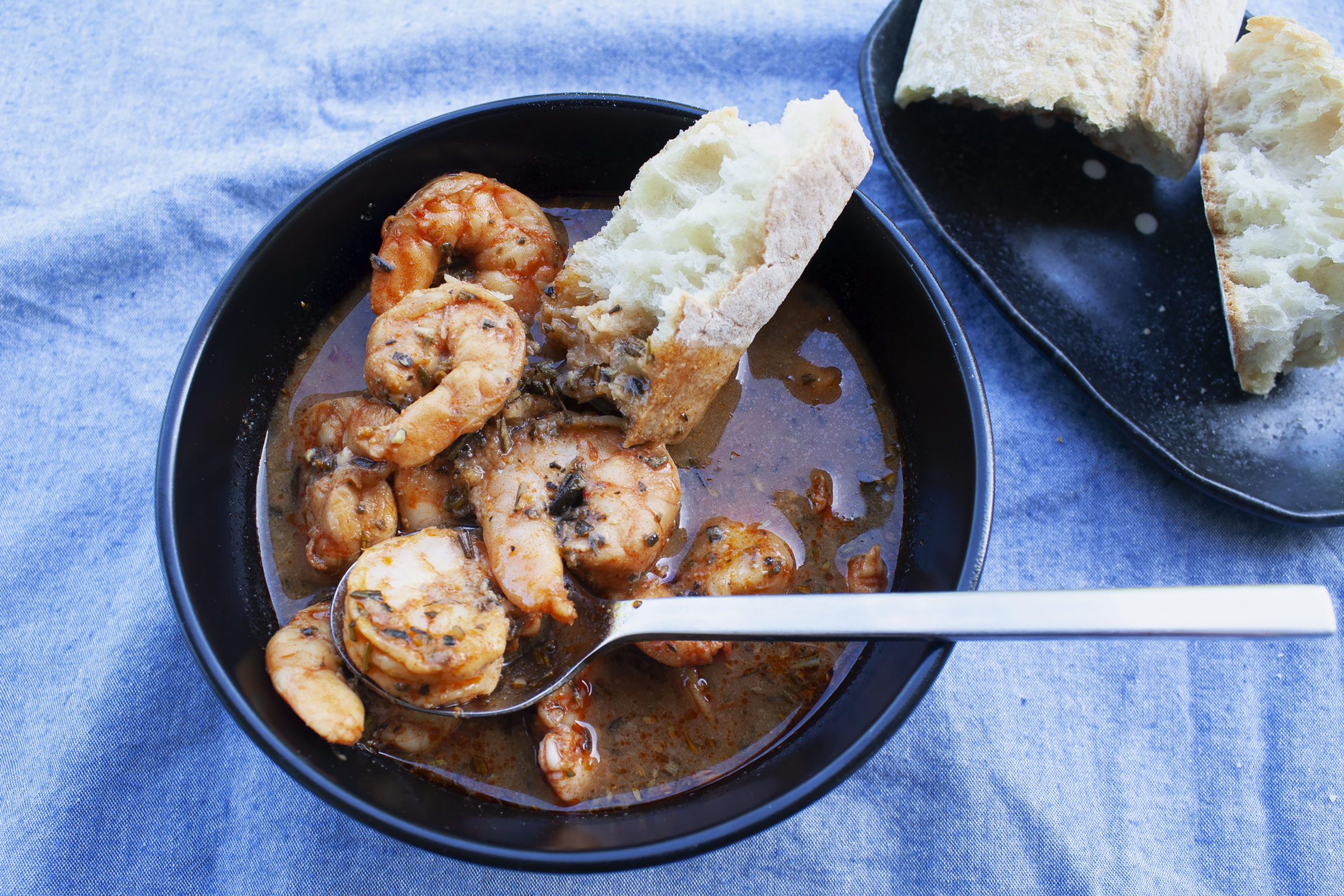 Ingredients
1 lb shrimp, preferably gulf
1 tbsp creole seasoning, store-bought or homemade*
4 cloves of garlic, minced
2 tbsp chopped fresh rosemary leaves
1 tbsp vegetable oil
2 tbsp Worcestershire sauce
2 tbsp hot sauce
1 tbsp lemon juice
¼ cup butter, softened
1 loaf crusty bread, to serve
*To make your own creole seasoning combine ¾ tsp paprika, ½ tsp garlic powder, ½ tsp salt, ¼ tsp black pepper, ¼ tsp onion powder, ¼ tsp cayenne, ¼ tsp oregano, ¼ tsp dried thyme
Directions
Pat shrimp dry. In a large bowl, toss together the shrimp, creole seasoning, garlic, rosemary, and vegetable oil. Divide shrimp between two Suvie pans so that they sit flat in an even layer.
Broil shrimp for 10 minutes.
Once the shrimp have finished broiling, combine shrimp in one Suvie pan. Add the Worcestershire, hot sauce, and lemon juice.
Insert pan into your Suvie, input settings, and cook now or schedule.
Suvie Cook Settings
Bottom Zone: Slow Cook Low for 15 minutes
Remove pan from your Suvie, remove shrimp and whisk in the softened butter. Season sauce to taste with salt and pepper. Transfer shrimp to a serving dish and pour over the sauce. Serve with crusty bread.
Note: If you would like to make this recipe in Suvie 1.0, insert pan into the top zone of Suvie, fill reservoir, and set to Slow Cook on Low for 15 minutes.
Nutrition
Nutritional Information per serving (4 servings per recipe): Calories 355, Total Fat 17g, Total Carbohydrates 19g, Total Sodium 1000mg, Total Protein 30g