The Suvie Starch Cooker makes cooking rice easy, freeing you up to explore all sorts of exciting recipes. Short grain sushi rice performs beautifully in the cooker and is seasoned with the traditional blend of rice vinegar, sugar, and salt. The classic California roll filling is a combination of avocado, cucumber, scallion and imitation crab meat. These approachable fillings make this style of sushi a very family-friendly affair, suitable for those "new" to sushi, or those who may be a little picky as to the doneness of their seafood. 
California Rolls
Please always check your food to ensure your food has been cooked to safe serving temperatures. Please see our guide
here
for recommended FDA Time & Temperatures.
Servings: 2-4
Difficulty: 1 hour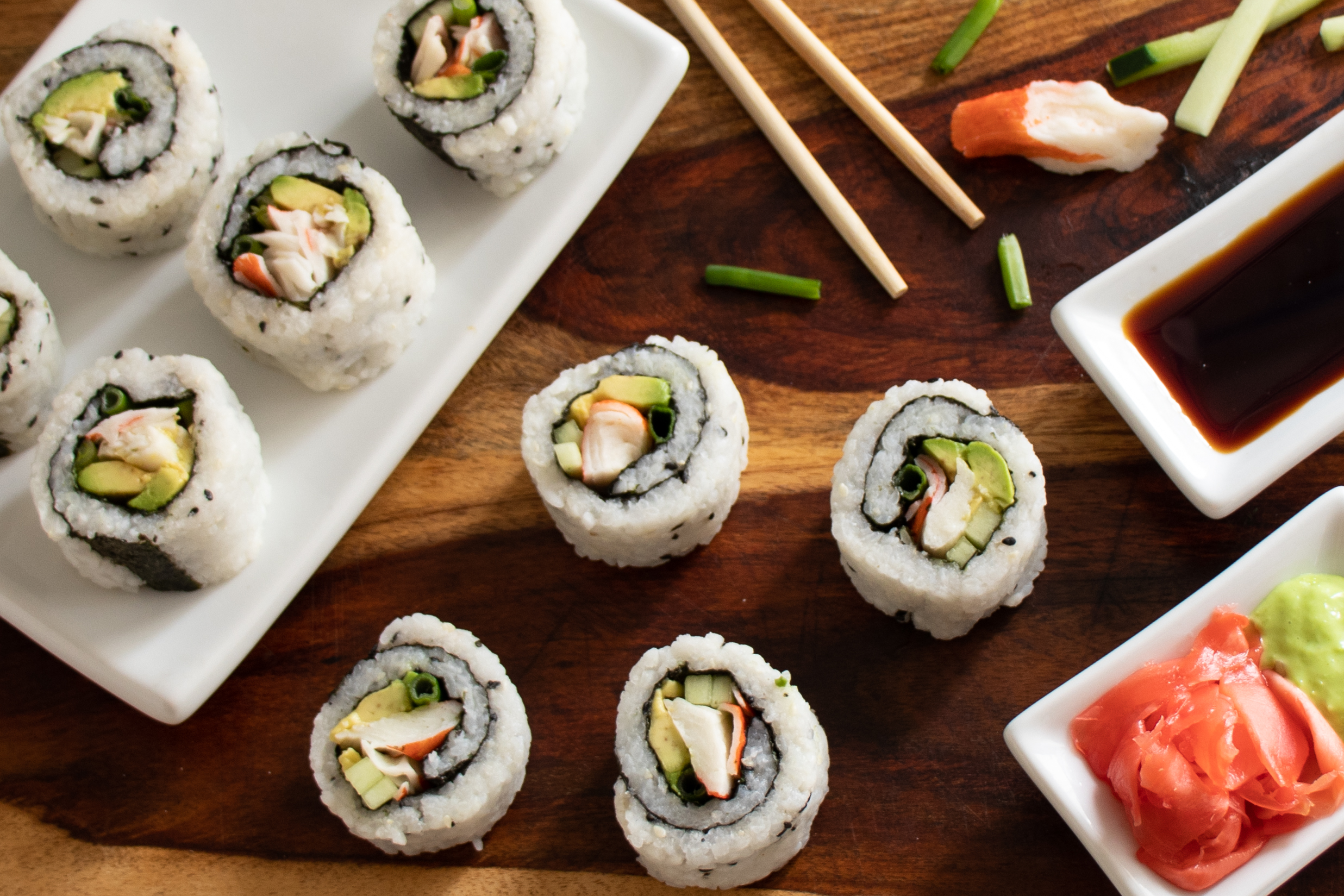 Ingredients
1 cup sushi rice
2 tbsp rice vinegar
2 tsp granulated sugar
½ tsp salt
2 tsp black and white sesame seeds
4 nori sheets
1 avocado, peeled and sliced
½ cucumber, cut into long, thin strips
2-3 scallions, trimmed and quartered
6 oz imitation crab meat
¼ cup soy sauce
2 tbsp pickled ginger
1 tbsp wasabi
Directions
1) Place 1 cup sushi rice in a medium bowl and cover with cold water. Agitate the rice, stirring occasionally to "wash". Drain, using a fine mesh strainer, and rinse the rice until the water runs clear. Transfer rice to the Suvie Rice Pot and place in the Suvie Starch Cooker, ensuring the pot is centered on the hot plate. Fill reservoir and select "Cook" or "Schedule".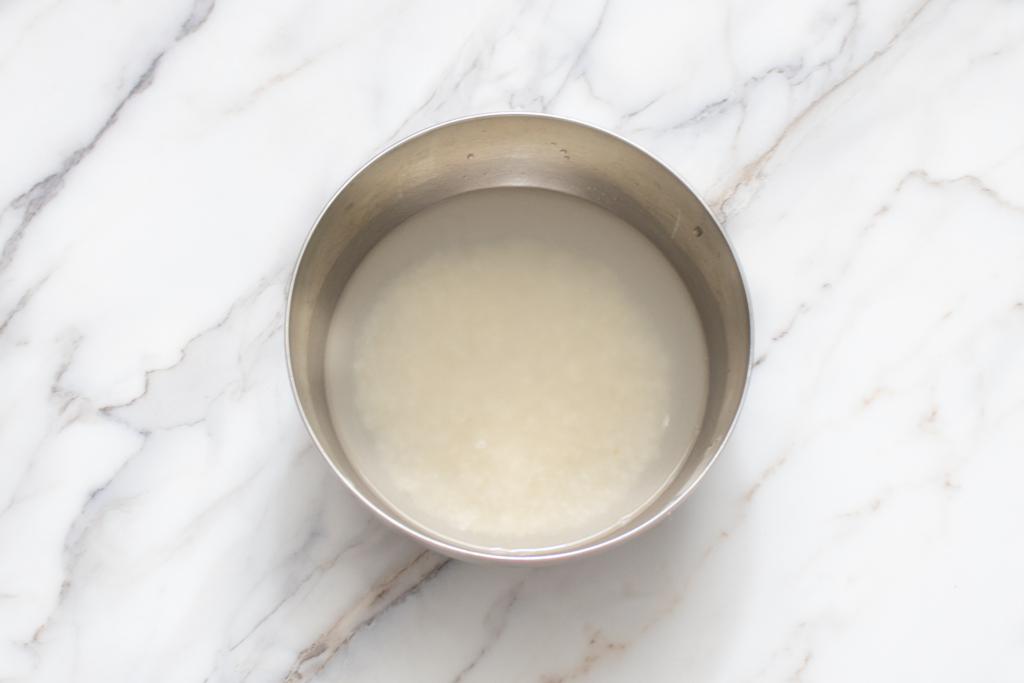 Suvie Starch Cooker Settings:
Rice, Short Grain, 1 Cup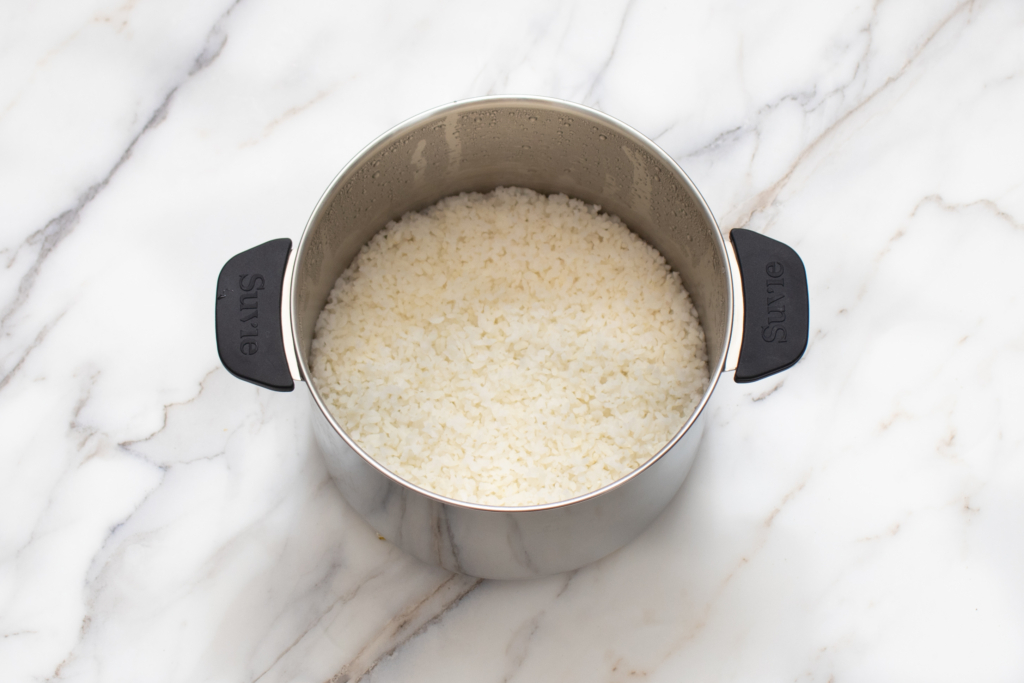 2) While the rice is cooking, place 2 tbsp rice vinegar, 2 tsp sugar, and ½ tsp salt in a microwave safe bowl. Microwave for 20-30 seconds or until the salt and sugar dissolve. Set aside.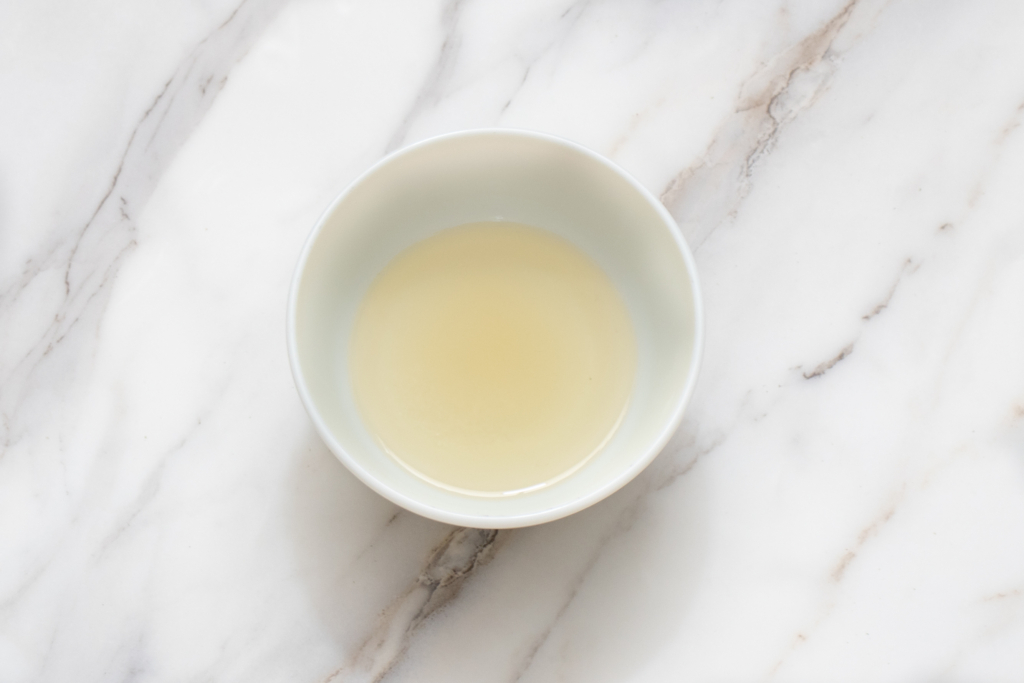 3) After your rice is done cooking, remove from the Suvie Starch Cooker, and transfer to a large bowl. Add the vinegar mixture to the bowl and stir to combine. Add 2 tsp sesame seeds and stir to combine.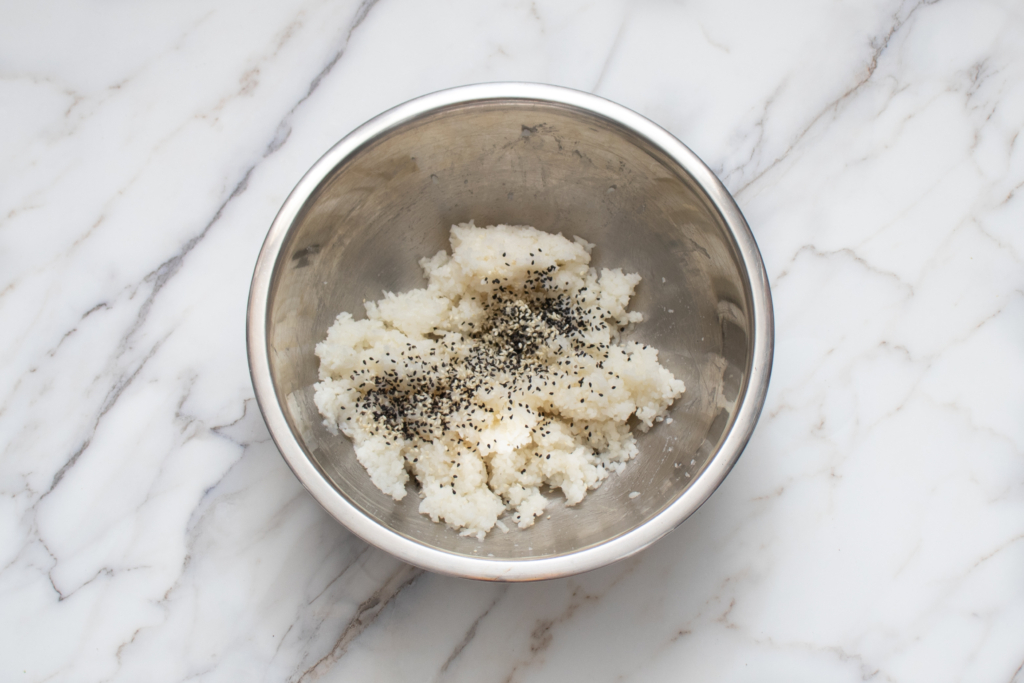 4) Place 1 nori sheet on a bamboo sushi mat or a sheet of wax paper. Spread approximately 1/2 cup sushi rice evenly over the nori sheet.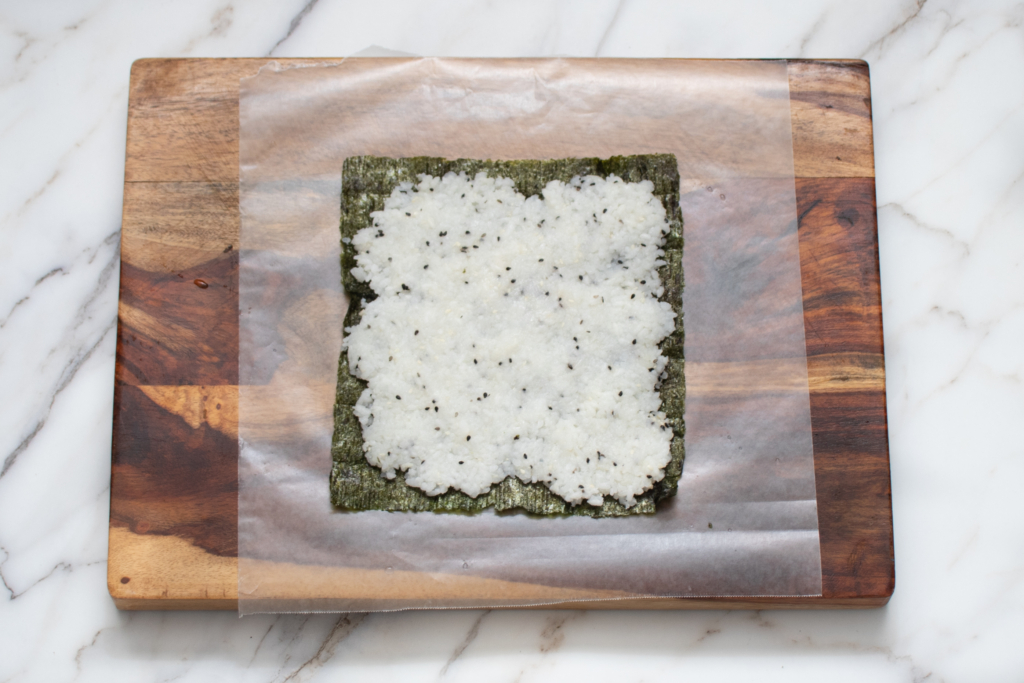 5) Flip the nori sheet over, rice-side down. Place 3-4 avocado slices, 4 cucumber strips, 2-3 scallion pieces, and 4-5 pieces of imitation crab meat on the sheet.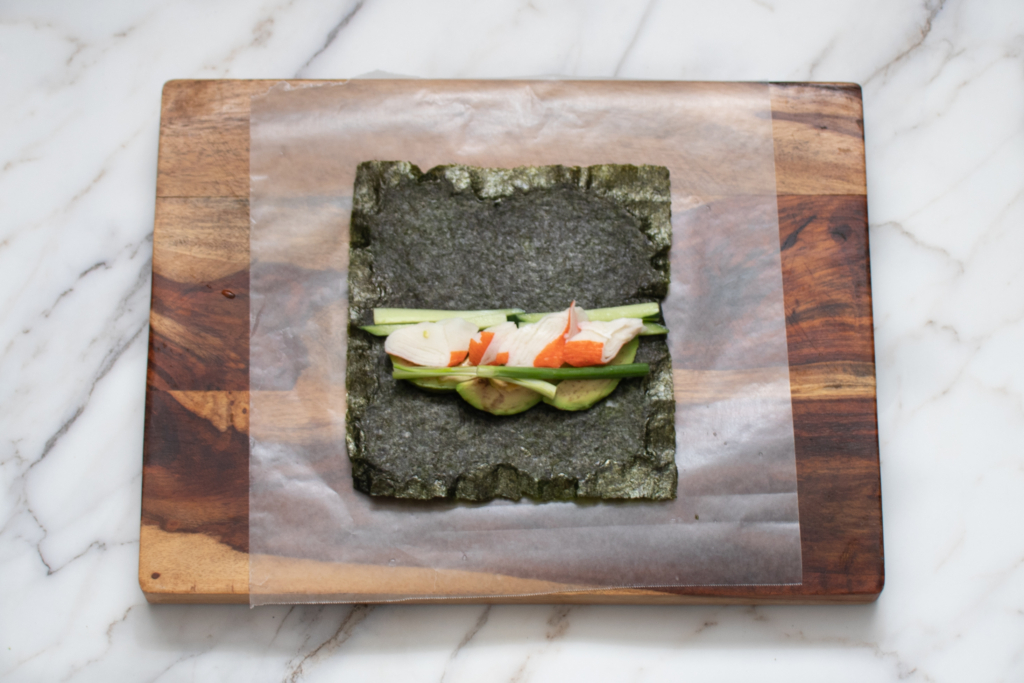 6) Using the mat or wax paper to assist, pull the bottom section of the sheet up and over the filling, tucking the edge of the sheet under the filling.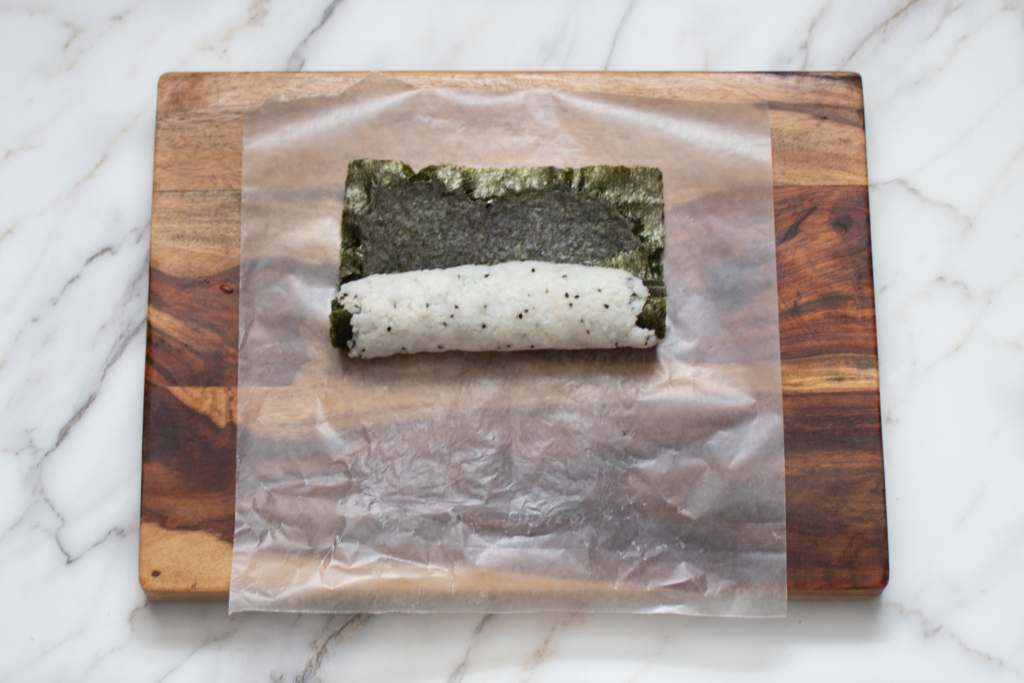 7) Roll into a tight cylinder, trim the ends of the sushi roll, and slice into 1-inch thick pieces.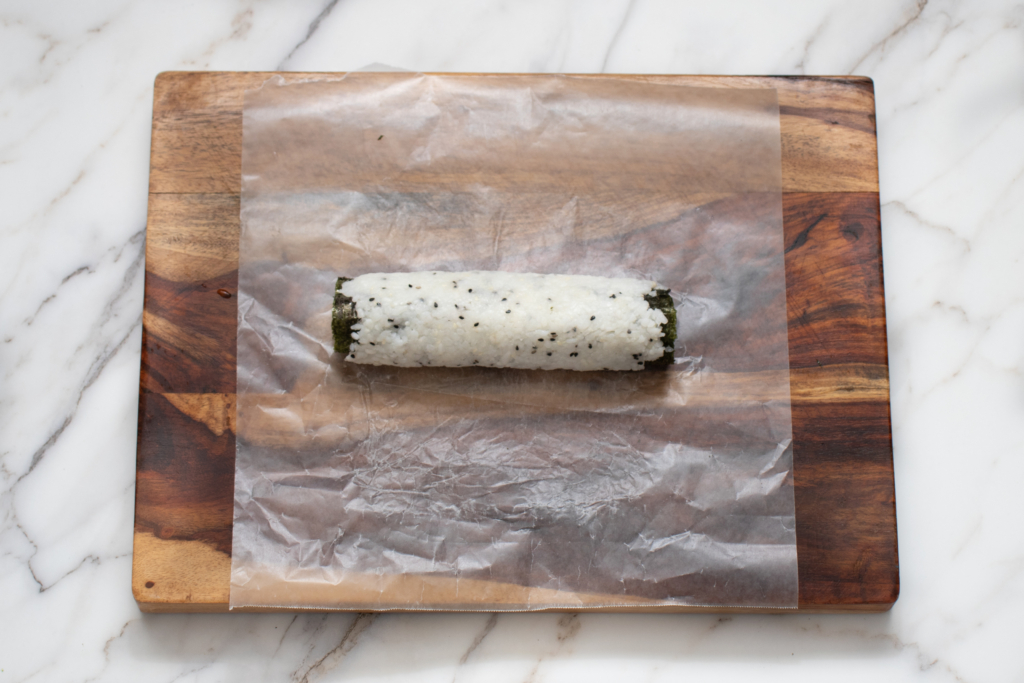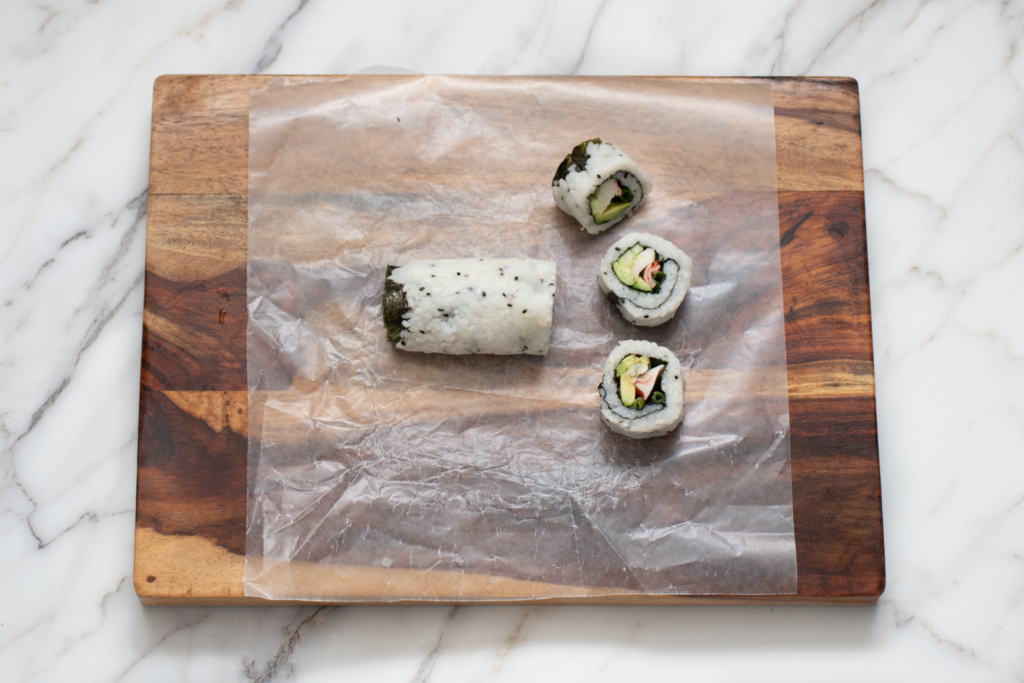 8) Serve California rolls with 1/4 cup soy sauce, 2 tbsp pickled ginger, and 1 tbsp of wasabi.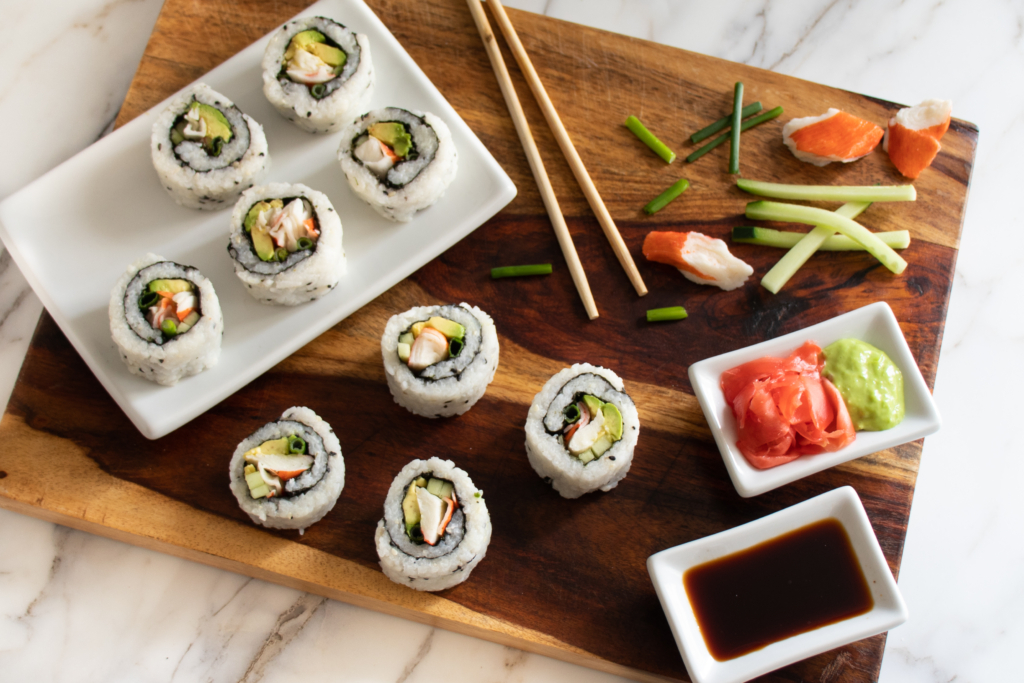 Nutrition
Nutritional Information per serving (4 servings per recipe): Calories 371, Total Fat 11g, Total Carbohydrates 55g, Total Sodium 1560mg, Total Protein 11g.