This dish is inspired by the iconic North African tagine, a stew traditionally cooked in a clay or ceramic vessel. In concept, your Suvie performs a similar function as the tagine vessel. Your Suvie creates a contained and controlled slow-cooking environment that also results in a moist and succulent stew. This chicken and eggplant version is slow cooked in a crushed tomato base heartily seasoned with North African spices such as cumin, ginger, garlic, paprika, and Chinese 5 spice. The Suvie Starch Cooker easily cooks any style, flavor, or size of couscous. Feel free to get creative and use your favorite variety. Most couscous variations will work exceptionally well with the date and almond additions.
Chicken and Eggplant Stew with Almond Couscous
Please always check your food to ensure your food has been cooked to safe serving temperatures. Please see our guide
here
for recommended FDA Time & Temperatures.
Servings: 4
Difficulty: 3 hours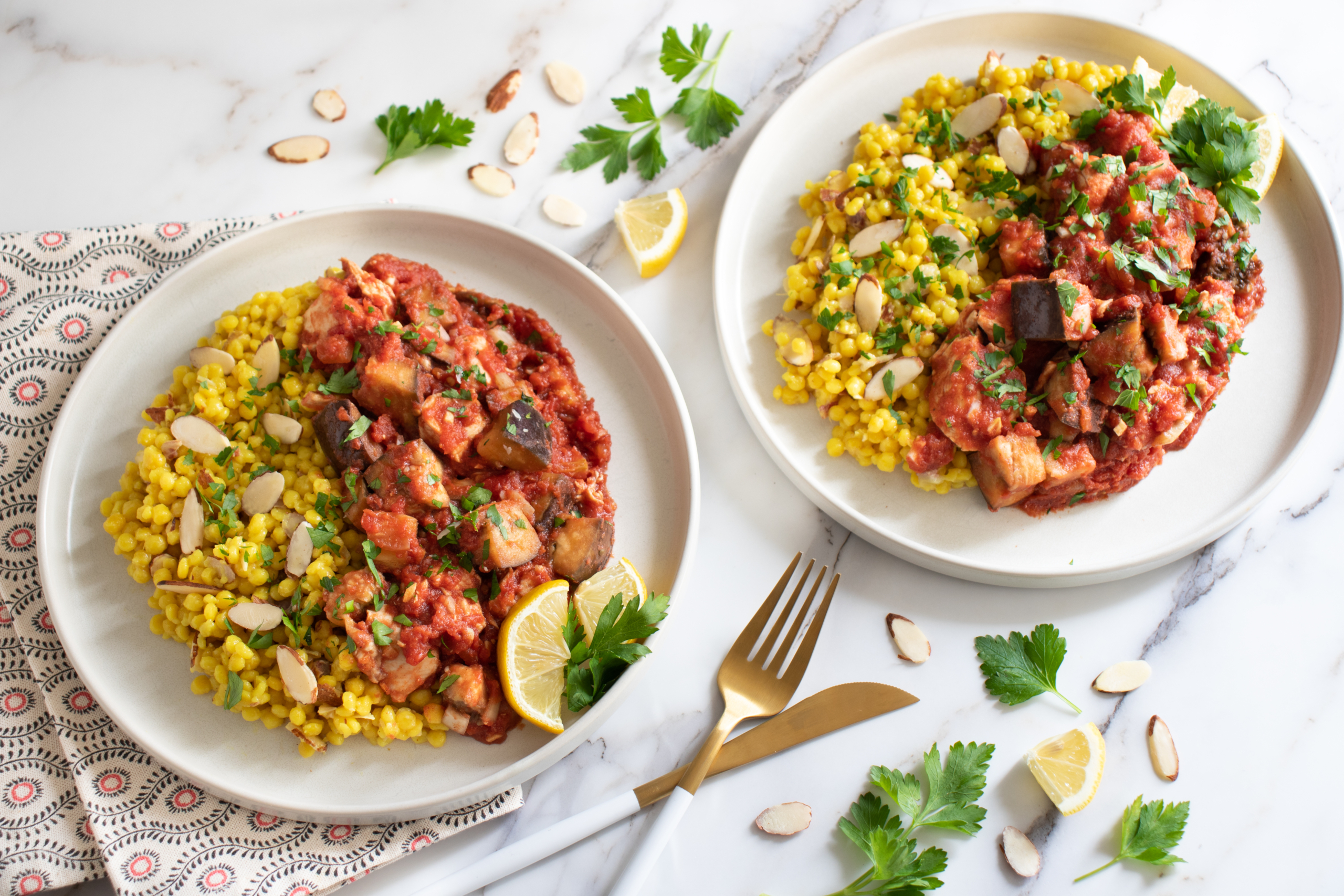 Ingredients
1 medium eggplant, diced (about 4 cups)
2 boneless skinless chicken breasts, cut into bite-sized pieces
¼ cup diced onion
4 garlic cloves, peeled and minced
2 tsp minced ginger
1 ½ tsp cumin
1 tsp paprika
¼ tsp Chinese 5 spice
3 cups canned crushed tomatoes
2 tbsp olive oil
1 cup pearl couscous
2 pitted dates, minced
¼ cup sliced almonds
2 tbsp chopped parsley
2-4 lemon wedges for garnish
Directions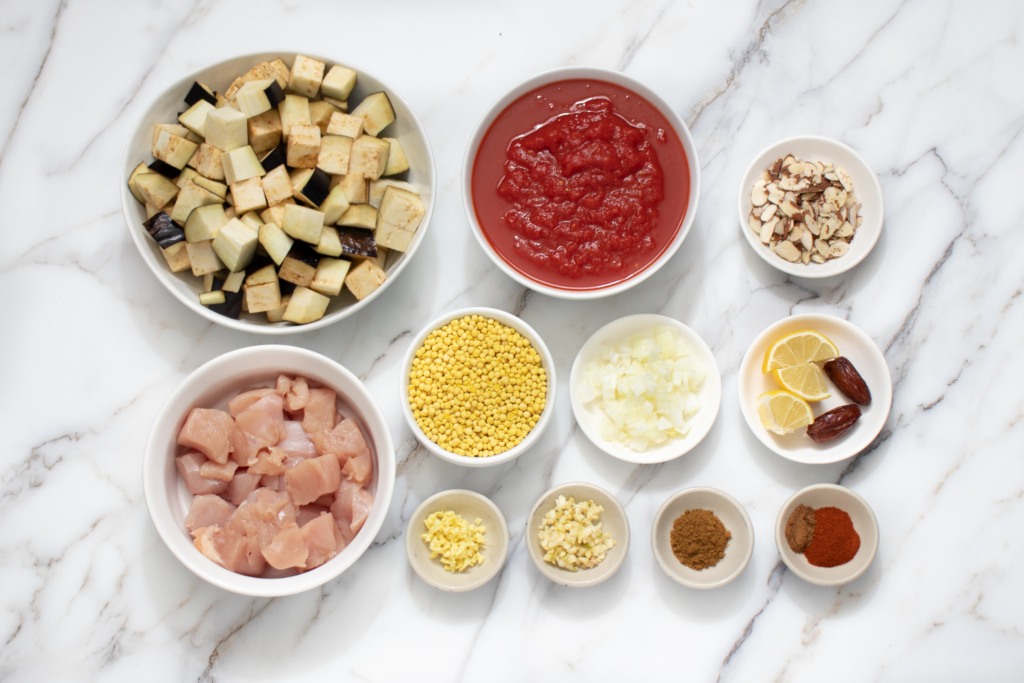 1) Place 1 diced eggplant, 2 chicken breasts, ¼ cup onion, 4 garlic cloves, 2 tsp minced ginger, 1 ½ tsp cumin, 1 tsp paprika, 1 tsp salt, ¼ tsp black pepper, and ¼ tsp Chinese 5 spice, 3 cups crushed tomatoes, and 2 tbsp olive oil in a large bowl. Stir to combine and divide between 2 Suvie pans.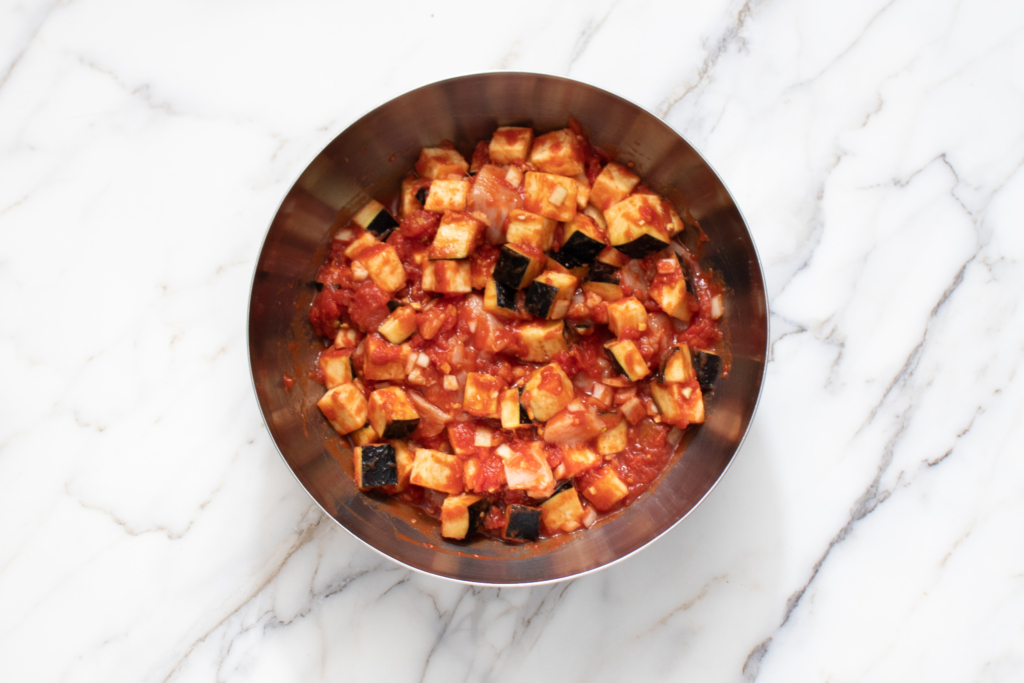 2) Place the pans in the top and bottom zones of your Suvie, input settings, and cook now or schedule.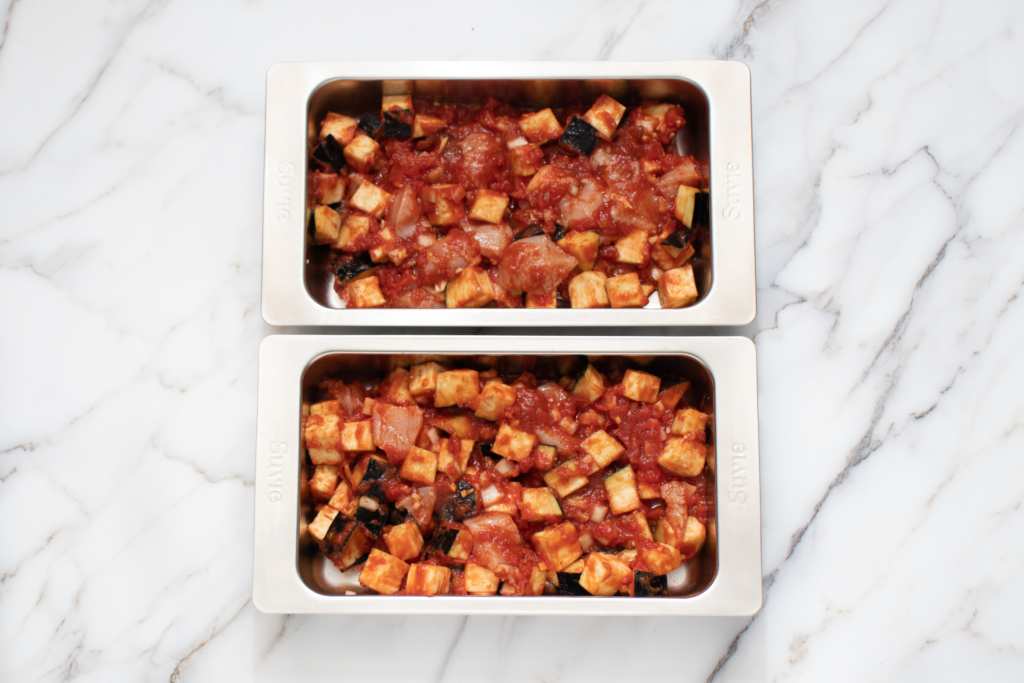 Suvie Cook Settings
Bottom Zone: Slow Cook, Low for 2 hours
Top Zone: Slow Cook, Low for 2 hours
3) When there is about 20 minutes remaining on the slow cook, add 1 cup pearl couscous to the Suvie rice pot (black handles), sprinkle with 2 pitted dates, and season with a hearty pinch of salt. Place in the Suvie Starch Cooker, making sure the pot is centered on the hot plate, and cover with the lid. Fill reservoir and select "Cook" or "Schedule".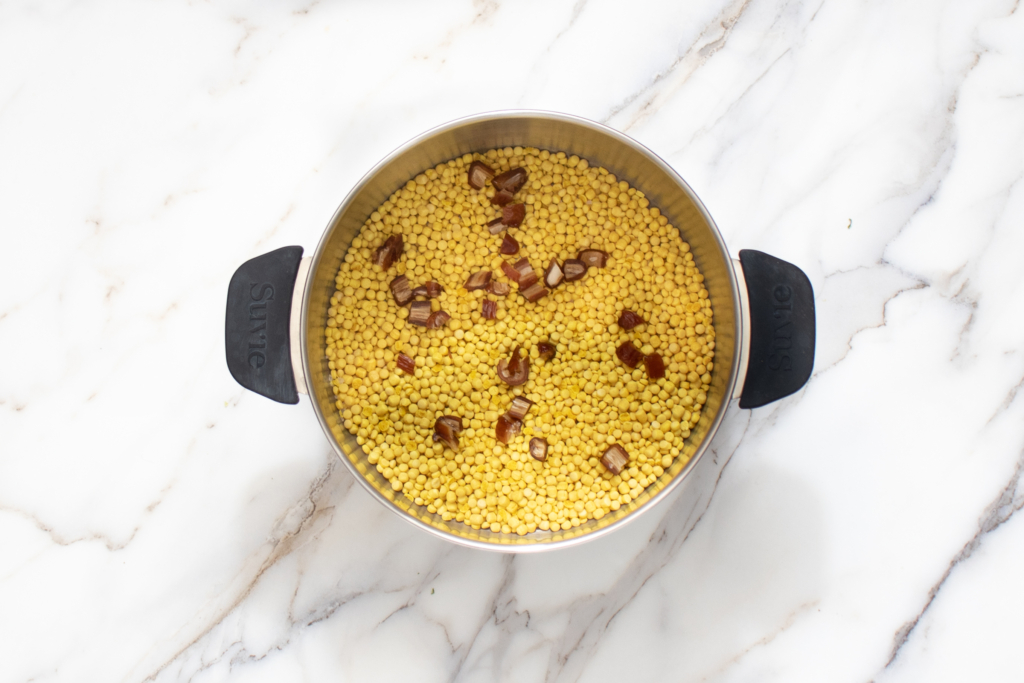 Suvie Starch Cooker Settings:
Couscous, Pearl, 1 Cup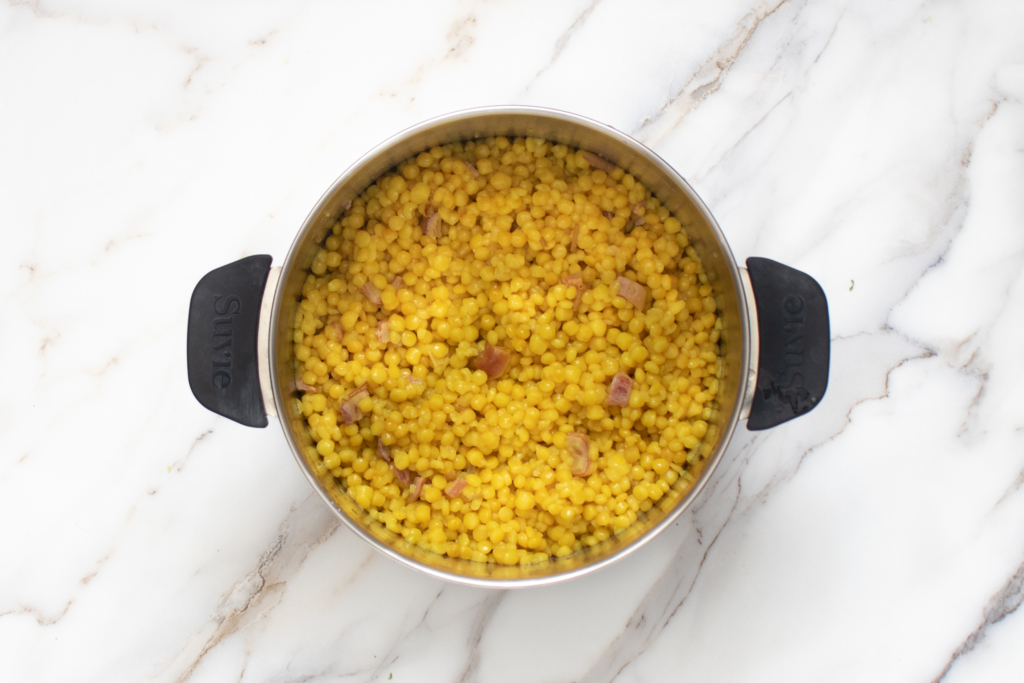 4) After the couscous has cooked, remove from the Suvie Starch Cooker, and fluff with a fork. Add ¼ cup sliced almonds and stir to combine.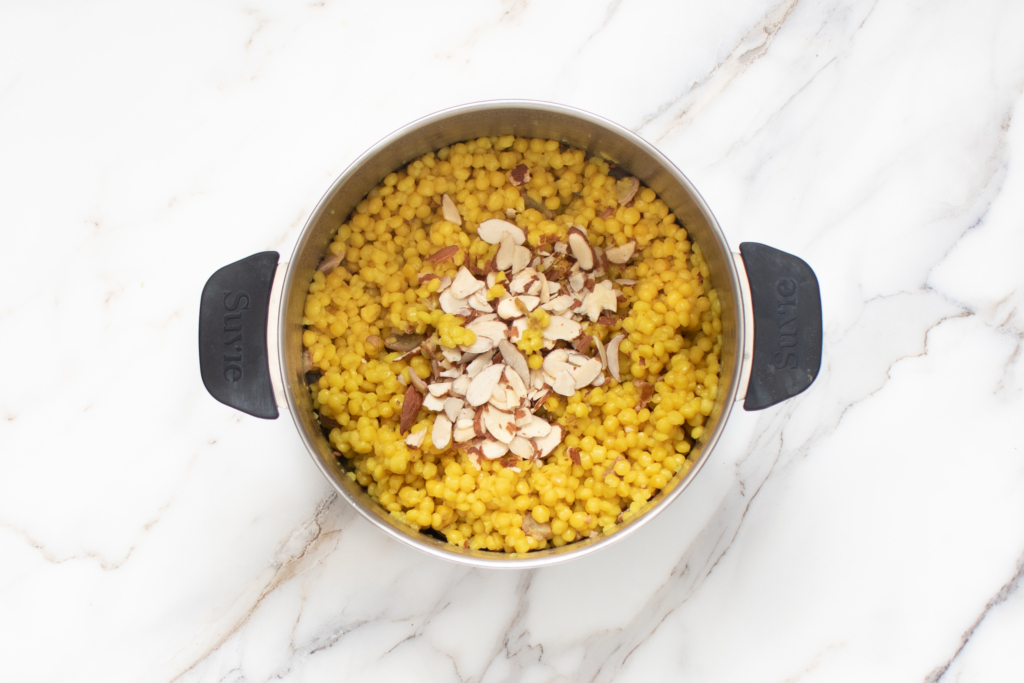 5) After the slow cook, remove the pans from your Suvie, stir, and season to taste with salt and pepper.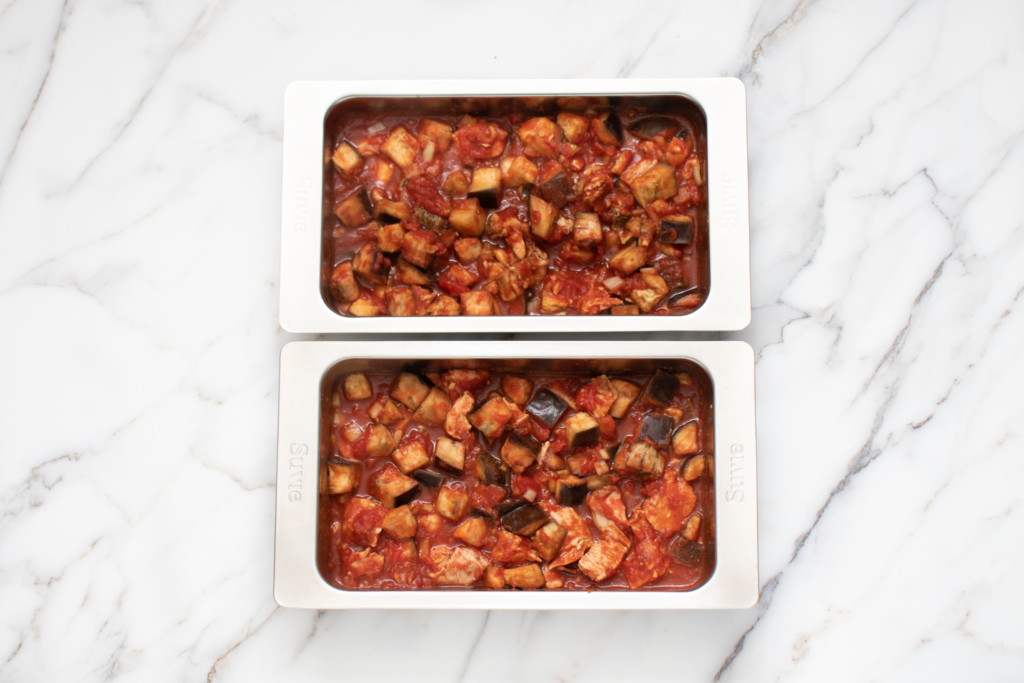 6) Divide the couscous and stew between 4 plates and garnish with chopped parsley and lemon wedges before serving.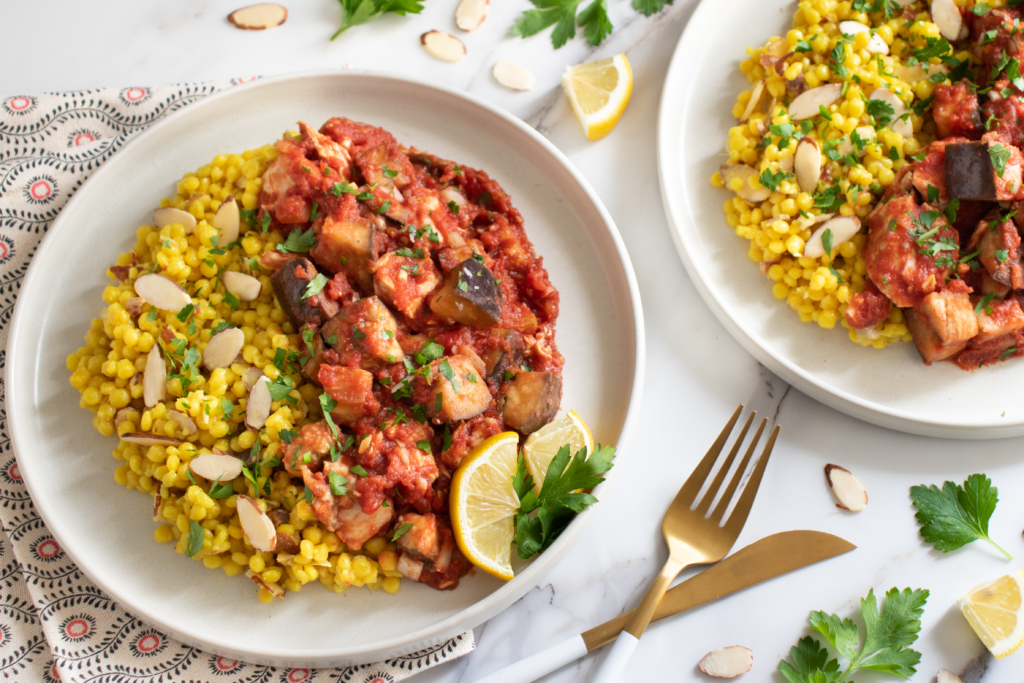 Nutrition
Nutritional Information per serving (4 servings per recipe): Calories 668, Total Fat 11g, Total Carbohydrates 67g, Total Sodium 5142mg, Total Protein 73g.