This recipe brings the classic flavors of chicken noodle soup straight to your Suvie. Overcooked noodles are the scourge of many homemade soups, and most recipes require that you cook the noodles separately to keep them from getting mushy. Luckily, Suvie takes care of all of this for you by cooking the pasta to the perfect al dente texture so that you can add it directly to your soup. This separate cooking method is also ideal for leftovers: all you have to do is reheat the soup, add the noodles to a bowl, and pour the piping hot soup over the noodles to reheat.
Note: to speed up prep you can substitute 3 cups of pre-cut mirepoix for the carrots, celery, and onion.
Chicken Noodle Soup
Please always check your food to ensure your food has been cooked to safe serving temperatures. Please see our guide
here
for recommended FDA Time & Temperatures.
Servings: 4
Difficulty: 4 hours and 14 minutes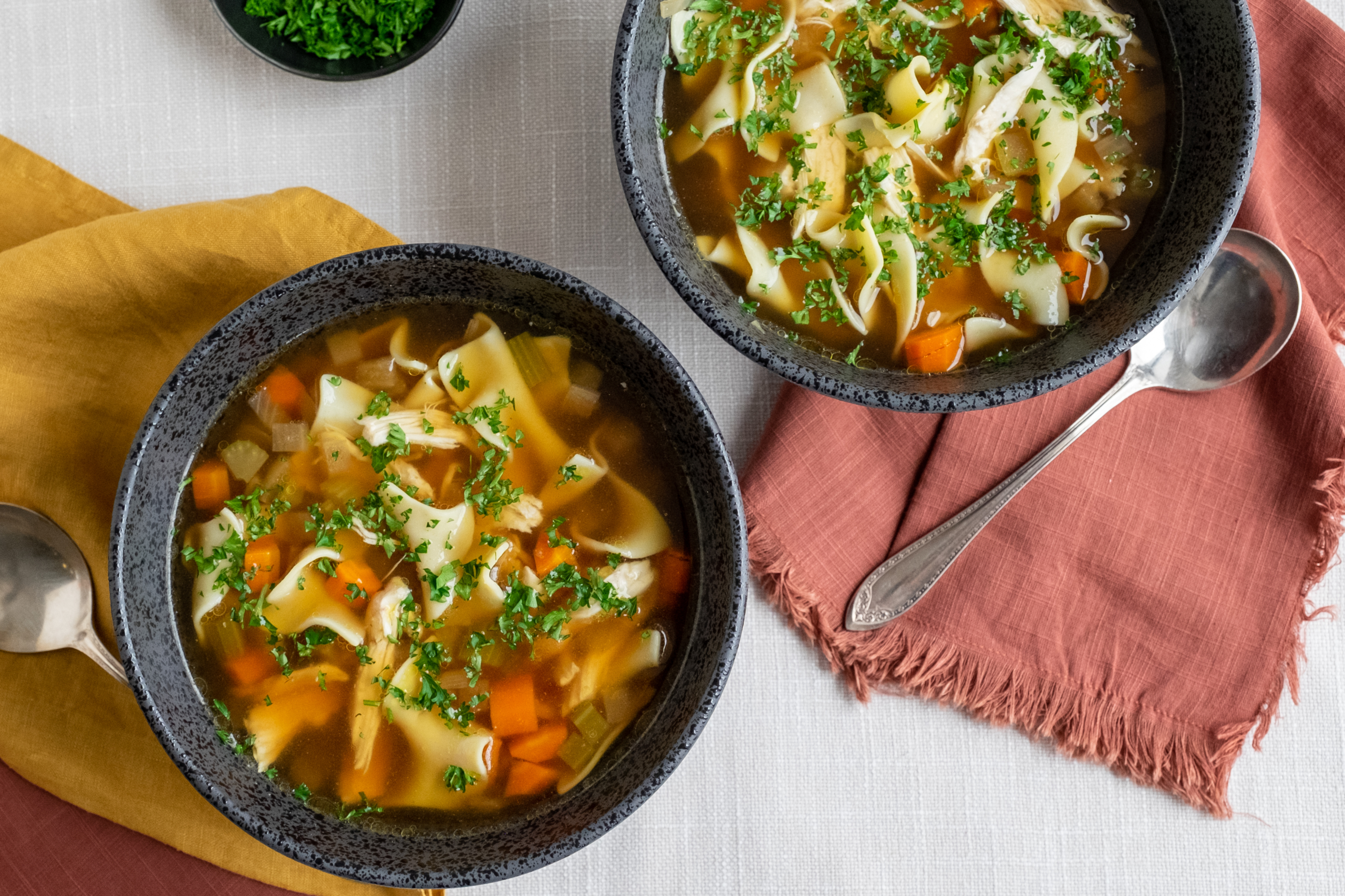 Ingredients
1 ½ lbs boneless, skinless chicken breasts
1 small onion, finely chopped
3 garlic cloves, minced
3 medium carrots, chopped
3 stalks celery, chopped
2 sprigs of fresh thyme
2 bay leaves
3 cups egg noodles
4 cups chicken broth
2 tbsp chopped fresh parsley leaves, to serve
Directions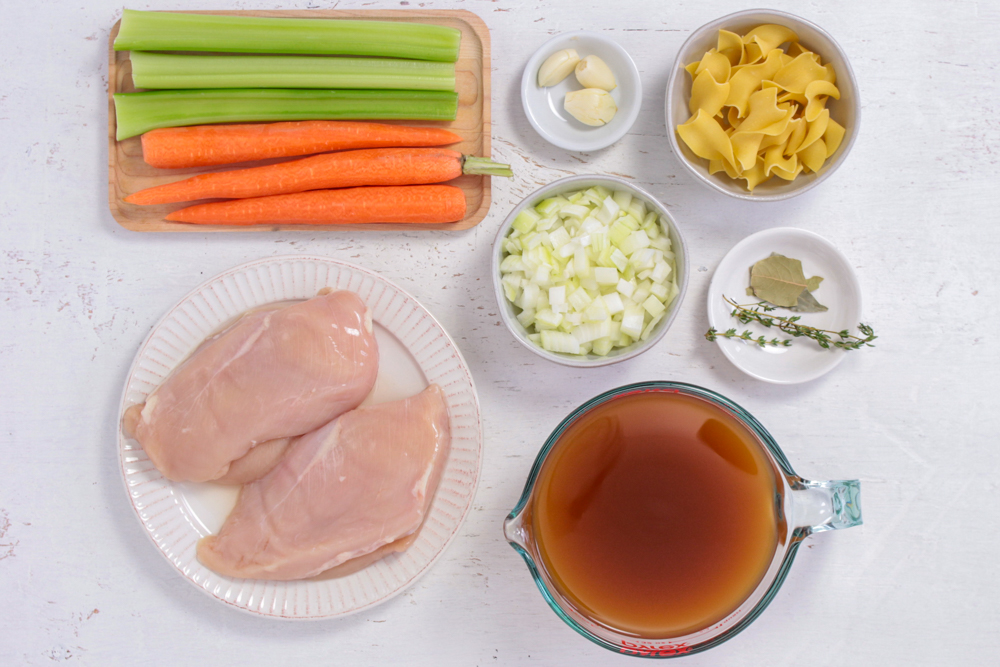 1) Pat 1 1/2 lbs chicken breast dry and season with 1 tsp salt and 1 tsp black pepper. Divide chicken, 1 minced onion, 3 garlic cloves, 3 chopped carrots, 3 chopped celery stalks, 4 cups chicken broth, 2 sprigs thyme, 2 bay leaves, 1 tsp salt, and ½ tsp pepper evenly between 2 Suvie pans. Input settings and cook now or schedule
Suvie Cook Setting
Bottom Zone: Slow Cook on Low for 3 hours
2) Place 3 cups egg noodles in the Suvie pasta strainer set within the Suvie pasta pot (green handles). Cover pot with lid and place inside the Suvie Starch Cooker, ensuring pot is centered on the hot plate. Input settings and cook now.
Suvie Starch Cooker Settings
Pasta, 3 cups, 8 minutes
3) After the chicken has finished cooking, remove all the pans from your Suvie. Transfer chicken breasts to a cutting board and shred into pieces with two forks, or cut into ½" cubes. Remove and discard thyme and bay leaves. Divide pasta evenly between 4 bowls. Return chicken to Suvie pans and season to taste with salt and pepper. Spoon soup over the noodles, stirring to incorporate. Garnish with parsley and serve.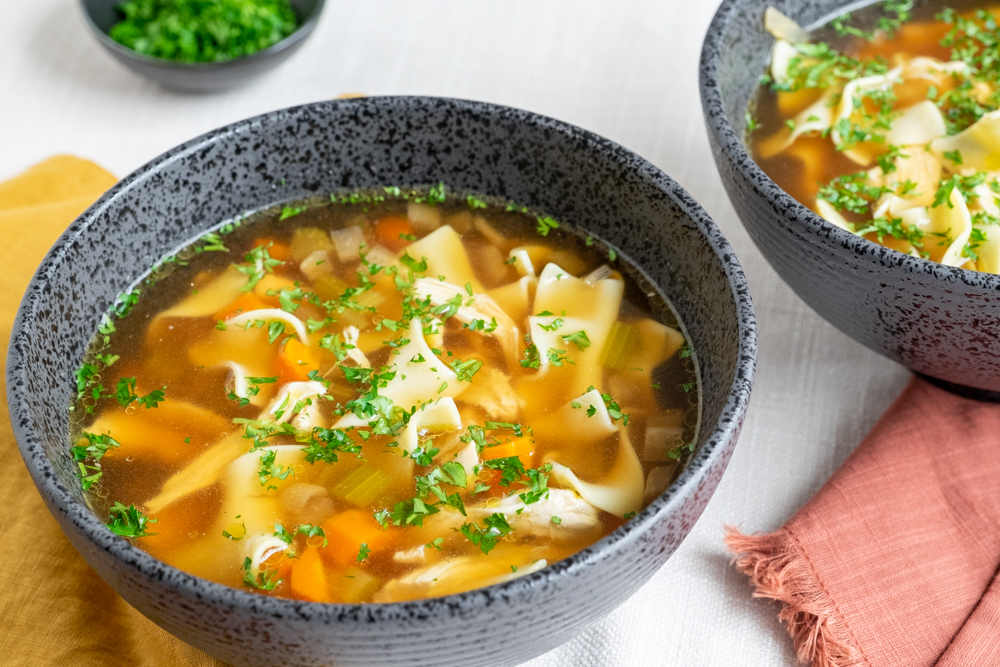 Nutrition
Nutritional Information per serving (4 servings per recipe): Calories 310, Total Fat 5g, Total Carbohydrates 27g, Total Sodium 1000mg, Total Protein 36g