Your game day preparations just got a whole lot easier thanks to Suvie. Sous vide cooked chicken wings are the best way to keep your wings juicy, while our Suvie broiler makes crisping up the skin super easy. Just toss the wings in your favorite sauce and you'll be ready for game time. We've included recipes for classic Buffalo-style wings, easy-going Sweet BBQ wings, and spicy Jamaican Jerk wings. So sit back, relax, and enjoy the game!
Chicken Wings
Please always check your food to ensure your food has been cooked to safe serving temperatures. Please see our guide
here
for recommended FDA Time & Temperatures.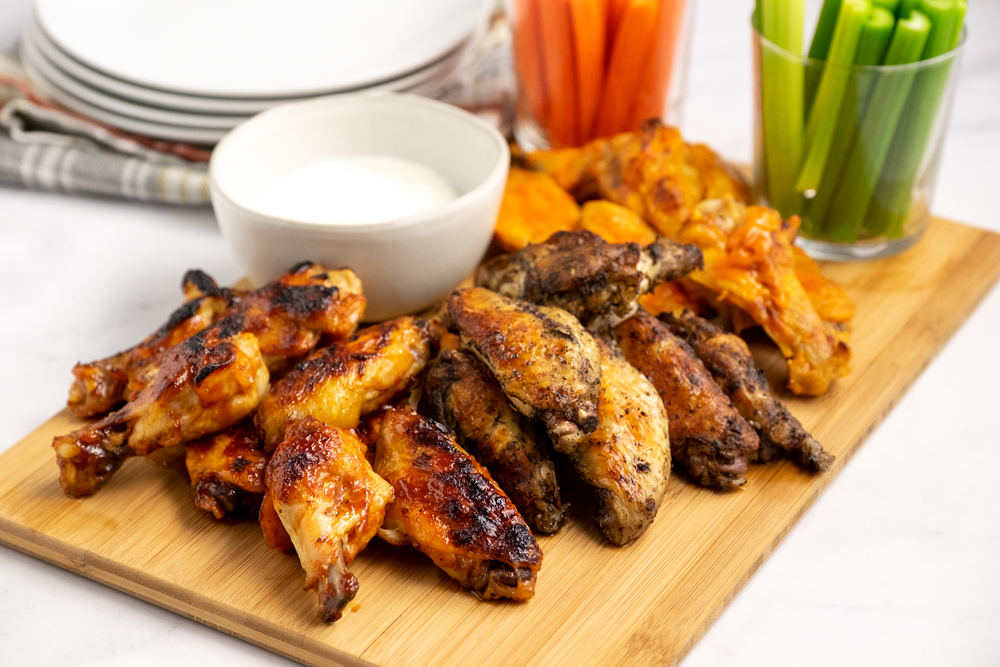 Ingredients
1-2 lb chicken wings, separated
1/4 cup buffalo sauce
1/4 cup melted butter
1/2 cup Sweet BBQ Sauce
2 tbsp Jamaican jerk seasoning
Directions
Buffalo Wings
1) Separate the chicken wings with kitchen shears. Locate the two joints and cut with the shears, or use a sharp knife to work around the joints. Keep the wing tips for making chicken stock, or discard. Season the wings generously with salt, about 1/2 tsp per pound of chicken.
2) Place the wings in vacuum-sealed bags (you will only be able to fit about 12 wing pieces per bag in the Suvie pans) and seal. Load the pans into your Suvie, input settings, and cook now or schedule.
Suvie Cook Settings
Bottom Zone: Sous Vide at 175˚F for 1 hour and 30 minutes
Top Zone: Sous Vide at 175°F for 1 hour and 30 minutes
3) After the cook remove the wings from the vacuum bags. Pat dry with paper towels and return in an even layer to the pans. The wings should be spread out evenly, so use both pans if necessary. Broil for 20 minutes until the wings are browned and crispy, flipping wings halfway through.
4) While the wings are broiling, heat up the buffalo sauce and butter, and stir to combine. Once the wings are crispy toss with the buffalo sauce and serve immediately.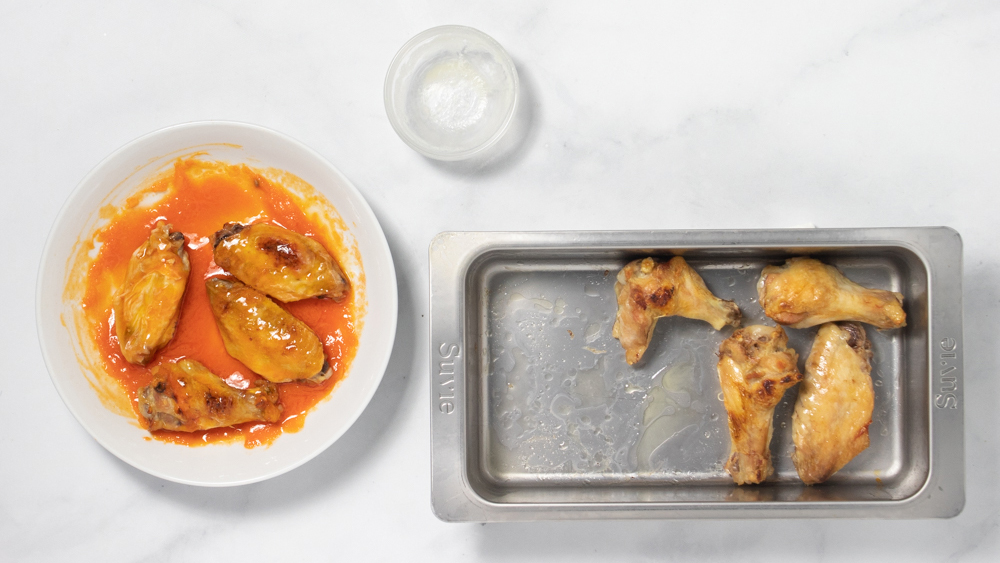 Sweet BBQ Wings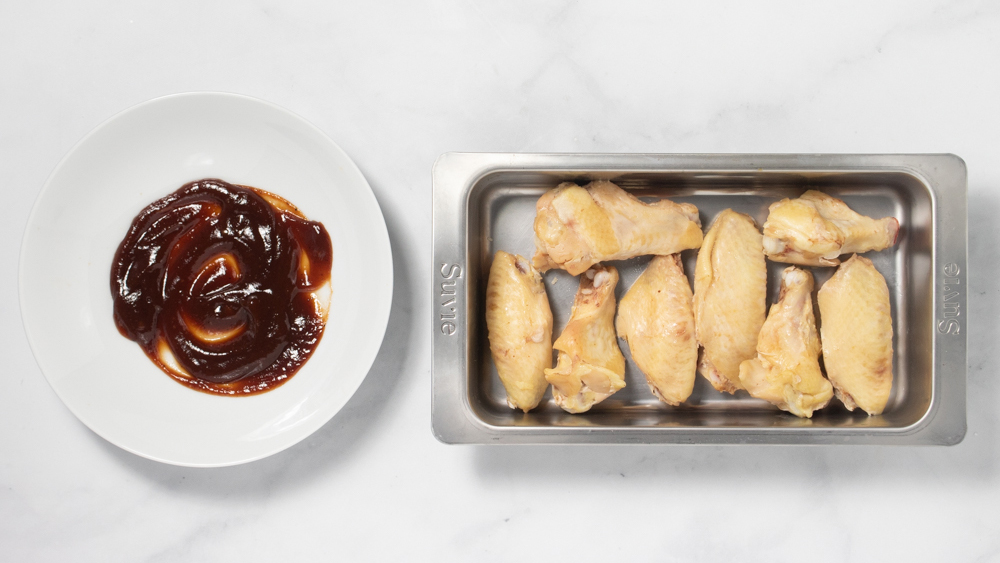 Follow the steps for the Buffalo Wings recipe but instead of tossing in the Buffalo sauce toss the wings in a sweet BBQ sauce. Return the BBQ wings to the pan and broil for an additional 7-10 minutes until the sugars have caramelized and the sauce is bubbling, serve immediately.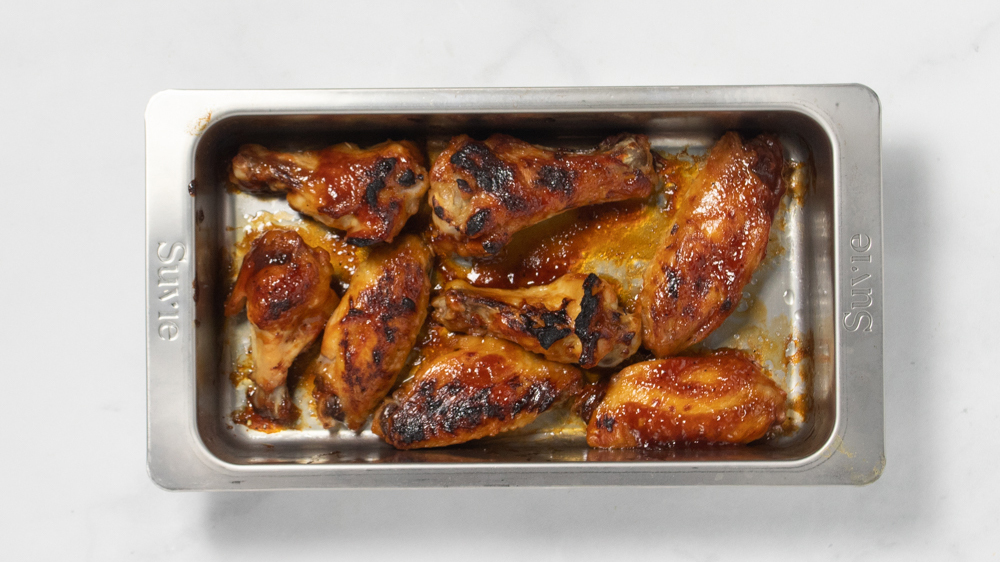 Jamaican Jerk Wings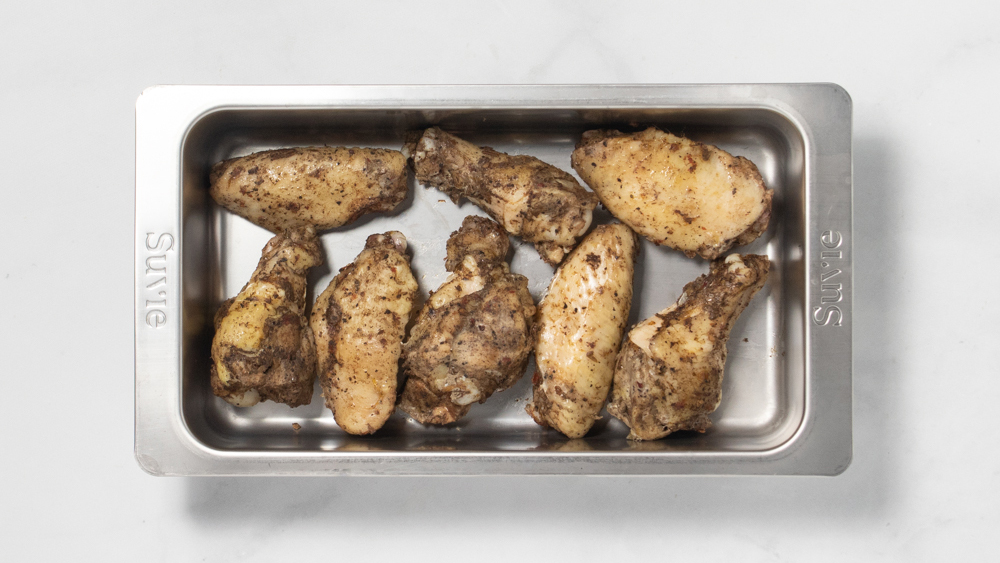 Before sealing the wings in a vacuum bag toss the wings with 2 tbsp jamaican jerk seasoning. If the seasoning does not have salt, add about 1/2 tsp of salt per pound of chicken. Seal the wings and cook in your Suvie. After the cook pat the wings dry and broil for 10-20 minutes until crispy, serve immediately.