Skirt steaks are a small, flat cut of beef with intense flavor. The key to keeping skirt steaks from getting tough and chewy is to make sure you slice them very thinly against the grain after cooking. Having an acidic marinade also helps to tenderize the meat, but works best as a quick marinade since the acid can go too far and make the meat feel mushy. Spicy and smoky chipotle peppers and garlic powder round out the marinade and a fresh tomato salsa spiked with roasted poblano peppers adds another dash of heat. If you're looking to tame the flames in this recipe you can swap in 1 tbsp sweet paprika for the chipotles and bell peppers for the poblanos.
Chipotle Skirt Steak
Please always check your food to ensure your food has been cooked to safe serving temperatures. Please see our guide
here
for recommended FDA Time & Temperatures.
Servings: 4
Difficulty: 2 hours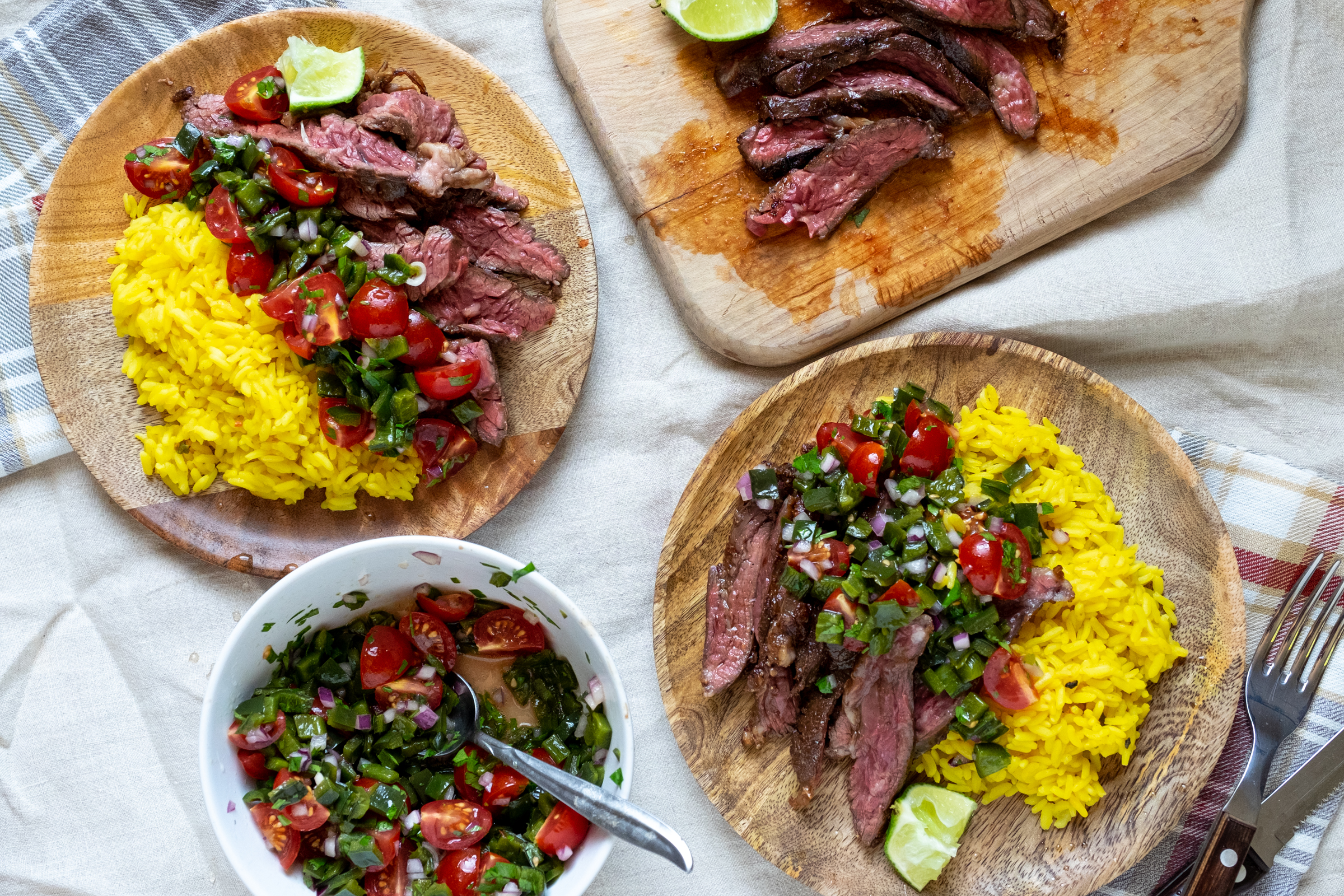 Ingredients
1 ½ lb skirt steak, trimmed
2 chipotle peppers in liquid, minced
1 lime, juiced, divided
2 tbsp brown sugar
1 tsp garlic powder
2 poblano peppers, diced
1 cup pre-seasoned yellow rice
8 oz cherry tomatoes, diced
1 small red onion, diced
½ cup cilantro, chopped
2 tbsp vegetable oil, divided
Directions
1) In a medium bowl, stir together 2 minced chipotle peppers, half the lime juice, 2 tbsp brown sugar, 1 tsp garlic powder, and 1 tsp salt. Add 1 1/2 lbs skirt steak, massaging the marinade into the steak. Vacuum seal the steak, place skirt steak in a Suvie pan, cover with water, and place in bottom zone of Suvie.
2) Add the diced poblano peppers to a second Suvie pan and place in top zone of Suvie. Enter settings below and cook now or schedule.
Suvie Cook Settings
Bottom Zone: Sous Vide at 130˚F for 1 hour and 30 minutes
Top Zone: Sous Vide at 130˚F for 1 hour and 30 minutes
3) Place 8 oz yellow rice in a Suvie rice pot and place in Suvie Starch Cooker. Fill reservoir, enter settings, and cook now or schedule.
Suvie Starch Cooker Settings
Rice, Medium Grain, 1 cup
4) During the cook, prepare the salsa. Combine the remaining lime juice, 8 oz diced cherry tomatoes, 1 diced red onion, 1/2 cup chopped cilantro, and 1 tsp salt. Set aside.
5) After the cook, remove poblano peppers and steak from Suvie and drain off any excess water. Season the peppers with 1 tbsp vegetable oil and 1/4 tsp salt. Set the steak aside, return the peppers to Suvie, and Roast for 20 minutes.
6) Meanwhile, heat a heavy skillet over high heat for 5 minutes. Add 1 tbsp vegetable oil to the skillet, when the oil begins to smoke, add the skirt steaks and sear for 1 minute per side, turning every 30 seconds. You want to get a nice hard sear and some char on the steaks. Once seared, transfer steak to a cutting board and cut thinly against the grain.
7) After the broil, stir the poblano peppers into the tomato salsa and adjust seasoning to taste.
8) Fluff rice and adjust the seasoning of the yellow rice to taste, then divide between plates. Top with the thinly sliced skirt steak and top with the poblano-tomato salsa.
Nutrition
Nutritional Information per serving (4 servings per recipe): Calories 630, Total Fat 26g, Total Carbohydrates 58g, Total Sodium 870mg, Total Protein 39g