Two of our favorite barbeque side dishes are collard greens and coleslaw. In the United States, coleslaw recipes vary widely between regions. In this recipe we highlight the coleslaw of the Carolinas: vinegary, mustardy, sweet coleslaw. You won't find any mayonnaise here. We like to pair the cold, sweet, and tangy coleslaw with warm, savory, and smoky collard greens. Collard greens have a long history in the South. While collards did not come from Africa (they are Eurasian in origin), their method of preparation in this recipe is based on cooking methods utilized by African slaves living in the southern United States. Traditional recipes call for a ham hock to be stewed with the greens, but we have called for bacon, which is more widely available. If you have difficulty cutting the bacon, freeze it for 5 minutes to firm it up.
Note: Do not fill the reservoir before broiling.
Collards and Coleslaw
Please always check your food to ensure your food has been cooked to safe serving temperatures. Please see our guide
here
for recommended FDA Time & Temperatures.
Servings: 6-8 as a side
Difficulty: 3 hours and 35 minutes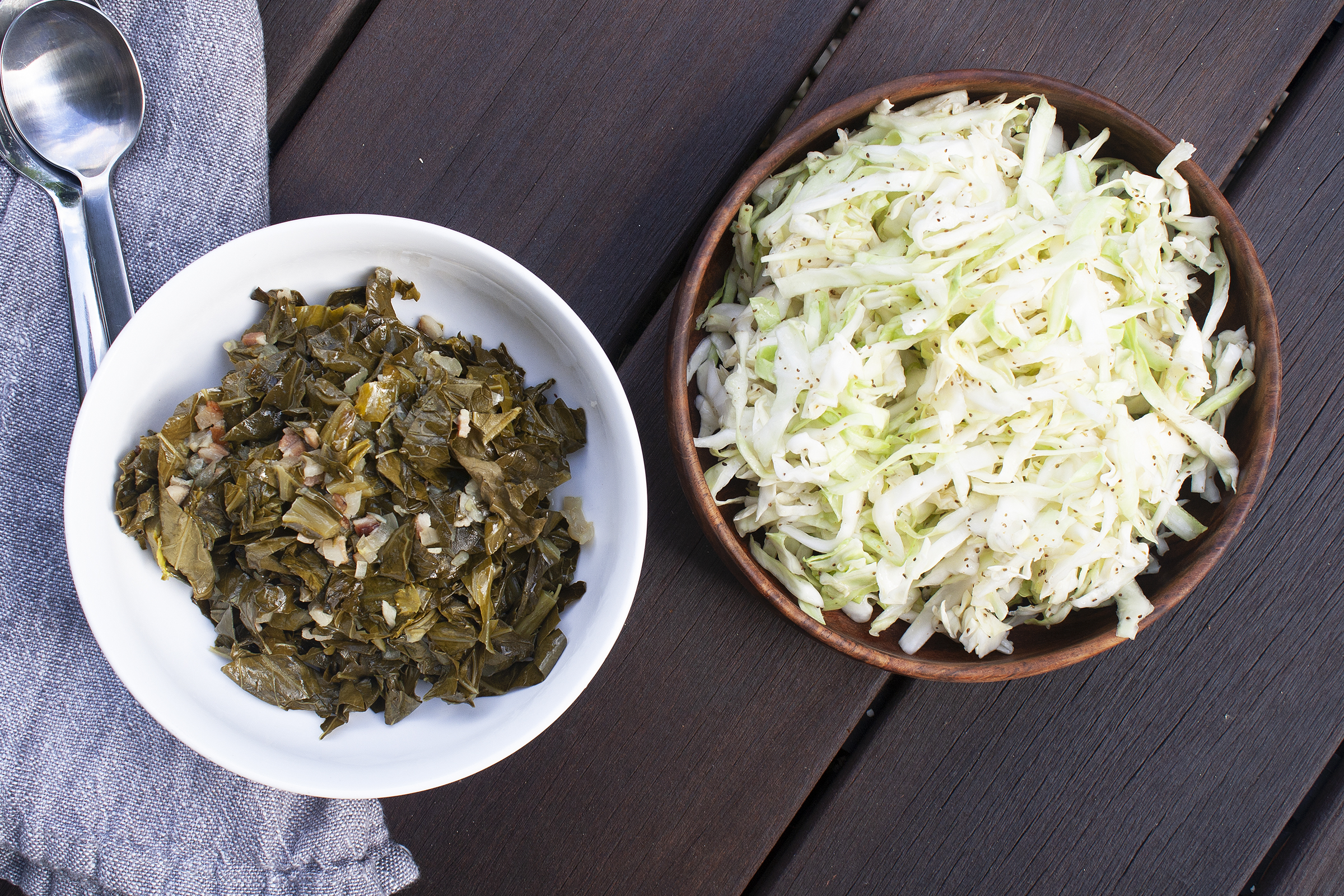 Ingredients
For the collards:
1 small onion, finely chopped
1 piece bacon, finely chopped
1 clove garlic, minced
1 small bunch collards, stemmed and thinly sliced
1 cup chicken broth
For the coleslaw
½ small head cabbage
1 tsp celery seeds
½ cup cider vinegar
⅓ cup sugar
2 tbsp vegetable oil
1 tbsp Dijon mustard
1 ½ tsp dry mustard powder
2 tsp kosher salt
Directions
Stir together onion, bacon, and garlic in a Suvie pan.
Broil in your Suvie for 10 minutes, stirring halfway through cooking.
Once the onion has finished broiling, remove pan from your Suvie, and stir in the chicken broth, collards, and 1 tsp salt.
Insert pan into your Suvie, input settings, and cook now or schedule.
Suvie Cook Settings
Bottom Zone: Slow Cook High for 2 hours
While the collards cook, prepare the coleslaw. In a large bowl, whisk together the celery seeds, vinegar, sugar, vegetable oil, Dijon, dry mustard, and kosher salt until the sugar has dissolved.
Add the cabbage, tossing to coat. Place coleslaw in the refrigerator until ready to serve.
Once the collards have finished cooking, remove pan from your Suvie and season to taste with salt and pepper.
Remove coleslaw and season to taste with salt and pepper, adding additional vinegar or sugar as needed.
Note: If you would like to make this recipe in Suvie 1.0, insert pan into the top zone of Suvie, fill reservoir, and set to Slow Cook on High for 2 hours.
Nutrition
Nutritional Information per serving (6 servings per recipe): Calories 145, Total Fat 6g, Total Carbohydrates 20g, Total Sodium 885mg, Total Protein 3g