For a Tex-Mex style dinner try our recipe for cumin rubbed steak with charred corn. First the steaks are sous vide to an ideal internal temperature and then rubbed with cumin and seared in an ultra hot pan to develop a flavorful crust on the outside. The corn is then seared in the same pan not only to get a tasty char, but also to absorb some of the flavors left from the steak. A dusting of chile powder adds smoky and spicy notes to the corn. Served with fluffy white rice, verdant cilantro, and tangy lime juice, this meal is a knockout. Be sure to pat the steaks and corn as dry as possible to get the best sear.
Cumin Rubbed Steak with Charred Corn
Please always check your food to ensure your food has been cooked to safe serving temperatures. Please see our guide
here
for recommended FDA Time & Temperatures.
Servings: 2
Difficulty: 2 hours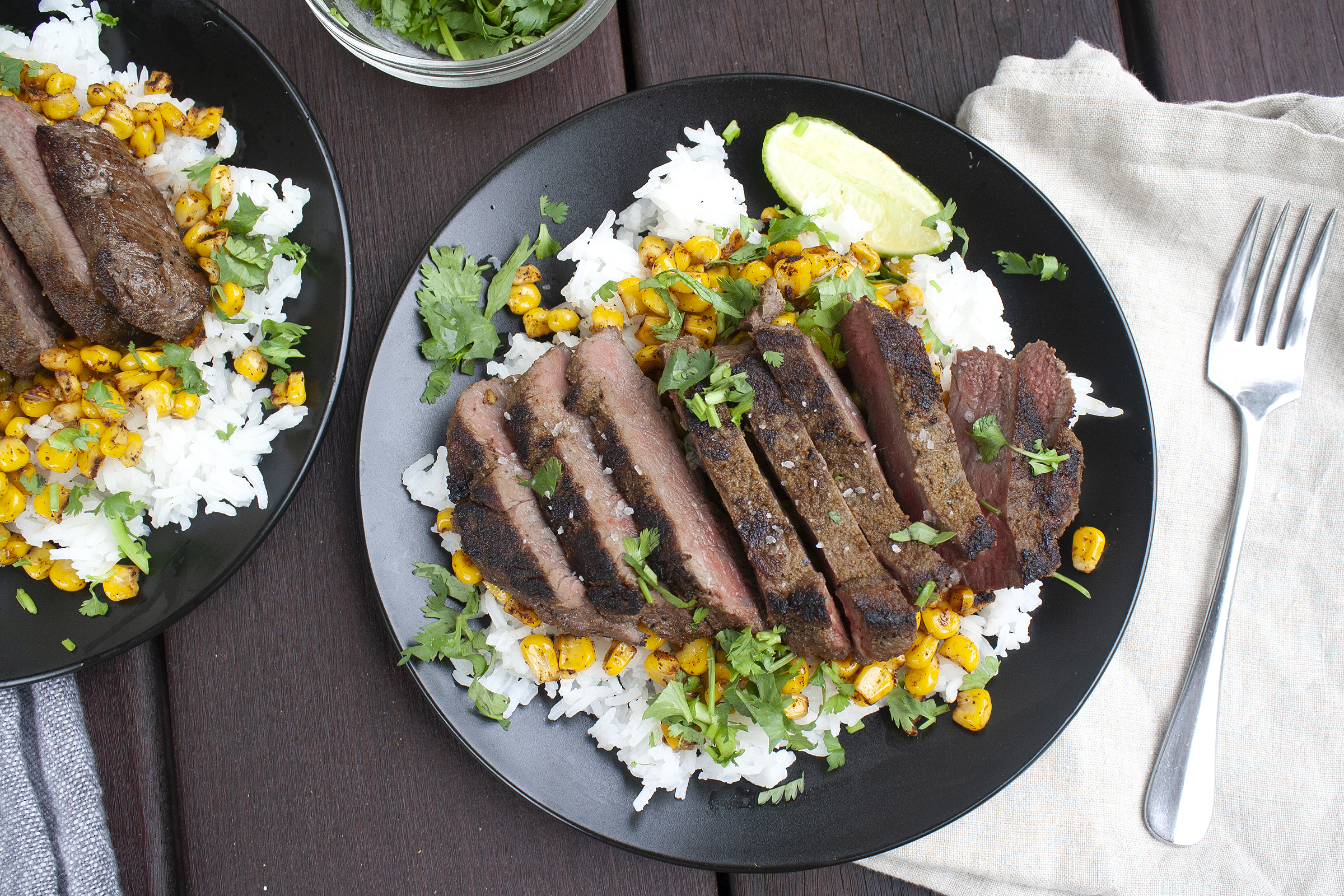 Ingredients
2 (5 oz) sirloin steaks, vacuum sealed
2 cups frozen or fresh corn kernels
½ cup jasmine rice
2 tsp vegetable oil
2 tsp cumin
½ tsp chili powder
1 lime
¼ cup finely chopped cilantro
Directions
1) Place steaks in a Suvie pan, cover with water, and place in the bottom zone of Suvie.
2) Place corn kernels in a second Suvie pan and place in the top zone of Suvie. Input settings, and cook now or schedule.
Suvie Cook Settings
Bottom Zone: Sous Vide at 130°F for 1 hour, 30 minutes
Top Zone: Sous Vide at 130°F for 1 hour, 30 minutes
3) Place 1/2 cup jasmine rice in the Suvie rice pot (black handles) and cover pot with lid. Place pot inside the Suvie Starch Cooker, ensuring the pot is centered on the hot plate. Input settings and cook now or schedule.
Suvie Starch Cooker Settings
Rice, Long Grain, 1/2 cup
4) After the steaks have finished cooking, remove them from packaging and pat dry thoroughly. Drain any water from corn and pat dry with paper towels.
5) Heat 2 tsp vegetable oil in a heavy bottom skillet or cast iron pan over high heat until just smoking.
6) Rub 2 tsp cumin and 1/2 tsp kosher salt over the steaks and then add to the hot pan and sear for 1 minute without moving. Flip steaks over and sear on the other side for another minute until well browned. Remove steaks from pan and immediately add corn, stirring constantly and scraping the bottom of the pan until charred, about 3 minutes. During the last minute of cooking, add 1/2 tsp chili powder, stirring constantly. Transfer corn to a bowl and season to taste with salt and pepper.
7) Divide rice between plates and then top with corn. Slice steaks against the grain and serve on top of the corn. Garnish with cilantro and a generous squeeze of lime.
Nutrition
Nutritional Information per serving (2 servings per recipe): Calories 704, Total Fat 22g, Total Carbohydrates 91g, Total Sodium 688mg, Total Protein 38g