East Carolina BBQ is as pure as it gets. Typically whole hogs are slowly smoked for over 12 hours to create the most tender and flavorful pork you can find. After it's cooked the pork is chopped or pulled and then mixed with the vinegar and chili based BBQ sauce only found in the Eastern part of the state, no tomato or ketchup to be found. The vinegar emulsifies with the rich pork fat and makes for a one-of-a-kind BBQ experience. We couldn't quite fill a whole pig in Suvie so we've opted for a boneless pork shoulder. Rubbed with salt and brown sugar and slow cooked for 8 hours this pork is good in a pinch when you're missing some good ol' fashioned 'que.
East Carolina Pulled Pork
Please always check your food to ensure your food has been cooked to safe serving temperatures. Please see our guide
here
for recommended FDA Time & Temperatures.
Servings: 4-6
Difficulty: 7 hours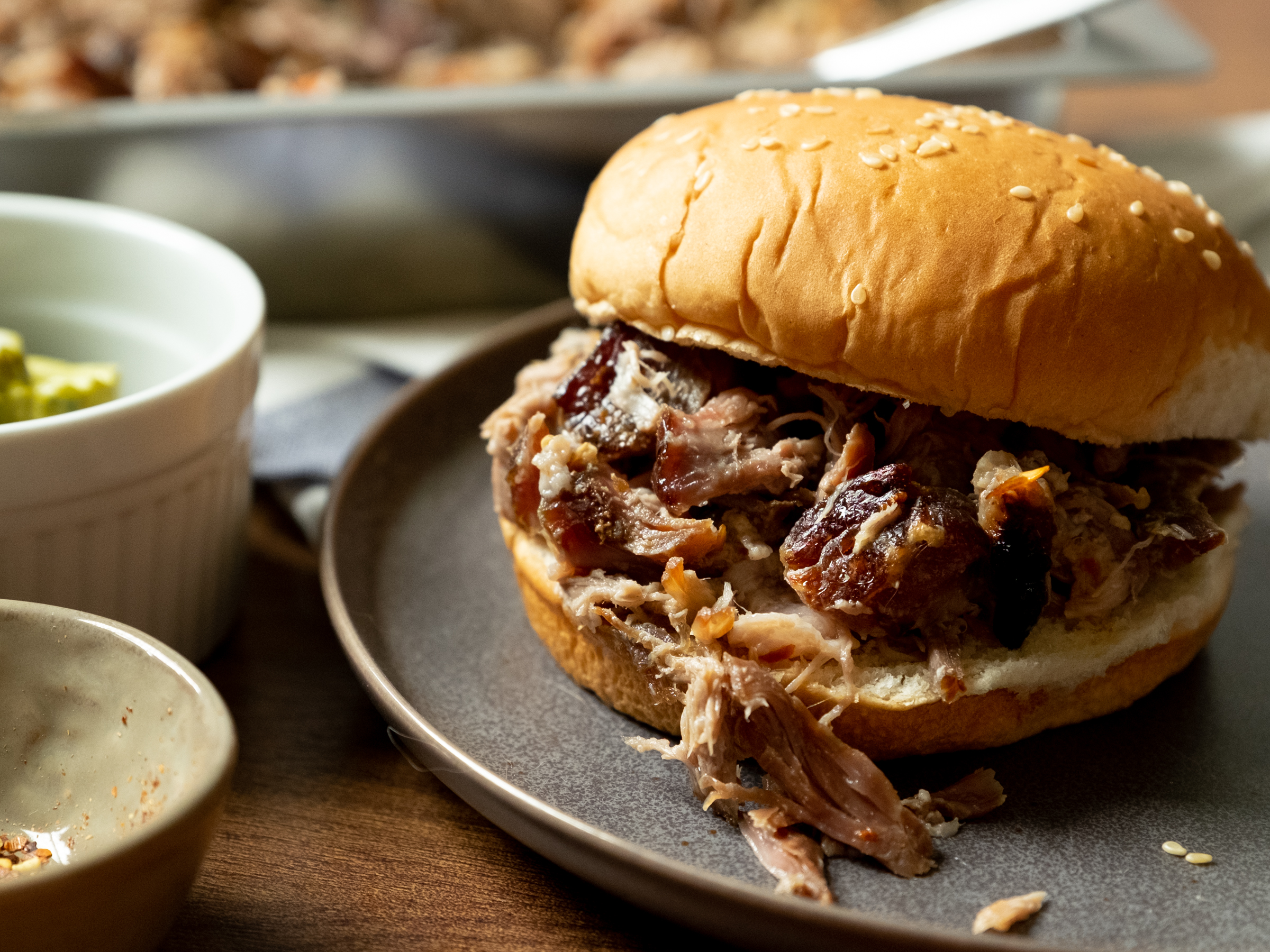 Ingredients
2-3 lbs boneless pork shoulder
¼ cup brown sugar
2 tbsp salt
1 tsp red pepper flakes, plus more to taste
¼ cup cider vinegar, plus more to taste
Directions
1) Place pork shoulder in a Suvie pan and coat with the brown sugar and salt. Sprinkle ½ the red pepper flakes over the pork. Insert pan into top zone of Suvie. Enter cook settings and set to Cook Now or Schedule.
Suvie Cook Settings
Bottom Zone: Slow Cook High, 6 hours
Top Zone: Slow Cook High, 6 hours
2) After the cook, drain off the liquid from the pan, but reserve it to add back to the pork. Shred the pork with two forks and return to Suvie.
3) Broil for 8-10 minutes until the tips of the pork is crispy and crackling.
4) Remove pork from Suvie, add about ½ cup of reserved liquid and cider vinegar to the pork, and mix. Add more salt to the pork as needed. Add additional vinegar or pepper flakes to taste depending on how spicy and vinegary you like your pork.
5) Serve on buns (potato is traditional) with pickles, or with our Coleslaw and Collard Greens side dishes.
Nutrition
Nutritional Information per serving (6 servings per recipe): Calories 390, Total Fat 23g, Total Carbohydrates 9g, Total Sodium 1300mg, Total Protein 33g