These Greek-inspired turkey meatballs are flavorful and bright thanks to the use of oregano, cumin, coriander, lemon, and ample amounts of mint. We threw in some feta too for a tangy, briny punch. You can easily swap the mint for dill or any other fragrant, leafy herb. Additionally, these meatballs taste just as good with ground pork or ground chicken, so feel free to mix it up. If you want to add a starch, rice or orzo taste great with the meatballs, or forgo a starch entirely and serve with a chopped fresh salad instead.
Greek Style Turkey Meatballs
Please always check your food to ensure your food has been cooked to safe serving temperatures. Please see our guide
here
for recommended FDA Time & Temperatures.
Servings: 4
Difficulty: 2 hours and 25 minutes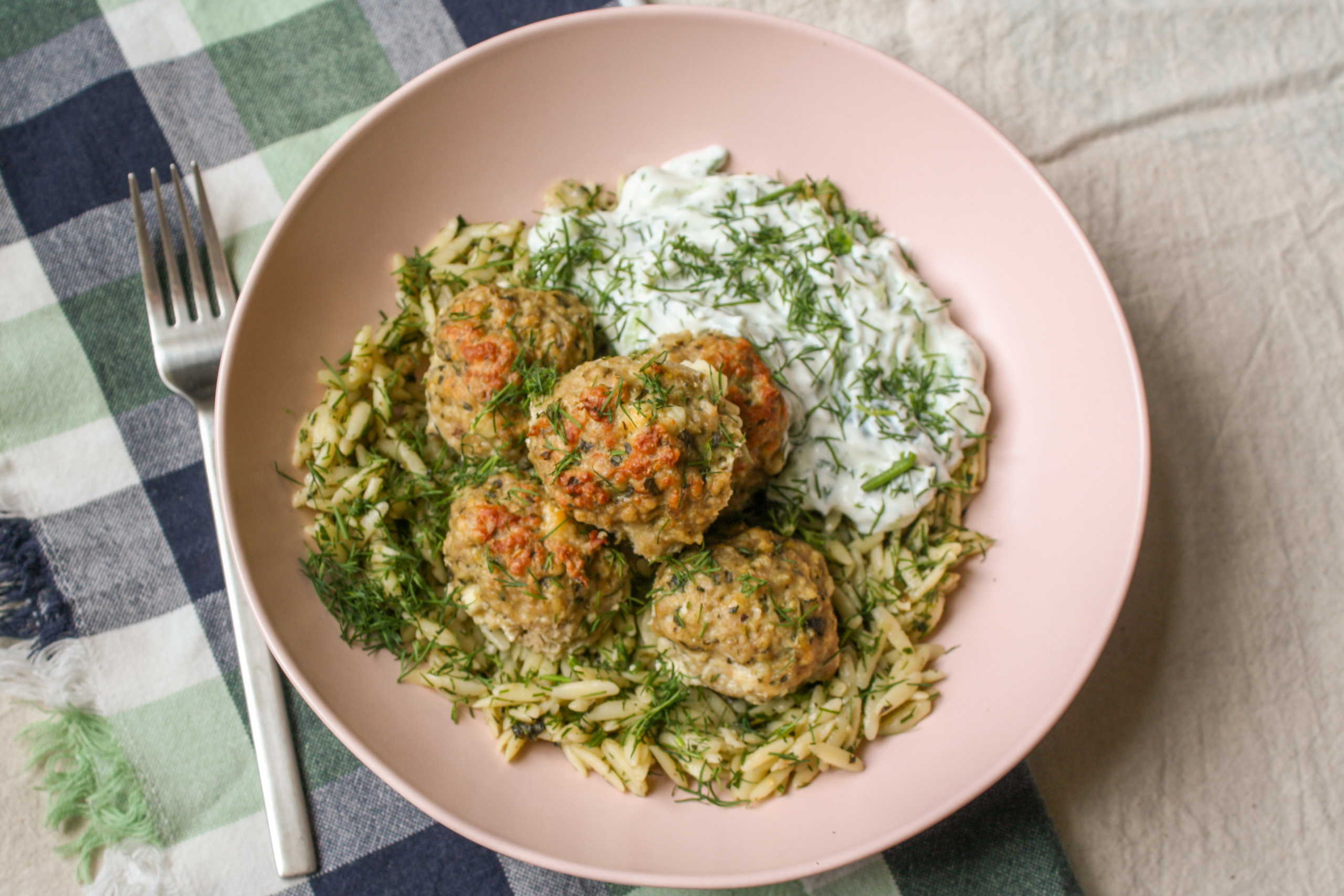 Ingredients
1 tbsp dried oregano
1 tsp ground cumin
1 tsp ground coriander
1 lemon, zested
¼ cup chopped fresh mint or dill, plus extra for starch
3 garlic cloves, minced
1 large egg
⅓ cup panko bread crumbs
1 lb ground turkey
½ cup feta cheese
1 cup tzatziki, to serve
1 cup rice or orzo (optional)
Directions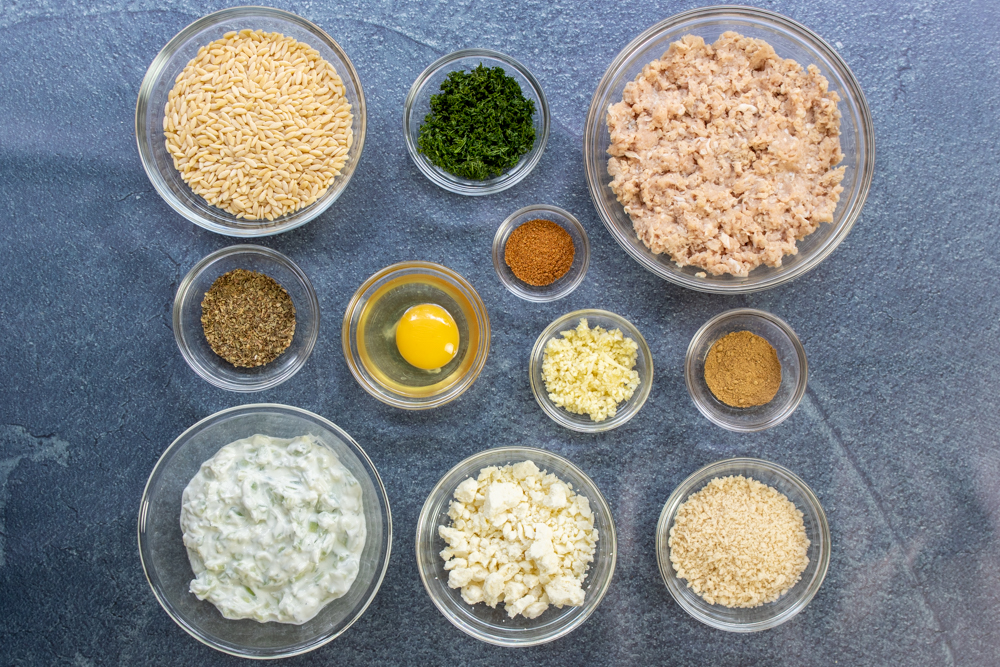 Spray a Suvie pan with cooking spray or rub with olive oil. 
In a large bowl, whisk together the oregano, cumin, coriander, lemon zest, mint, garlic, egg, and 1 tsp salt. Add the breadcrumbs, ground turkey and feta, and mix together with your hands to incorporate. Using damp hands, roll the mixture into 15 balls about 1½ inches in diameter. 
If using rice, place in a starch pan and insert into your Suvie.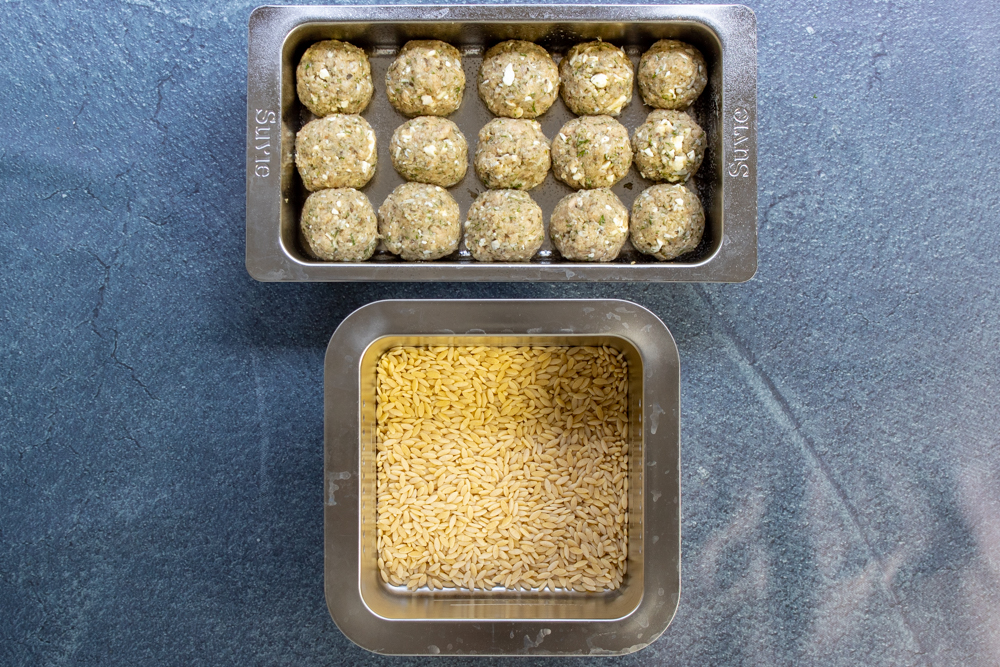 Arrange meatballs in the prepared pan, input Slow Cook settings, and cook. 
My Cook > Slow Cook Settings
LOW, 1 hour
Starch: 8 minutes for orzo, 14 minutes for rice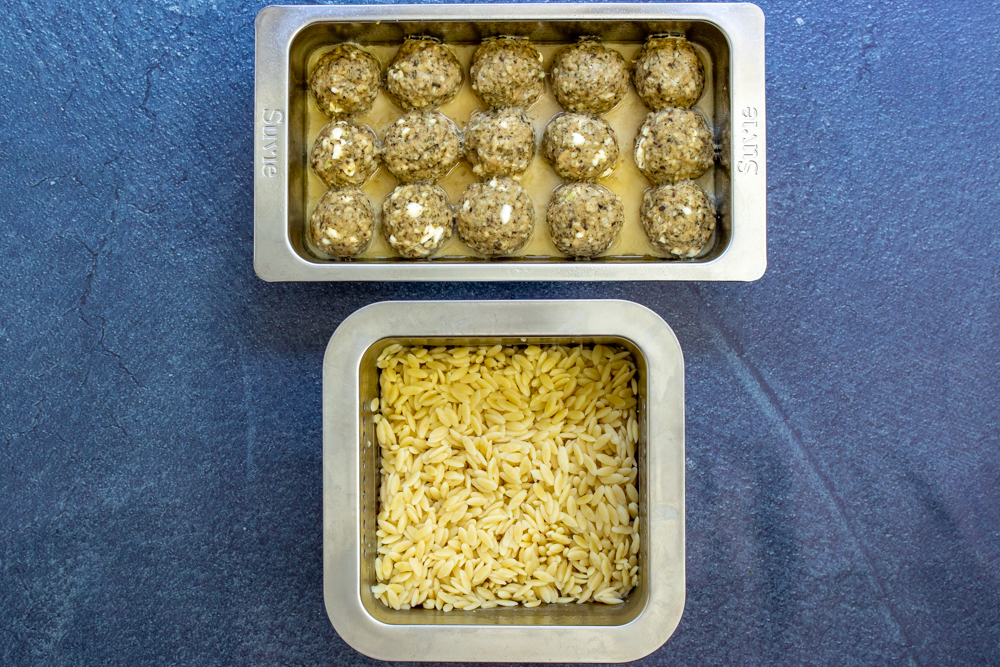 After the meatballs have finished cooking, broil until browned, about 10 minutes, rotating pan halfway through cooking. Remove meatballs from pan with a slotted spoon and discard any liquid remaining in the pan.
Transfer rice or orzo, if using,  to a bowl. Cut lemon in half and juice over the rice. Sprinkle any extra mint over the rice and toss to incorporate. Season with salt and pepper to taste. 
Divide rice, meatballs, and tzatziki between bowls. Garnish with extra herbs.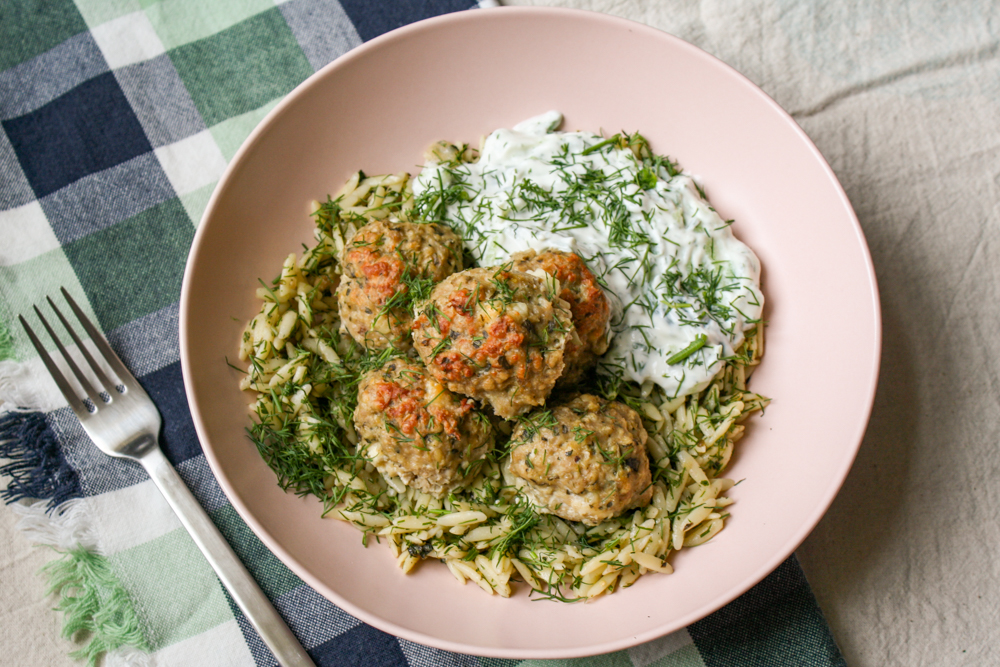 Nutrition
Nutritional Information per serving (4 servings per recipe) does not include starch: Calories 300, Total Fat 16g, Total Carbohydrates 9g, Total Sodium 200mg, Total Protein 32g