Halibut is a giant flatfish (the largest one ever recorded weighed over 500 pounds and was 8 feet in length) with a delicate flavor and low-fat content. With such a lean fish we wanted to pair it with a rich compound butter packed with cilantro, lime zest, serrano chile, and ground coriander for a zesty, bright, and aromatic finish. Be sure to take the butter out of the refrigerator before you start cooking, so that it has a chance to come to room temperature; if the butter isn't soft enough you will have difficulty combining it with the other ingredients. If you need to speed the process along, you can warm the butter in the microwave at 50% power for 10 seconds. After sous viding, the fish is finished in a hot skillet to impart some browning and additional flavor. We recommend serving this dish immediately so that the compound butter has a chance to melt over the hot fish, broccoli raab, and couscous.
Halibut with Cilantro-Lime Butter
Please always check your food to ensure your food has been cooked to safe serving temperatures. Please see our guide
here
for recommended FDA Time & Temperatures.
Servings: 2
Difficulty: 2 hours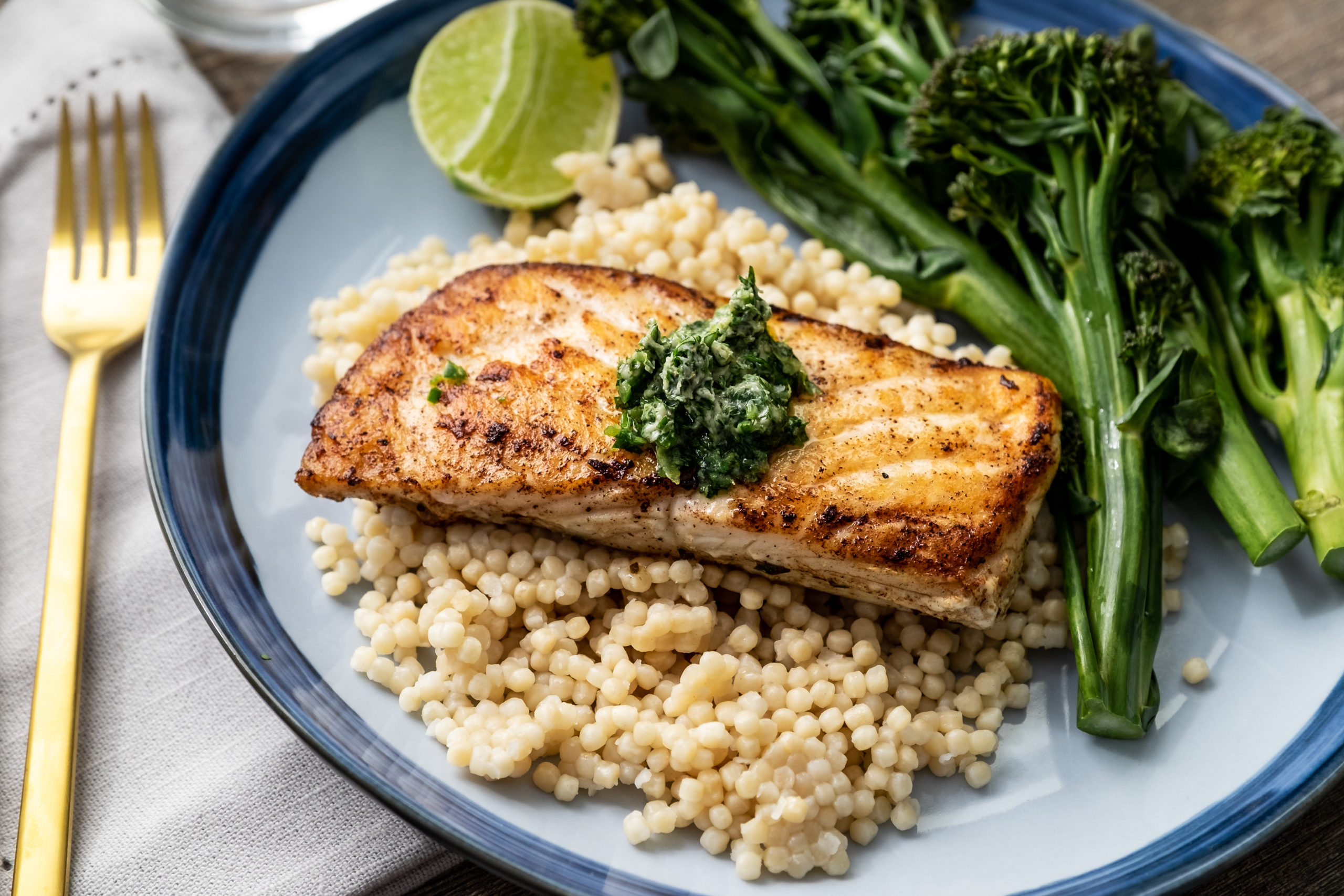 Ingredients
2 halibut fillets (about 6 oz each), 1-inch thick
2 tsp olive oil, divided
4 tbsp unsalted butter, softened, divided
2 tbsp minced cilantro
1 lime, zested
1 serrano chile or small jalapeño
¼ tsp ground coriander
10 oz broccoli raab
1 cup couscous
Directions
1) Stem, seed, and then finely mince serrano pepper. Stir together 2 tbsp softened butter, 2 tbsp minced cilantro, lime zest, 1/4 tsp ground coriander, 1 tsp minced serrano, and ¼ tsp salt in a small bowl; set aside at room temperature.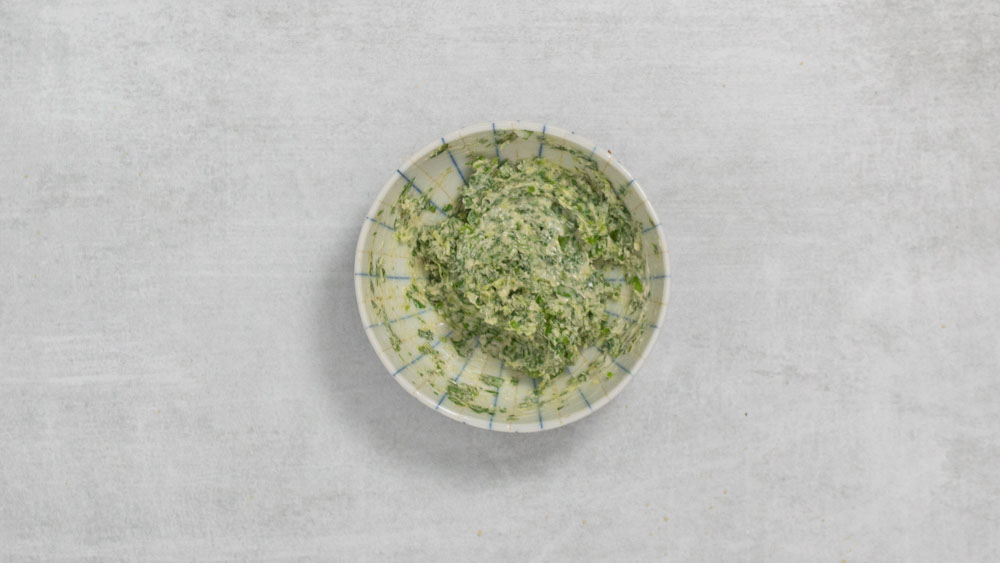 2) Pat halibut dry with paper towels and season with salt and pepper. Vacuum seal filets individually with 1 tsp oil and set in a Suvie pan. Fill pan with water and insert into bottom zone of your Suvie. Place broccoli raab in the top zone. Input settings and cook now or schedule.
Suvie Cook Settings
Bottom Zone: Sous Vide at 130°F for 35 minutes
Top Zone: Sous Vide at 130°F for 35 minutes
3) Place 1 cup couscous in the Suvie starch strainer set within the Suvie pasta pot. Place pot inside the Suvie Starch Cooker, ensuring pot is centered on the hot plate. Input settings and cook now or schedule.
Suvie Starch Cooker Settings
Couscous, Pearl, 1 Cup
4) After the fish has sous vide, remove halibut from the bags and pat dry with paper towels. Broil broccoli rabe for 10-12 minutes, or until softened. Melt 2 tbsp butter in a large, heavy skillet over medium heat. Once foaming subsides, gently add the halibut fillets to the pan and cook without moving for about 2 minutes, swirling and basting the fillets with butter until golden brown.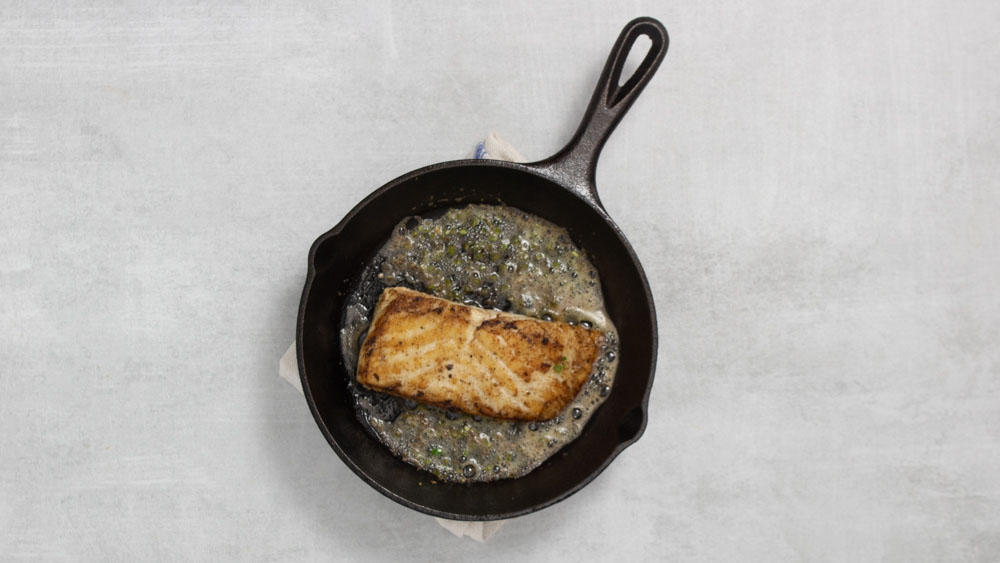 5) Gently flip each fillet, add remaining minced serrano chile to the pan, and cook until chile is fragrant, about 30 to 45 seconds.
6) Transfer fillets to a plate. Transfer couscous to the skillet with the melted butter and serrano chile, stir to coat in butter, and season to taste with salt and pepper. Season broccoli raab with salt and pepper to taste and then divide evenly between plates.
7) Divide couscous between plates, placing halibut fillets on top of the couscous. Divide the reserved compound butter between both fillets and broccoli raab. Cut lime in half and garnish fillets with lime juice.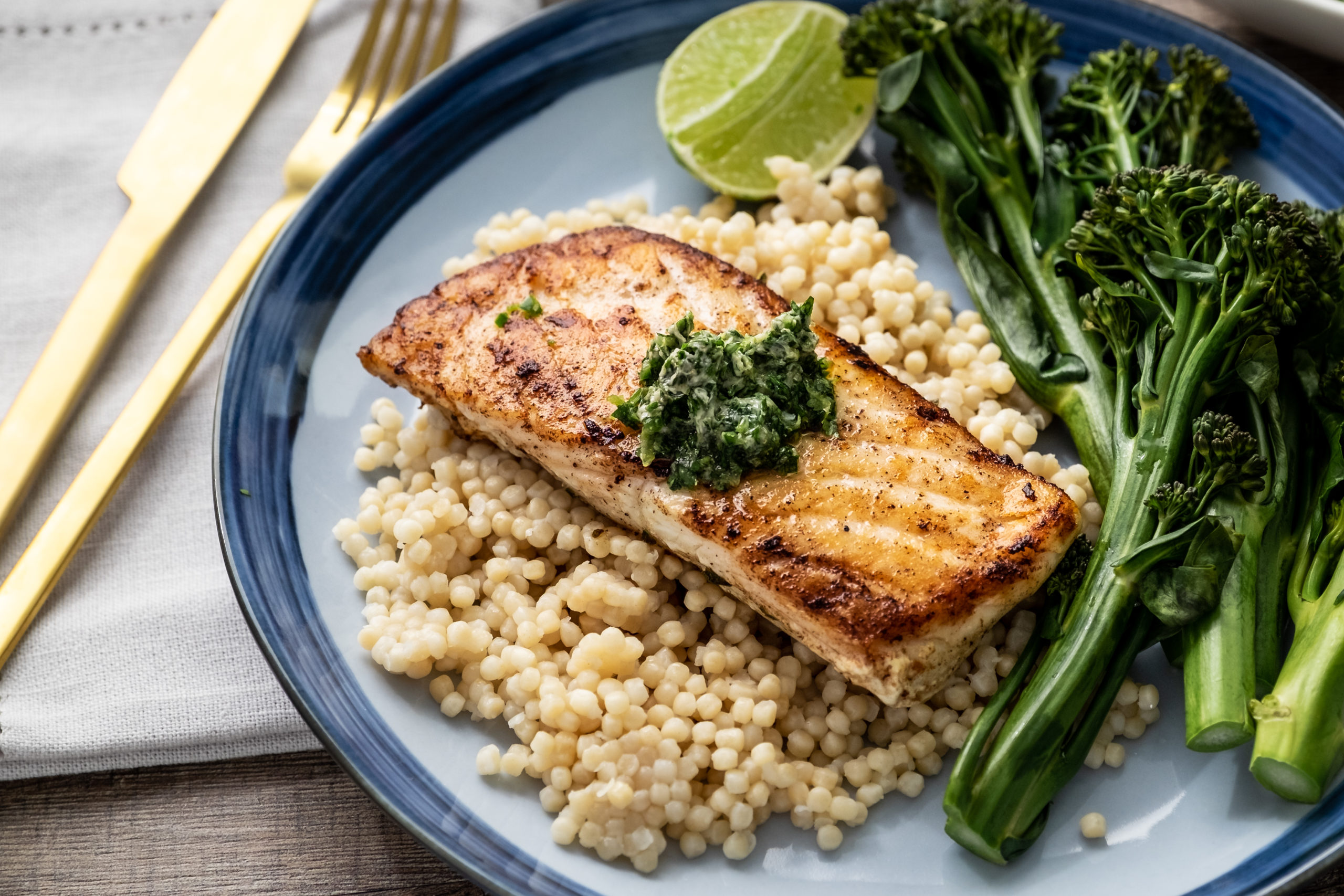 Wine Pairing
A bold, oak-aged Chardonnay is the perfect wine to pair with halibut. Chardonnay is full bodied and will complement the buttery texture of the fish.