Sometimes you need a tasty, hearty meal that's also super healthy. Harvest bowls are an easy way to make healthy taste great. We layer crunchy kale with soft sweet potato, nutty wild rice, protein-rich chicken breast, bright and tangy apple, crisp almonds and creamy goat cheese. Drizzled with a balsamic vinaigrette this is the flavor profile of your dreams. Move over salads because it's bowl time and we're along for the ride.
Harvest Bowls
Please always check your food to ensure your food has been cooked to safe serving temperatures. Please see our guide
here
for recommended FDA Time & Temperatures.
Servings: 2
Difficulty: 1 hours and 30 minutes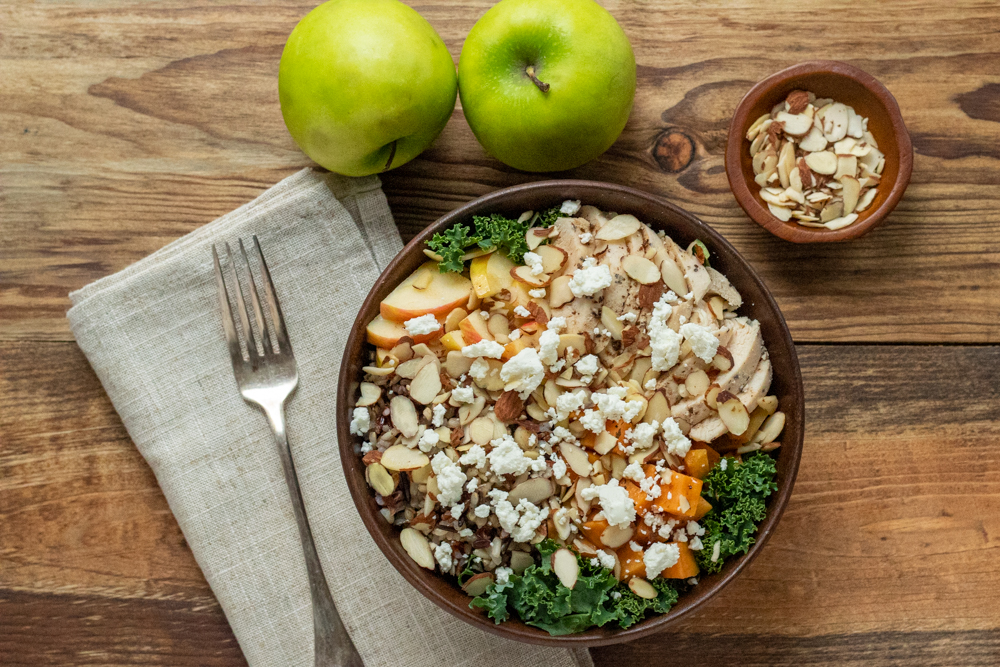 Ingredients
2 boneless, skinless chicken breasts
2 sweet potatoes, peeled and cut into 1/2″ cubes
1 cup wild rice
4 cups kale or spinach
1 apple
⅓ cup sliced almonds, toasted
2 oz fresh goat cheese
¼ cup balsamic vinaigrette
Directions
1) Place cubed sweet potatoes on a Suvie roasting rack set within a Suvie pan. Pour 1/3 cup water into the pan, and load into the top zone of Suvie. Season chicken breasts with kosher salt and pepper. Vacuum seal chicken, place in a Suvie pan, fill with water and load into the bottom zone of Suvie. Enter cook settings and cook now or schedule.
Suvie Cook Settings
Bottom Zone: Sous Vide at 155°F for 1 hour
Top Zone: Steam for 45 minutes
2) Place 1 cup wild rice in the Suvie rice pot (black handles). Cover pot with lid and place inside the Suvie Starch Cooker, ensuring pot is centered on the hot plate. Input settings and cook now.
Suvie Starch Cooker Settings
Rice, Wild Rice, 1 Cup
3) After the cook is complete, remove all pans from Suvie. Remove chicken from packaging, pat chicken dry, and slice against the grain into strips. Drain excess water from sweet potatoes and season with salt and pepper to taste. Chop kale into bite-sized pieces, removing thicker stems and thinly slice apples.
4) To assemble, add about a cup of kale to a bowl, scoop a few spoonfuls of wild rice, sweet potatoes, chicken, and apples over the kale. Drizzle a tablespoon or two of balsamic vinaigrette and sprinkle ¼ of the sliced almonds and crumble goat cheese over each bowl.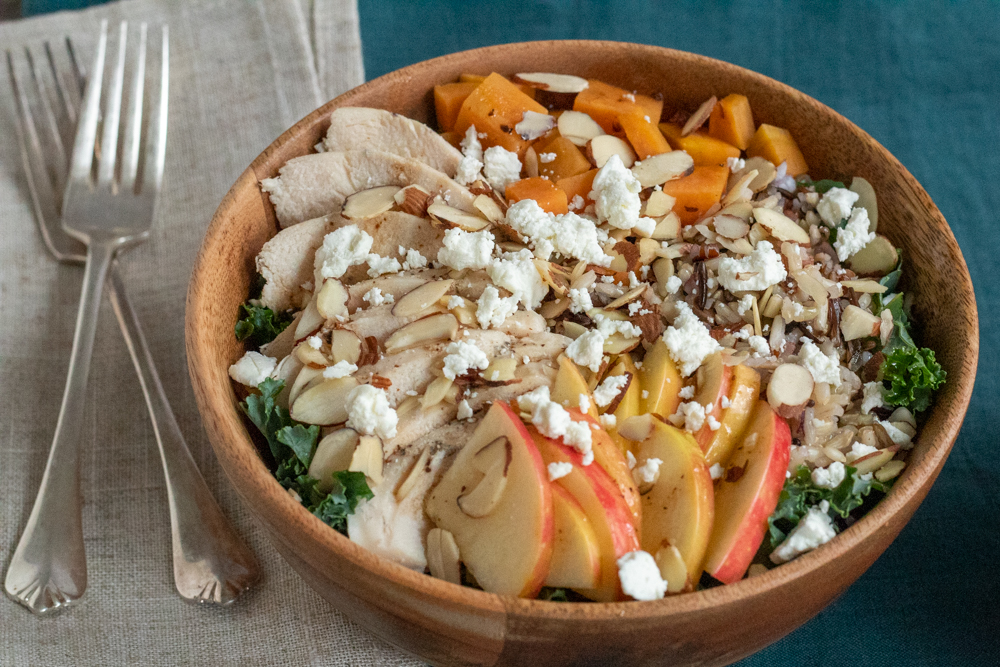 Wine Pairing
A good quality dry Riesling is always a great companion to chicken dishes.