Red lentils are the perfect pantry staple because they are delicious, easy to cook, and healthy to eat. Unlike other lentils which can take up to 40 minutes to prepare, red lentils are ready to eat in only 10 minutes. Read on to learn more about this mighty legume and to find the right red lentil recipe for your next meal.
What Are Red Lentils?
Like all lentils, red lentils are legumes. There are dozens of different types of lentils grown all over the world, which vary based on size, color, and whether or not they are split or shelled. Over half the world's lentils are grown in Canada and India. Red lentils are shelled, split, and polished. This multi-step process guarantees a short cooking time because there is not a tough outer shell that must be softened in order to eat. When cooked, red lentils are earthy with a mild sweetness, which pair well with an array of spices.
What Are the Best Red Lentil Recipes?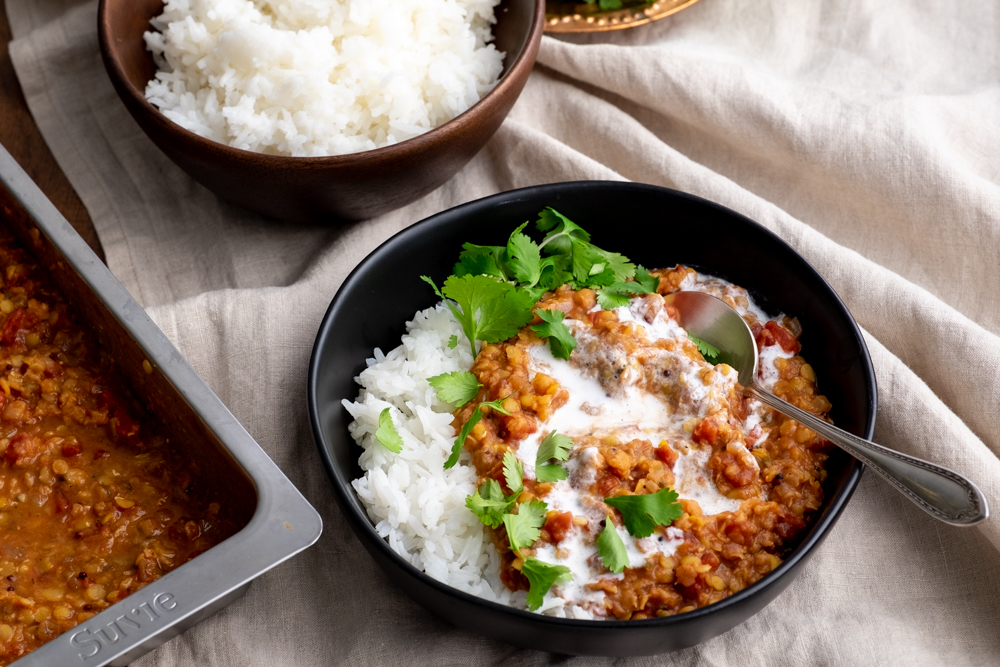 Because red lentils cook so quickly and lose their shape easily, they are best used in soups, stews, and daals where their soft texture is a benefit. Our recipe for red lentil stew is a vibrant vegetarian dish packed with coconut milk, coriander, cumin, curry powder, ginger, and garlic. Not looking to go meatless? Try our recipe for curried chicken with lentils; in this recipe we season the red lentils with turmeric and chili powder and serve them alongside tender, curried chicken. Or perhaps you'd like a classic red lentil daal seasoned with garam masala and served over fluffy, basmati rice. No matter which recipe you choose, they are all flavorful, filling, and a great addition to your weeknight repertoire.
While we think red lentils are the ideal canvas to showcase an array of spices, sometimes you just need a basic cooking method. If so, combine 3 cups water, 1 cup red lentils, and 1 tsp salt in a medium saucepan. Bring to a boil over high heat, then reduce to maintain a simmer, and cook for 10-15 minutes or until softened. This basic cooking method is best employed when you want to spread your lentils out across a variety of meals and season them accordingly.
Feature Image: Andrew Martin from Pixabay