Daal is a warm and comforting Indian stew made with lentils, aromatics, and spices. Red lentils make delicious stews because they cook fairly quickly and begin to break down and create a naturally creamy stew without the addition of dairy or other thickeners. This lentil daal is garnished with a splash of coconut milk to add a little fat and richness to the dish, as well as to help temper the heat from the serrano pepper. If you don't like heat you can substitute half a bell pepper in place of the serrano. The prep work for this dish is fairly quick, and your Suvie will take care of gently simmering the lentils to creamy perfection so when you get home all you have to do is eat!
Red Lentil Daal
Please always check your food to ensure your food has been cooked to safe serving temperatures. Please see our guide
here
for recommended FDA Time & Temperatures.
Servings: 2-3
Difficulty: 2 hours, 30 minutes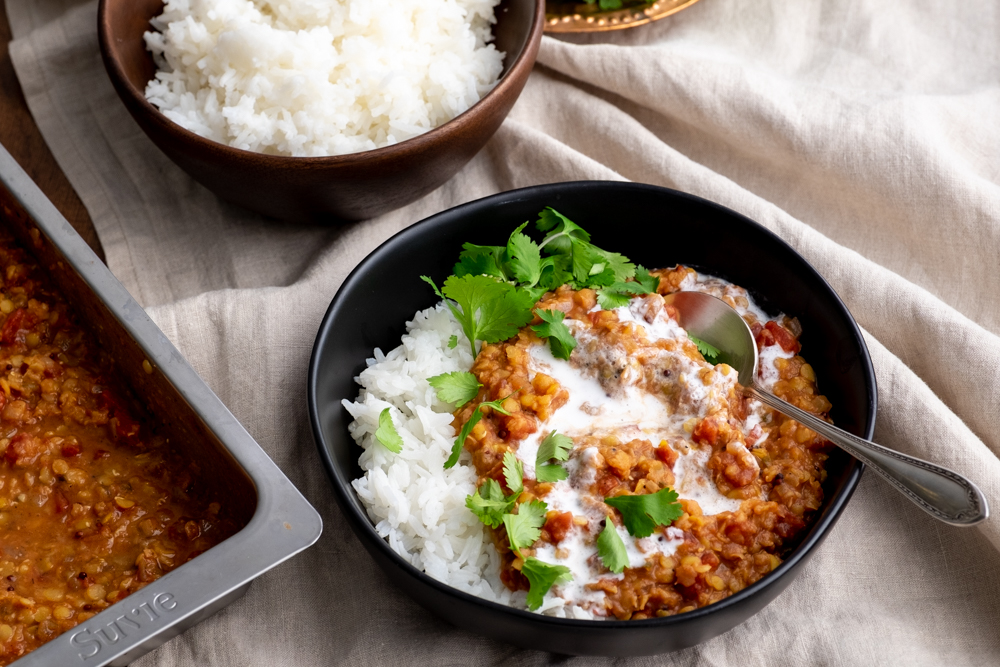 Ingredients
1 cup red lentils, rinsed
1 (14.5 oz) can diced tomatoes
1 small onion, finely chopped
1 serrano pepper, minced
1 (1-inch) piece fresh ginger, minced
1 tsp mustard seeds
2 tbsp garam masala
1 tbsp vegetable oil
1 cup water
1 cup basmati rice
¼ cup coconut milk
1 small bunch cilantro
Directions
1) Combine 1 small onion, 1 serrano pepper, fresh ginger, 1 tsp mustard seeds, 2 tbsp garam masala, and 1 tbsp vegetable oil in a Suvie pan. Place pan in the bottom zone of Suvie and broil for 12 minutes until fragrant, stirring halfway through.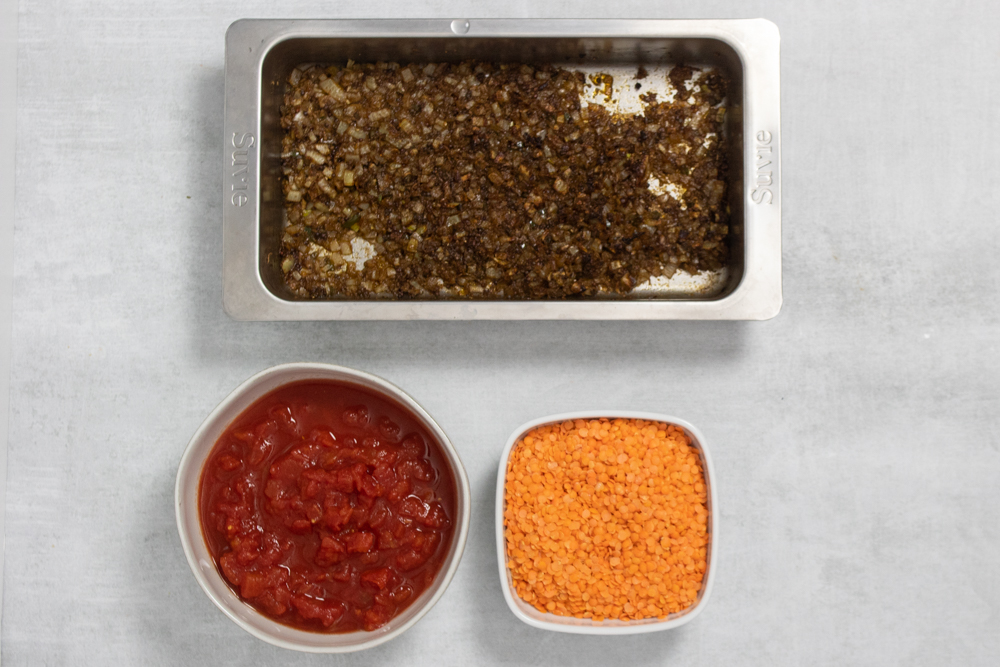 2) Remove pan from Suvie and stir in 1 cup lentils, 1 can diced tomato, 1 cup water, 1/2 tsp salt, and 1/4 tsp ground black pepper. Return pan to Suvie. Enter Cook Settings and cook now or schedule.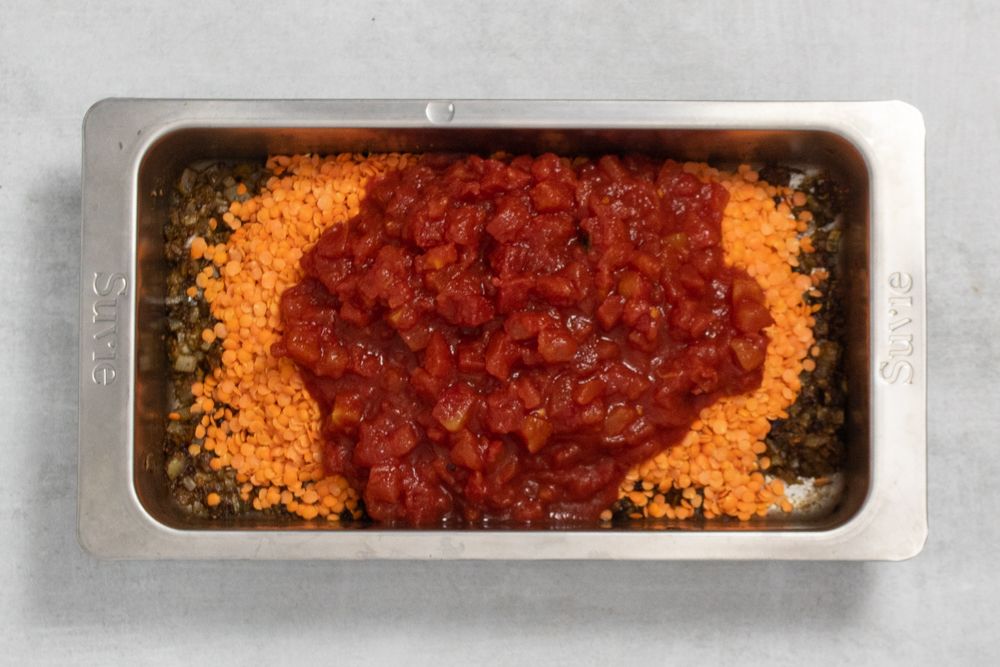 Suvie Cook Settings
Bottom Zone: Slow Cook on High for 2 hours
3) Add 1 cup basmati rice and 1 tsp salt to the Suvie rice pot (black handles). Cover pot with lid and place inside the Suvie Starch Cooker, ensuring the pot is centered on the hot plate. Input settings and cook now or schedule.
Suvie Starch Cooker Settings
Rice, Long Grain, 1 Cup
4) After the cook, stir the lentils to combine and season to taste with salt and pepper.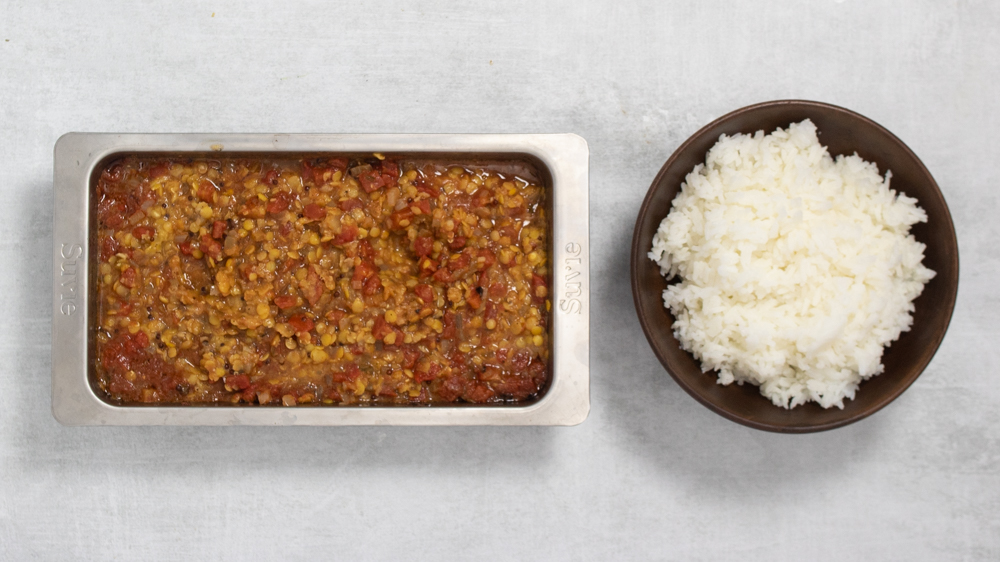 5) Fluff the rice with a fork and adjust seasoning to taste. Divide the rice between bowls and top with the lentils. Garnish the daal with a swirl of coconut milk and cilantro leaves.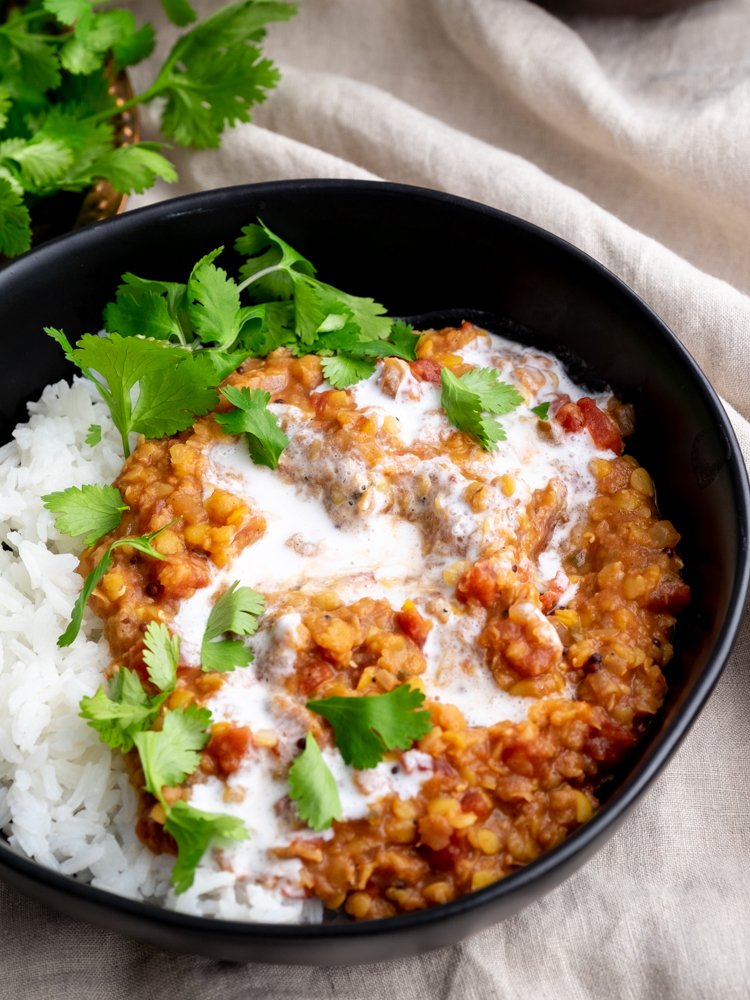 Wine Pairing
When it comes to Indian dishes, you can't go wrong with a good quality Rosé. Regardless of the dish, the balance of acidity and sweetness in Rosé will perfectly match spicy Indian fare. Alternatively, a creamy, oak-aged Chardonnay will complement the delicate flavors of the lentils and coconut milk.