This dish hails from the Mexican state of Michoacán, specifically the city of Apatzingán, about 250 miles from the Pacific coast. There are many iterations of this dish, but the simplest one is a combination of rice and beans with red salsa and cheese. We made a simple red sauce out of tomatoes, onions, and serrano peppers to top the rice and beans. We liked the tanginess of queso fresco as our garnishing cheese, but you could also use any easy-melting variety if you would prefer. Served with a side of tortilla chips, this dish is a delicious and filling vegetarian meal.
Morisqueta
Please always check your food to ensure your food has been cooked to safe serving temperatures. Please see our guide
here
for recommended FDA Time & Temperatures.
Servings: 4
Difficulty: 1 hour and 30 minutes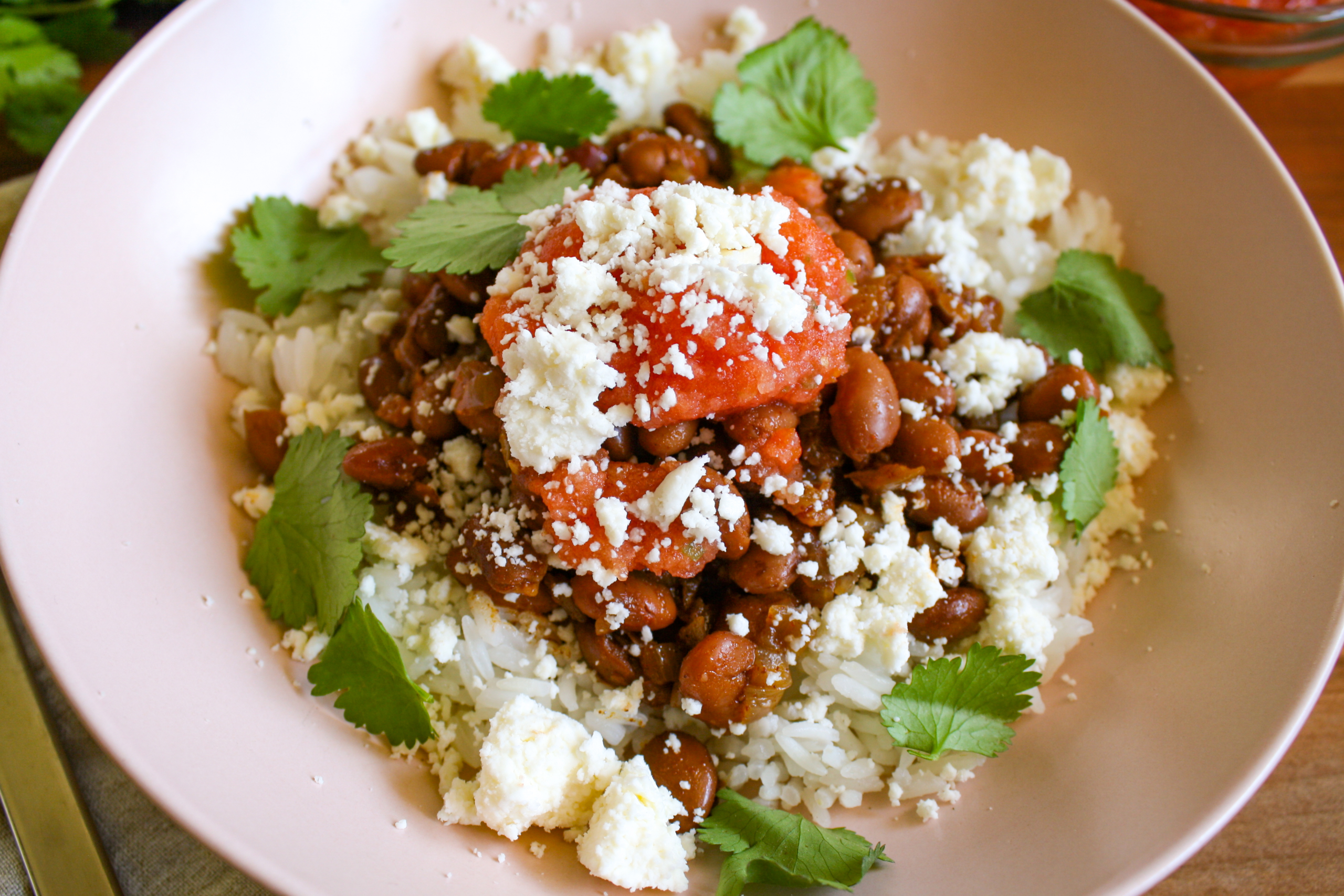 Ingredients
1 small yellow onion, finely chopped
2 cloves garlic, minced
1 serrano or jalapeño, stemmed, seeded, and minced
1 tbsp chili powder
1 tbsp vegetable oil
2 (14.5 oz) cans pinto beans, drained and rinsed, drained and rinsed
½ cup vegetable broth
1 cup jasmine rice
4 roma tomatoes
¼ cup queso fresco, crumbled
2 tbsp fresh cilantro leaves
Directions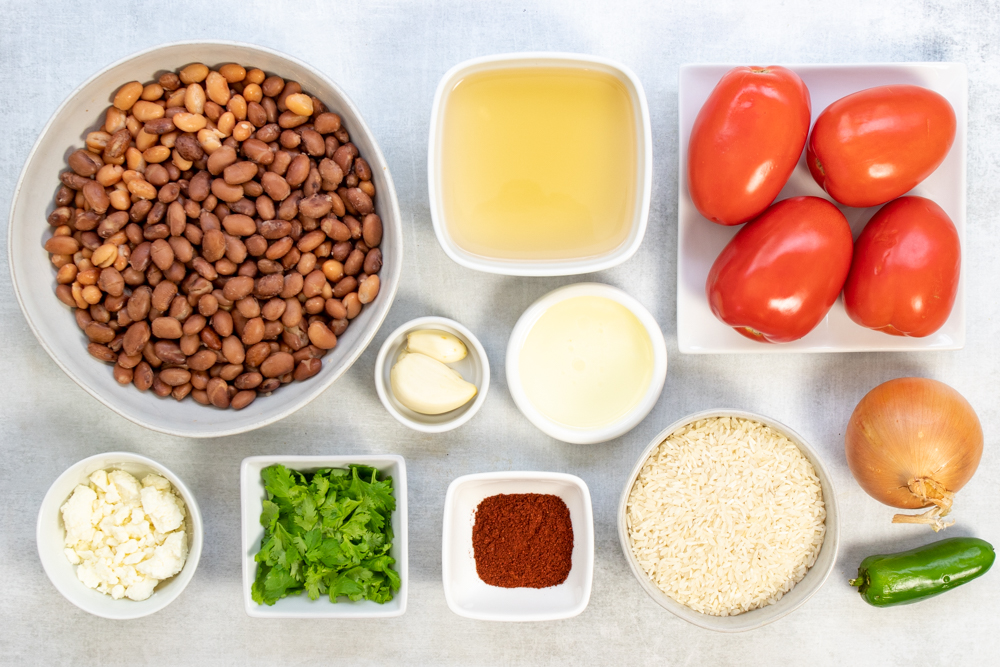 1) Reserve ¼ cup onion and 1 tsp minced serrano in a small bowl; set aside. Combine remaining onion, garlic, serrano, 1 tbsp chili powder, 1 tsp salt, and 1 tbsp vegetable oil in a Suvie pan. Place pan in botttom zone of Suvie. Broil for 12 minutes, stirring halfway through.
2) Remove pan from Suvie. Add beans and vegetable broth to pan with the broiled onion. Return pan to Suvie. Input settings and cook now or schedule.
Suvie Cook Settings
Bottom Zone: Slow Cook on High, 1 hour
3) Add 1 cup rice to the Suvie rice pot (black handles). Cover pot with lid and place pot in the Suvie Starch Cooker, ensuring pot is centered on the hot plate. Enter cook settings, and cook now or schedule.
Suvie Starch Cooker Settings
Rice, Long Grain, 1 Cup
4) Meanwhile, roughly chop the tomatoes and season with ½ tsp salt. Place tomatoes in a fine mesh strainer and set over a bowl. Allow to drain for 30 minutes. Discard tomato liquid.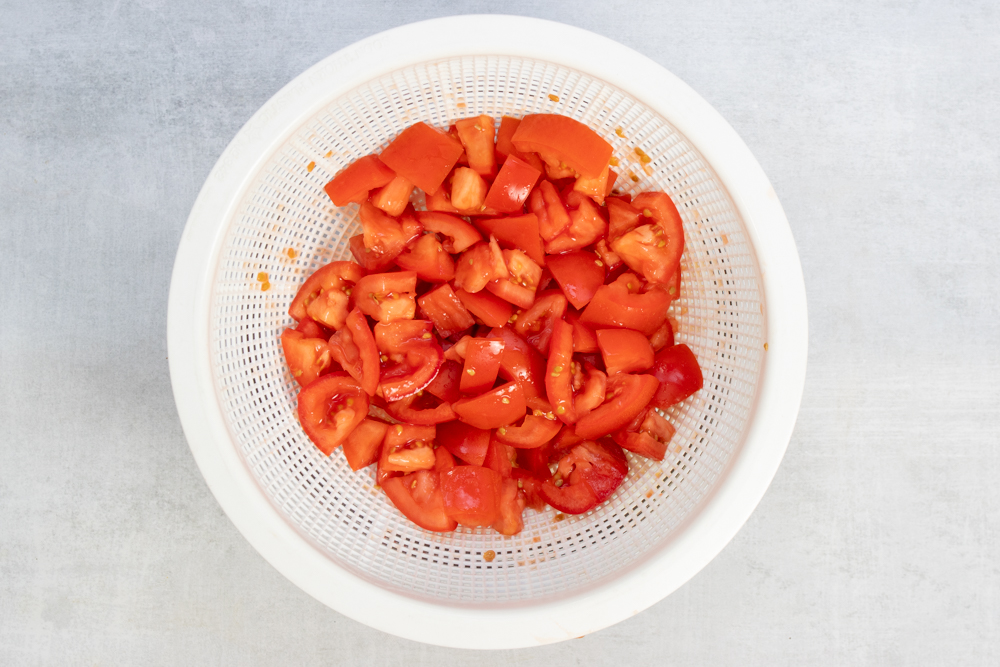 5) Transfer tomatoes, reserved onion and serrano to a blender. Blend on high until smooth. Alternatively, chop tomatoes, onions and serrano pepper as finely as possible. Season to taste with salt and pepper.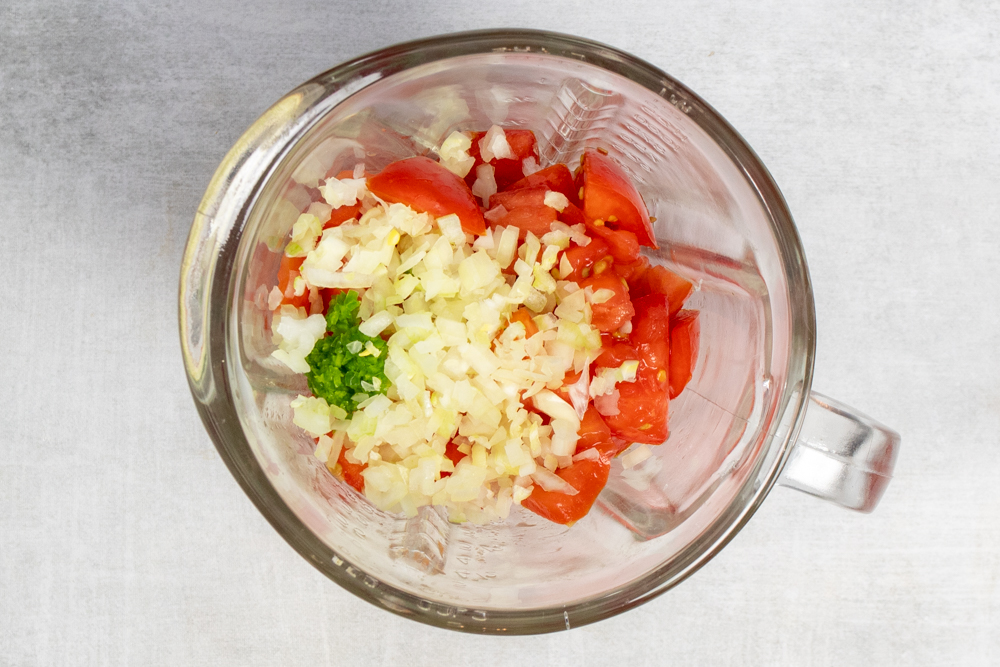 6) Remove pans from Suvie. Fluff rice and divide between plates. Top rice with beans and then with tomato sauce. Garnish each serving with queso fresco and cilantro leaves.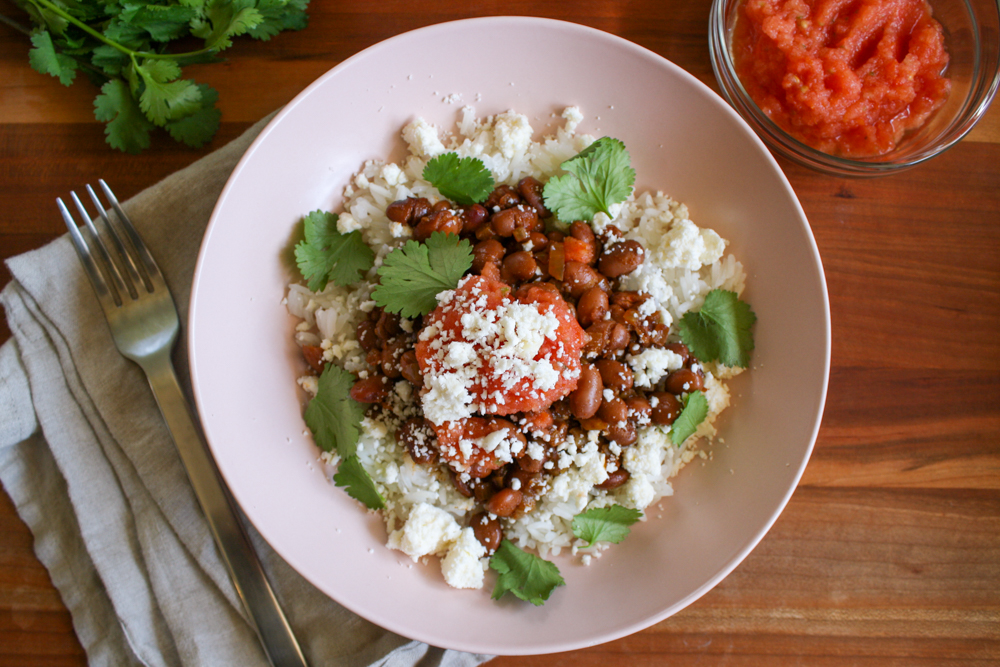 Nutrition
Nutritional Information per serving (4 servings per recipe): Calories 425, Total Fat 6g, Total Carbohydrates 78g, Total Sodium 315mg, Total Protein 17g