This meal is easily customizable depending on your preferences and what you have available in your pantry. Feel free to swap black beans for pintos or brown rice for white rice. The chicken thighs get much of their flavor from the chipotle pepper which imparts a smoky heat to the dish. If you're sensitive to heat, feel free to reduce the amount. Enjoy this Mexican inspired dish for lunch and dinner as it makes enough for 4 servings. To make your own taco seasoning, follow our instructions here.
Note: If you would like to schedule this meal, but do not want to wait for the broiler to cool before refrigerating, sauté the onion and 1 tbsp vegetable oil in a medium skillet over medium-high heat until softened, about 5 minutes, instead of broiling in Step 1.
Chicken Taco Bowl
Please always check your food to ensure your food has been cooked to safe serving temperatures. Please see our guide
here
for recommended FDA Time & Temperatures.
Servings: 4
Difficulty: 4 Hours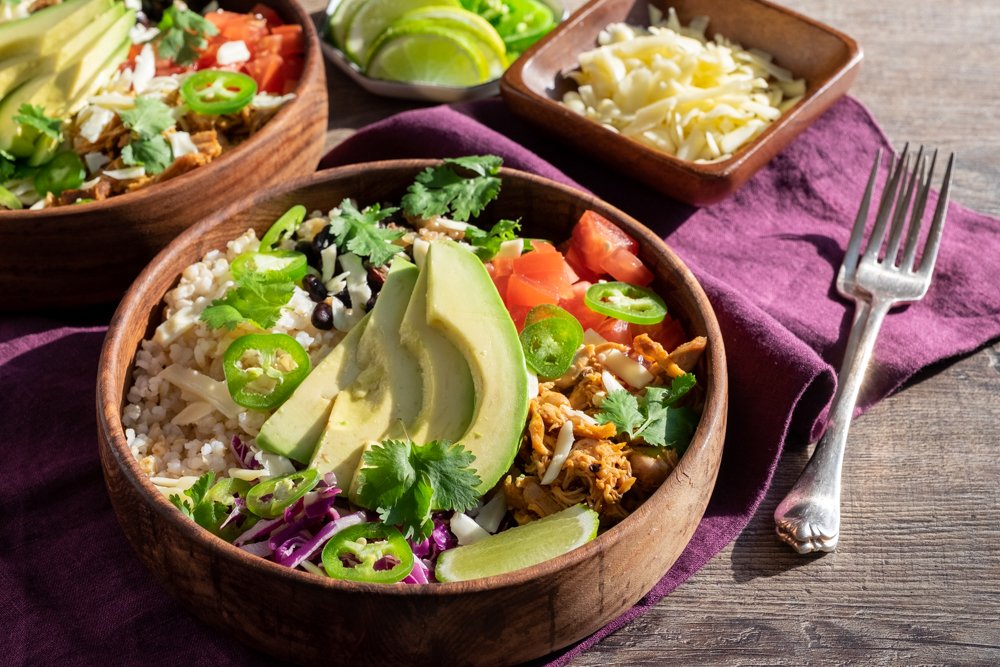 Ingredients
1 small yellow onion, minced
3 tbsp vegetable oil, divided
1 lb boneless, skinless chicken thighs
2 tbsp taco seasoning
1 chipotle pepper, minced from 1 can chipotles in adobo plus 1 tbsp sauce
15 oz can black beans, drained and rinsed
1 cup brown rice
2 cups shredded red cabbage
1 avocado
1 roma tomato
1 jalapeño
1 lime
⅓ cup cilantro leaves
½ cup shredded cheddar cheese
Directions
1) Combine 1 onion and 1 tbsp vegetable oil in a Suvie pan. Place pan in the bottom zone of Suvie and broil for 15 minutes, stirring occasionally.
2) Meanwhile, in a large bowl combine 1 lb chicken thighs, 2 tbsp taco seasoning, 1 chipotle pepper and 1 tbsp sauce, 1 tsp salt, and 2 tbsp vegetable oil. Once coated, transfer to a Suvie pan in an even layer.
3) After the onion has broiled, add the drained black beans to the pan, stirring to combine. Place chicken in the bottom zone and beans in the top zone. Input settings and cook now or schedule.
Suvie Cook Settings
Bottom Zone: Slow Cook on High for 2 hours and 30 minutes
4) Place 1 cup brown rice in a Suvie rice pot (black handles). Cover pot with lid and place inside the Suvie Starch Cooker, ensuring pot is centered on the hot plate. Input settings and cook now or schedule.
Suvie Starch Cooker Settings
Rice, Brown Rice, 1 cup
5) After the cook, broil chicken thighs for 8 minutes. During the broil, slice the tomato, avocado, jalapeño, and lime (if using).
6) Once the chicken has broiled, remove all pans from Suvie. Transfer chicken thighs to a large bowl, leaving liquid in the pan. Shred the chicken thighs with a fork and then stir ½ cup reserved liquid into the shredded chicken. Season to taste with salt and pepper.
7) To serve, divide the cabbage, rice, beans, and chicken between 4 bowls. Drizzle a little chicken cooking liquid over the bowls. Top with cheese, avocado, tomato, jalapeño, a squeeze of lime juice and cilantro leaves.