The beauty of this dish is in its simplicity. There aren't that many ingredients, but they all compliment each other so well that it just works. Plain and simple. The salmon is perfectly cooked for maximum tenderness and then topped with a pecan and butter crust that pairs with the richness of the fish. The green beans are steamed and then broiled with lemon and olive oil for a bright contrast, and then the barley adds some chewiness and ties into the earthy, nuttiness of the pecan topping. A fresh squeeze of lemon over the whole ensemble and you have a simple, elegant meal.
Note: This recipe requires Suvie 2.0 and the Suvie Starch Cooker. To prepare this dish in Suvie 1.0, set the barley to cook for 25 minutes in Step 1. Follow remaining instructions as directed.
My Cook: Pecan Crusted Salmon
Please always check your food to ensure your food has been cooked to safe serving temperatures. Please see our guide
here
for recommended FDA Time & Temperatures.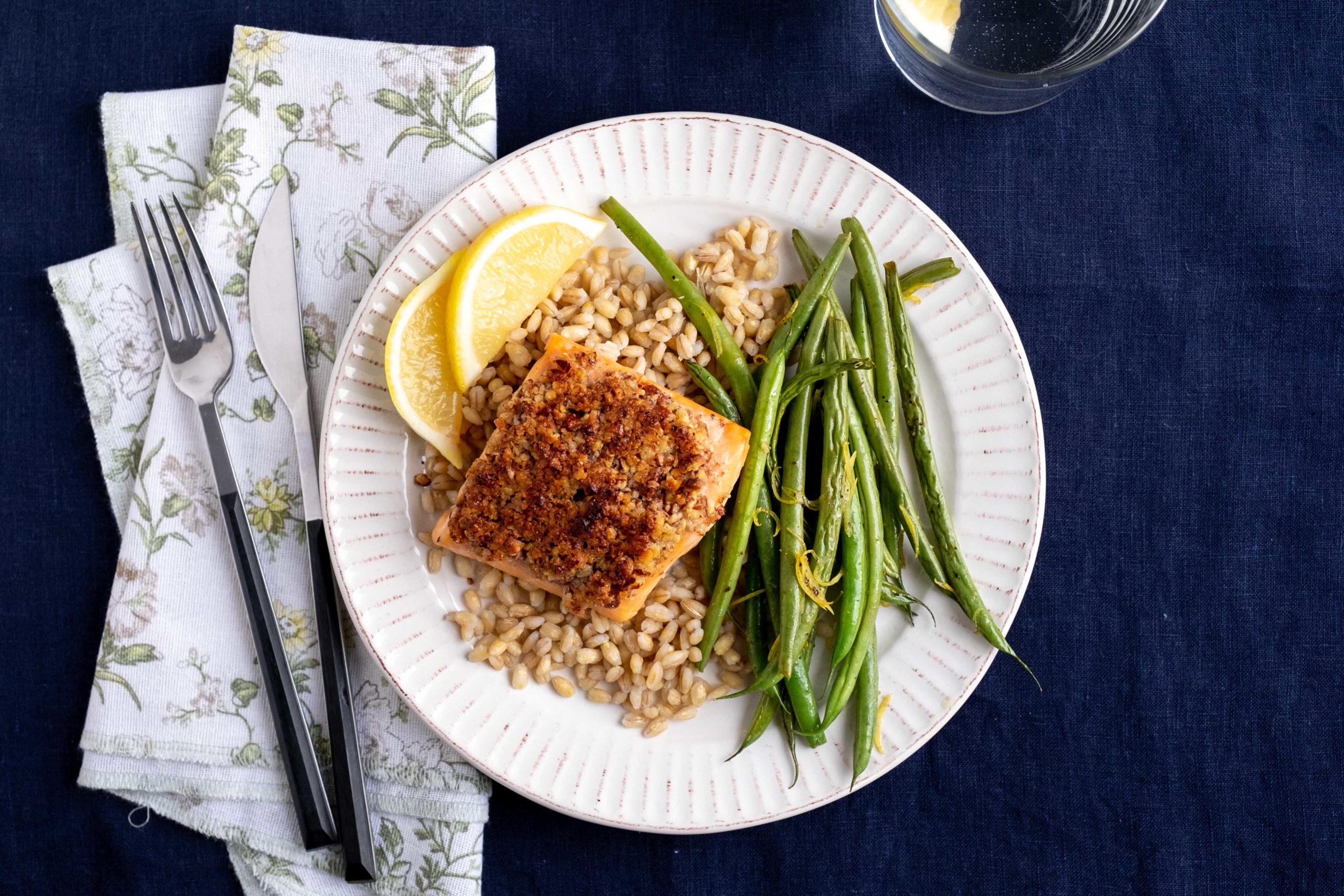 Ingredients
2 skinless salmon filets, vacuum sealed
½ cup pecan pieces
1 tbsp unsalted butter
8 oz haricot vert or green beans
1 lemon
½ cup pearled barley
Directions
1) Place salmon filets in a Suvie pan, cover with water, and load in the bottom of Suvie. Place 8 oz haricot vert in a second Suvie pan, and load into the top of Suvie. Input settings below, and cook now or schedule. Place pearled barley in a Suvie pasta strainer set within a Suvie starch pot and insert into your Suvie Starch Cooker. Input settings for barley, fill reservoir, and schedule.
Suvie Cook Settings
Bottom Zone: Sous Vide at 125˚F for 1 hour
2) Meanwhile, finely chop pecans and stir together with 2 tsp olive oil and 1/4 tsp salt. Zest ½ the lemon and then cut into wedges.
3) When the cook is complete, drain the water from the salmon pan, remove the salmon from the vacuum bags, and pat dry. Return the salmon to the pan and evenly divide the pecan mixture between the two filets.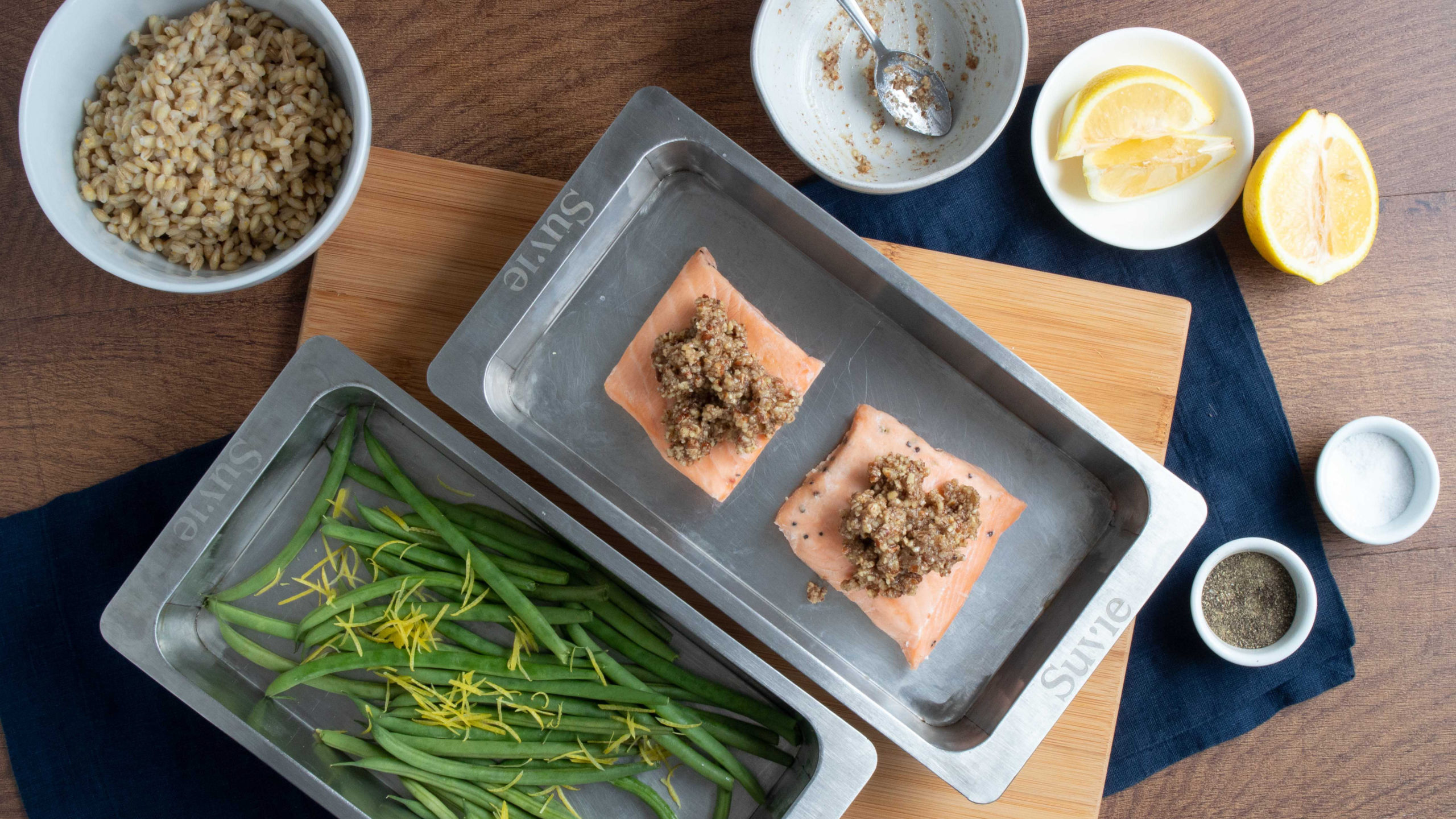 4) Lightly press down on the pecan mixture until it forms an even layer. Return salmon to Suvie.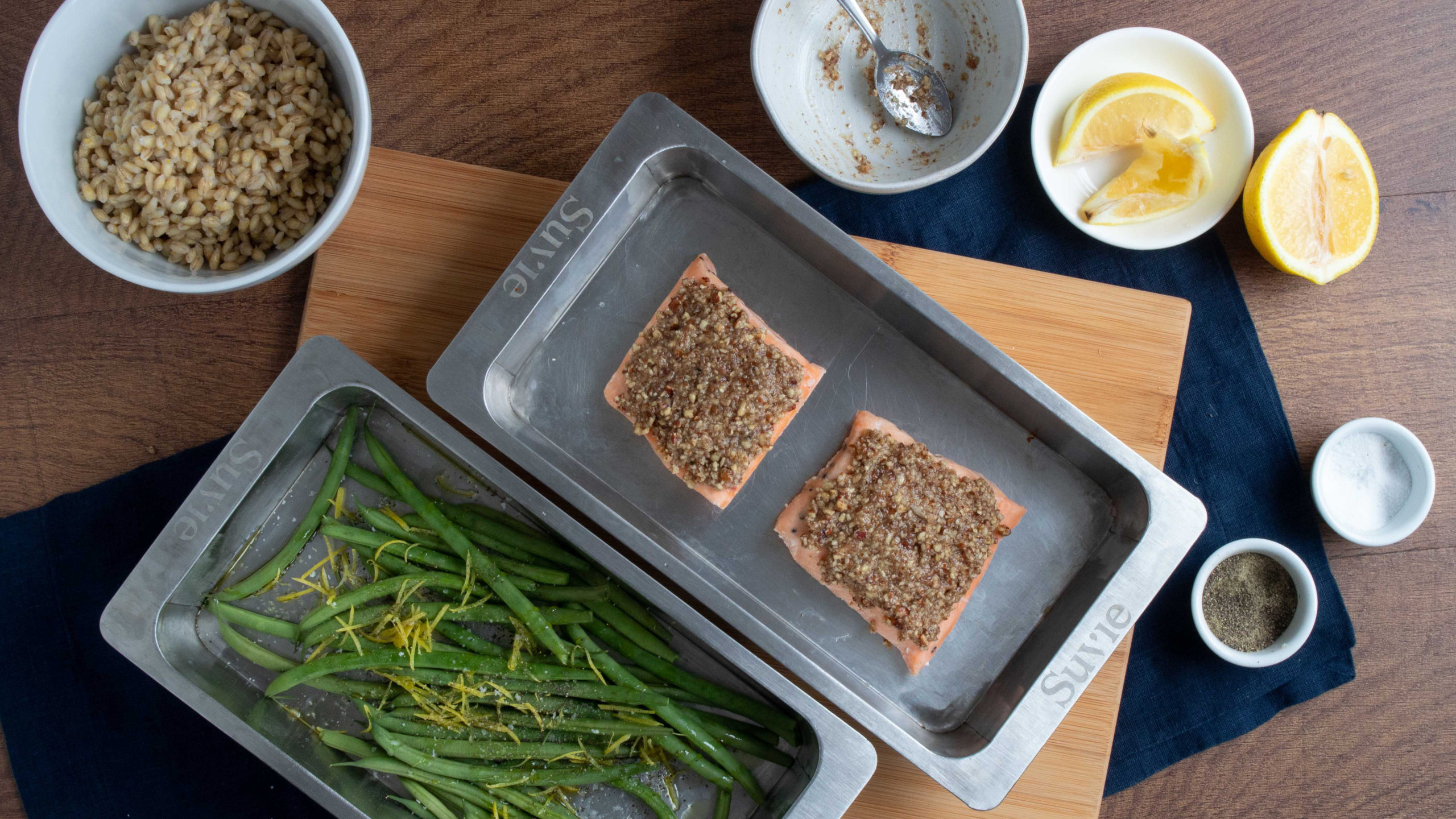 5) Add lemon zest, 1 tbsp lemon juice, and 1 tbsp olive oil to the green beans. Season with salt and pepper to taste and toss the green beans to coat. Return green beans to Suvie. Broil salmon and green beans for 5-7 minutes, watching salmon very closely to ensure the pecans don't burn.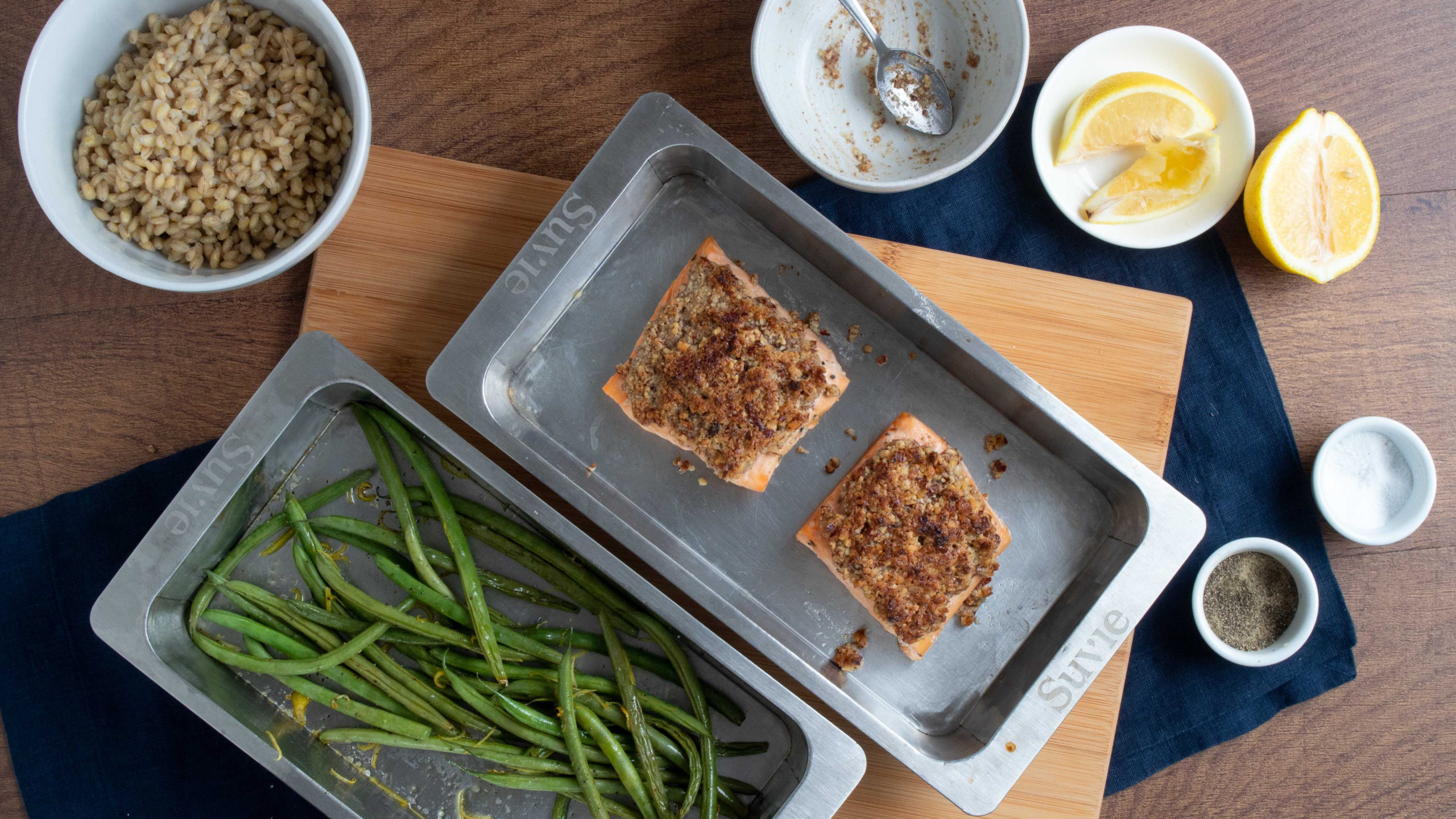 6) Remove barley from Suvie Starch Cooker and season to taste with salt and pepper. Divide evenly between two plates and top with the green beans and salmon. Garnish with the remaining lemon wedges.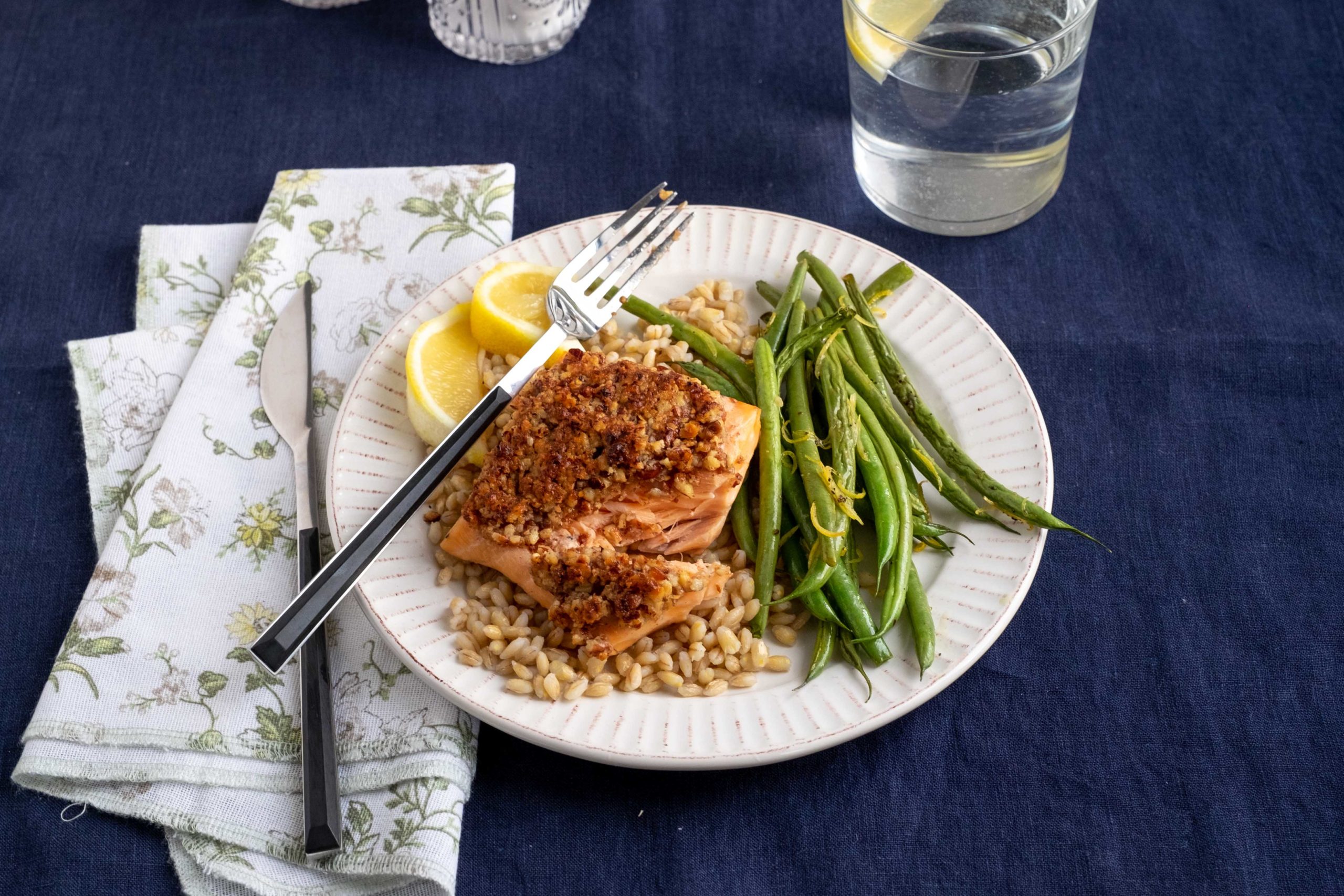 Wine Pairing
The great thing about salmon is that it can be paired with both red and white wines. If you prefer white wines try pairing this dish with a good Chardonnay. Alternatively, if you want to try a red pairing serve it with a glass of Pinot Noir.