We're doing desserts! Suvie really can do it all. Creamy, delectable, cheesecakey goodness gets a refined Thanksgiving makeover with our Pumpkin Cheesecake recipe. Instead of the traditional graham cracker crust we're using gingersnap cookies to give some added spice and holiday flavor. In the cheesecake filling we've swapped out some of the cream cheese for pumpkin, which actually helps to lighten the texture and and the calories. It wouldn't be a true Thanksgiving pumpkin dessert if we didn't add everyone's favorite pumpkin spices: cinnamon, ginger and nutmeg. Cheesecakes are traditionally baked in a bain-marie (French for water-bath) to help keep the temperature low and even. Suvie does all of that for you and you don't have to turn your oven on! By keeping the temperature low and slow with our sous vide technology the eggs are kept from overcooking and the result is a lush and decadent cheesecake.
My Cook: Pumpkin Cheesecake with Gingersnap Crust
Please always check your food to ensure your food has been cooked to safe serving temperatures. Please see our guide
here
for recommended FDA Time & Temperatures.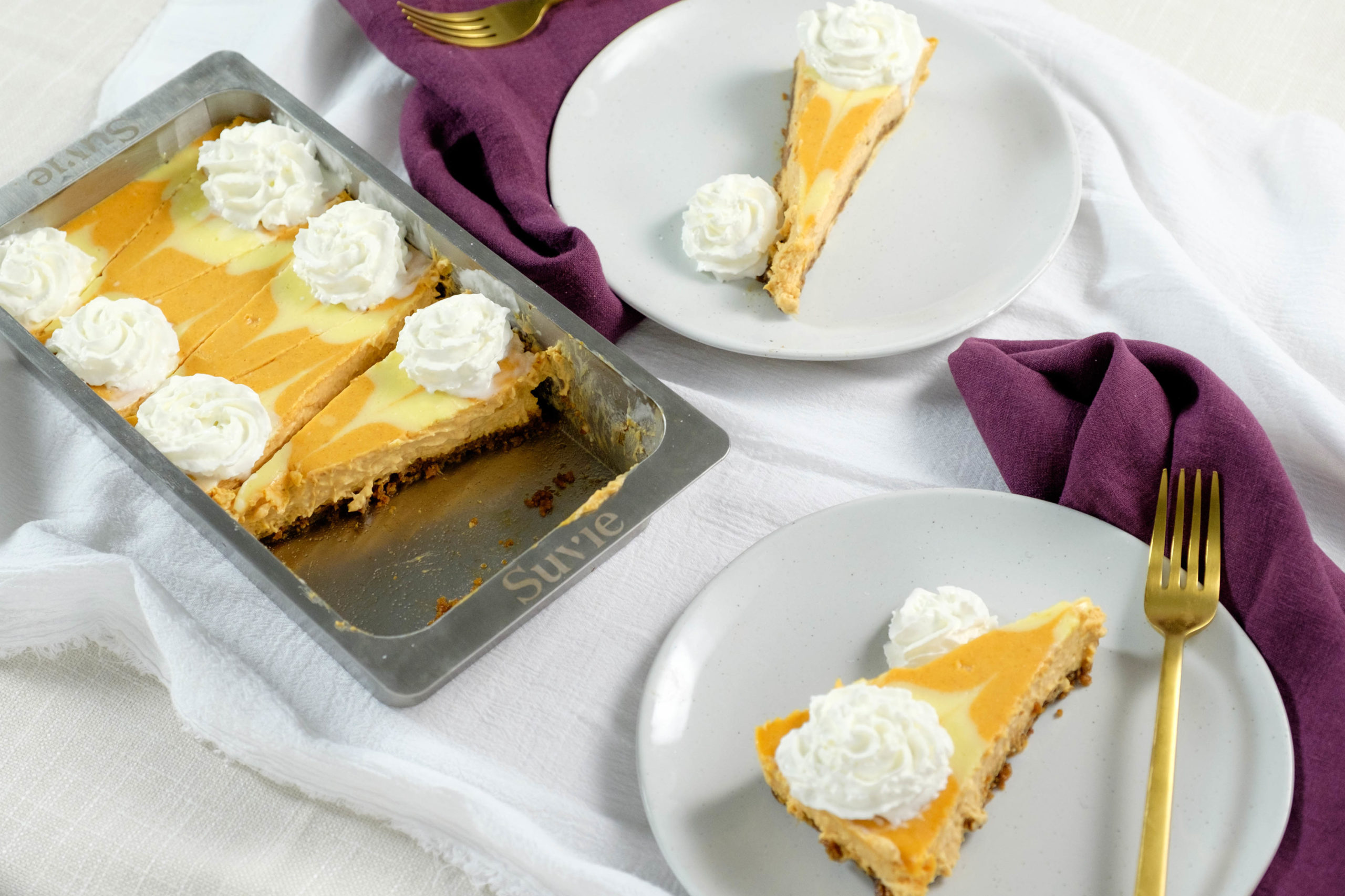 Ingredients
5 oz gingersnap cookies
2 tbsp melted butter
8 oz cream cheese (room temperature is best)
1 cup sour cream
⅓ cup heavy cream
2 eggs and 2 egg yolks
¾ cup sugar
8 oz canned pumpkin
1 tbsp Vanilla extract
1 tsp cinnamon
½ tsp ground ginger
½ tsp ground nutmeg
Directions
1. Gingersnap Crust
Crush the gingersnap cookies into coarse crumbs. You're looking for a coarse sandy texture. A great tool for crushing cookies are cans of pumpkin, though rolling pins work well too.Melt 2 tbsp butter and mix with the gingersnap crumbs. Press the butter gingersnaps into the protein tray so that it forms an even, flat layer. Broil in the Suvie for 4-5 minutes until browned, but keep an eye on it so it doesn't burn. Let the crust cool.
2. Pumpkin Cheesecake filling
Using a hand or stand mixer beat together the cream cheese, sour cream, and sugar for 1-2 minutes until smooth. In a separate bowl whisk together the eggs, egg yolks, vanilla, and heavy cream. Slowly add the egg mixture to the cream cheese on low speed being sure to scrape down the sides of the bowl when you're halfway through.
Optional: Reserve ⅓ cup of this mixture in a small bowl for the decoration.
Add the canned pumpkin and spices to the mixture and beat on low speed until incorporated and smooth. Butter the sides of the Suvie tray. Pour the pumpkin mixture on top of the cooled crust.
Optional: Using a piping bag or spoon add two lines of the 'pumpkin-less' cheesecake mixture on top of the cheesecake. Use a knife or skewer to pull through the cheesecake batter to make the swirl designs
Insert pan into your Suvie, input settings, and cook now or schedule. 
Suvie Cook Settings
Bottom Zone: Slow Cook Low for 3 hours
Remove and chill for at least 4 hours before serving.
Note: If you would like to make this recipe in Suvie 1.0, insert pans into the top zones of Suvie, fill reservoir, and set to Slow Cook on Low for 3 hours.
Wine Pairing
Pairing wine with dessert may sound like an odd idea, but good wine goes with anything! We recommend pairing this dessert with sweet Ice Wine.