Spaghetti squash is nature's pasta. When cooked, it's flesh naturally forms strands that are remarkably similar to spaghetti (hence the name) and can be substituted for carb-heavy pasta in many dishes. This dish is incredibly simple with just five ingredients, but satisfying with rich meatballs balancing out the light spaghetti squash. With just a sprinkle of parmesan cheese and chopped parsley, this meal is a great stand-in for the classic spaghetti and meatballs with a healthy twist. We've also included a link to our meatball recipe below in case you want to take a stab at making your own.
Slow Cook: Spaghetti Squash and Meatballs
Please always check your food to ensure your food has been cooked to safe serving temperatures. Please see our guide
here
for recommended FDA Time & Temperatures.
Servings: 4
Difficulty: 4 hours and 20 minutes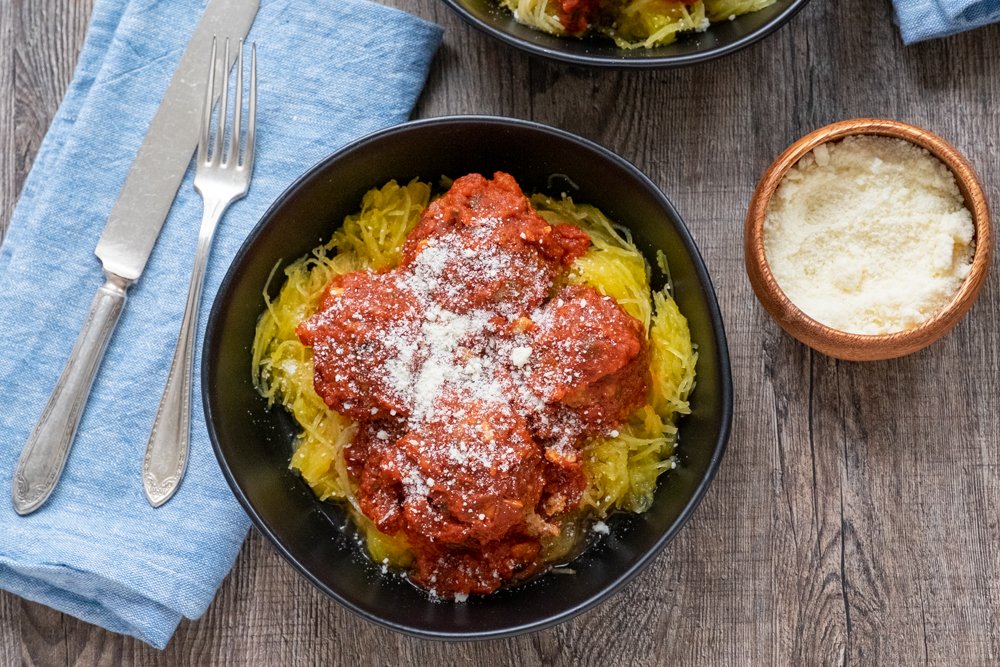 Ingredients
1 medium spaghetti squash
24 oz. jar of marinara sauce
8 large premade meatballs (or use our meatball recipe)
½ cup parmesan cheese
Chopped parsley (for garnish)
Directions
Add meatballs to a Suvie pan and coat with marinara sauce, load into upper zone of Suvie. Cut spaghetti squash in half then scoop out seeds. Cut spaghetti squash into chunks horizontally and arrange to fit in another Suvie pan. Add an inch of water to pan, cover with foil.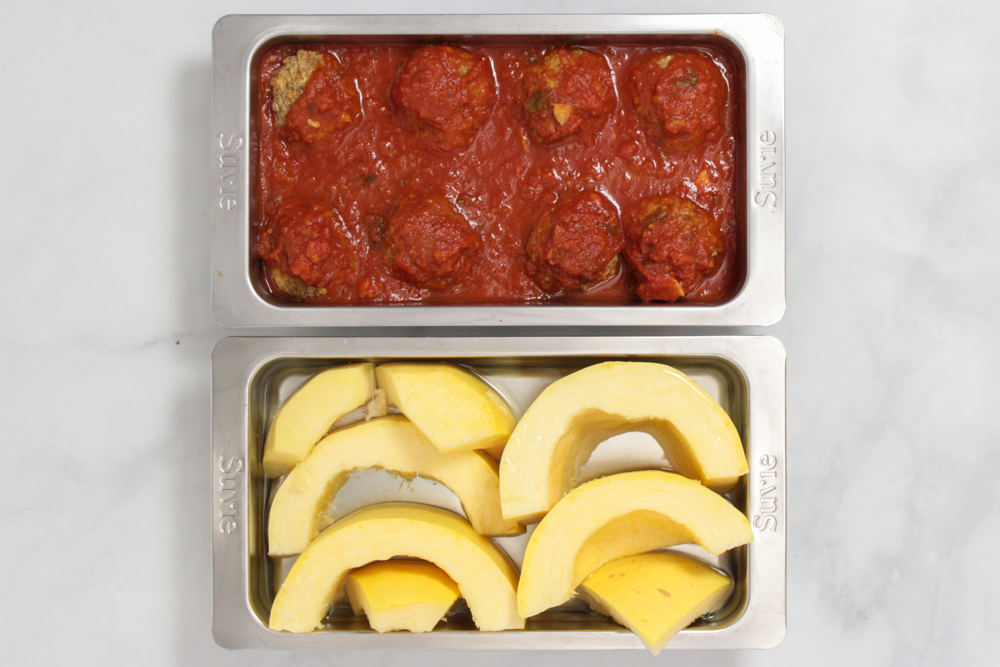 Insert pans into your Suvie, input settings, and cook now or schedule.
Suvie Cook Settings
Bottom Zone: Slow Cook High for 3 hours
After the cook, remove the meatballs and squash from Suvie. Drain the water from the squash. Carefully pull strands from the spaghetti squash with a fork (it will be hot!) and place into large bowl.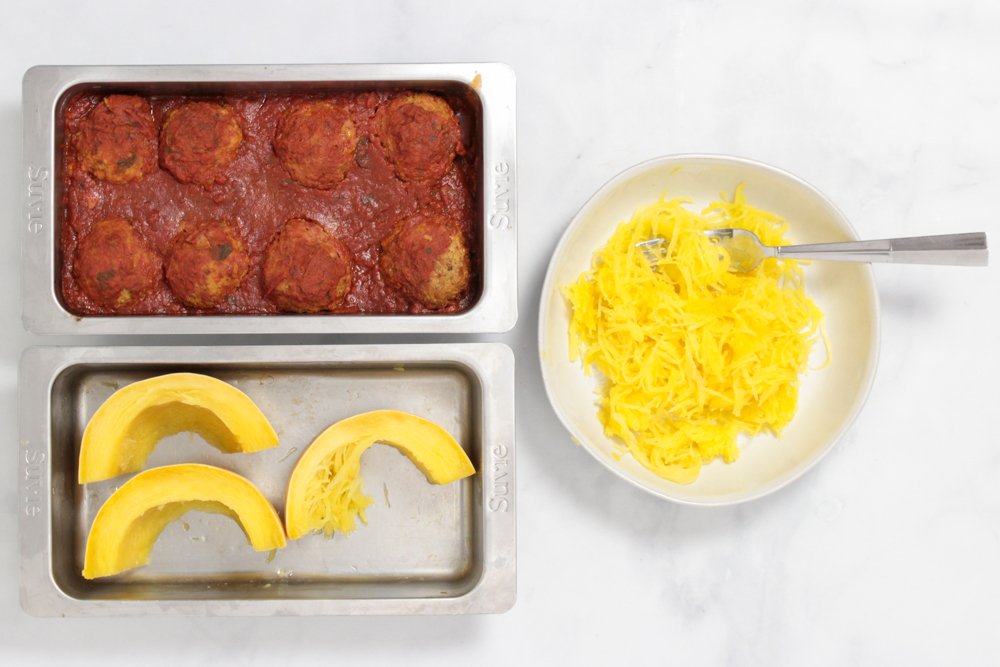 Pour meatballs and marinara over spaghetti squash and mix. Sprinkle with parmesan cheese and chopped parsley, enjoy!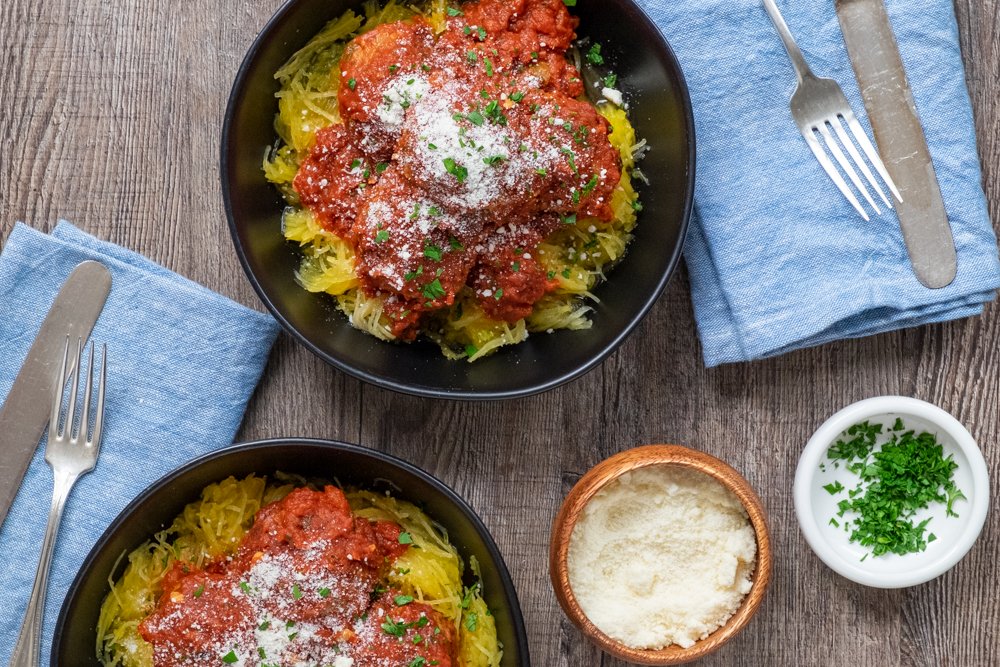 Note: If you would like to make this recipe in Suvie 1.0, insert pans into the top zones of Suvie, fill reservoir, and set to Slow Cook on High for 3 hours.
Wine Pairing
You'll need a bold, preferably Italian, red wine with enough acidity to complement the tomato-based sauce and savory meatballs. We recommend either a good quality bottle of either Barbara or Sangiovese.