Sizzling skillets sure sound like fun, until you get oil splatter all over your shirt! Suvie's super simple steak fajitas recipe is an easy way to get your fajita fix without having to fix your shirt. We use a pre-cut shaved beef from the grocery store (like what you would use for Philly cheesesteaks) to maximize our marinade and produce a tender steak with minimal effort, but you can always swap in a whole steak and slice it after the cook is completed. Pre-sliced peppers and onions make putting this meal together an absolute breeze. Wrap it up in some flour tortillas and top it all off with a quick lime crema that adds creaminess and a little zing to build your own adventure.
Steak Fajitas
Please always check your food to ensure your food has been cooked to safe serving temperatures. Please see our guide
here
for recommended FDA Time & Temperatures.
Servings: 4
Difficulty: 2 hours and 30 minutes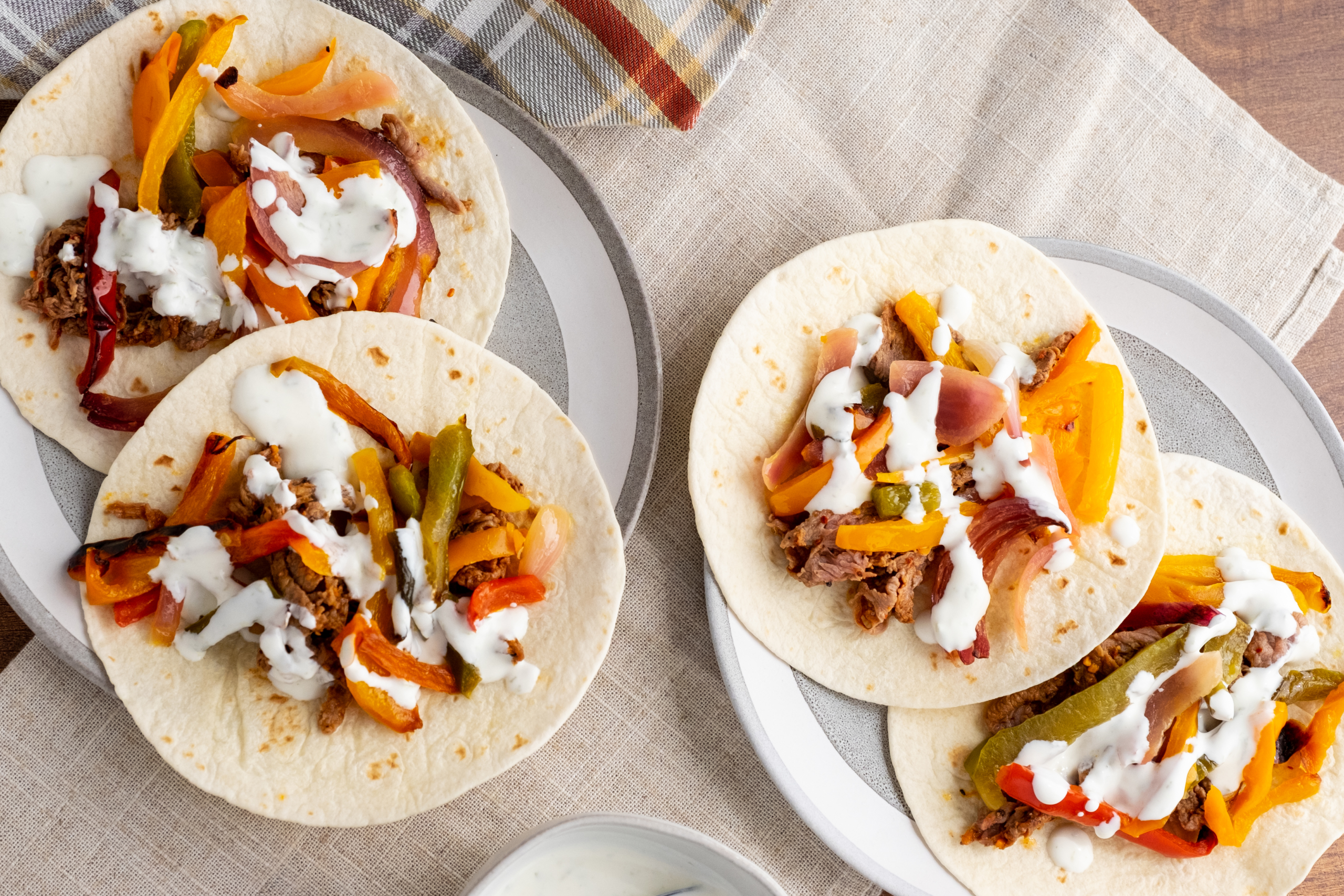 Ingredients
1 lb shaved beef
1 tsp chipotle powder
1 tsp garlic powder
1/2 tsp smoked paprika
1/2 tsp cumin
2 limes
1 lb sliced peppers and onions
2 tbsp vegetable oil
¼ cup sour cream
8 flour tortillas, warmed
Directions
1) In a large bowl, stir together 1 lb shaved beef, 1 tsp chipotle powder, 1 tsp garlic powder, 1/2 tsp smoked paprika, 1/2 tsp cumin, 1 tsp kosher salt, 1/2 tsp ground black pepper, and juice from 1 lime. Transfer mixture to a vacuum bag and seal.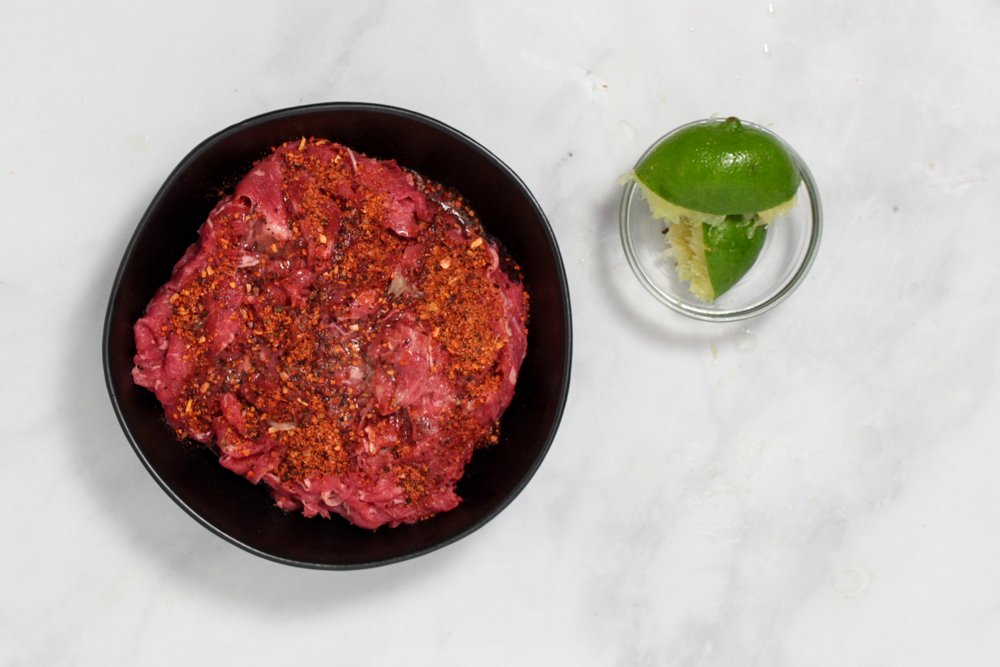 2) Place sealed steak in a Suvie pan, cover with water, and place in the bottom zone of Suvie. Place the sliced peppers and onions in a second Suvie pan and place in the top zone of Suvie. Enter settings below and cook now or schedule
Suvie Cook Settings
Bottom Zone: Sous Vide at 130°F for 2 hours
Top Zone: Steam for 15 minutes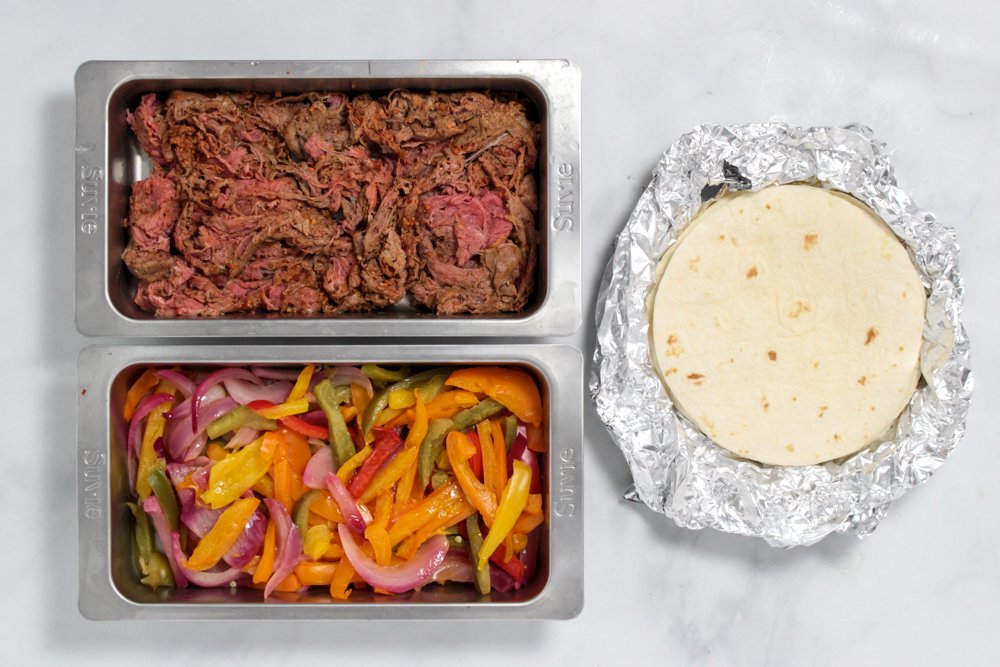 3) After cooking, remove pans from Suvie. Remove beef from packaging and pat dry. Toss the peppers and onions with 1 tbsp vegetable oil, and season with salt and pepper to taste. Return peppers to Suvie and broil for 12-16 minutes, stirring halfway through cooking.
4) Heat 1 tbsp vegetable oil in a large cast iron or heavy bottom skillet over high heat until just smoking. Add the beef and sear, turning occasionally, until charred in spots, about 2 minutes total. Transfer to a cutting board.
5) Zest and juice one lime into a small bowl. Stir 1/4 cup sour cream into the lime juice until smooth and season with salt to taste.
6) After broiling, divide tortillas between plates and top with steak, peppers, onions, and a drizzle of lime crema. Serve immediately.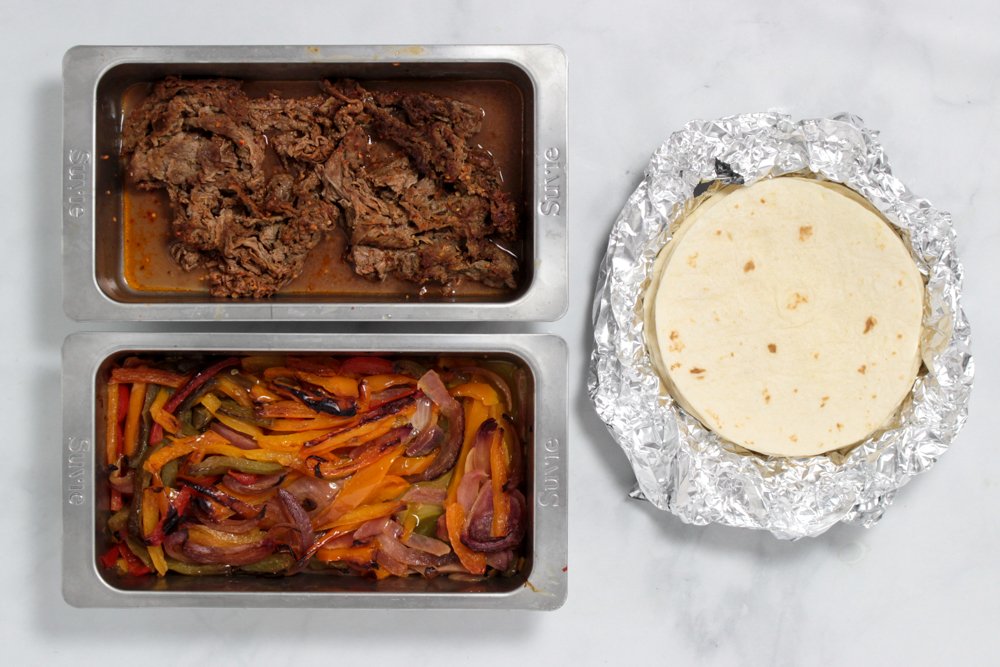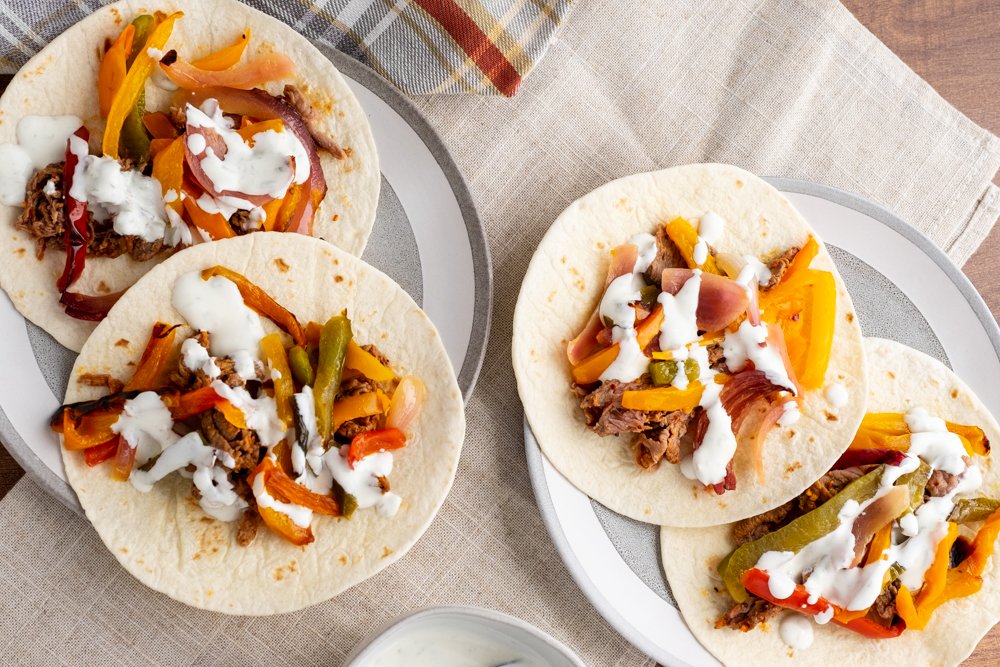 Wine Pairing
Steak pairs beautifully with full-bodied reds. Try pairing this meal with a glass of Argentinian Malbec or a Cabernet Sauvignon.