Tabouleh is a Middle Eastern dish consisting of parsley, tomatoes, onion, bulgur, olive oil, and lemon juice. It is typically served as part of a mezze, or appetizer course, or as a snack food. We've combined this healthy salad with marinated chicken breasts to make a zesty and tasty full meal.
My Cook: Tabouleh Salad
Please always check your food to ensure your food has been cooked to safe serving temperatures. Please see our guide
here
for recommended FDA Time & Temperatures.
Servings: 4
Difficulty: 2 hours and 15 minutes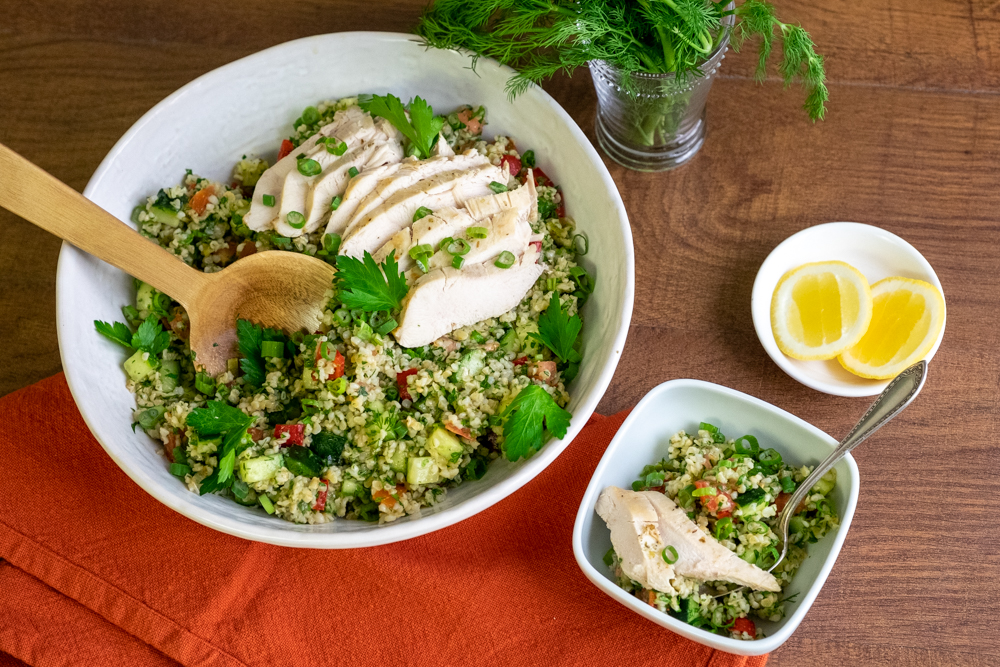 Ingredients
1 lb boneless, skinless chicken breast
1 tbsp oregano
2 cloves garlic, minced
3 tbsp fresh lemon juice, divided
¼ cup olive oil, divided
1 medium red bell pepper, seeded and diced
5 scallions, sliced, white and green parts separated
1 cup bulgur
1 cup tomatoes, diced
2 cups cucumbers, diced
1 cup fresh parsley, chopped
½ cup fresh dill, chopped
Directions
1) Season 1 lb chicken breast with 1/2 tsp salt and 1/4 tsp pepper. Place chicken, 1 tbsp oregano, 2 minced garlic cloves, 1 tbsp lemon juice, and 2 tbsp olive oil in a vacuum-seal bag and mix. Vacuum seal the bag and place in a Suvie pan. Fill pan with enough water to cover the chicken then load pan into into bottom zone of Suvie.
2) In another Suvie pan, combine 1 diced red bell pepper and white parts of the scallions. Pour 1/3 cup water into a Suvie pan and place the Suvie roasting rack inside the pan. Scatter red bell pepper and scallions on top of the roasting rack. Place pan in the top zone of Suvie. Input settings and cook now or schedule.
Suvie Cook Settings
Bottom Zone: Sous Vide at 150°F for 1 hour
Top Zone: Steam for 15 minutes
3) Place 1 cup bulgur in the Suvie rice pot (black handles). Cover pot with lid, place inside the Suvie Starch Cooker, ensuring pot is centered on the hot plate. Input settings and cook now or schedule.
Suvie Starch Cooker Settings
Grains, Bulgur, 1 cup
4) After the cook, remove all pans from Suvie. Drain the water from the chicken pan and remove chicken from bag. Pat pan and chicken dry, then drizzle olive oil over the chicken. Pat the red bell pepper and scallions dry and drizzle with olive oil. Return both pans to Suvie. Broil for 10 minutes.
5) During the broil, combine bulgur, tomatoes, cucumbers, parsley, and dill in a large mixing bowl. Drizzle 2 tbsp lemon juice and 2 tbsp olive oil over the bulgur mixture.
6) After the broil, add the peppers and scallions to the bowl, stirring to combine. Taste and add more salt and pepper as needed. Divide between bowls.
7) Slice the chicken across the grain and place on top of the tabouleh. Sprinkle each serving with scallion greens.