Coconut based Thai curries are a masterclass in balancing powerful flavors with finesse. Spicy jalapeño and ginger blend with bright lemongrass and lime juice, while a little sweetness from the brown sugar and coconut milk keeps the spice from getting out of hand and a salty, umami punch of soy sauce helps blend everything together. We chose chicken thighs for this recipe because the low and slow cooking lends itself to the juicier texture of the meat. You can definitely substitute chicken breast if you prefer. Serve over rice and garnish with cilantro, sriracha, and a fresh squeeze of lime.
Note: This recipe requires Suvie 2.0 and the Suvie Starch Cooker. To make this meal in Suvie 1.0, please set rice to cook for 15 minutes in Step 3.
Thai Coconut Chicken Curry
Please always check your food to ensure your food has been cooked to safe serving temperatures. Please see our guide
here
for recommended FDA Time & Temperatures.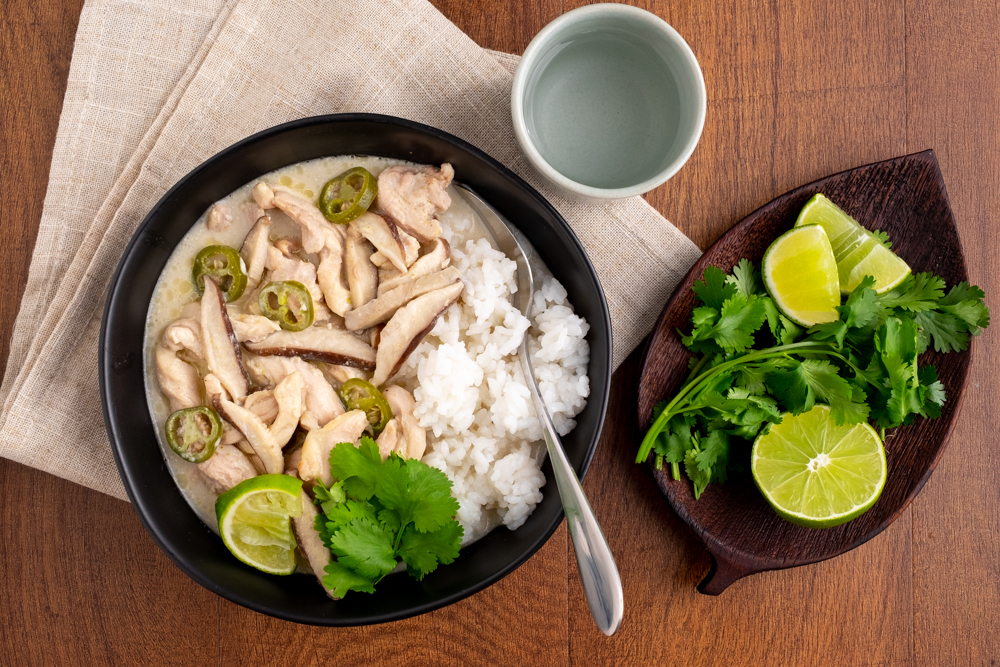 Ingredients
1 1/2 lbs

boneless, skinless chicken thighs, cut into 1 inch pieces

4 oz shiitake mushrooms, sliced
1 inch piece ginger
2 cloves garlic, peeled
1 piece lemongrass
1

jalapeño

, thinly sliced
1 (13.5 oz) can coconut milk
2 tbsp soy sauce
1 tbsp green curry paste
1 tbsp brown sugar
1 cup jasmine rice
Lime and cilantro for garnish
Directions
1) Combine 4 oz mushrooms and 1 1/2 lbs chicken thighs in a Suvie pan.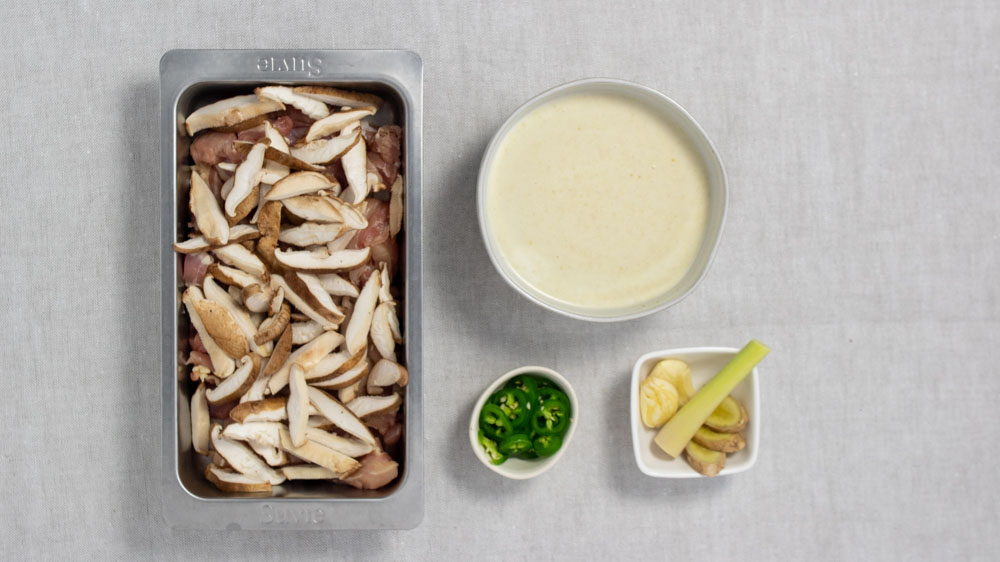 2) In a small bowl, whisk together 1 can coconut milk, 2 tbsp soy sauce, 1 tbsp green curry paste, and 1 tbsp brown sugar. Slice the ginger into 3 or 4 pieces, smash the garlic cloves and lemongrass with the flat side of a large chef's knife and add to the pan with the jalapeño.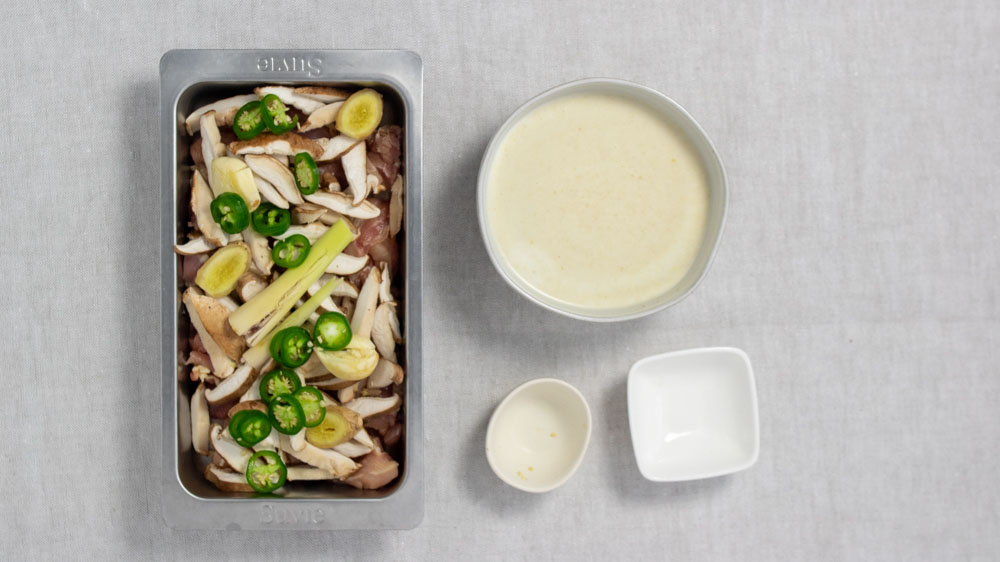 3) Pour the coconut milk mixture into the pan. Place chicken coconut curry in the bottom zone of Suvie, enter settings and cook now or schedule.
Suvie Cook Settings
Bottom Zone: Slow Cook, Low for 3 Hours
Top Zone: None
4) Place 1 cup jasmine rice and ½ tsp salt in the Suvie rice pot (black handles). Cover pot with the lid, and load into the Suvie starch cooker. Enter settings and cook now or schedule.
Suvie Starch Cooker Settings
Rice, Long Grain, 1 Cup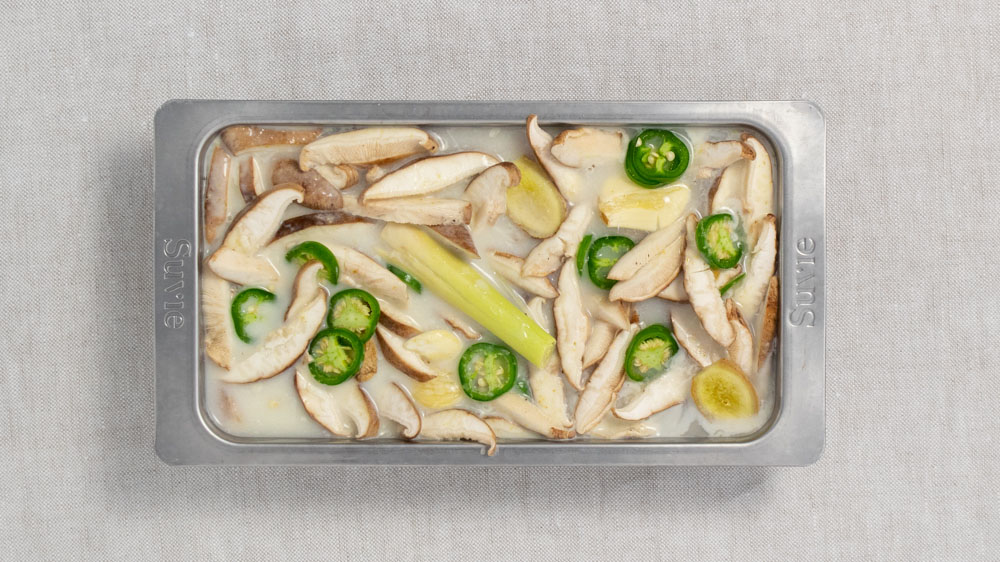 5) After the cook remove the garlic, ginger pieces, and lemongrass from the pan and discard.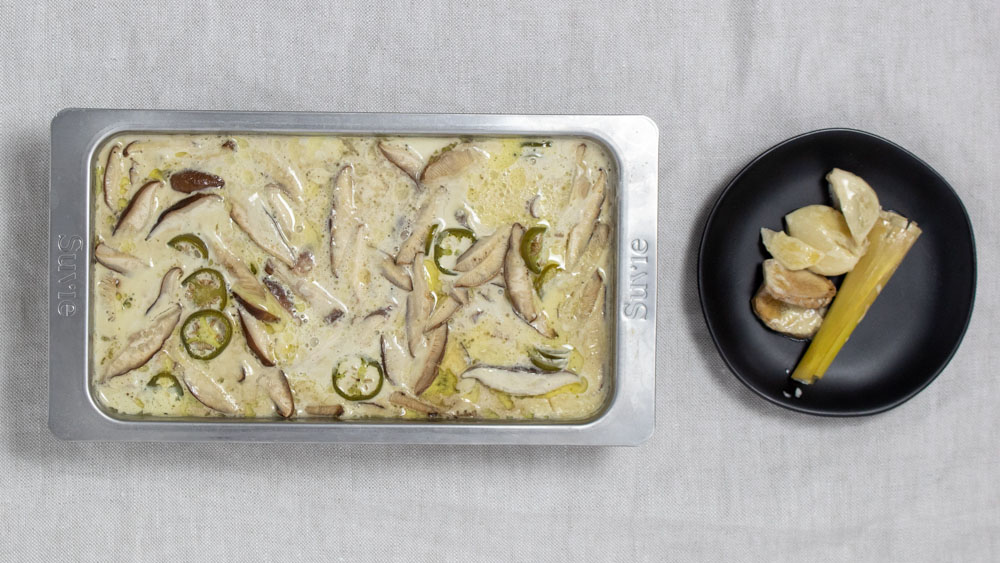 6) Adjust seasoning to taste. Fluff rice with a fork. Serve the coconut curry over the jasmine rice and garnish with fresh cilantro and lime.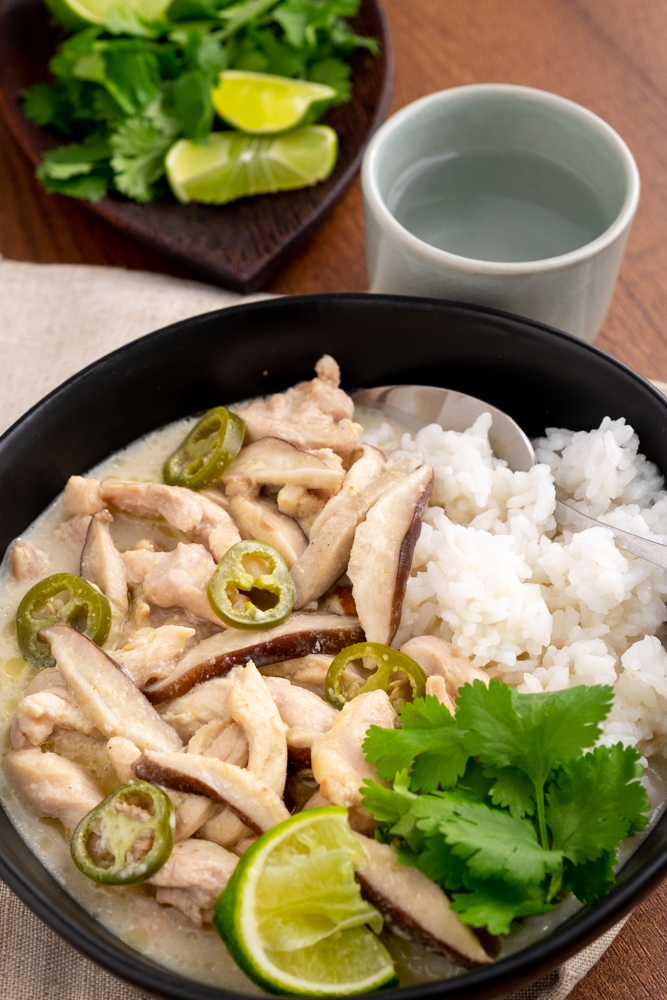 Wine Pairing
The spicy and sweet notes in Gewürztraminer make it an ideal pairing for the fragrant aromas of Thai Green Curry. Another wine that will pair well with this dish is Riesling. Riesling is sweet and acidic and will really bring out the spicy flavors of this dish.