The canary islands are an autonomous Spanish island region located off the coast of Morocco in the Atlantic Ocean. One of the most well known dishes from the Canaries is Papas Arrugadas or wrinkled potatoes. Small, unpeeled potatoes are boiled in salty water and allowed to dry, giving them a wrinkled appearance. The potatoes are then topped with either mojo rojo or mojo verde (red sauce or green sauce). Typically, mojo verde is served with fish whereas mojo rojo is served with meat. To achieve the wrinkly exterior in the Suvie, the potatoes are broiled after cooking to fully dry out the skin. Any leftover mojo you might have can be spread on toast or served with crudites.
Papas Arrugadas con Pescado y Mojo Verde
Please always check your food to ensure your food has been cooked to safe serving temperatures. Please see our guide
here
for recommended FDA Time & Temperatures.
Servings: 2
Difficulty: 2 hours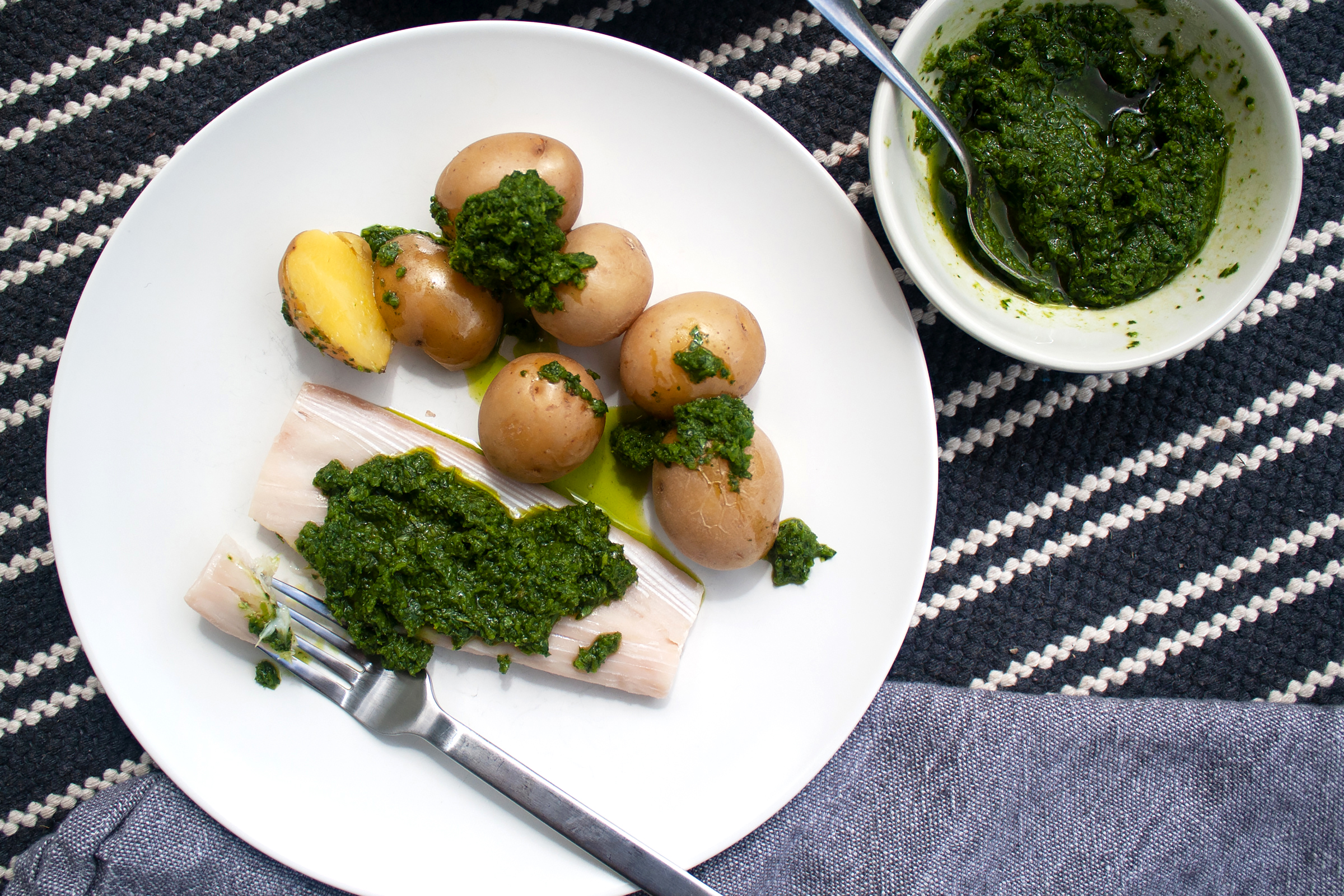 Ingredients
10 oz baby potatoes, less than 2-inches in diameter
8 oz white fish, vacuum sealed
1 large jalapeño pepper, stemmed and seeded
1 clove garlic, peeled
¼ tsp ground cumin
1 small bunch of cilantro
1 small bunch of parsley
¼ cup olive oil
2 tsp sherry vinegar
Directions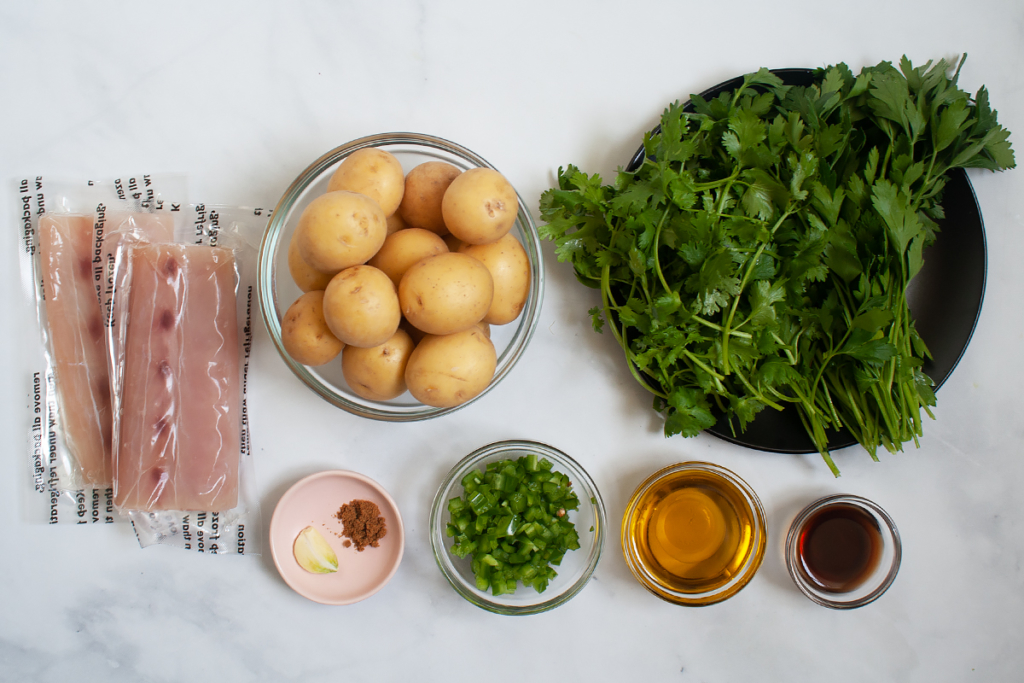 1) Place 10 oz baby potatoes and ¼ cup kosher salt in the Suvie starch strainer set within the Suvie pasta pot (green handles). Place pot inside the Suvie Starch Cooker, ensuring pot is centered on the hot plate. Input settings and cook now or schedule.
Suvie Starch Cooker Settings
Potatoes, Uncut, 45 minutes
2) Place 8 oz white fish in a Suvie pan, cover with water, and place in the bottom zone of Suvie. Input settings, and cook now or schedule.
Suvie Cook Settings
Bottom Zone: Sous Vide at 130°F for 30 minutes
Top Zone: None
3) Meanwhile, place 1 jalapeño, 1 garlic clove, 1/2 tsp cumin, 1 bunch cilantro, and 1 bunch parsley in the bowl of a food processor. Pulse 4 or 5 times to chop and then process for 1 minute until finely ground. With the food processor running, slowly add 1/4 cup olive oil followed by 2 tsp sherry vinegar until smooth. Season to taste with salt and pepper; set aside until ready to serve.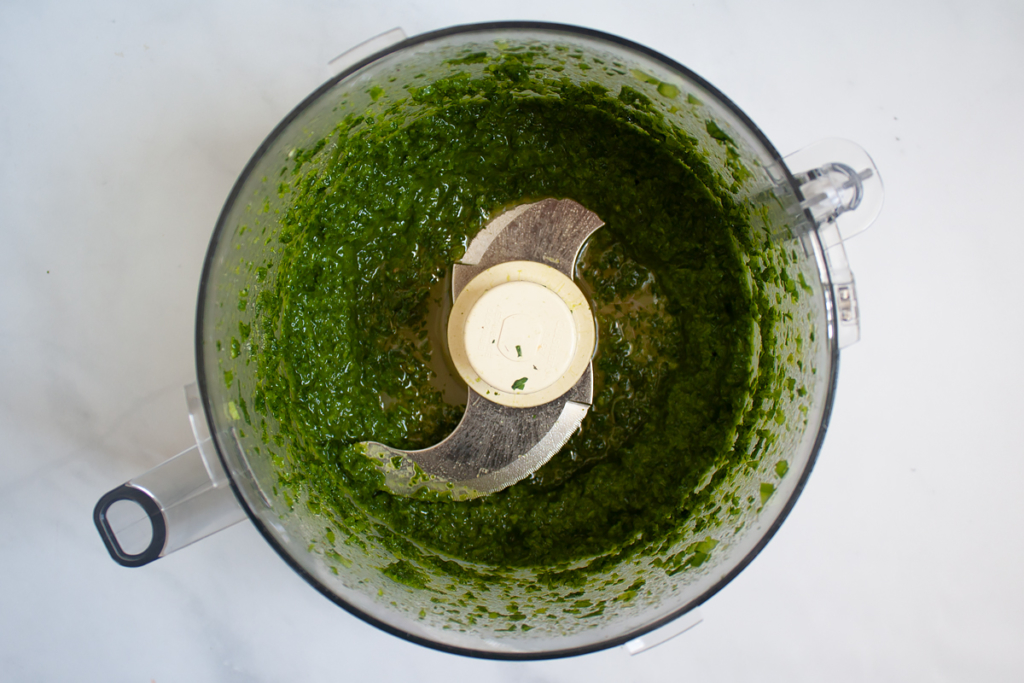 4) After the fish and potatoes have finished cooking, remove pans from your Suvie. Drain potatoes well and transfer to a clean, dry Suvie pan. Place potatoes in the top zone of Suvie and broil for 10-15 minutes, rotating pans halfway through.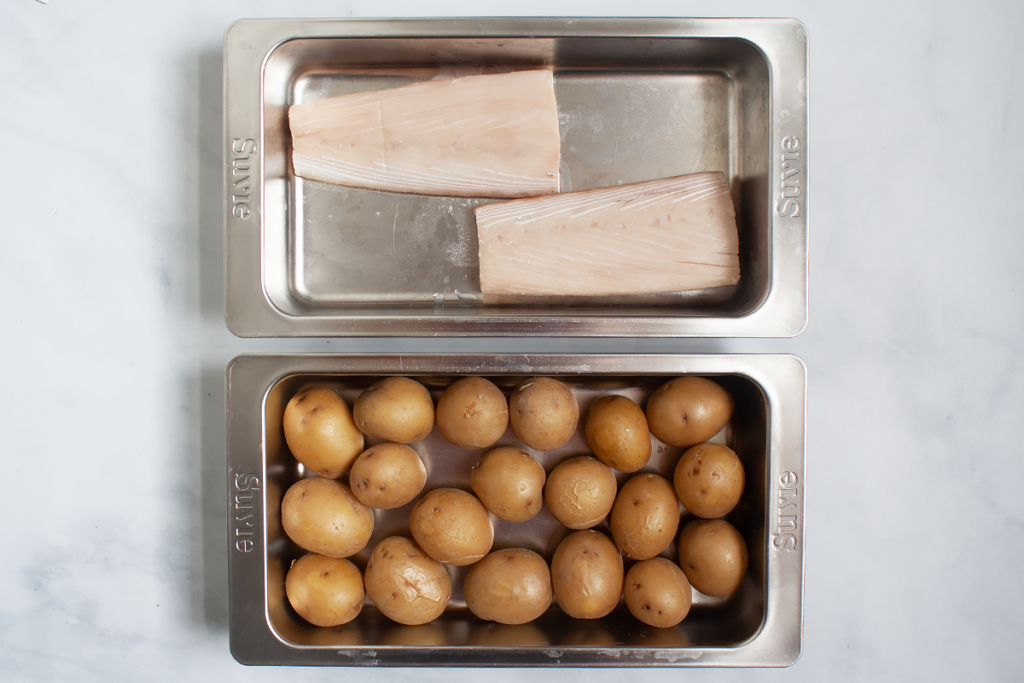 5) Remove fish from vacuum bags and divide between plates. Once potato skins have dried and are slightly wrinkled, divide between plates. Top fish and potatoes with reserved mojo verde.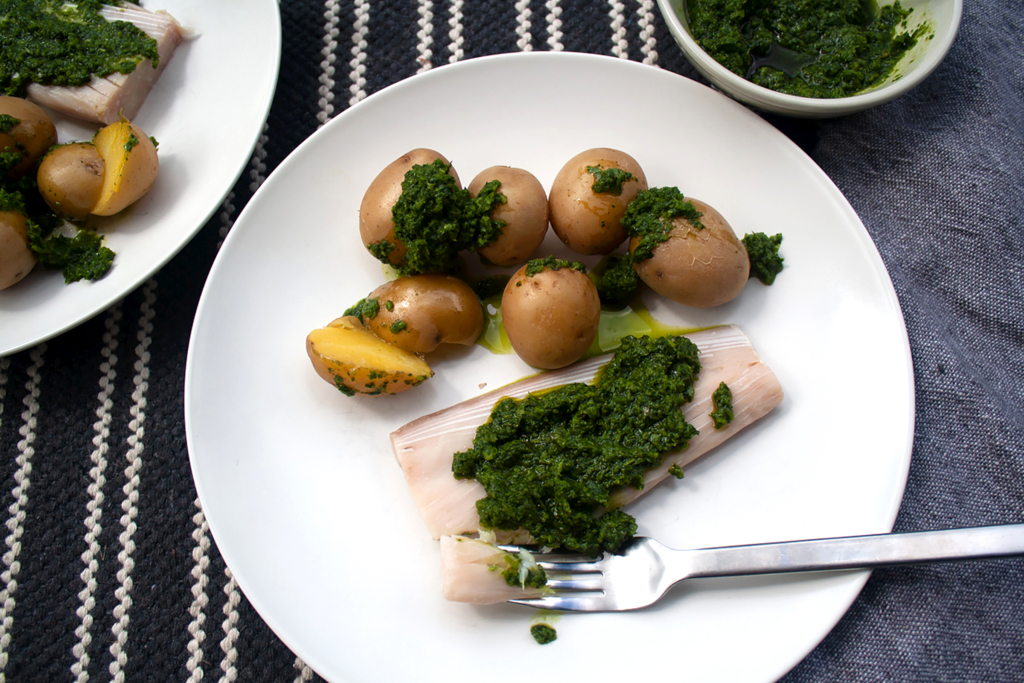 Nutrition
Nutritional Information per serving (2 servings per recipe): Calories 540, Total Fat 37g, Total Carbohydrates 26g, Total Sodium 910mg, Total Protein 27g