Pasta alla Norma is a classic Sicilian dish consisting of eggplant, tomatoes, pasta, ricotta salata, and basil. The conditions in southern Italy are ideal for growing nightshades such as tomatoes and eggplant, and as a result these two ingredients are found in a multitude of recipes in the region. Broiling the eggplant and then slowly cooking it with the tomato for two hours transforms it into a rich and supple sauce that is packed with flavor. Paired with perfectly al dente rigatoni, pasta alla norma will transport you to Sicily, no passport required.
Note: If you would like to schedule this meal, but do not want to wait for the broiler to cool before refrigerating, saute the eggplant, oil, garlic, oregano, and red pepper flakes in a large skillet over medium heat until eggplant is softened and starting to brown, about 8 minutes, instead of broiling.
Pasta alla Norma
Please always check your food to ensure your food has been cooked to safe serving temperatures. Please see our guide
here
for recommended FDA Time & Temperatures.
Servings: 2
Difficulty: 2 hours and 30 minutes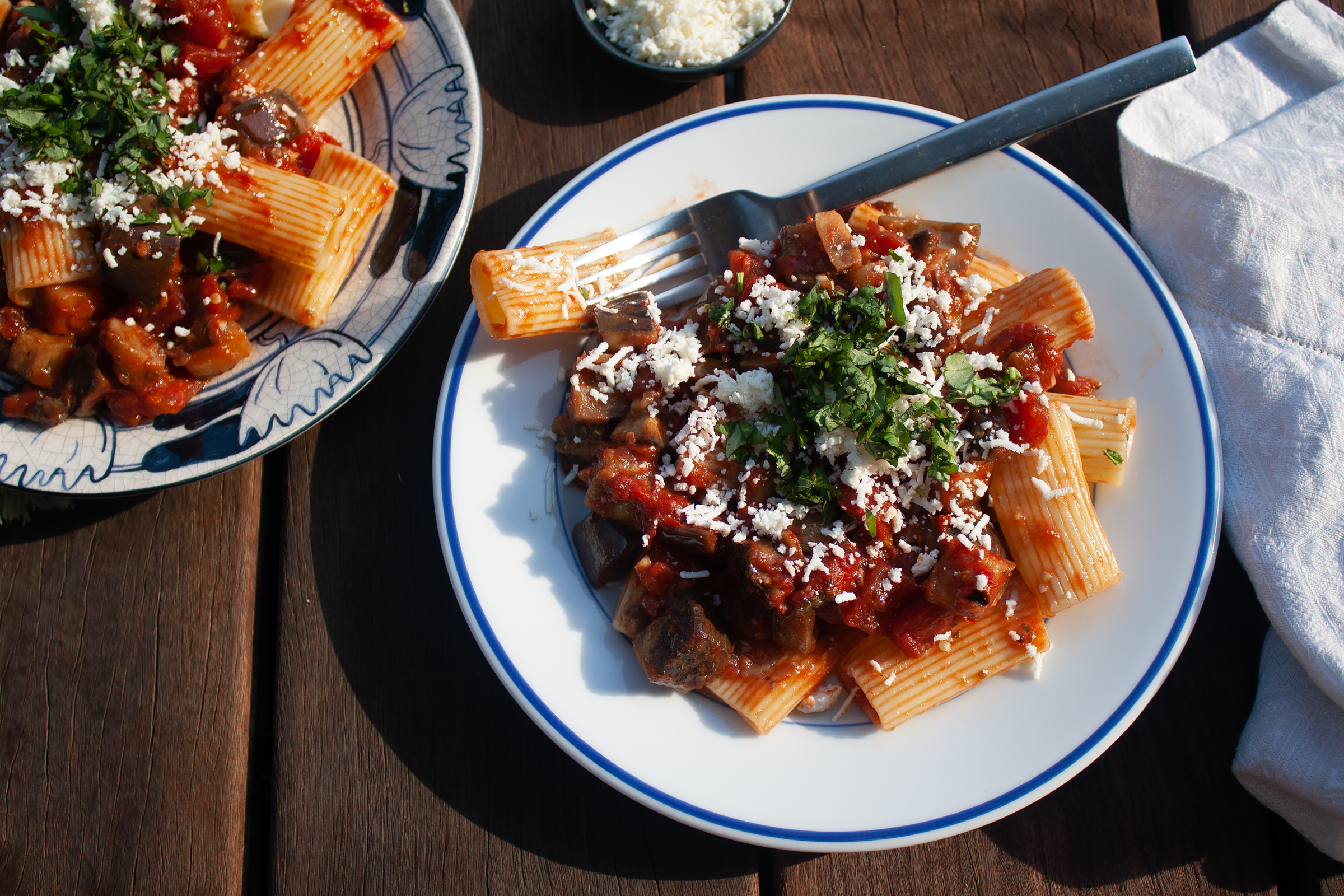 Ingredients
2 medium or 3 small eggplants (1 lb total), cut into ½" cubes
2 tbsp olive oil
2 garlic cloves, minced
1 tsp dried oregano
½ tsp red pepper flakes
2 tbsp tomato paste
1 (14 oz) can diced tomatoes
4 oz rigatoni
2 tbsp chopped fresh basil
2 oz finely grated ricotta salata
Directions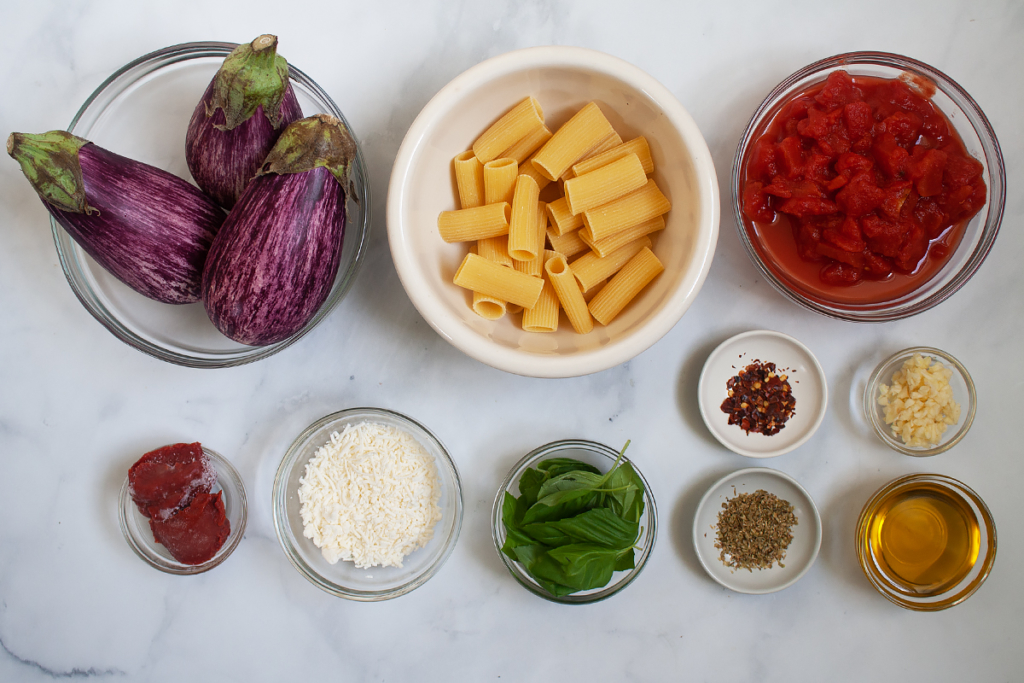 1) Toss eggplant with 2 tsp kosher salt and set aside in a colander to drain for 15 minutes.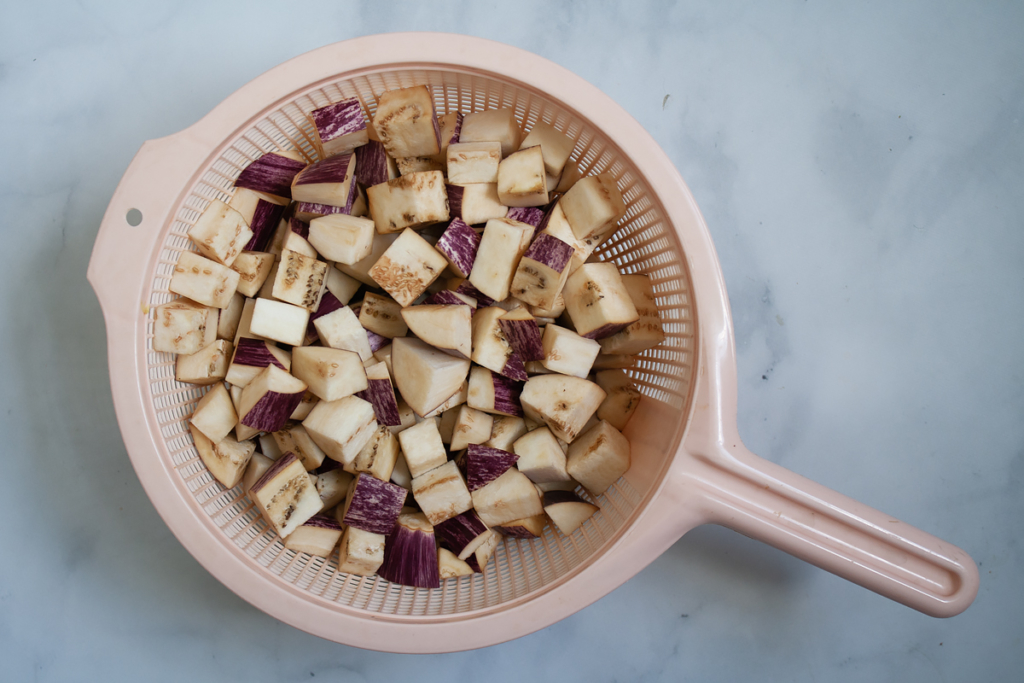 2) Blot and press eggplant with kitchen or paper towels to absorb as much water as possible. Divide eggplant between 2 Suvie pans and drizzle with 2 tbsp olive oil. Stir in 2 cloves garlic, 1 tsp oregano, and 1/2 tsp red pepper flakes. Place pans into your Suvie and broil for 15 minutes, stirring halfway through.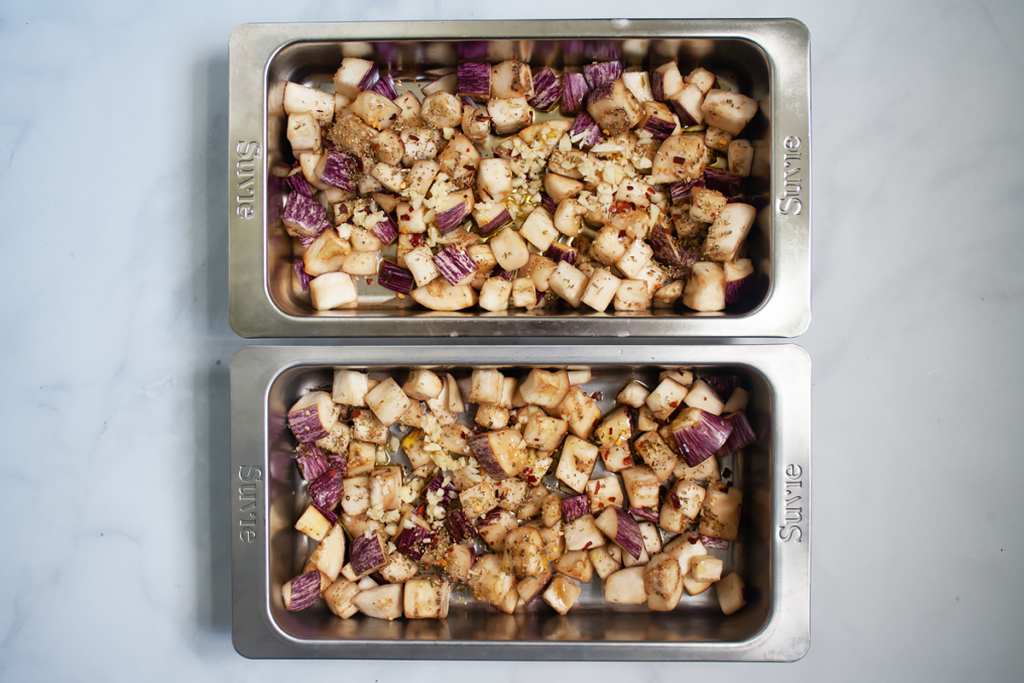 3) Remove pans from your Suvie. Divide 2 tbsp tomato paste and 1 can diced tomatoes between the two pans. Input settings, and Cook now or Schedule.
Suvie Cook Settings
Bottom Zone: Slow Cook on High, 2 hours
4) Place 4 oz rigatoni in the Suvie starch strainer set within the Suvie pasta pot (green handles). Cover pot with lid and place inside the Suvie Starch Cooker, ensuring pot is centered on the hot plate. Input setting and cook now or schedule.
Suvie Starch Cooker Settings
Pasta, 4 cups, 10 minutes
5) After the eggplant has finished cooking, remove all pans from your Suvie. Transfer eggplant and rigatoni to a large bowl, stirring to coat. Season with salt and pepper to taste. Divide between bowls and top with basil and ricotta salata.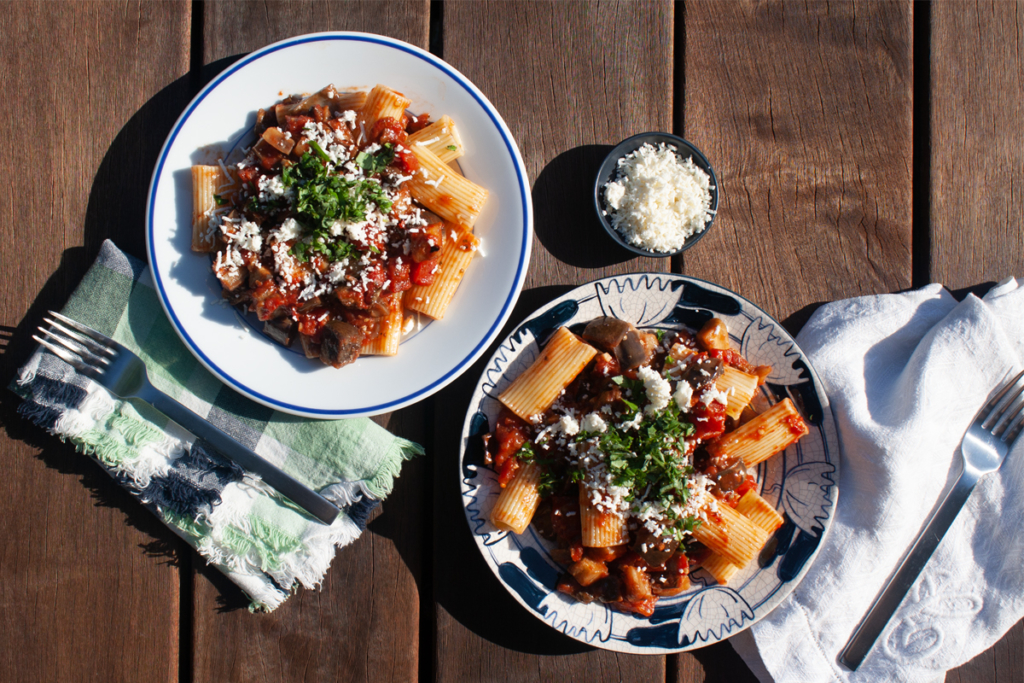 Nutrition
Nutritional Information per serving (2 servings per recipe): Calories 510, Total Fat 19g, Total Carbohydrates 72g, Total Sodium 2750mg, Total Protein 14g