Pacific rockfish is a bass-like, white-fleshed fish with a mild, sweet, and somewhat nutty flavor. Read on to get to know more about rockfish and learn some scrumptious recipes featuring this versatile fish.
What is Rockfish?
Pacific rockfish, also known as rock cod, Alaskan rockfish, and red snapper is a white-fleshed fish popular in American and Asian cuisines. This common fish is a near-shore fish found abundantly on North America's West Coast. Rockfish belong to a vast fish genus known as Sebastes, which possesses over one hundred fish species. The majority of these fish are referred to simply as "rockfish".
The most popular rockfish varieties are China rockfish, canary rockfish, vermilion rockfish, yellowtail rockfish, bocaccio rockfish, and red rock cod. Rockfish can be found in a range of colors from red to orange and grey to black. Their size can also vary depending on the rockfish variety, ranging from one pound up to 40 pounds. What is consist across nearly all rockfish varieties is a lean appearance, firm texture, and mild taste.
Rockfish are generally recognized by their big eyes and wide mouths. They can be found swimming closer to the shore or at ocean depths up to 300 feet. Beware, as venomous spines are present at the back and fins of rockfish that must be removed carefully prior to cooking. Like most white fish, rockfish is particularly low in fat and a favored seafood option by health enthusiasts.
Flavor of Rockfish
Rockfish is a mild fish with hints of sweet and nutty flavor. The texture of rockfish is firm, tender, and flakey at the same time. You might find tilapia as a close alternative to rockfish along with some of the flaky characteristics of Pacific cod. Rockfish lacks a fishy taste and smell, making it one of the more mild-flavored fishes worldwide.
Uses of Rockfish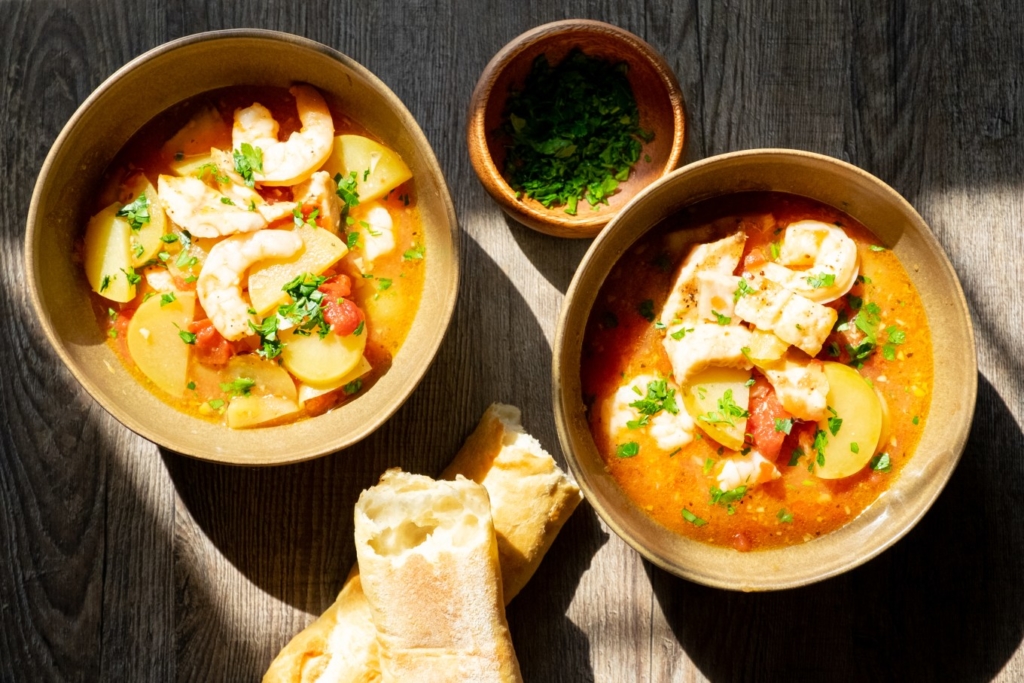 Rockfish is versatile in the kitchen and can be steamed, baked, fried, sautéed, or poached. Rockfish don't do particularly well on the grill, however, due to their flakiness. You can also enjoy rockfish raw in recipes like sashimi and sushi. Rockfish tastes best when fried or sauteed with rich sauces like tapenades, creamy coconut curries, and butter sauces. Try out sautéed rockfish with Mojo Verde, a popular Canarian green sauce typically served with fish and salted boiled potatoes. 
You can prepare rockfish with any recipe that calls for white fish or other bass-like fishes. Try out our recipe for white fish with herb butter over spinach, and trout in lemon garlic butter with fresh rockfish fillets. Moreover, savory stews and soups can be prepared from rockfish. This versatile fish tastes equally well in rice dishes and wraps. So, what's your signature style of cooking rockfish?
Feature Image: Flicker user Thebittenword ( CC BY 2.0 )