For an elevated, but easy dinner, try our recipe for rosemary lamb chops. Sous vide is the perfect method for cooking delicate lamb chops because you can ensure even cooking throughout each chop. After sous viding, we sear the fat cap on each chop in a hot pan to render the fat, which serves the dual purpose of crisping the meat and also lending more lamb flavor to each chop. We serve the lamb with a simple red wine vinaigrette studded with mint, garlic, and fresh rosemary.
Note: We recommend vacuum sealing the lamb chops using the water displacement method, as a very strong electric vacuum sealer can cause the bones in the lamb chops to poke holes in the bag.
Rosemary Lamb Chops
Please always check your food to ensure your food has been cooked to safe serving temperatures. Please see our guide
here
for recommended FDA Time & Temperatures.
Servings: 2
Difficulty: 2 hours and 15 minutes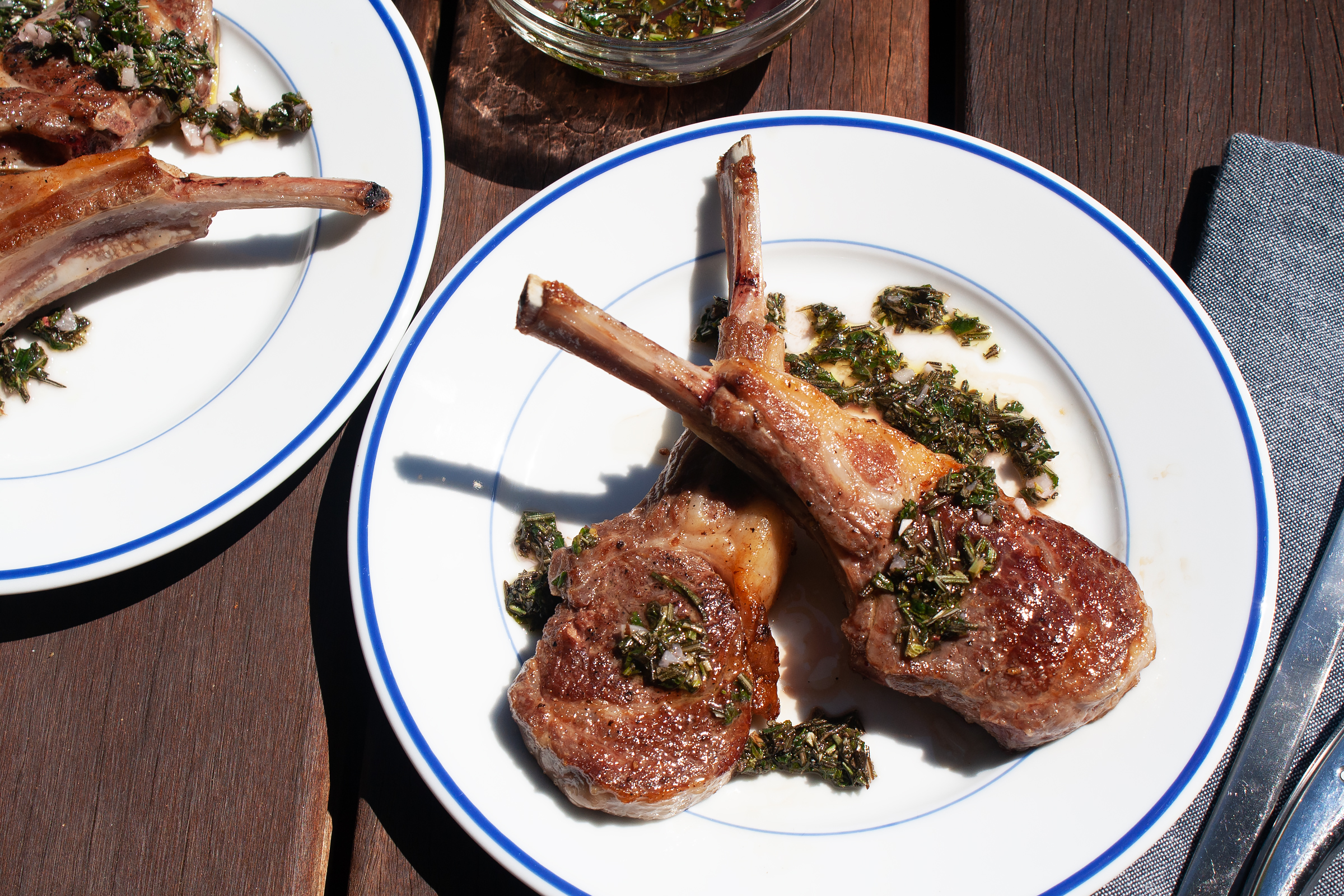 Ingredients
4 bone-in lamb chops, about 12 ounces
2 sprigs rosemary, plus 1 tsp minced rosemary leaves
1 small sprig mint
2 tbsp red wine vinegar
2 tbsp olive oil, plus 1 tsp, separated
1 garlic clove, minced
1 tsp vegetable oil, optional
Directions
Pat lamb chops dry and season generously with 2 tsp kosher salt and 1 tsp black pepper. Vacuum seal with 1 tsp olive oil and 2 sprigs rosemary. Place vacuum-sealed lamb in a Suvie pan, and cover with water.
Insert pan into the bottom zone of Suvie, input settings, and cook now or schedule.
Suvie Cook Settings
Bottom Zone: Sous Vide at 130°F for 1 hour
Top Zone: None
While the lamb cooks, mince the mint. In a small bowl, stir together remaining 2 tbsp olive oil, 2 tbsp red wine vinegar, mint, garlic, minced rosemary, and ¼ tsp salt.
Once the lamb has finished cooking, remove from vacuum bags and pat dry. Heat a cast iron pan over high heat for 5 minutes. Place lamb chops, fat cap side down in the pan and sear to render the fat, about 30 to 60 seconds (if your chops do not have a large fat cap add 1 tsp vegetable oil to the pan). Turn chops to sear one side until browned, about 60 seconds. Flip and cook the other side for 60 seconds.
Divide lamb between plates, spooning reserved sauce over the top.
Note: If you would like to make this recipe in Suvie 1.0, insert pan into the top right zone of Suvie, fill reservoir, and set to Protein to 130°F for 1 hour.
Nutrition
Nutritional Information per serving (2 servings per recipe): Calories 385, Total Fat 35g, Total Carbohydrates 1g, Total Sodium 2326mg, Total Protein 18g