Lamb curry is a popular dish at most Indian restaurants. It's a spicy, meaty and bursting with curry flavor. But you don't need to get takeout to have great Indian at home. The best part of our Suvie lamb curry is its use of a premade simmer sauce taking the guesswork and long spice list out of Indian cooking. Most grocery stores will have a curry sauce available, we chose the spicy option but you could use any level of spiciness to suit your curry needs. Another shortcut to make prep time a breeze is asking your butcher to cube your lamb shoulder for you so you can slide it directly into the Suvie pan. Spoon your curry over some basmati rice and you've got a fantastic dinner ready to go. Curry is one of those dishes that tastes great (sometimes even better) the next day, so make sure to save some for lunch!
Tip: buy some garlic naan at the grocery store, wrap it in tin foil and throw it in the sauce zone of your Suvie at the start of the cook for fresh, warm naan to soak up any extra curry in your bowl
Lamb Curry
Please always check your food to ensure your food has been cooked to safe serving temperatures. Please see our guide
here
for recommended FDA Time & Temperatures.
Servings: 3-4
Difficulty: 4 hours and 15 minutes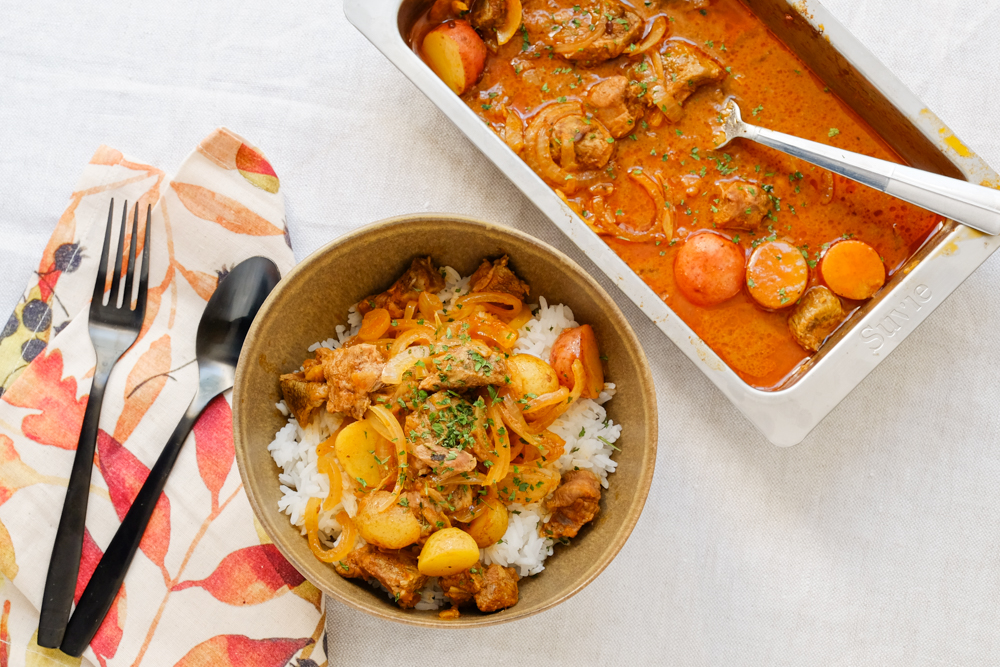 Ingredients
12 oz Premade Indian Simmer Sauce
2 lb lamb shoulder, chopped into 1" cubes
8 oz potatoes chopped into ½" pieces
1 medium onion sliced
1 cup basmati rice
2 tsp salt + more to salt
Cilantro (optional)
Directions
Distribute the cubed lamb, potatoes and onion slices evenly between two Suvie pans. Season ingredients generously with salt.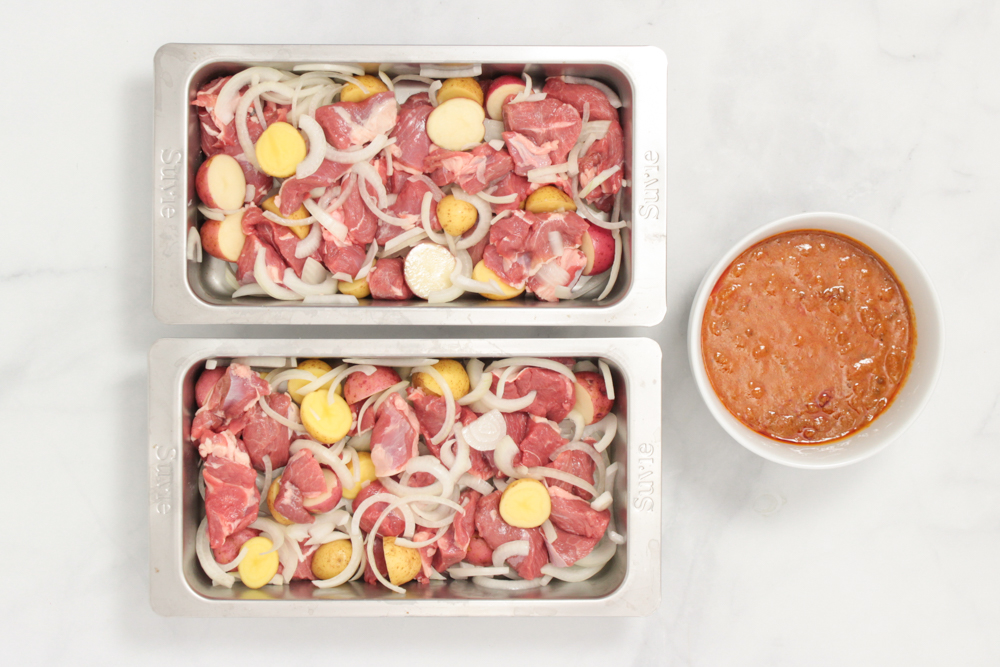 Pour Indian simmer sauce over pans and stir to combine.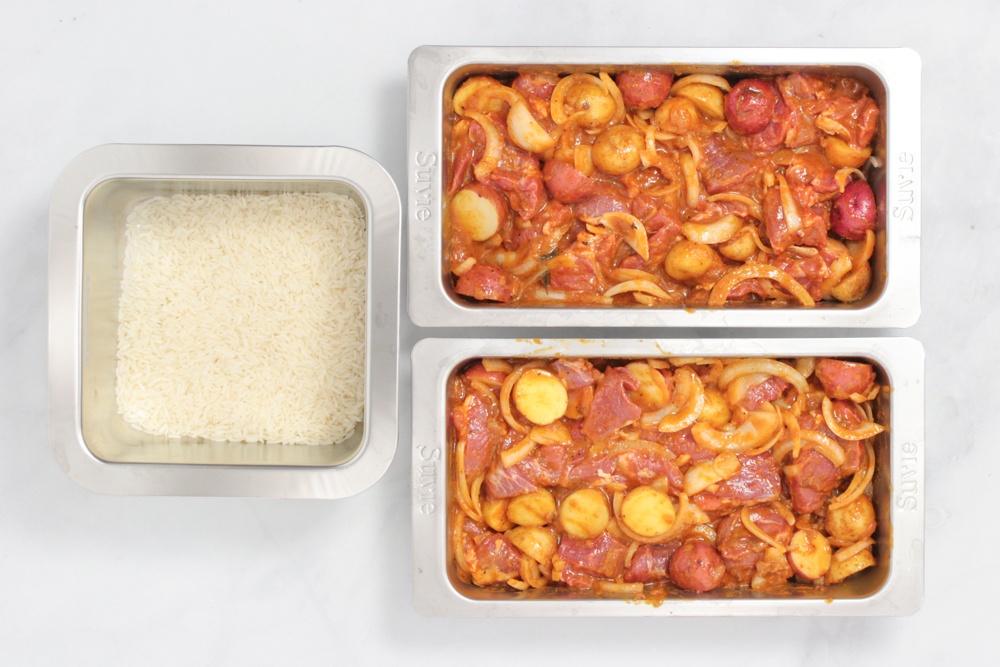 Place foil over both pans and load into upper zones of your Suvie.
Place rice into starch pan with 2 tsp salt. Load into lower right zone of Suvie. Enter My Cook settings and cook now or schedule.
Slow Cook Settings
Protein: LOW, 3 hours
Starch: 17 minutes
After the cook, remove pans from Suvie.
Divide rice among bowls, top with the lamb curry and garnish with optional cilantro. Enjoy!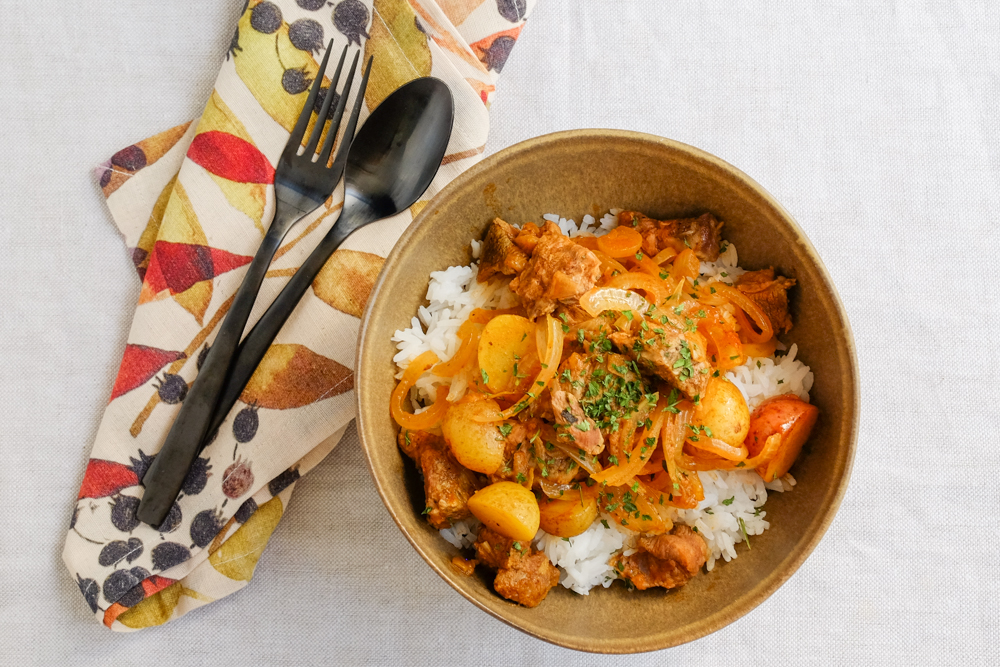 Wine Pairing
Wine Lager may be the preferred choice, the herbal notes in Grenache wine make it the perfect wine to pair with the complex flavors of Indian food.