Total Time: 2 hours 30 minutes
Braised carrots are one of the simplest things you can cook. All you need is whole carrots, a little liquid, and some seasoning, and you're guaranteed a delicious dish. The slow, low temperature cooking process helps convert the carrots into their sweetest, most tender selves. To give this dish a Moroccan flair we used Ras el Hanout, which is a spice blend from the region. Ras el Hanout translates to "head of the shop" and each spice shop will have their own proprietary blend of their best spices. Typically the mix is made up of lots of warming spices like cinnamon, clove, nutmeg, cardamom, chilies, and cumin. If you can't find Ras el Hanout, Garam Masala or curry powder would be excellent substitutes and use many of the same spices. Served over a bed of earthy green lentils and garnished with a simple lemon yogurt sauce this simple vegetarian meal is a great dish for the early fall when the nights start to get cold, but it's not quite soup weather yet.
Slow Cook: Moroccan Spiced Carrots with Lentils
Please always check your food to ensure your food has been cooked to safe serving temperatures. Please see our guide
here
for recommended FDA Time & Temperatures.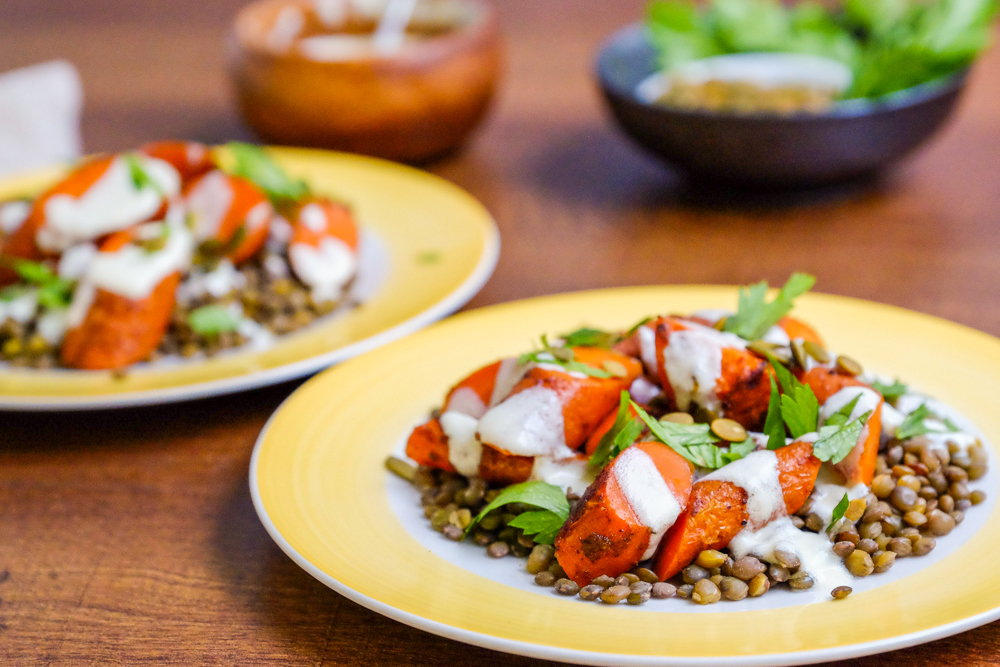 Ingredients
1 lb or about 5 medium carrots, tops removed
½ cup French green lentils
1 tbsp Ras el Hanout (or Garam Masala)
1 bay leaf
3 tbsp olive oil
¼ cup full fat yogurt
1 lemon
1 small bunch parsley
2 tbsp roasted salted pepitas
Directions
Scrub carrots clean, you can peel if you want but we like to keep the skins on. Toss with 1 tbsp olive oil and 1 tbsp ras el hanout (equal parts cumin, coriander, paprika, cinnamon, nutmeg). Place in an even layer in a Suvie pan, season well with salt, and cover with aluminum foil. Place in either upper cooking zone of Suvie.
Add the lentils to a Suvie strainer pan. Rinse the lentils for 1-2 minutes to remove any grit. Add 1 bay leaf, 1 tbsp salt to the starch pan and place in Suvie.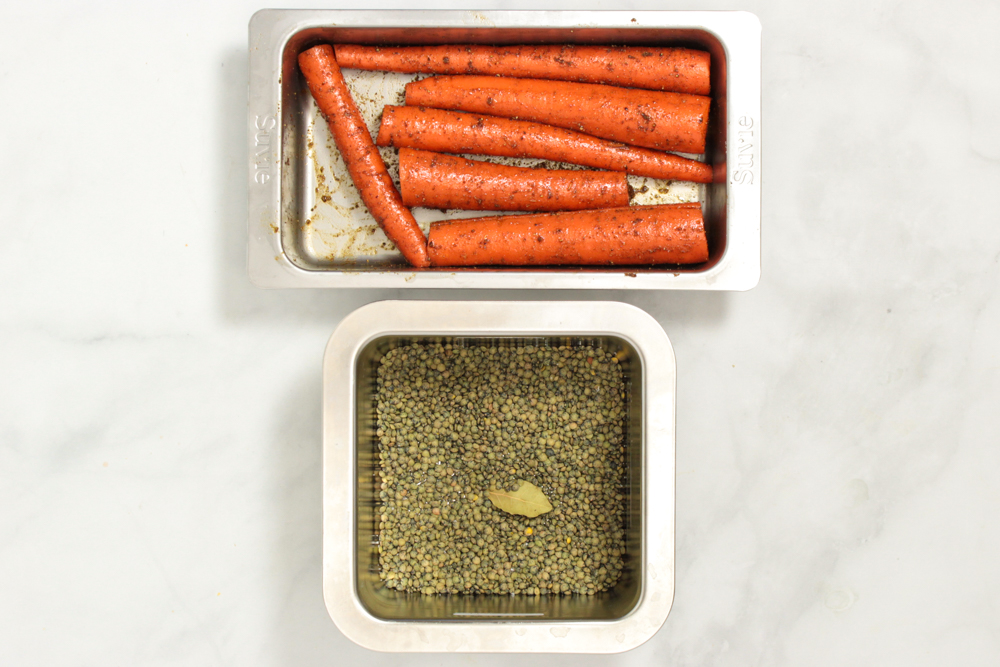 My Cook > Slow Cook & Starch
HIGH: 1.5 hour
Starch: 25 minutes
During the cook, whisk together the yogurt, 2 tbsp olive oil, and juice from 1 lemon. Season to taste with salt. Refrigerate until cook is complete.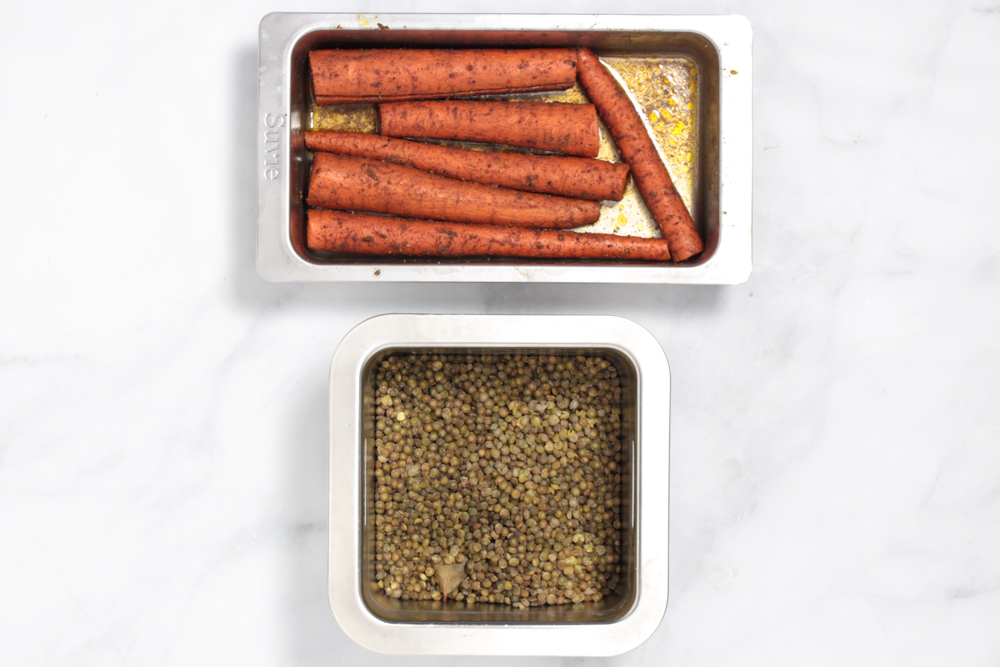 After the cook toss the carrots with the spices and oil in the pan again, then broil for 8-10 minutes until browned.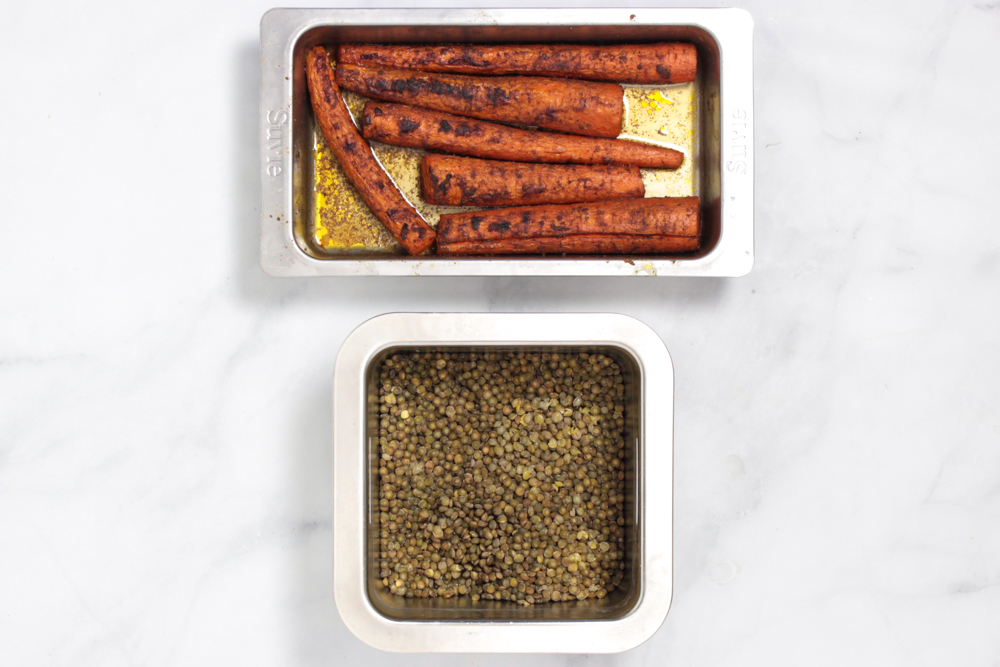 Season the lentils to taste with salt and pepper. Rinse and chop the fresh parsley.
Slice the carrots diagonally into bite-size pieces. Divide the lentils between two plates, top with the carrots and drizzle the yogurt sauce on top. Garnish with fresh chopped parsley and roasted salted pepitas.
Wine Pairing
Red Zinfandel is an ideal wine to serve with Morrocan food. This spicy and bold wine will pair beautifully with flavors of the Ras el Hanout.