In busy households with many different dietary preferences and proclivities it's important to be able to provide some dinner choices. No need to decide between meat lasagna and spinach lasagna here, because Suvie lets you have both. In this recipe we utilize the same cheesy ricotta mixture for the base of each lasagna, use the same marinara, and divide the same melty cheese on top of each lasagna, but swap out meat for spinach in one of the pans. By utilizing the same components in both recipe you save time and effort, but by tweaking one layer of the filling you get two unique lasagnas for both the meat eaters and veggie lovers in your life.
My Cook: Spinach Lasagna and Meat Lasagna
Please always check your food to ensure your food has been cooked to safe serving temperatures. Please see our guide
here
for recommended FDA Time & Temperatures.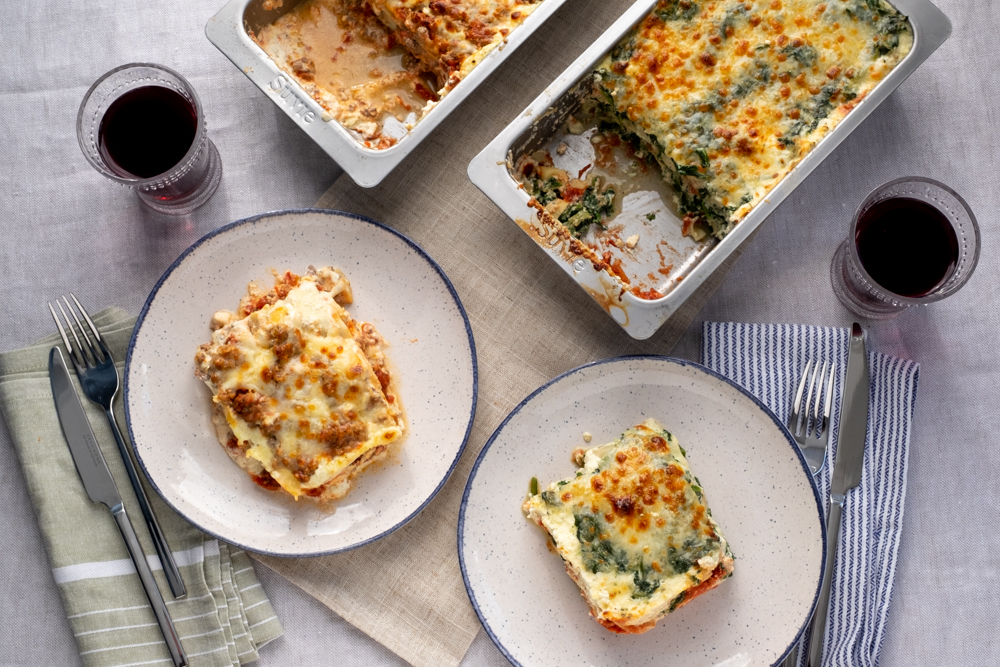 Ingredients
1 lb chopped frozen spinach, defrosted
1 lb mix of ground pork, veal, and beef (aka"Meatloaf mix")
1 tsp olive oil
1 box no boil lasagna sheets, broken into 4.5-5" lengths (reserve smaller pieces)
32 oz ricotta cheese
2 large eggs, beaten
2 oz parmesan cheese, grated
½ tsp nutmeg
16 oz marinara sauce
4 oz fontina, shredded
4 oz low-moisture mozzarella, shredded (not in water)
Directions
Spray two Suvie pans with nonstick cooking spray.
Place spinach in the middle of a clean kitchen towel, gather the ends of the kitchen towel together, and twist over the sink to wring out the water. Alternatively, place spinach in a fine mesh colander and press down with the back of a ladle or your hands to expel as much water as you can. You want to get the spinach as dry as possible to avoid a soggy filling.
Heat 1 tsp olive oil in a large skillet until shimmering. Add the meatloaf mix and 1 tsp salt to the skillet. Cook until meat is no longer pink, about 5 minutes, breaking up meat into smaller pieces with a spoon. Remove skillet from heat, stir in half the marinara sauce, and season to taste with salt and pepper.
In a medium bowl whisk together the remaining ricotta, grated parmesan cheese, nutmeg, eggs, ½ tsp salt, and ½ tsp ground black pepper.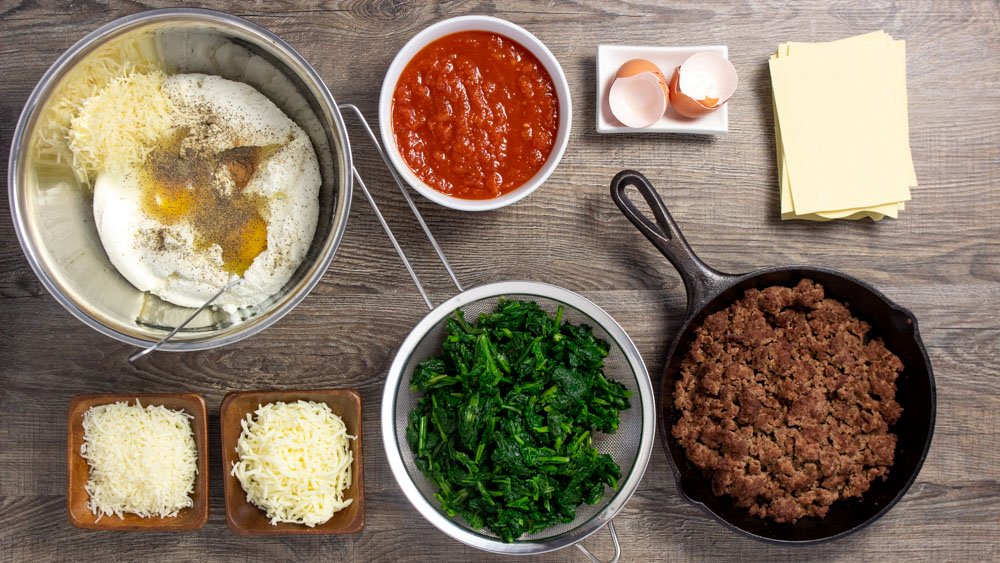 In another medium bowl, stir together ½ cup ricotta, drained spinach, half the fontina, half the mozzarella, ½ tsp salt, and ½ tsp pepper.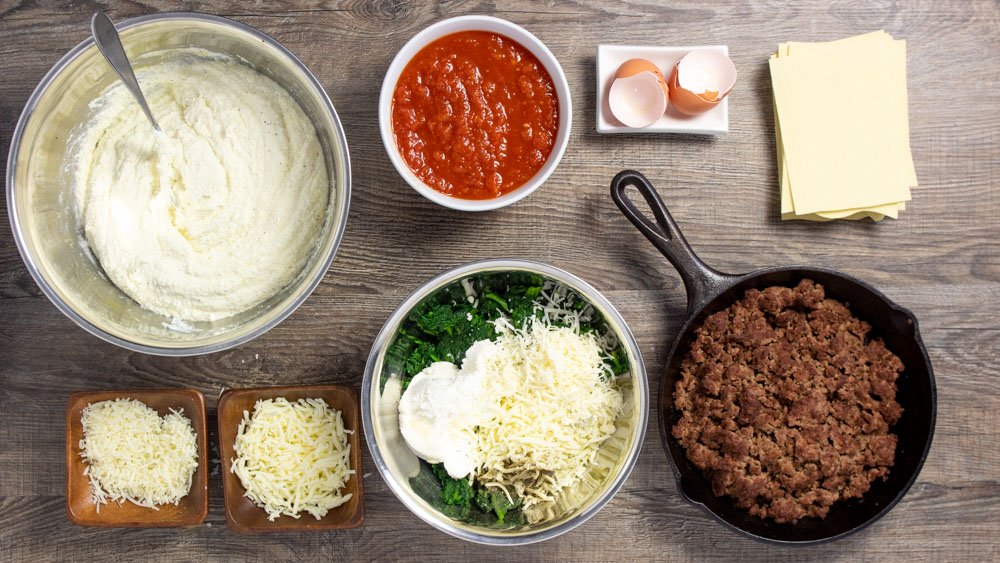 Spread a thin layer of marinara sauce over the bottom of one Suvie pan followed by 2 noodles side by side.
Use the small pieces of lasagna noodles to fill in the remaining space. Then spread a layer of the ricotta-egg mixture on top of the noodles, making sure to spread across to all four sides of the pan. Top ricotta mixture with an even layer of spinach.
In the other Suvie pan repeat the process of spreading a layer of marinara sauce, followed by noodles, then the ricotta egg mixture, then a layer of meat (instead of spinach).
Alternate filling pans layer by layer to ensure that each pan gets an equal amount of marinara, ricotta, and noodles. The spinach lasagna's last layer should be spinach and the meat lasagna's last layer should be meat.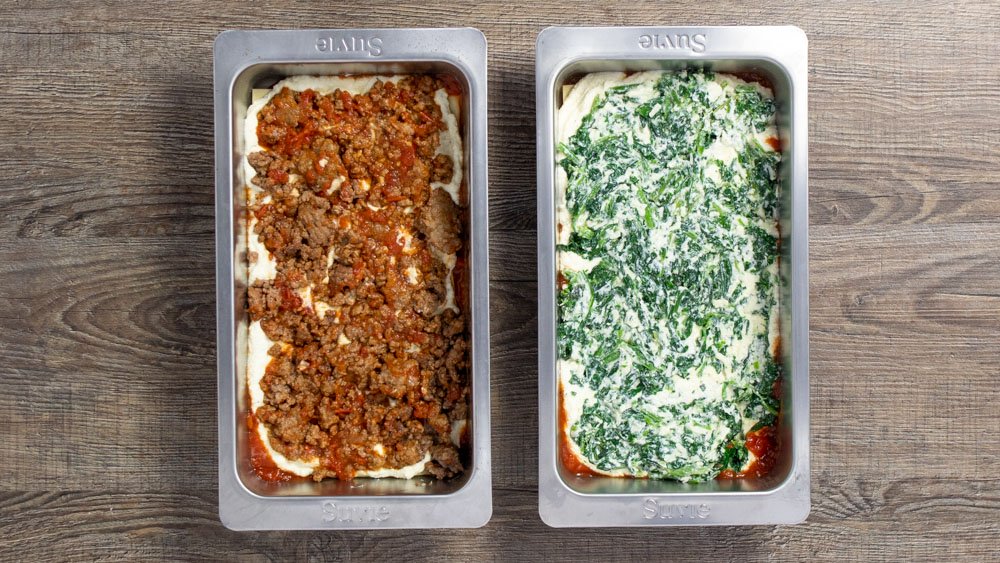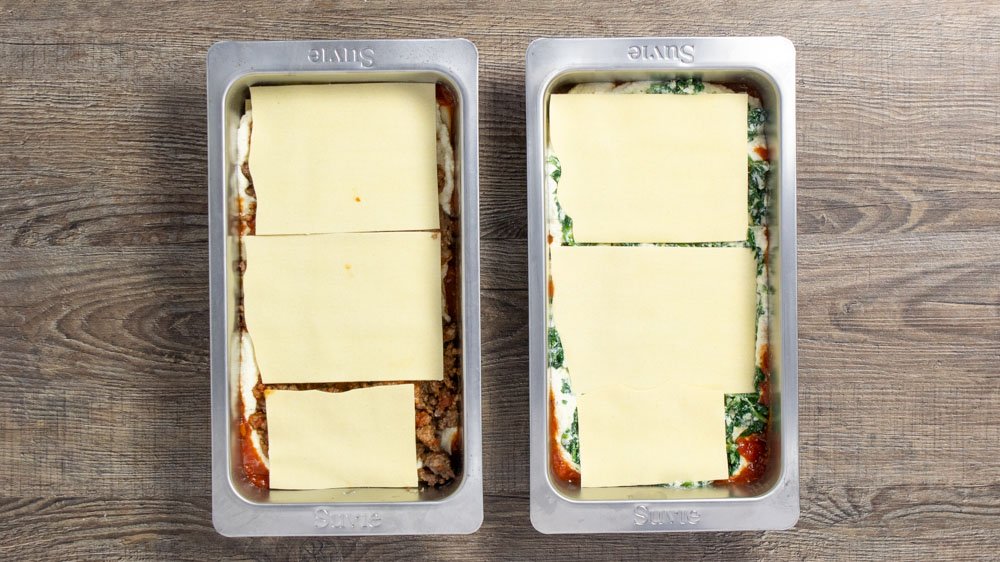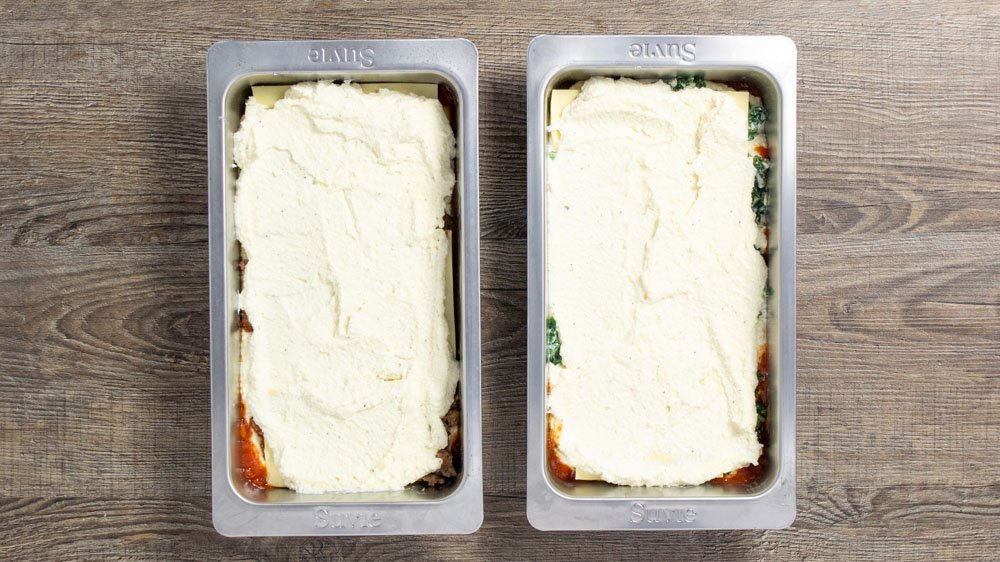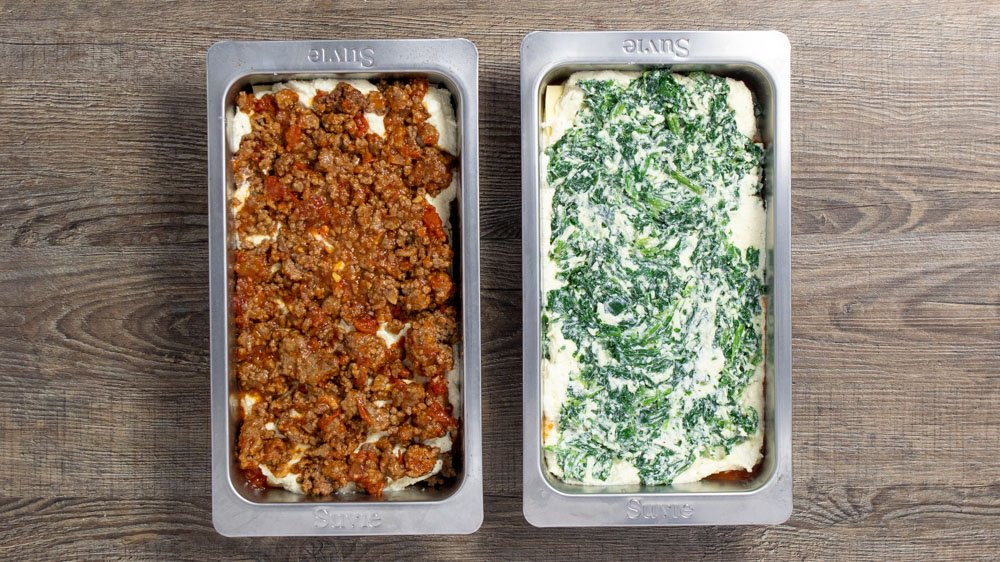 Once both pans have been filled, sprinkle remaining mozzarella and fontina cheese evenly over the top of both pans.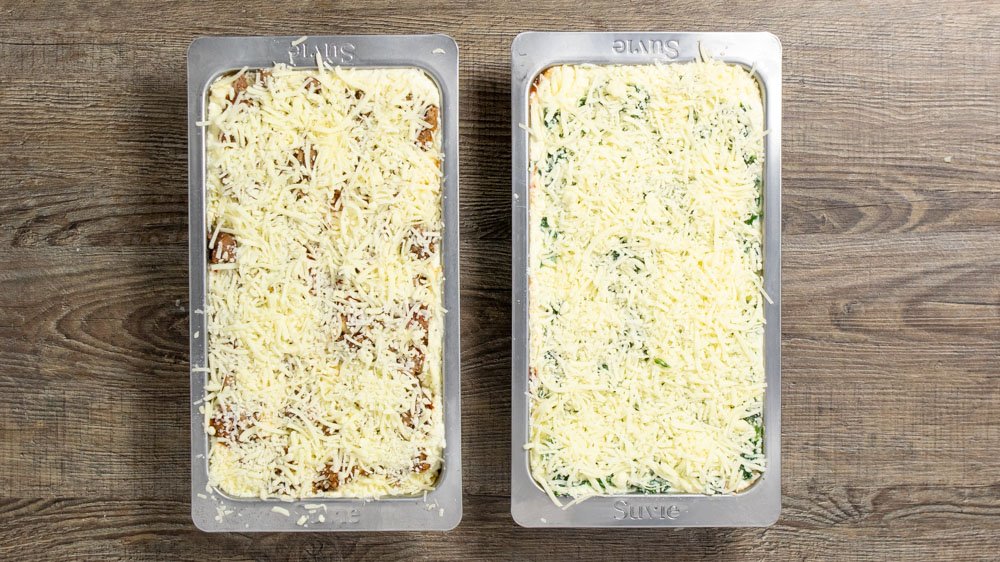 Insert pans into your Suvie, input settings, and cook now or schedule.
Suvie Cook Settings
Bottom Zone: Slow Cook Low for 1 hour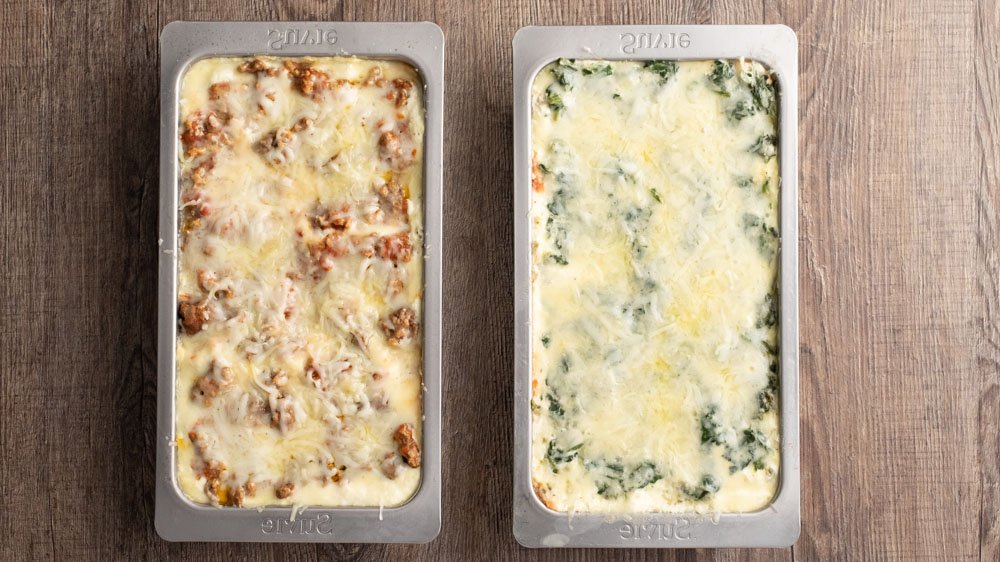 Once done cooking set to broil until cheese is melted and bubbling, about 7 minutes, rotating pans halfway through broil. To avoid overcooking: do not leave lasagna unattended during this step!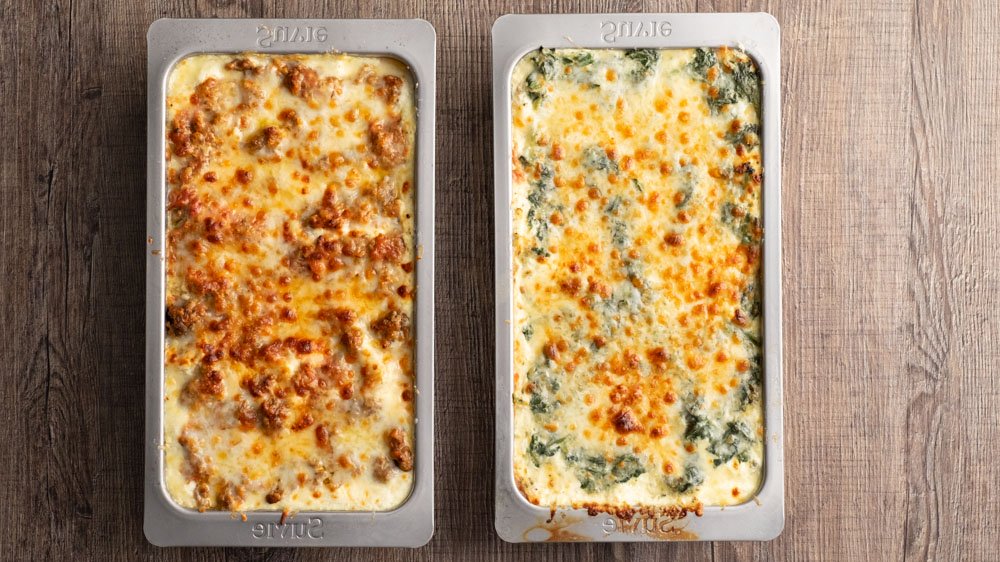 Note: You can make a double batch of either lasagna instead of making two different types. To make a double batch of meat lasagna, double the amount of meatloaf mix, omit the spinach, and instead stir the reserved ½ cup ricotta and half the grated fontina and mozzarella into the meat with the marinara sauce. Proceed as directed. To make a double batch of the spinach lasagna omit the meat, double the spinach, and use all the marinara to layer both pans.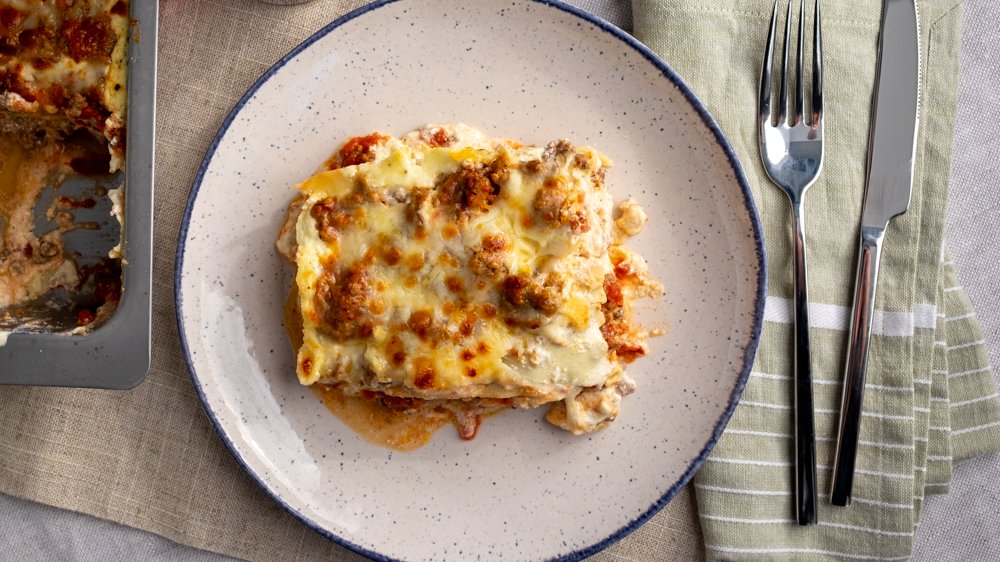 Note: If you would like to make this recipe in Suvie 1.0, insert pans into the top zones of Suvie, fill reservoir, and set to Slow Cook on Low for 1 hour.
Wine Pairing
You would be hard pressed to find a better wine to pair with this meal than Tuscan Sangiovese. Grown almost exclusively in Italy Sangiovese is tart and acidic and pairs beautifully with lasagne. The high acidity in the wine will cut through the cheese and compliments the tomato-based marinara sauce.