The pan bagnat is a fabulous sandwich that is wickedly popular throughout France, especially in Nice. That inspiring sandwich, which serves as our muse for this recipe, is made with seafood (either tuna or anchovies), hard boiled eggs, olives, tomatoes, leafy greens, and other popular Provençal veggies. In our adaptation, broiled ahi tuna steaks are coated in a lemon-caper-herb butter, making this an upgrade from the sandwich's humble tinned tuna origins. A demi-baguette (smaller baguette) is also brushed in that delectable butter and Suvie-toasted. Baby arugula, hard boiled eggs, tomatoes, olives, marinated artichokes, and roasted red peppers join our tuna steaks and baguette toasts, drizzled with a little of the reserved buttery pan-drippings.
Tuna Steaks Pan Bagnat-Style
Please always check your food to ensure your food has been cooked to safe serving temperatures. Please see our guide
here
for recommended FDA Time & Temperatures.
Servings: 2
Difficulty: 20 minutes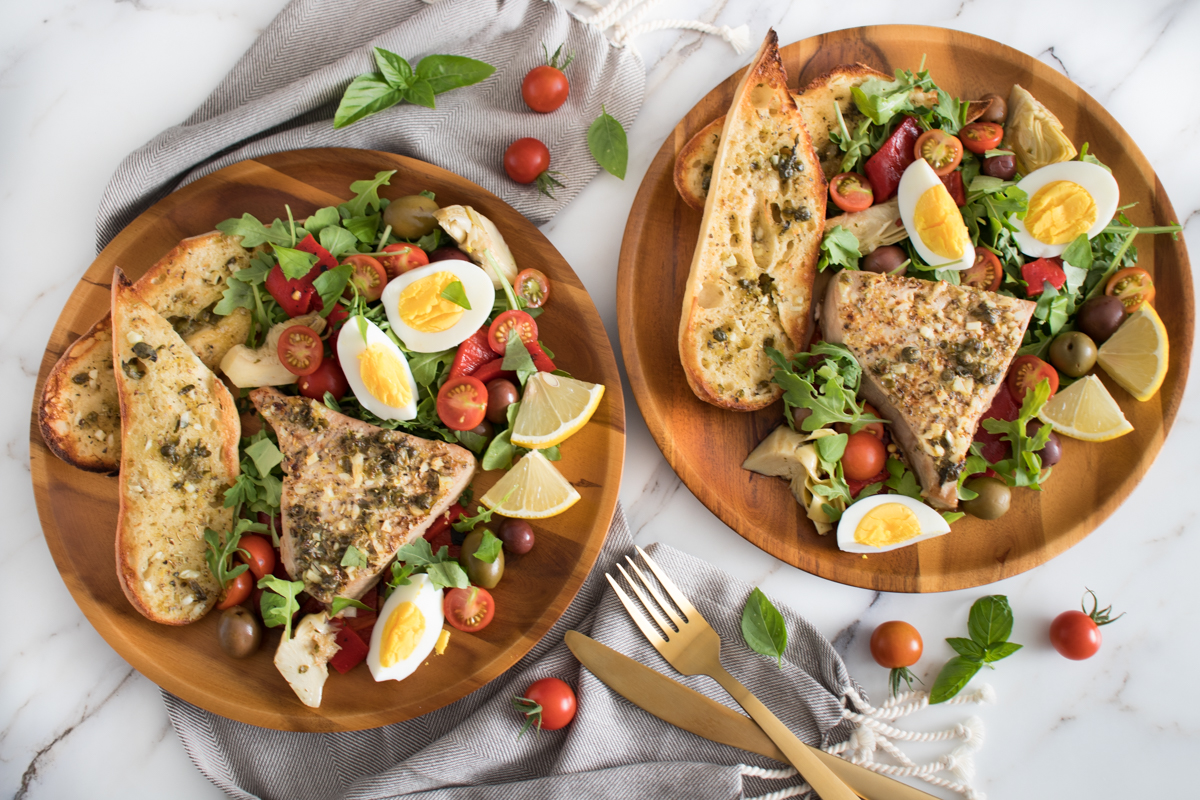 Ingredients
4 tbsp softened butter
2 tsp capers
1 tsp herbs de Provence
1 tsp lemon zest
2 tsp lemon juice
2 garlic cloves, peeled and minced
12 oz tuna steaks
1 demi baguette, split
2 cups baby arugula
2 hard boiled eggs, peeled and quartered
½ cup halved cherry tomatoes
½ cup mixed olives
½ cup marinated artichokes
½ cup sliced roasted red peppers
4-5 fresh basil leaves
4 lemon wedges for garnish
Directions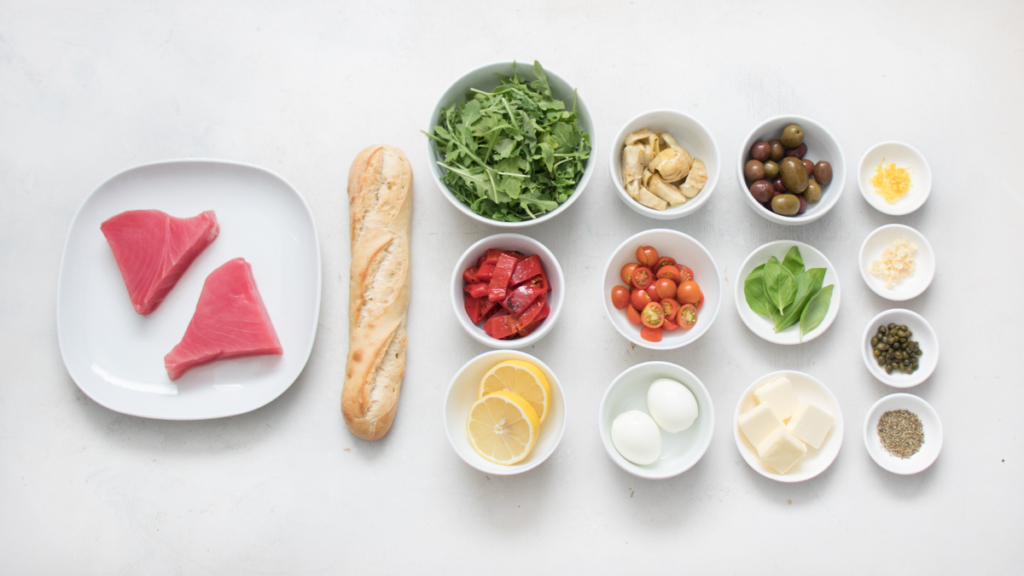 1) Place 4 tbsp softened butter, 2 tsp capers, 1 tsp herbs de Provence, 1 tsp lemon zest, 2 tsp lemon juice, and 2 minced garlic cloves in a medium bowl, stirring to combine.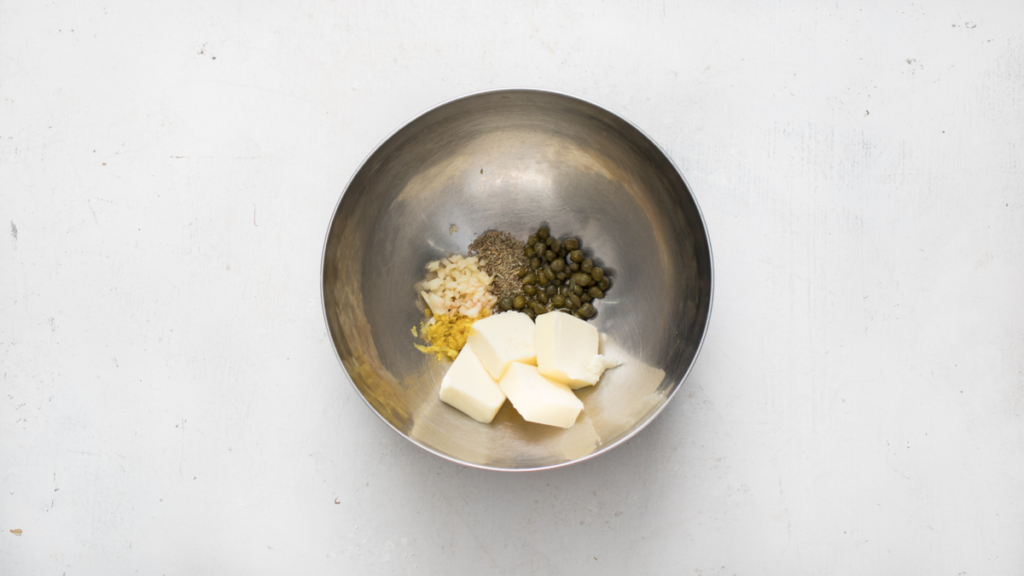 2) Pat tuna steaks dry with paper towels and place in a Suvie pan. Spread half the butter mixture over the tops of the tuna steaks and place the pan in the bottom zone of your Suvie. Input settings, and cook now or schedule.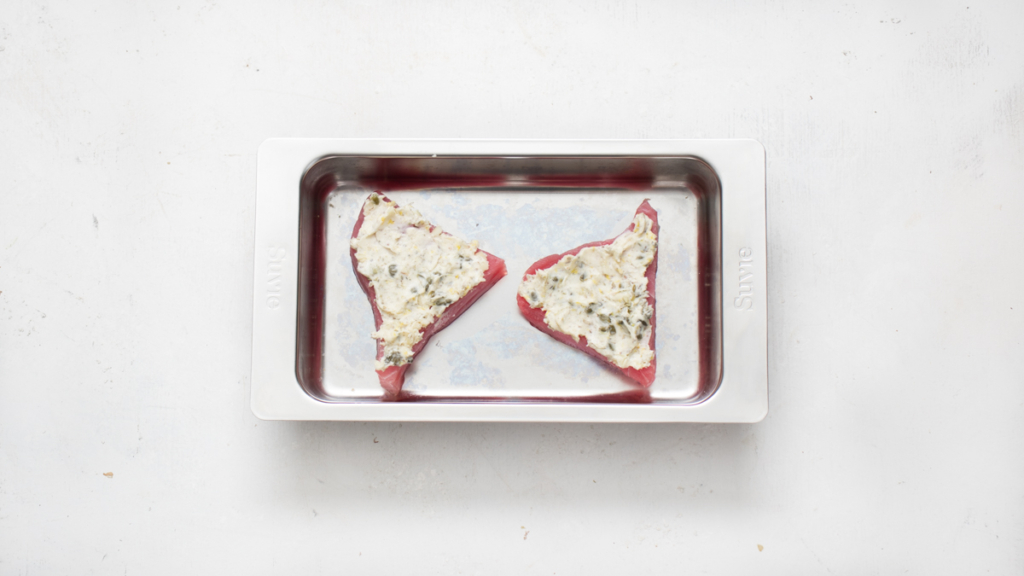 Suvie Cook Settings
Bottom Zone: Broil for 12 minutes
Top Zone: None
3) Once the tuna steaks are nicely seared, remove the pan from your Suvie, transfer the steaks and any pan juices to a plate, and set aside to rest.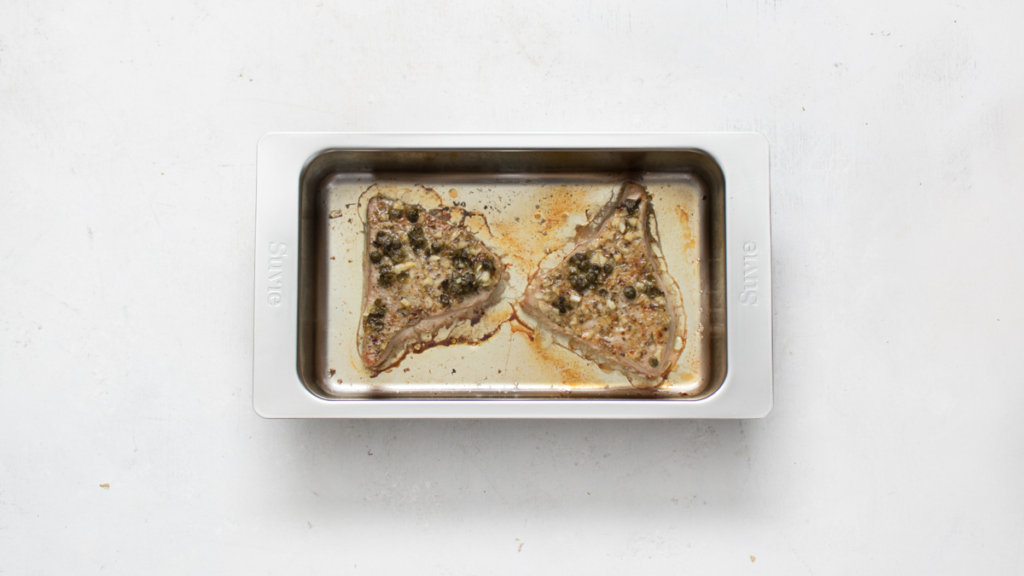 4) Clean the Suvie pan (used to cook the tuna) and dry with paper towels. Spread the remaining butter mixture over the split demi baguette and divide the slices between 2 Suvie pans. Place the pans in the top and bottom zones of your Suvie and roast at 400°F for 8 minutes or until golden and toasted. Remove the pans from your Suvie.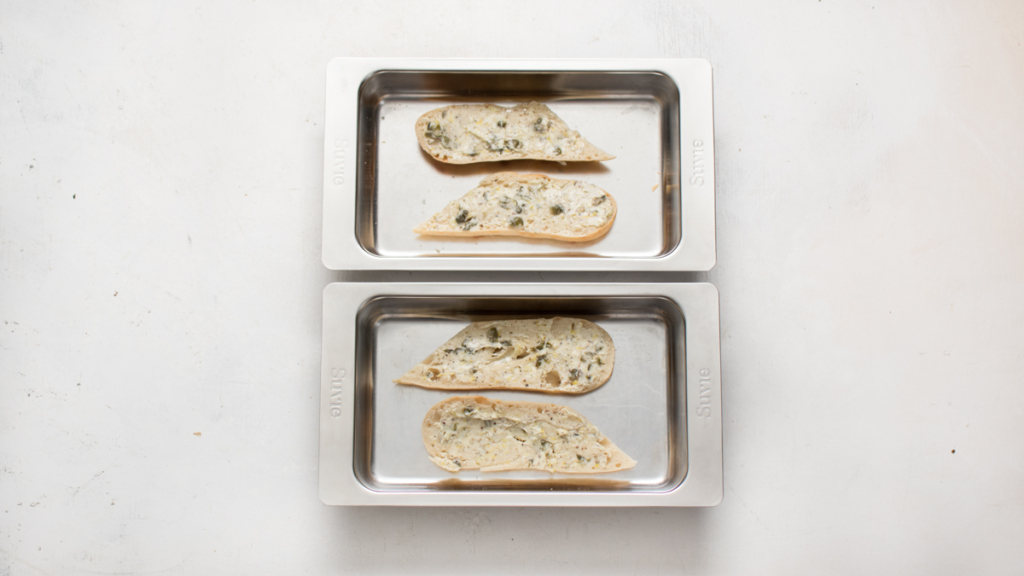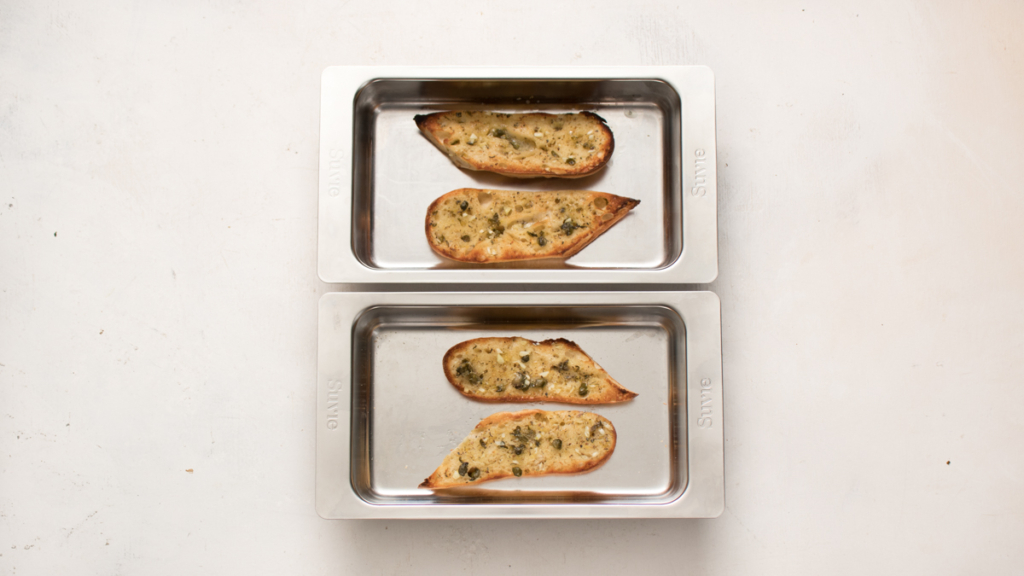 5) Divide 2 cups of arugula, 2 quartered hard boiled eggs, 1/2 cup cherry tomatoes, 1/2 cup mixed olives, 1/2 cup artichoke hearts, 1/2 cup roasted red peppers, toasted baguette slices, and tuna steaks between two plates. Drizzle the dish with the reserved pan-drippings. Chop or tear the basil leaves into small pieces and sprinkle over the dish before serving. Garnish with lemon wedges.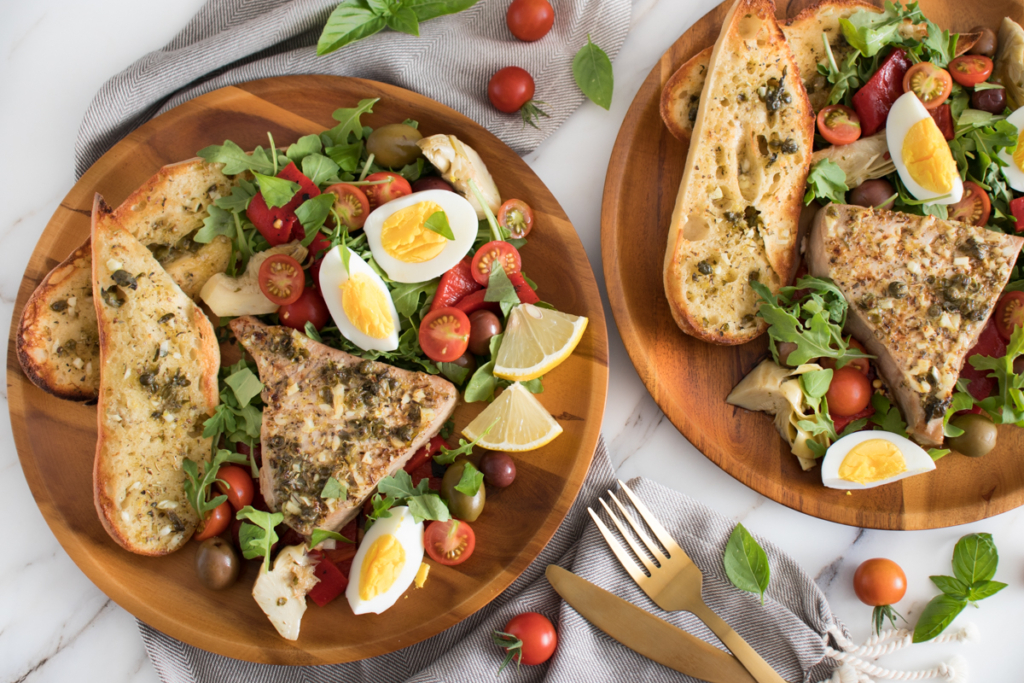 Nutrition
Nutritional Information per serving (2 servings per recipe): Calories 731, Total Fat 33g, Total Carbohydrates 59g, Total Sodium 1438mg, Total Protein 54g.