This traditional baklava is easier to assemble than it looks. A food processor speeds up the laborious process of finely chopping the nuts, and store bought phyllo saves plenty of time from having to make your own. The only step that requires a bit of patience and a steady hand is the brushing and layering. Be sure to keep the unused portions of phyllo covered to keep them from drying out. All your hard work will be rewarded when you taste these sweet and flaky morsels. Note: this recipe does not use all the phyllo in the roll; you can use the extra sheets to make a half batch of spanakopita.
Baklava
Please always check your food to ensure your food has been cooked to safe serving temperatures. Please see our guide
here
for recommended FDA Time & Temperatures.
Servings: 16
Difficulty: 1 hour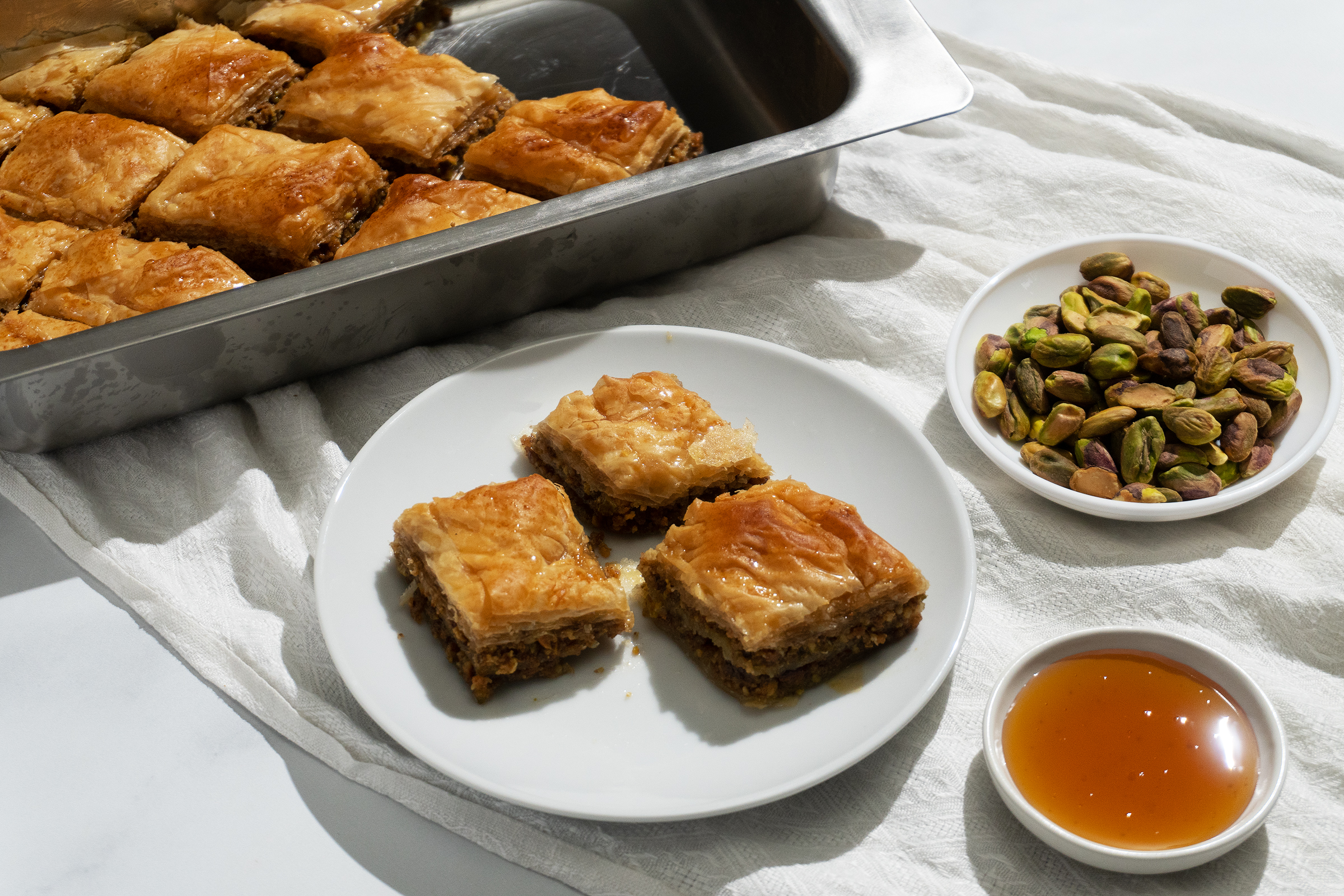 Ingredients
½ cup granulated sugar, plus 1 tbsp, separated
1 tbsp honey
1 large strip lemon peel, plus 1 tsp lemon juice
4 oz walnuts, toasted
4 oz pistachios, toasted
¼ tsp ground cinnamon
⅛ tsp ground cardamom
1 (8 oz) roll phyllo dough, thawed
1 ½ sticks unsalted butter, melted
Directions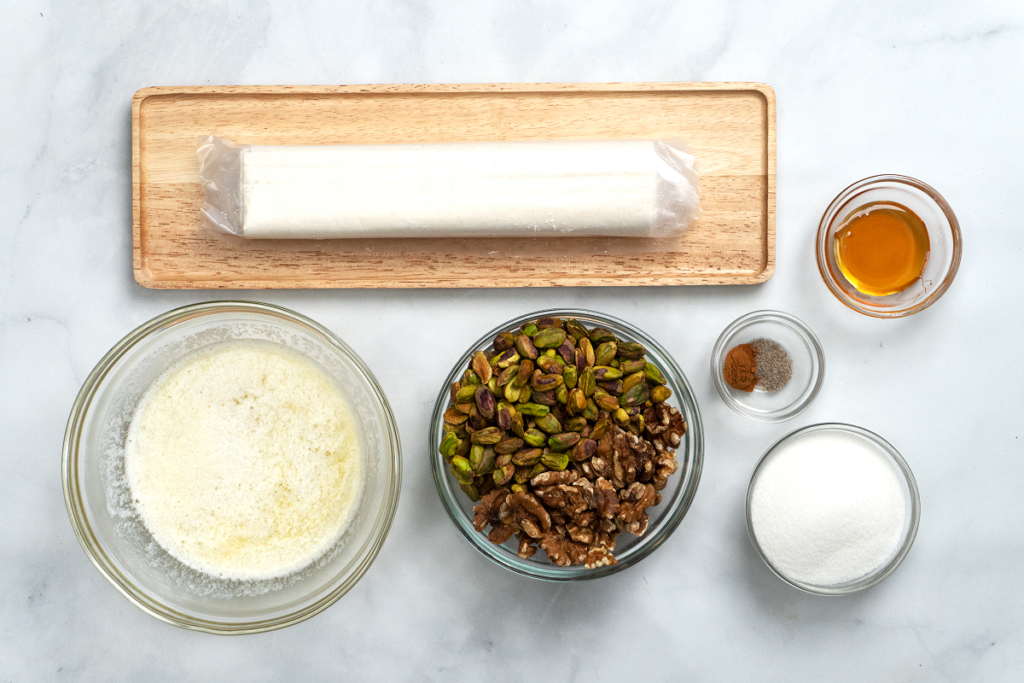 1) In a small saucepan, combine ½ cup granulated sugar, ½ cup water, 1 tbsp honey, 1 large strip lemon peel, 1 tsp lemon juice, and 1 pinch salt. Bring to a boil over high heat and cook until sugar dissolves, about 1-2 minutes, stirring occasionally. Transfer to a liquid measuring cup with a spout and set aside to cool.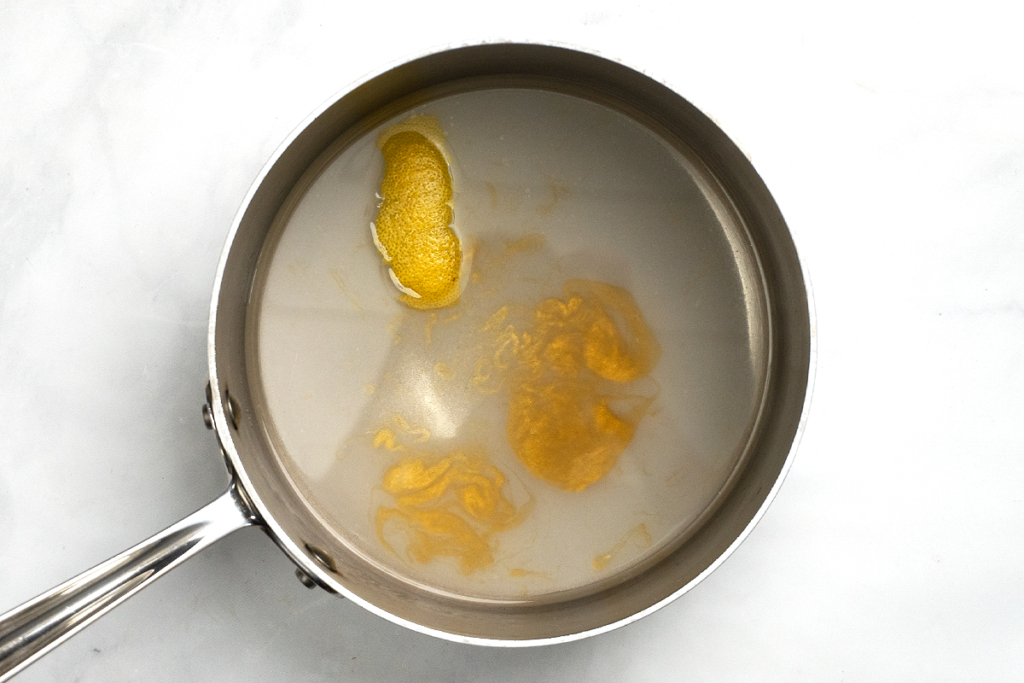 2) In the bowl of a food processor, combine 4 oz toasted walnuts, 4 oz toasted pistachios, ¼ tsp cinnamon, ⅛ tsp cardamom, 1 tbsp granulated sugar, and 1 pinch salt. Pulse 10-12 times or until finely chopped and almost pasty.
3) Spray a Suvie pan with cooking spray. Cut phyllo into 8 ½" x 5 ½" rectangles. Place 1 sheet phyllo on to the bottom of the Suvie pan and brush with melted butter. Repeat layering and brushing until you have 7 layers, staggering each piece of phyllo to ensure the bottom of the pan is covered.
4) Spread half the nut mixture over the 7th layer of phyllo. Place a sheet of phyllo over the nut mixture and dab with butter. Repeat process so that you have 7 more layers of buttered phyllo.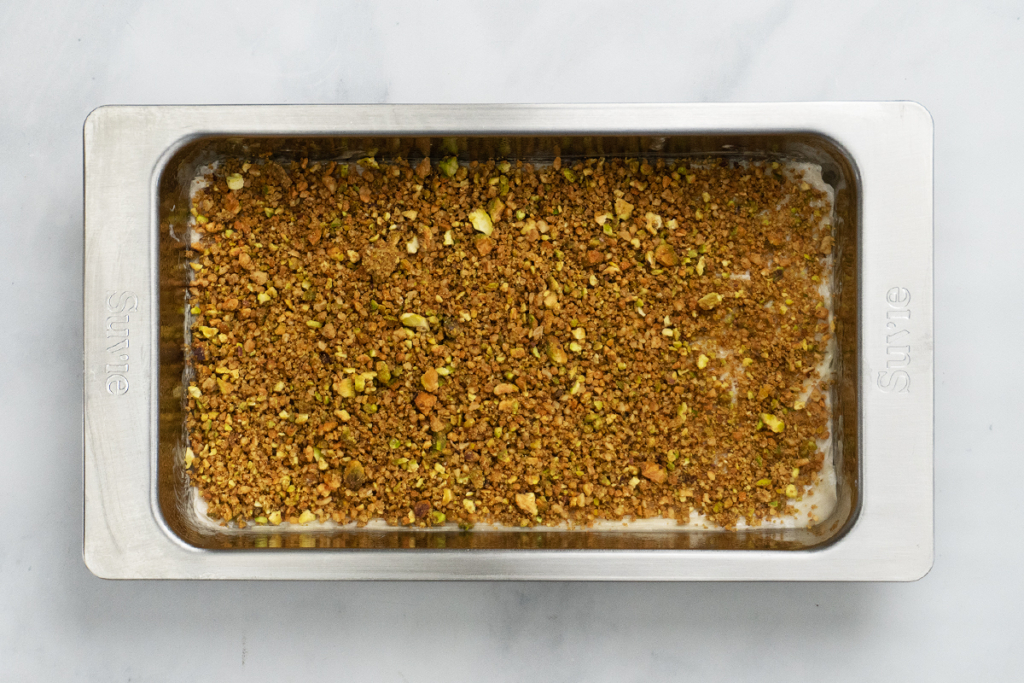 5) Spread remaining nut mixture over the phyllo and repeat layering and brushing with butter (do not brush the top layer). Press down firmly, but gently on top of the baklava to compress slightly. Brush remaining butter over the surface.
6) Using a serrated knife with a pointed tip, cut diagonally into the baklava until you have 16 to 20 pieces. Place pan in bottom of Suvie, input settings, and cook now, rotating pan halfway through cooking. If top seems to be browning too quickly, cover pan with foil halfway through.
Suvie Cook Settings
Bottom Zone: Bake at 375°F for 1 hour
Top Zone: None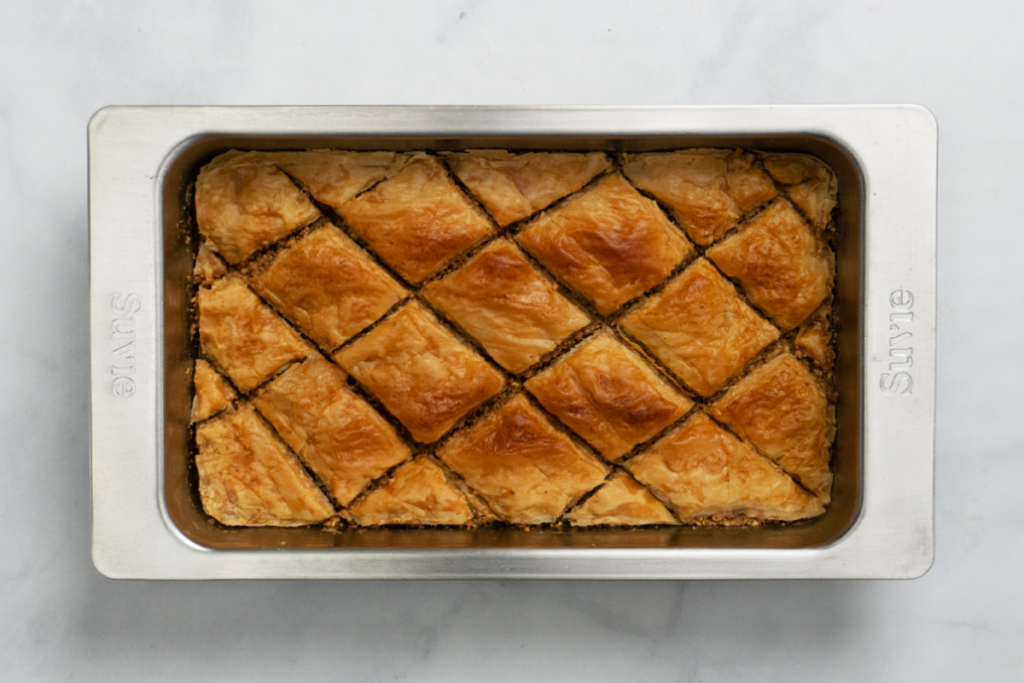 7) After cooking, remove from Suvie and pour cooled syrup evenly over the baklava, focusing on the slits cut into the phyllo. Set aside to cool for about 3 hours before serving.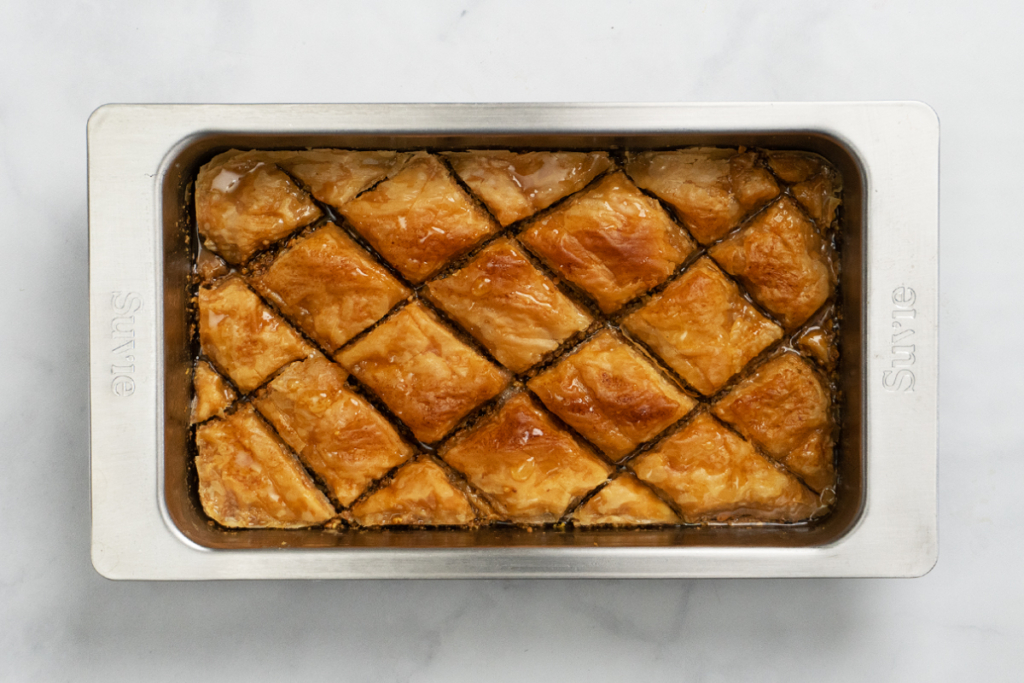 Nutrition
Nutritional Information per serving (16 servings per recipe): Calories 210, Total Fat 19g, Total Carbohydrates 11g, Total Sodium 70mg, Total Protein 2g.