Bratwurst are a German-style sausage typically made with pork or beef. Thanks to the German's affinity for beer they are often simmered in beer to cook and then finished on a grill or in a skillet. We use the same method with Suvie replacing the sous vide bag with a can of beer to poach the bratwurst. Served with sauerkraut and roasted red potatoes.
Beer Brats
Please always check your food to ensure your food has been cooked to safe serving temperatures. Please see our guide
here
for recommended FDA Time & Temperatures.
Servings: 6
Difficulty: 1 hour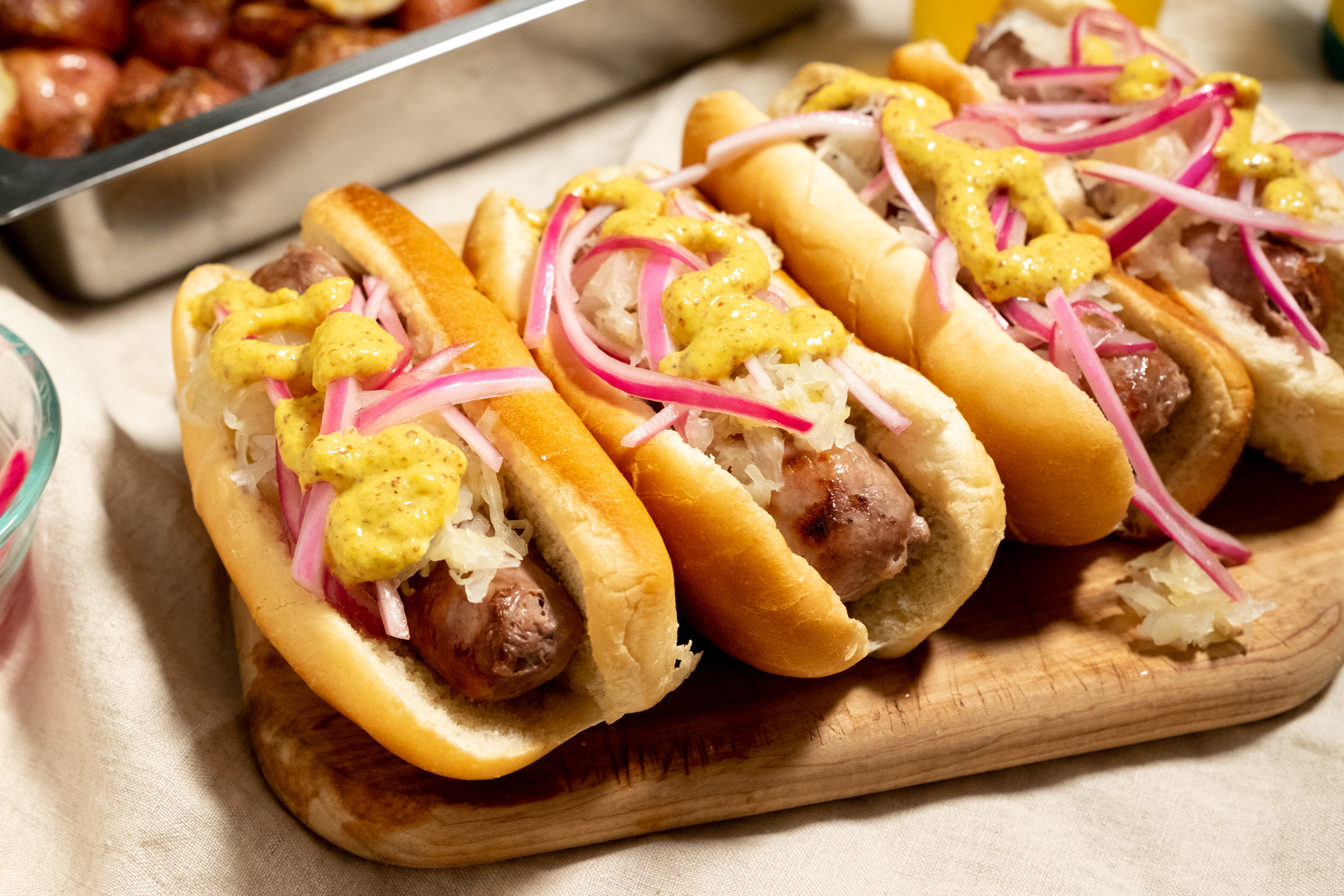 Ingredients
6 bratwurst
1 (12 oz) lager beer
24 oz baby red potatoes
½ red onion thinly sliced
¼ cup cider vinegar
2 tbsp butter
½ cup sauerkraut
6 hotdog buns
2 tbsp spicy brown mustard
Directions
1) Add bratwurst and 1 can beer to a Suvie pan. Load pan into bottom zone of Suvie. Enter cook settings and cook now or schedule.
Suvie Cook Settings
Bottom Zone: Sous Vide at 155˚F, 30 minutes
Top Zone: None
2) Place 24 oz baby potatoes in the Suvie starch strainer set within the Suvie pasta pot. Cover pot with lid and place inside the Suvie Starch Cooker, ensuring the pot is centered on the hot plate. Input settings and cook now or schedule.
Suvie Starch Cooker Settings
Potatoes, Uncut, 45 minutes
3) During the cook, thinly slice the red onion into half-moons and combine with the cider vinegar and ½ tsp salt. Keep refrigerated until the cook is finished.
4) After the cook, remove the bratwurst from Suvie. Drain and discard the beer. Pat the bratwurst dry and return to Suvie. Cut the potatoes and add to a dry Suvie pan and toss with 2 tbsp melted butter; season with salt and pepper to taste, then place in top zone. Broil both pans for 10-12 minutes until the bratwurst and potatoes are browned, flip or rotate as needed.
5) Toast or warm the hotdog buns. Fill each bun with a bratwurst and top with the pickled red onions, sauerkraut and spicy brown mustard. Serve with the potatoes.
Nutrition
Nutritional Information per serving (4 servings per recipe): Calories 520, Total Fat 21g, Total Carbohydrates 67g, Total Sodium 1150mg, Total Protein 18g