Collard greens are a traditional side dish for any southern-themed feast. Collards are a member of the brassica family, sharing a family tree with other leafy vegetables like cabbage and kale. As with many of its family members, collard greens need a lengthy slow cook to tenderize the fibrous leaves. To infuse the collards with flavor, we used the classic combination of salted butter, smoked ham hocks, chopped onion, apple cider vinegar, chicken broth, brown sugar, and a touch of crushed red pepper flakes. If ham hocks are tough to come-by, feel free to use diced ham instead.
Classic Stewed Collard Greens
Please always check your food to ensure your food has been cooked to safe serving temperatures. Please see our guide
here
for recommended FDA Time & Temperatures.
Servings: 4-6
Difficulty: 3 hours 35 minutes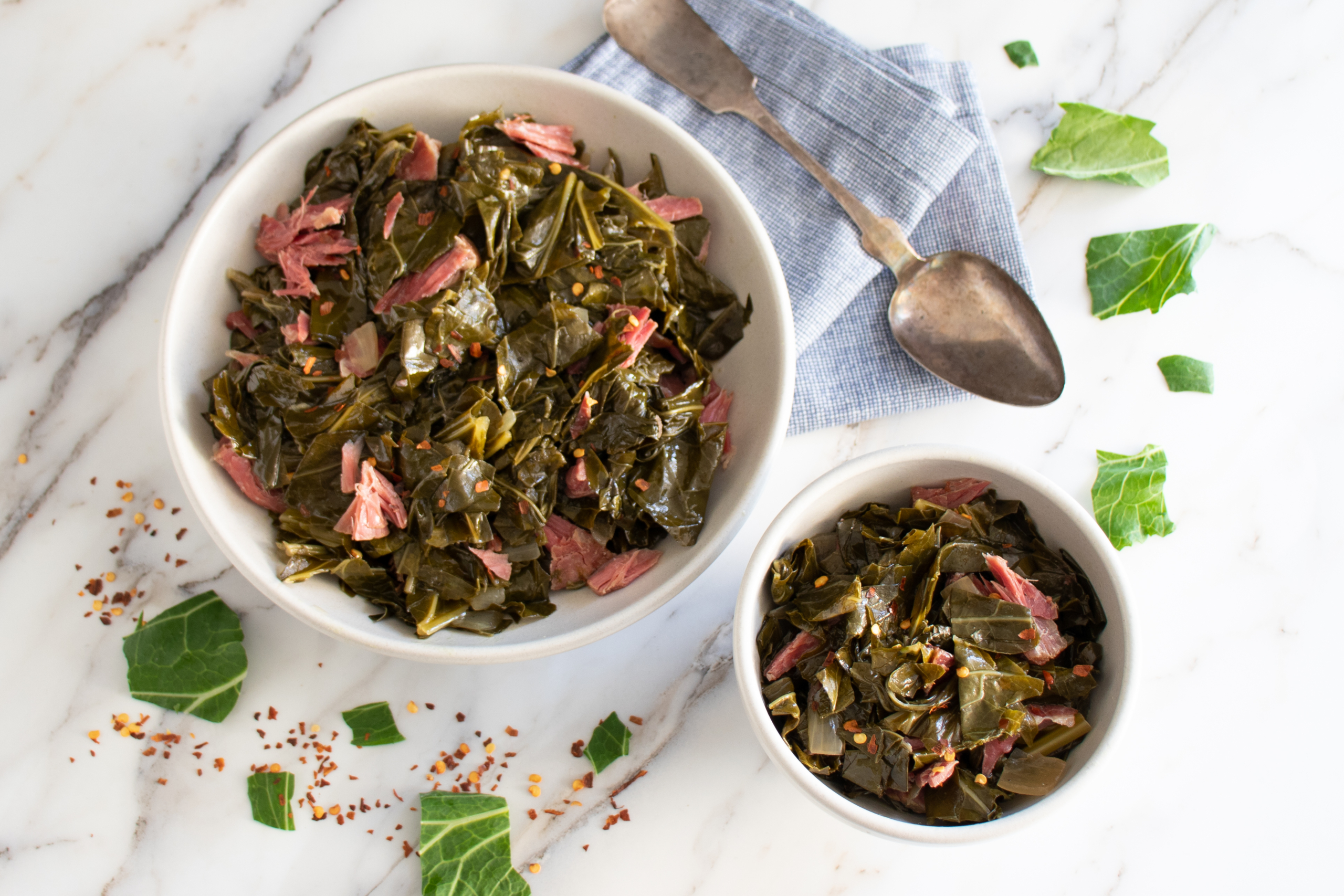 Ingredients
8 packed cups chopped collard greens
½ cup chopped yellow onion
1 smoked ham hock, quartered
2 tbsp brown sugar
4 tbsp apple cider vinegar
1 cup chicken or turkey broth
8 tbsp (½ cup) salted butter
1 tsp black pepper
¼ tsp crushed red pepper flakes
Directions
1) Divide 8 cups collard greens between 2 Suvie pans. Add ½ cup chopped onions, quartered ham hock, 2 tbsp brown sugar, 4 tbsp apple cider vinegar, 1 cup broth, 8 tbsp salted butter, 1 tsp black pepper, and ¼ tsp crushed red pepper flakes to the pans. Cover both of the pans with aluminum foil and place in the top and bottom zones of your Suvie. Input settings and cook now.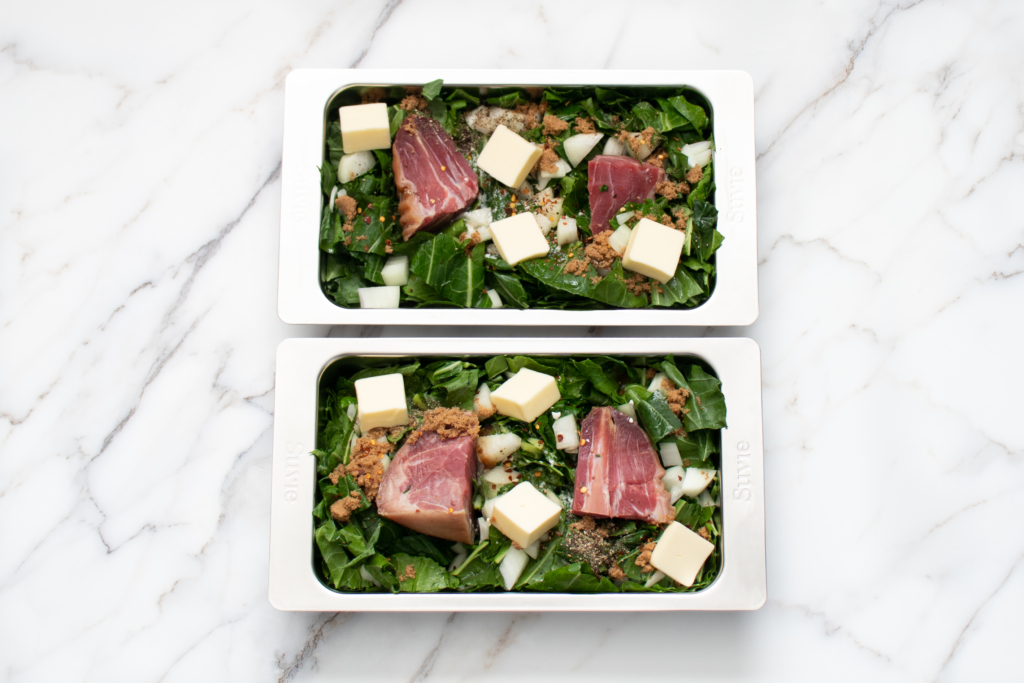 Suvie Cook Settings
Bottom Zone: Slow Cook on High for 3 hours
Top Zone: Slow Cook on High for 3 hours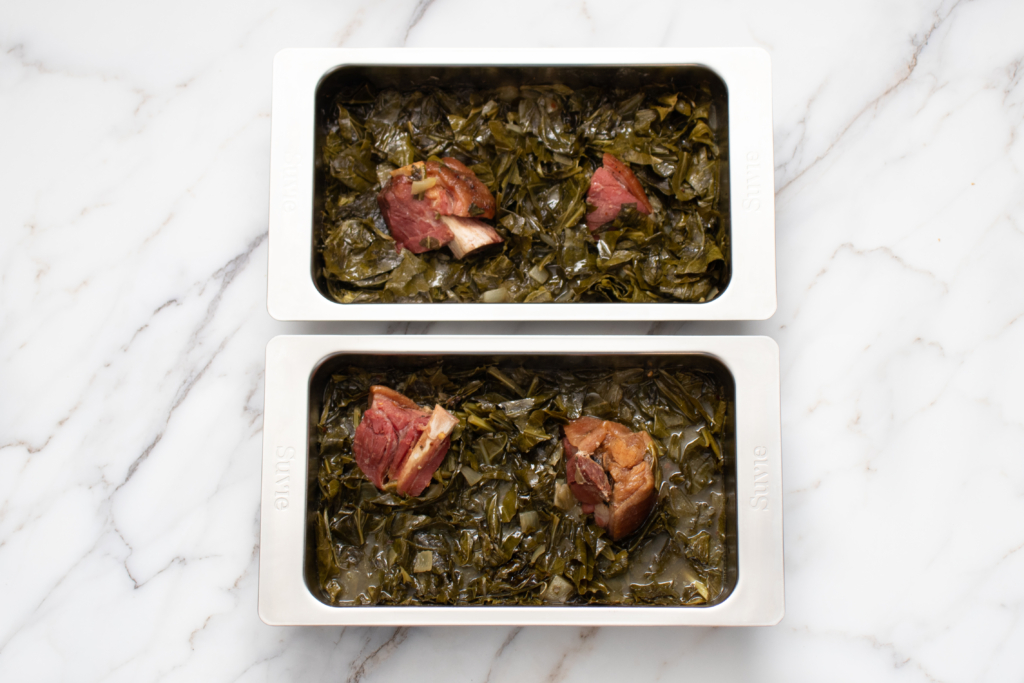 2) After the cook, remove the pans from your Suvie, and remove the foil. Transfer the ham hock pieces to a cutting board, remove the meat from the bone, and shred or dice into small pieces. Place the stewed collard greens in a large bowl, add the shredded ham, and toss to combine. Season to taste with salt before serving.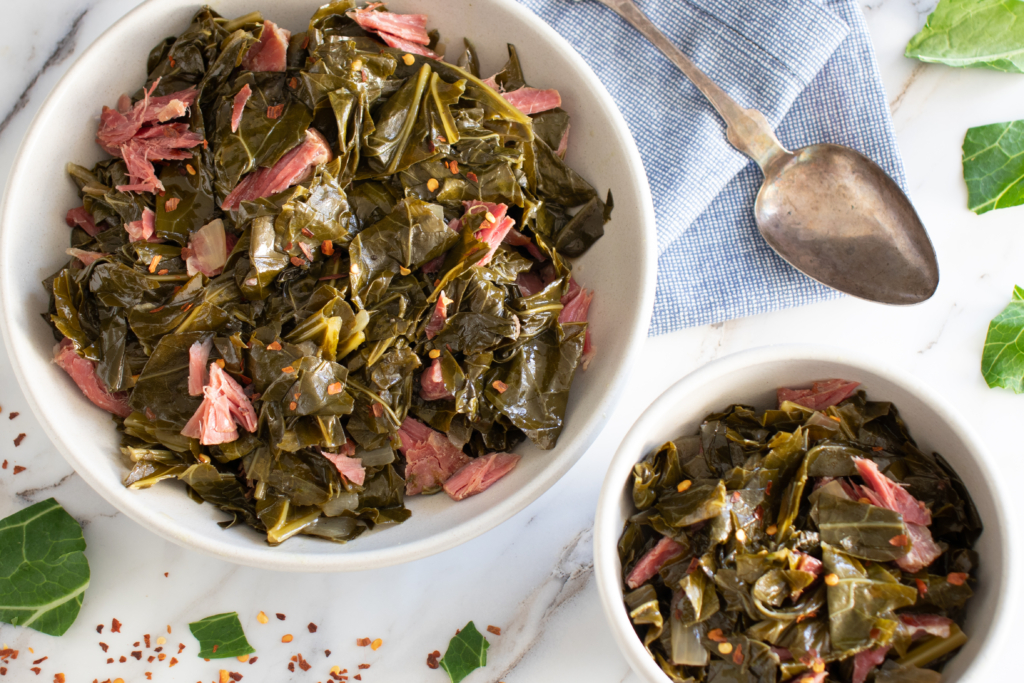 Nutrition
Nutritional Information per serving (6 servings per recipe): Calories 226, Total Fat 18g, Total Carbohydrates 7g, Total Sodium 262mg, Total Protein 9g.