This hearty healthy meal is a snap to pull together. Boneless, skinless chicken breasts are sous vide until juicy and tender. We serve the chicken with pappardelle, kale, white beans, and a splash of heavy cream for richness. A sprinkle of red pepper flakes adds a kick of heat to this delicious dish. Note: this meal requires Suvie 2.0 and the Suvie Starch Cooker.
Creamy Kale and Pappardelle with Chicken
Please always check your food to ensure your food has been cooked to safe serving temperatures. Please see our guide
here
for recommended FDA Time & Temperatures.
Servings: 4
Difficulty: 2 hours
Ingredients
1 lb boneless, skinless chicken breasts
1 tbsp olive oil
4 pappardelle nests (8 oz total)
1 (15 oz) can white beans, drained and rinsed
12 oz frozen kale or spinach
2 tbsp heavy cream or coconut cream
1 lb chicken breasts
¼ tsp red pepper flakes, to garnish
Directions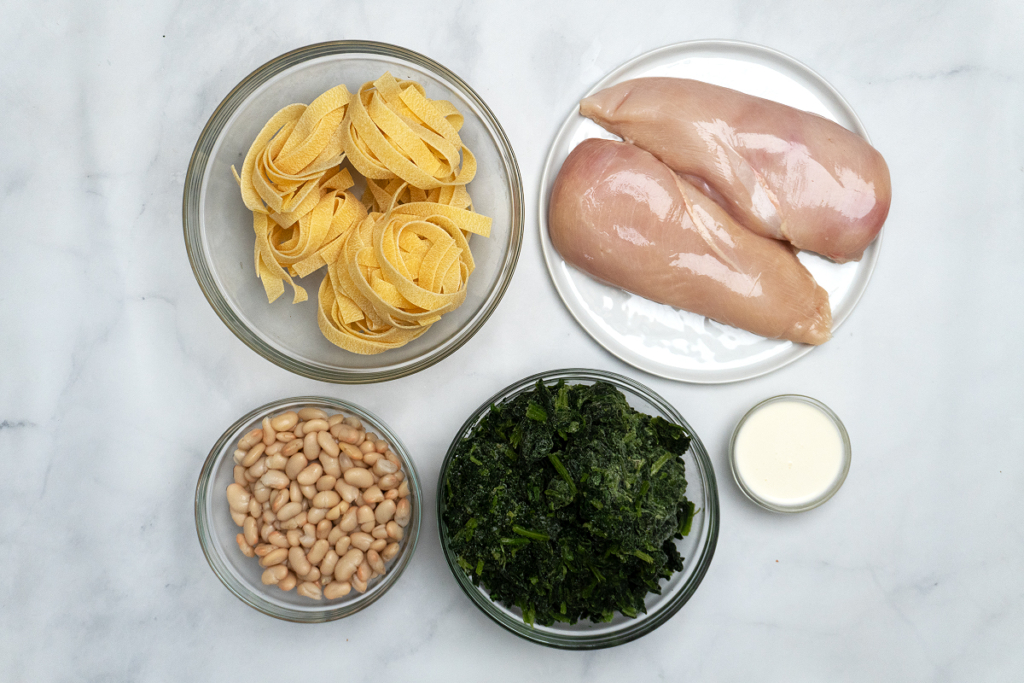 1) Pat chicken dry and season all over with salt and pepper. Vacuum seal with 1 tbsp olive oil. Place in a Suvie pan, cover with water, and place in the bottom zone of Suvie.
2) In a second Suvie pan, combine 1 can white beans and 12 oz frozen kale. Place pan in the top zone of Suvie. Input settings and cook now or schedule.
3) Place 8 oz pappardelle pasta in the strainer insert, place strainer insert into the pasta pot (green handles), and place the pot lid on top of the pot. Place the pasta pot on the hot plate inside with the handle facing the back of the appliance. Select "Cook" on the display screen of the appliance and select "Pasta". Choose your cook time based on the box instructions. Ensure the drain tray is in place and hit "Cook" or "Schedule".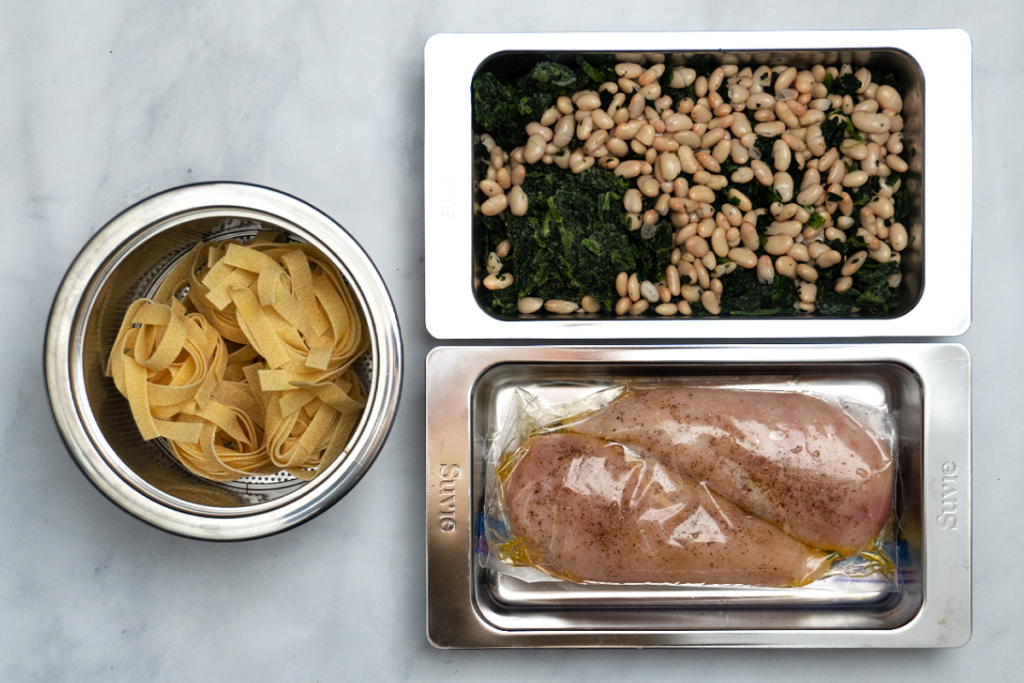 Suvie Cook Settings
Bottom Zone: Sous Vide at 160°F for 1 hour
Top Zone: Sous Vide at 160°F for 1 hour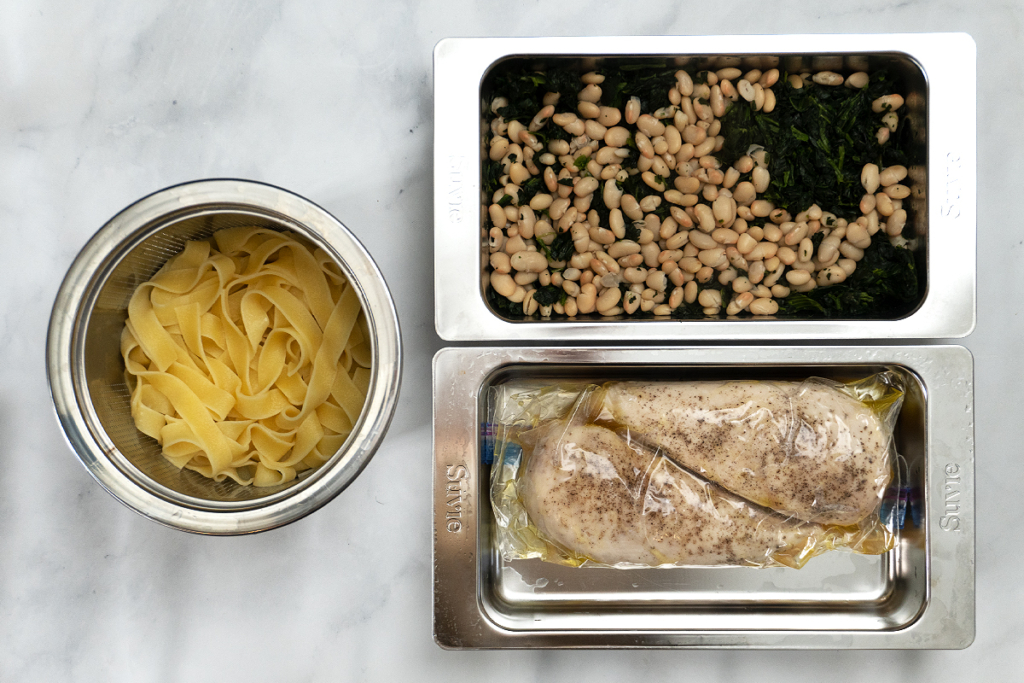 4) After the cook, stir 2 tbsp heavy cream into the kale and beans, and season to taste with salt and pepper.
5) Remove chicken from vacuum bags, cut against the grain into slices and divide between plates. Transfer pappardelle to a large bowl with the bean kale mixture, stirring to combine. Season to taste with salt and pepper, divide between bowls. Garnish with red pepper flakes and serve.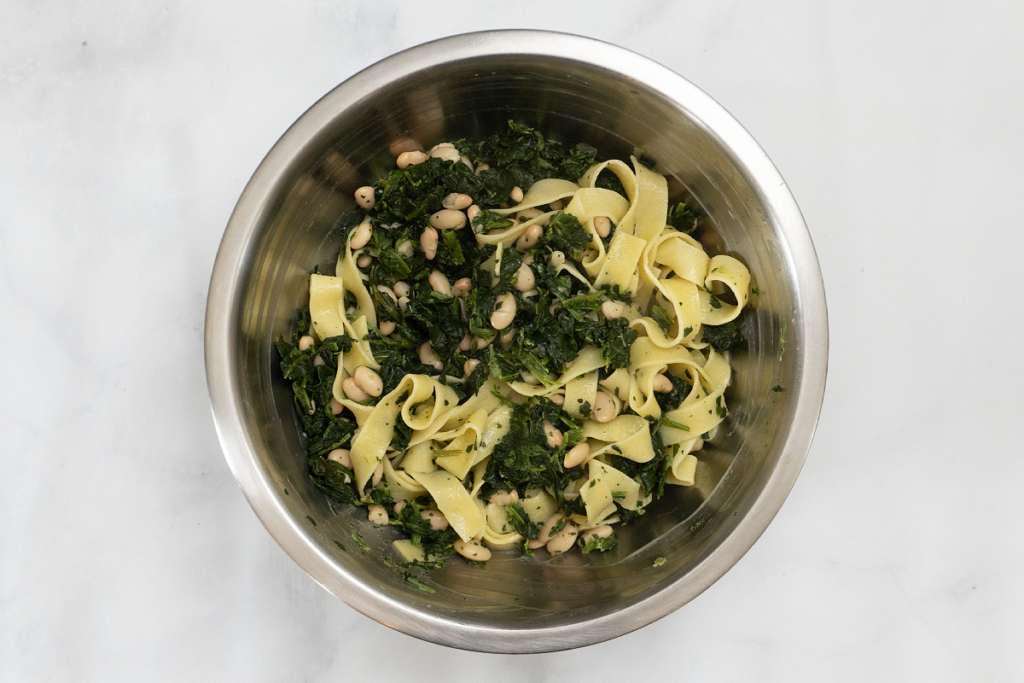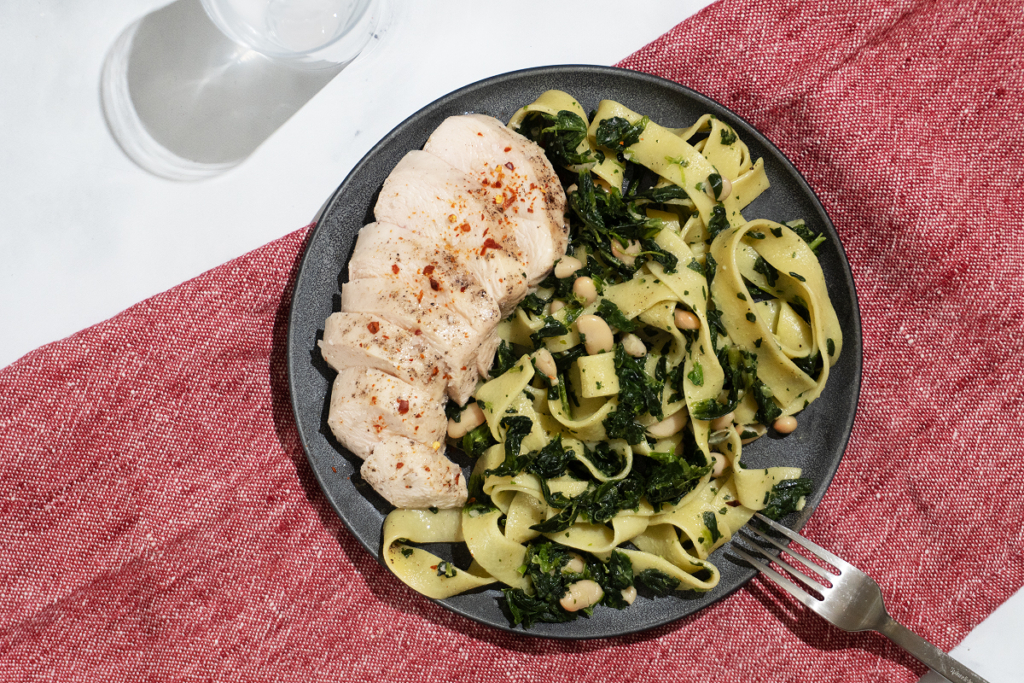 Nutrition
Nutritional Information per serving (4 servings per recipe): Calories 540, Total Fat 11g, Total Carbohydrates 70g, Total Sodium 440mg, Total Protein 42g.