On my first visit to Osaka several years ago, the chef at Takochaya, an unpretentious sake joint in the northern district of Umeda, welcomed me with a serving of the house specialty—live octopus sashimi.
"It doesn't get any fresher than this," he chuckled, dispatching a cephalopod the size of a man's hand with a few swift strokes of his knife.
Still squirming on the plate, a disembodied tentacle wrapped itself around one of my chopsticks and, to my alarm, began to pull. It was the first time I'd ever fought with my food as I was eating it, but I quickly popped the morsel into my mouth and chased it with a gulp of sake.
It was a delicious—and unforgettable—meal.
While my other dining experiences in Osaka have been far less dramatic, it's only fitting that my most vivid memories of the city revolve around eating and drinking. Japan's third-largest metropolis is home to roughly three million souls and one of the liveliest food scenes in the country—a delightfully chaotic mishmash of haute cuisine and casual eats, seedy watering holes, and posh whisky dens. Tokyo may boast more Michelin-starred restaurants, but Osaka is a culinary powerhouse in its own right.
In recent years, the city has become a hotspot for food-obsessed tourists, but the city's history as a gastronomic hub dates back more than 400 years. A port town crisscrossed with an intricate network of canals, it flourished as a center of commerce during the sixteenth century, when neighboring Kyoto served as the capital of Japan. Goods from every corner of the country were shipped to Osaka and then ferried to Kyoto and Tokyo by boat, giving rise to the area's reputation as "the nation's kitchen."
In many ways, the name still rings true today. Osaka—which refers both to the city and the prefecture—stretches from the mountains of Kyoto Prefecture in the north to the Seto Inland Sea. It is the birthplace of Japanese whisky and home to outstanding local sake producers like Akishika Shuzo and Daimon Shuzo, where I once spent a week learning how to brew sake. With access to plentiful seafood as well as produce from the fertile Osaka plains, it's also where some of the most iconic Japanese dishes were invented.
Takoyaki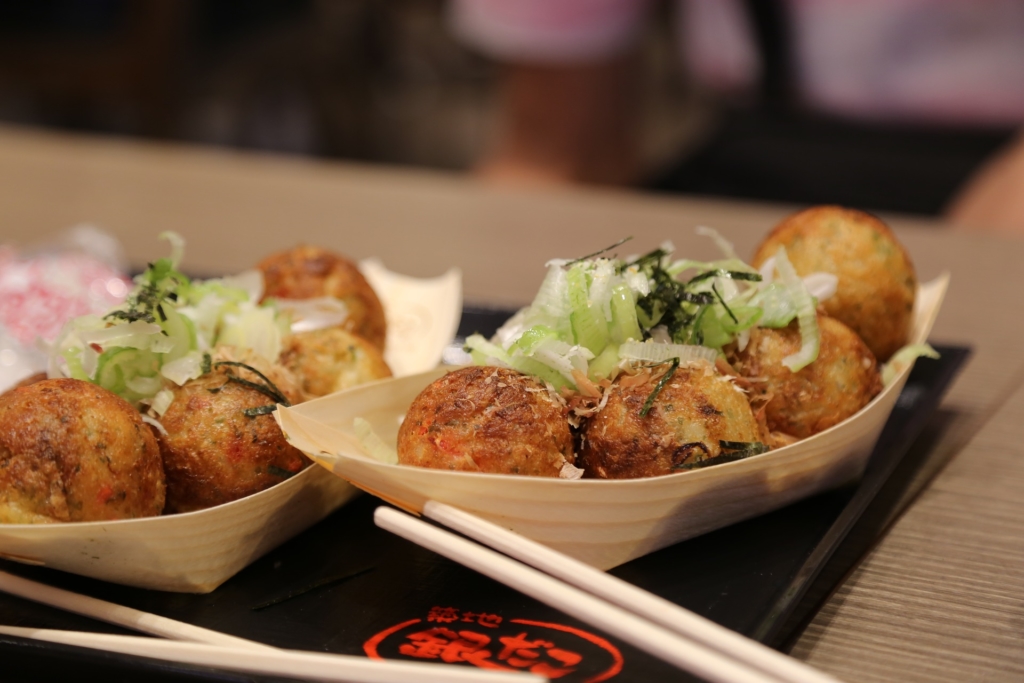 The city is virtually synonymous with takoyaki—bronzed orbs of dashi-laced batter filled with chunks of octopus and pickled ginger, brushed with a Worcestershire-based sauce (a condiment that features prominently in Osaka's street food) and sprinkled with dried seaweed. Shaved bonito flakes, which appear to dance on the dough's hot surface, add the finishing touch. Created as an inexpensive and satisfying snack during the late 1930s, Osaka's takoyaki is characterized by a crispy exterior encasing a gooey, molten-lava center. At the flagship shop of Wanaka—a local favorite for more than 50 years—in the southern Namba nightlife district, they use copper-lined iron pans to achieve the perfect texture. The o-iri sampler comes with three toppings: takoyaki sauce, soy sauce, and artisanal salt.
There are literally hundreds of takoyaki stalls, many of which are concentrated in Dotonbori, the neon-lit street-food enclave that runs along the canal of the same name. However, as Brian Ashcraft, longtime resident and author of The Japanese Sake Bible, tells me, natives of Osaka tend to grab takoyaki from Ahoya, a no-frills takeout stand with multiple locations around the city.
"It's not the kind of place where people line up, like in Dotonbori. But it's where people actually eat on a regular basis because it's cheap, easy, and really tasty," he says.
Okonomiyaki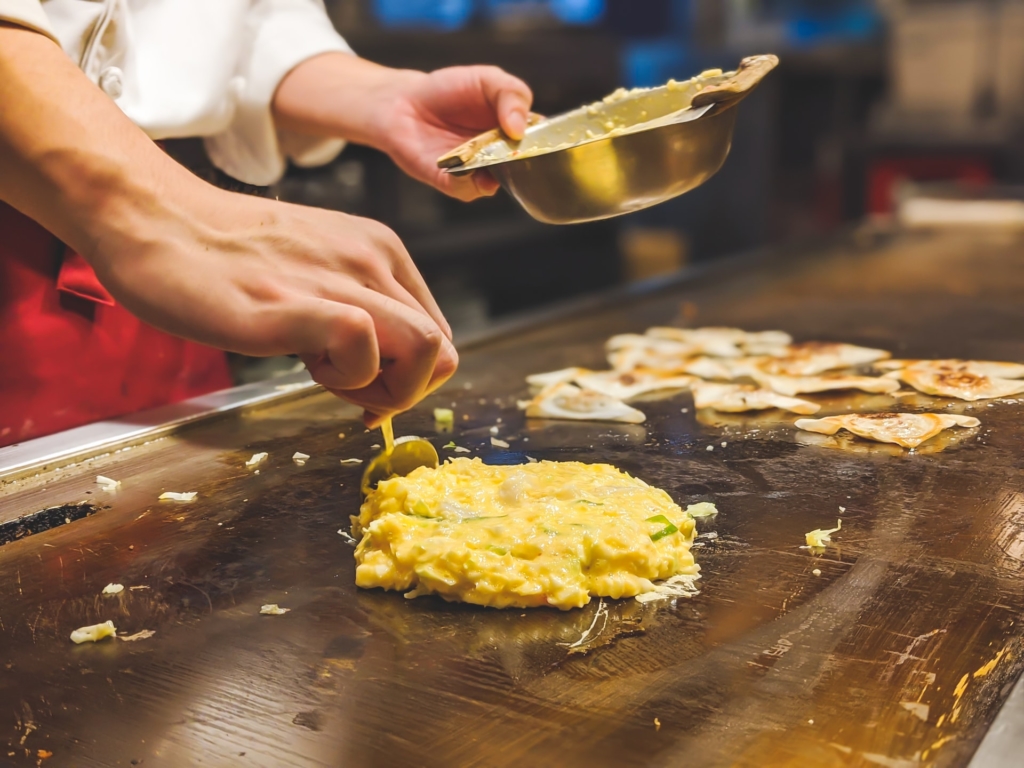 Like takoyaki, okonomiyaki—a savory pancake stuffed with cabbage and a combination of meat and seafood—epitomizes the "cheap and tasty" culinary ethos underpinning many of the city's street-food classics. An abundance of wheat, which was once grown throughout Osaka Prefecture, provided ample flour to create a variety of inexpensive, stick-to-your-ribs comfort foods that offered sustenance in the hard-strapped years before and after the second World War, when rice was scarce. The name of the dish translates loosely as "whatever you like," which gives an idea of the range of the fillings, but Osaka-style okonomiyaki batter is traditionally made with grated yamaimo, mountain yam, resulting in a fluffy texture and extra-crispy, burnished crust. The finished product is glazed with sweet-and-tangy sauce and lashings of mayonnaise, dusted with dried seaweed and bonito flakes before serving.
You'll find no shortage of venerable okonomiyaki specialists in Dotonbori—including Chibo, where the signature dish comes with a mountain-meets-sea medley of pork belly, beef, prawns, and scallops. Hidden among the tiny shops and restaurants in Hozenji Yokocho, a lantern-lit cobbled lane just behind Dotonbori's main drag, Hozenji Sanpei makes deliciously griddled negiyaki pancakes loaded with Japanese leeks and laced with tender stewed beef tendons—another local delicacy—served at a wooden counter with retro red stools. The restaurant is a short walk from Hozenji Temple, where supplicants at the moss-covered figure of the Buddhist deity Fudo Myo-o pour water over the statue as they pray.
Although udon noodles are not included in the pantheon of konamono flour-based foods that Osaka is known for, their popularity is part of the reason that flour became a staple in the Japanese pantry. Kitsune udon—slippery and pliant wheat noodles in broth topped with fried tofu pockets simmered in sweetened soy sauce—is Osaka's noodle legacy. Invented at the end of the 19th century by a former sushi chef, it's become one of the most ubiquitous dishes in Japan, found on menus all over the country. The simple dish showcases the taut umami that characterizes western Kansai-style dashi, which is lighter and less salty than the broth favored in the eastern Kanto region. Usami-tei Matsubaya, a modest shop near the Shinsaibashi shopping area, serves kitsune udon with a side of history: It's where the dish was first created.
Kushikatsu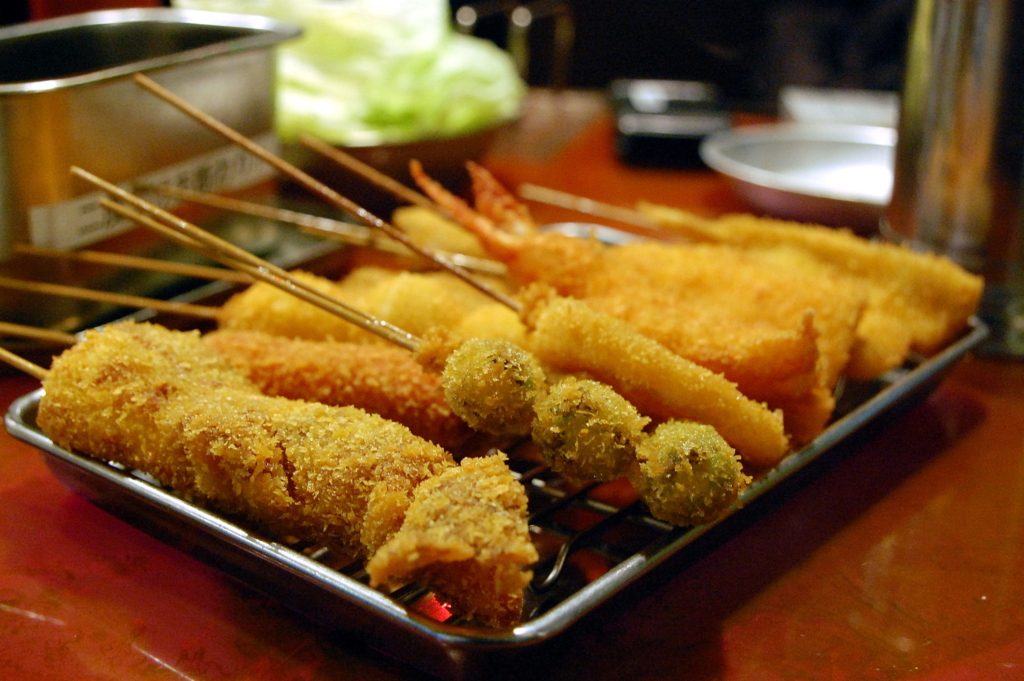 The pinnacle of Osaka street food is arguably kushikatsu, which refers to a limitless array of breaded and deep-fried treats served on kushi (skewers). Located in the heart of the working-class neighborhood of Shinsekai, a garish and fascinating snapshot of Showa-era Japan, Kushikatsu Daruma is ostensibly where it originated. The Shinsekai assortment comes with nine golden skewers—beloved stalwarts like pork, asparagus, and quail eggs—served piping hot from the fryer. Dip each briefly in the vat of sauce on the counter but take care to avoid double-dipping—the mother of dining etiquette no-nos. Down the road from Daruma, the original location of Jan Jan Kushikatsu presents a distinctively retro and frequently raucous experience, with pink-cheeked diners clinking glasses at low tables on the tatami-mat floor. In addition to the standard items, the menu features unusual offerings such as alligator, frog, or crickets. Occasionally, someone will muster the liquid courage to order the deep-fried whole scorpion.
Yakitori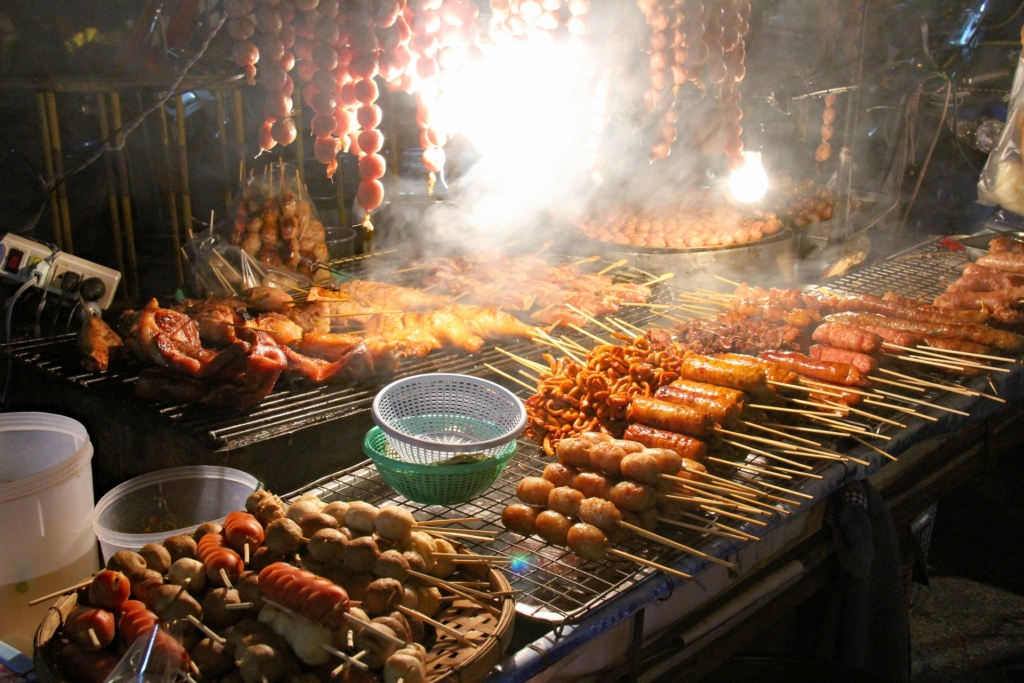 Kushikatsu's charcoal-grilled cousin, yakitori, has similarly humble beginnings as a thrifty meal utilizing every part of the chicken. These days, the category runs the gamut from cheap and cheerful chain Torijiro to the stylish and sophisticated Torisho Ishii, where juicy bites of free-range chicken from Mie Prefecture are lovingly grilled over binchotan charcoal and paired with vintage champagne. Situated in the Tenma district near Japan's longest shopping arcade, Tenjinbashisuji Shotengai, Saketory strikes a wonderful balance, with high-quality meat and a reasonably priced selection of cuts, such as rare-in-the-center seared liver covered with sliced scallions. As the name suggests, the well-chosen sake list is given equally thoughtful consideration.
Kaiseki Ryori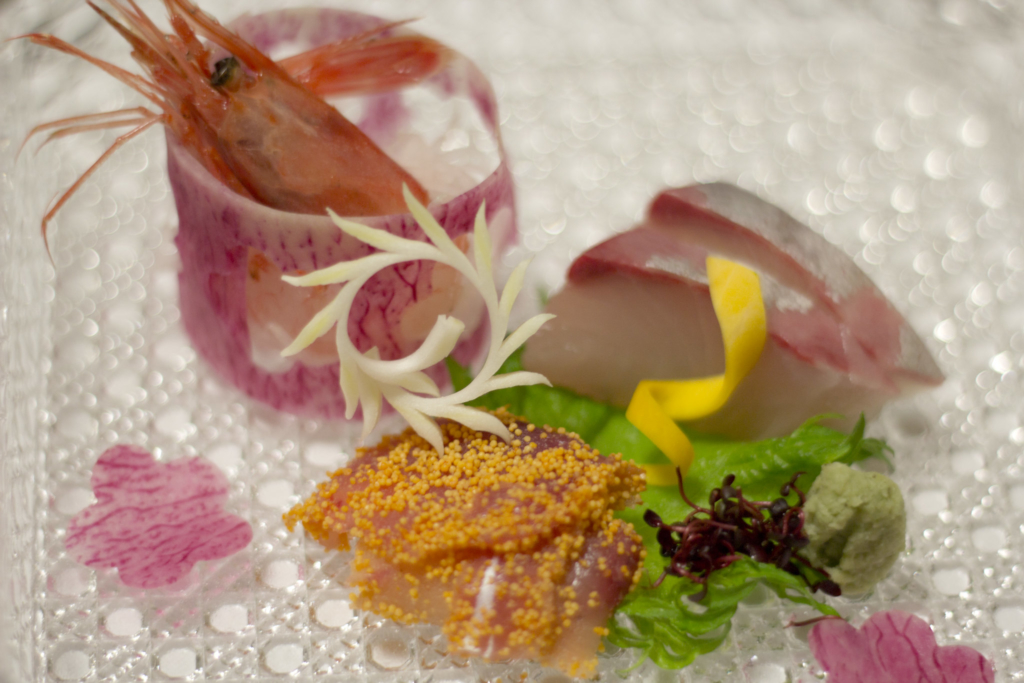 While street food represents a significant segment of Osaka's food culture, it's by no means the whole story. Some of Japan's best fine dining can be found here, from septuagenarian chef Hideo Anami's impossibly refined seasonal kaiseki ryori at Honkogetsu to stunning French cuisine at three-Michelin-starred Hajime, where chef Hajime Yoneda presents his signature dish—a poetic composition comprising dozens of vegetables and seafood in various preparations, arranged to represent the planet Earth—on a massive Arita-yaki porcelain plate that is nearly the size of the table.
A recent trip to Osaka took me to La Cime, a Japanese-inflected contemporary French restaurant helmed by two-Michelin-starred chef Yusuke Takada, who received the prize for Chef's Choice at last year's Asia's 50 Best Restaurants awards. The meal opened with Takada's signature boudin dog, a mouthful of blood sausage encased in charcoal-tinted batter and then unfolded in a delectable series of surprising flavor combinations—seared salmon from Hokkaido, concealing the tiniest gnocchi you've ever seen, tossed with butter and salmon roe; fried eel in an emerald-hued sauce of spinach and garlic chives; and succulent pork from Amami Island, served with papaya.
With a couple of hours to kill before my bullet train back to Tokyo, I made my way to The Bar Elixir K, an intimate spot in the recently fashionable Kitashinchi area north of Umeda. The district is crammed with thousands of watering holes (3,000, according to a recent estimate), but The Bar Elixir K is one of the most welcoming, with its warm, wood-paneled interior and English-speaking bartenders. The bar stocks hundreds of wines and spirits, including rare bottles like vintage Nikka Whisky and a selection of gins from cult Japanese producer Tatsumi Distillery in Gifu Prefecture.
One Last Bite
By the time I arrived at JR Shin-Osaka station, I considered stopping at Matsuba Sohonten, just outside of the Shinkansen ticket gates, for one last bite of kushikatsu. I was stuffed to the gills and knew that I could get the same thing from any number of places in Tokyo, but I recalled something writer Brian Ashcraft once said about the food in Osaka: "So much of what makes it great is eating it in Osaka. That's the secret sauce."
As I stood at the counter munching on skewers of lotus root and shrimp, I realized that he was absolutely right.
Feature Image: djedj from Pixabay