I believe the best Thanksgiving foods are leftover Thanksgiving foods. I get very excited about making bone broth for turkey noodle soup, turkey curry, and of course, the ubiquitous turkey sandwiches, which in my house have now evolved into Thanksgiving paninis and quesadillas!
This year I wanted to try something new and decided to make leftover savory stuffing waffles, and I am utterly hooked. They are so delicious, they will be a Black Friday brunch tradition from now on!
What's in a Stuffing Waffle?
The Thanksgiving stuffing that I make every year always includes sausage, mushrooms, onions, and celery along with croutons or stuffing mix, however this savory stuffing waffle recipe works even if you use boxed stuffing mix with no add-ins. In my opinion it's worth making up some stuffing just for these waffles!
To bind the waffles, I mix raw eggs and shredded Cheddar cheese with the stuffing and a touch of stock to moisten the mixture. You only want to lightly moisten the mixture to ensure the waffle stays crisp on the outside and tender on the inside. The cheese helps create a crispy surface, and the stock helps create a soft, fluffy center. I also add some hot sauce, but it is optional depending on your spice preference.
How to Serve Your Stuffing Waffle
Once one waffle is cooked, you can either serve it straight away or transfer it to a plate tented with foil to keep warm while the other one cooks. To serve, you can mix leftover cranberry sauce with maple syrup to drizzle over, but warmed leftover gravy would be equally delicious, especially served with a sunny-side-up fried egg. If you've run out of leftover cranberry sauce or gravy, then just drizzling maple syrup will be just fine!
Other Mix-ins You Can Add:
As mentioned, you can use a basic stuffing mix on its own, but you could also finely chop the following and add to the mixture before cooking:
Cooked sausage breakfast links
Leftover turkey, shredded
Sautéed sliced mushrooms
Cooked chopped bacon
You can also swap out 1 cup of stuffing for 1 cup of warmed leftover mashed potato
Recipe: Leftover Savory Stuffing Waffles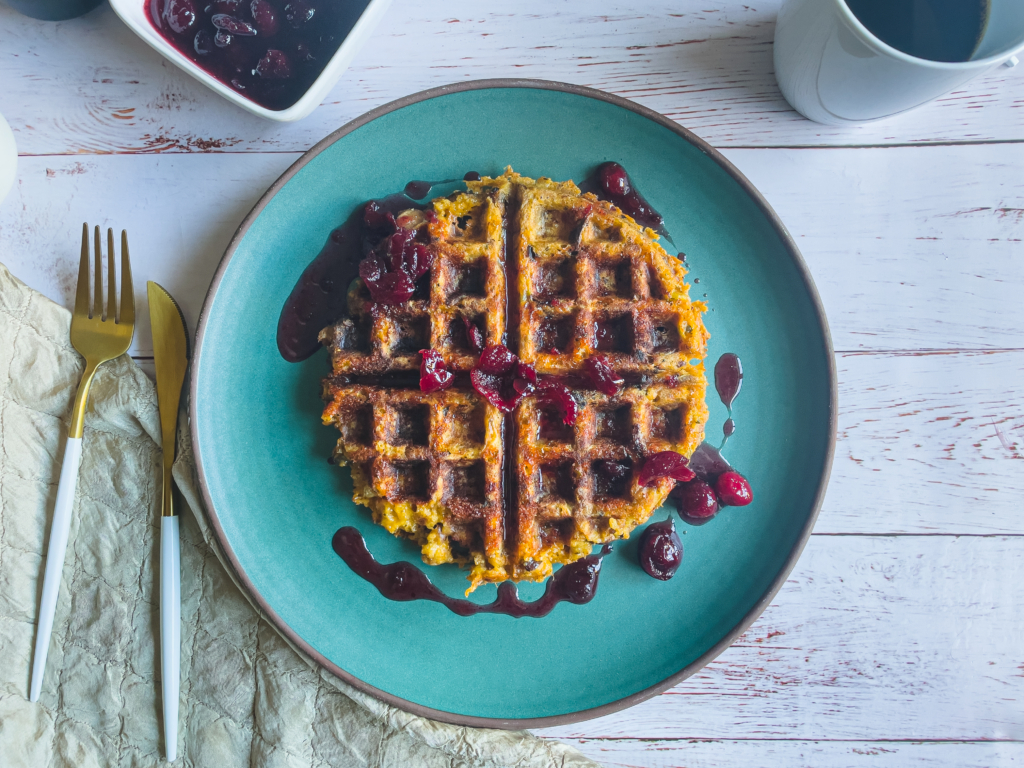 | | | |
| --- | --- | --- |
| Servings | Active Time | Cook Time |
| Makes 2 Standard-Sized Waffles | 15 minutes | 20-25 minutes |
Ingredients and Tools
Equipment
Waffle iron
Large and small bowl
Small whisk or fork
Fork
Measuring cup for scooping
Silicone spatula
Ingredients
3 cups leftover stuffing or prepared stuffing mix
½ cup cranberry sauce
⅓ cup maple syrup
1 cup shredded sharp Cheddar, or any shredded hard cheese
2 large eggs, beaten
1 – 4 tbsp turkey or chicken stock
1 – 3 tsp hot sauce, depending on preference, optional
¼ tsp ground sage, optional add-in
¼ tsp kosher salt, optional add-in
¼ tsp ground black pepper, optional add-in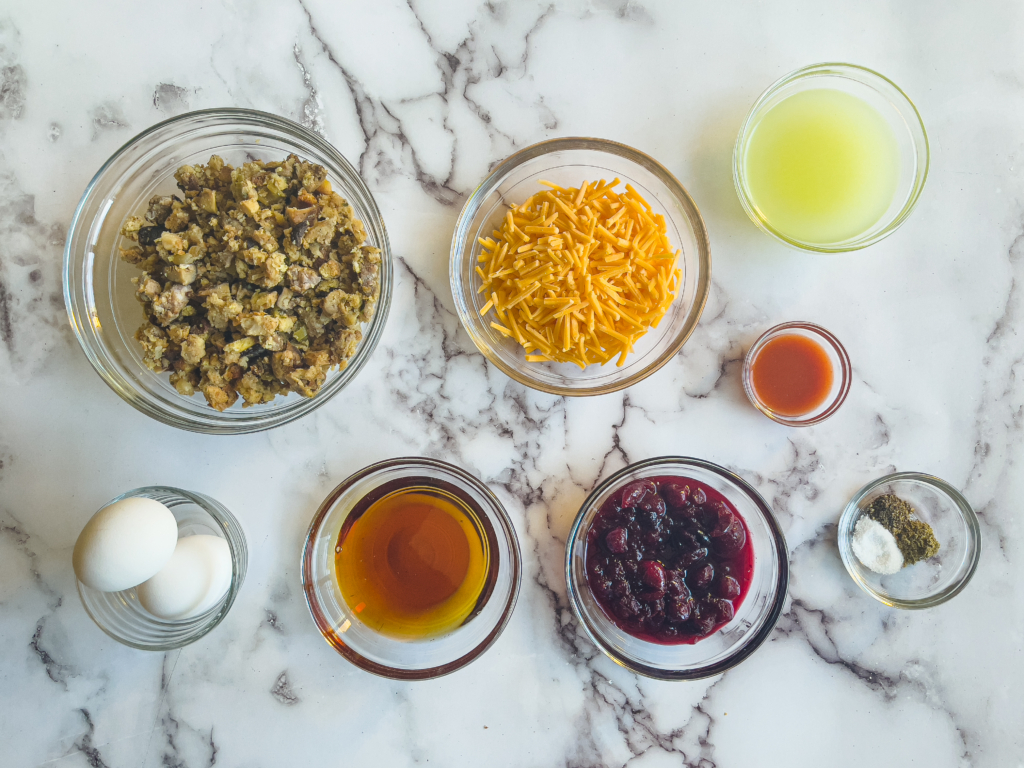 Directions
1) Break up 3 cups of stuffing into crumbles with your hands and transfer to a Suvie pan. If you have any large pieces of sausage, fruit, or vegetables in your stuffing, break them into smaller pieces. Place pan inside bottom zone of Suvie and broil for 5 minutes, stirring halfway to warm through. Alternatively, warm stuffing in a conventional oven set at 350°F for 10 minutes.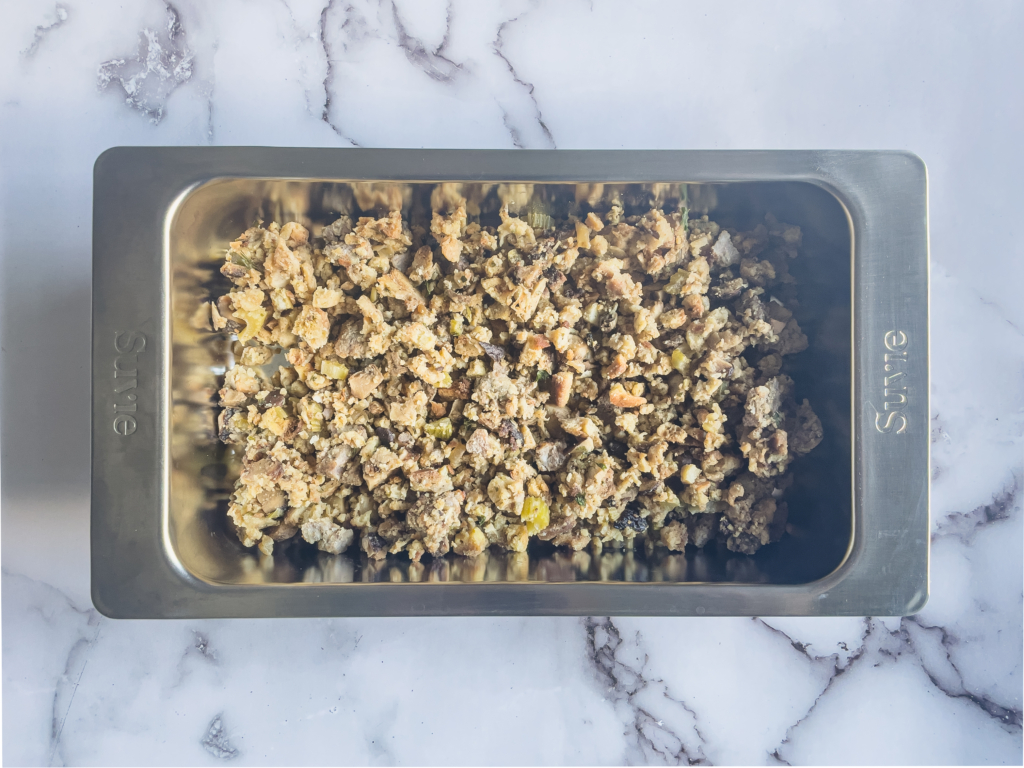 2) Meanwhile, whisk together ½ cup leftover cranberry sauce and ⅓ cup maple syrup with a pinch of salt in a small bowl; set aside. Preheat waffle iron on medium-high heat.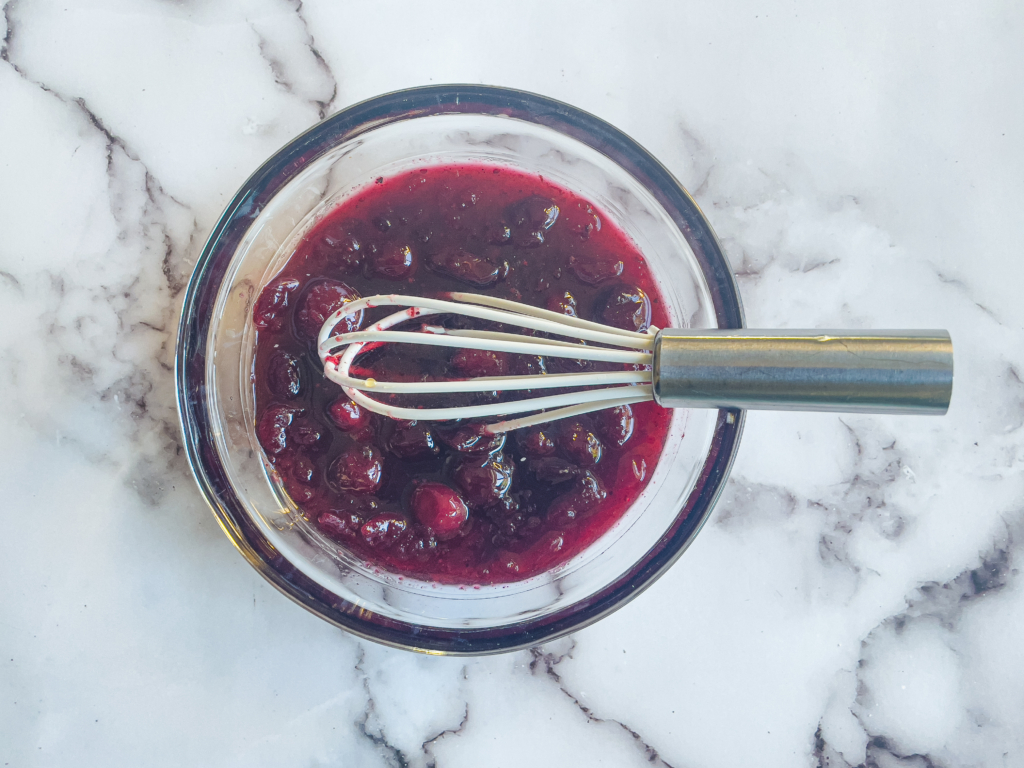 3) In a medium bowl, stir together warmed stuffing crumbles, 1 cup shredded Cheddar, 2 eggs, 1 tsp to 3 tsp hot sauce (if using), ¼ tsp ground sage, ¼ tsp kosher salt, and ¼ tsp ground black pepper if your stuffing needs seasoning.
4) Add turkey or chicken stock to stuffing mixture, 1 tbsp at a time, until mixture is slightly moistened. You may not need to use all 4 tbsp, depending on how dry your stuffing is.
4) Scoop half of the mixture into the preheated waffle iron, carefully spreading the layer to the edges with a silicone spatula (the mixture will not naturally spread like a regular waffle batter). Close the iron and cook on medium-high until the setting finishes and the waffle is crisp and golden brown. Depending on the waffle iron, this could take anywhere from 1 ½ to 5 minutes.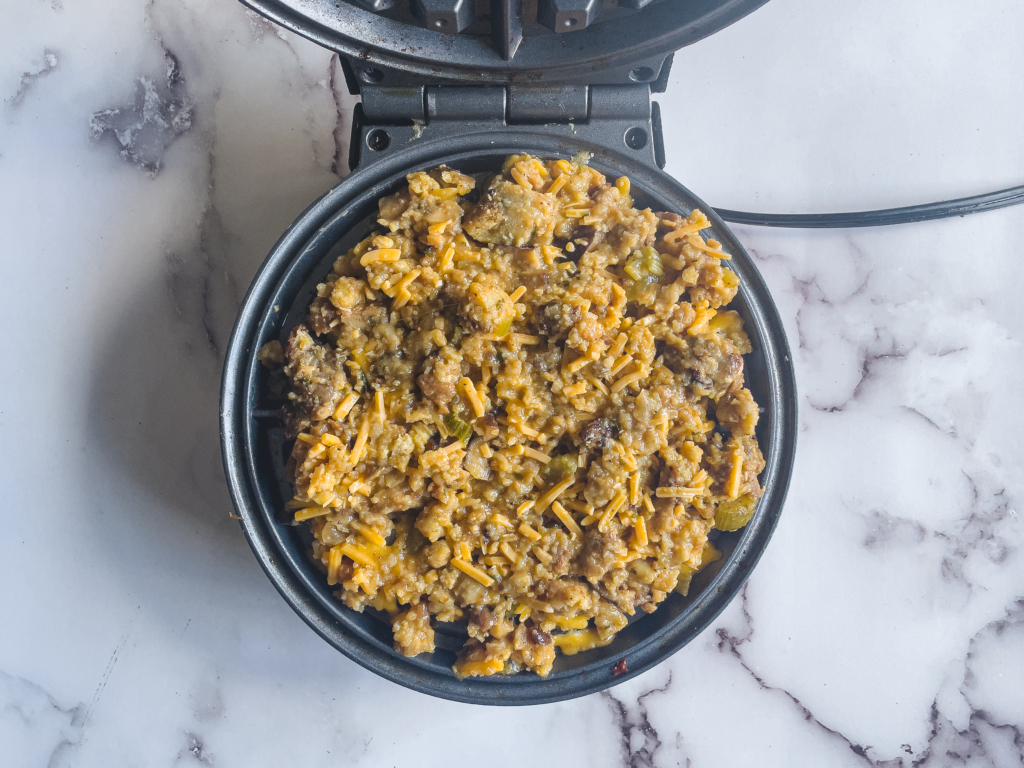 5) Transfer the first waffle to a plate tented with foil to keep warm while cooking the second waffle. Repeat with the remaining mixture. Serve waffles immediately and serve with cranberry-maple syrup.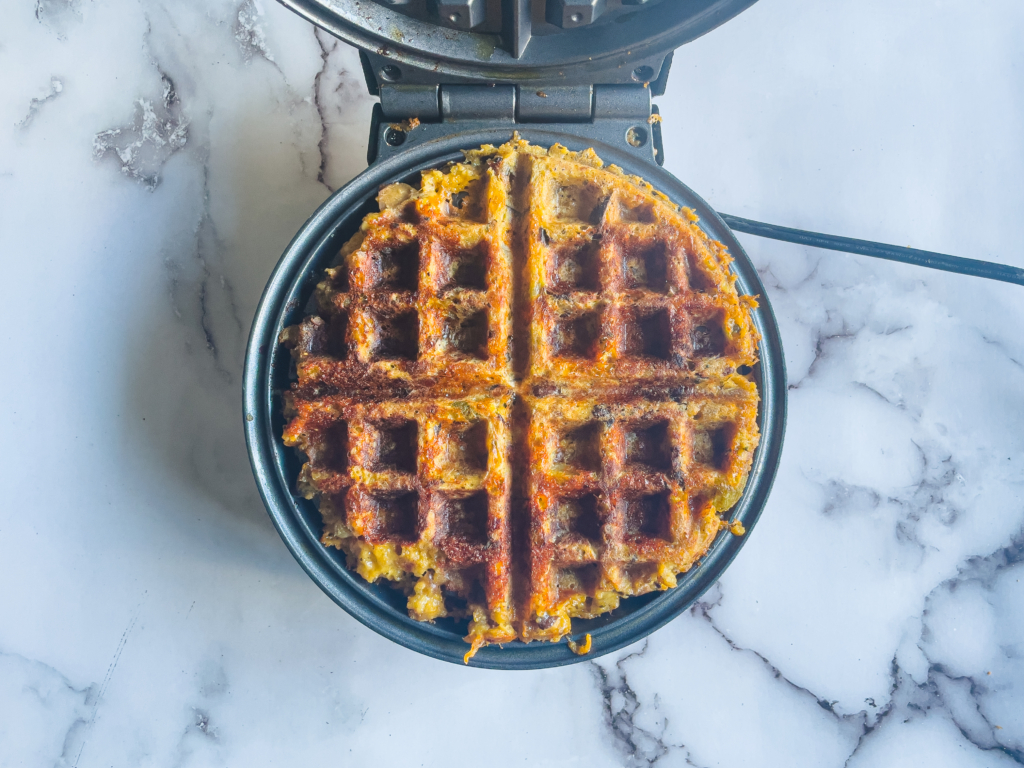 RECIPES TO TRY:
1) Sausage, Apple, and Pecan Stuffing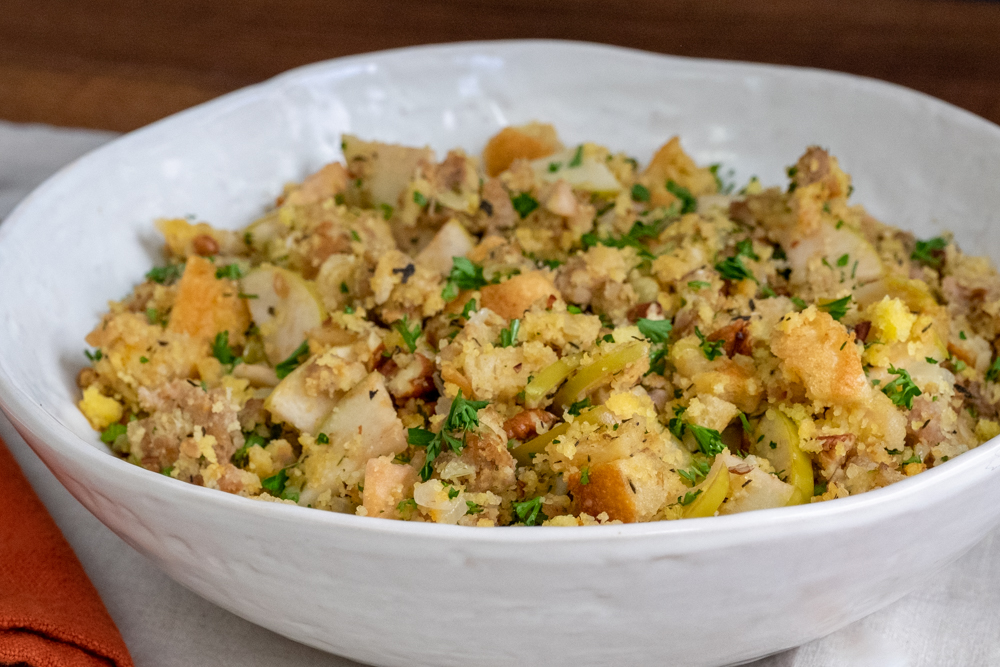 2) Classic Cornbread Stuffing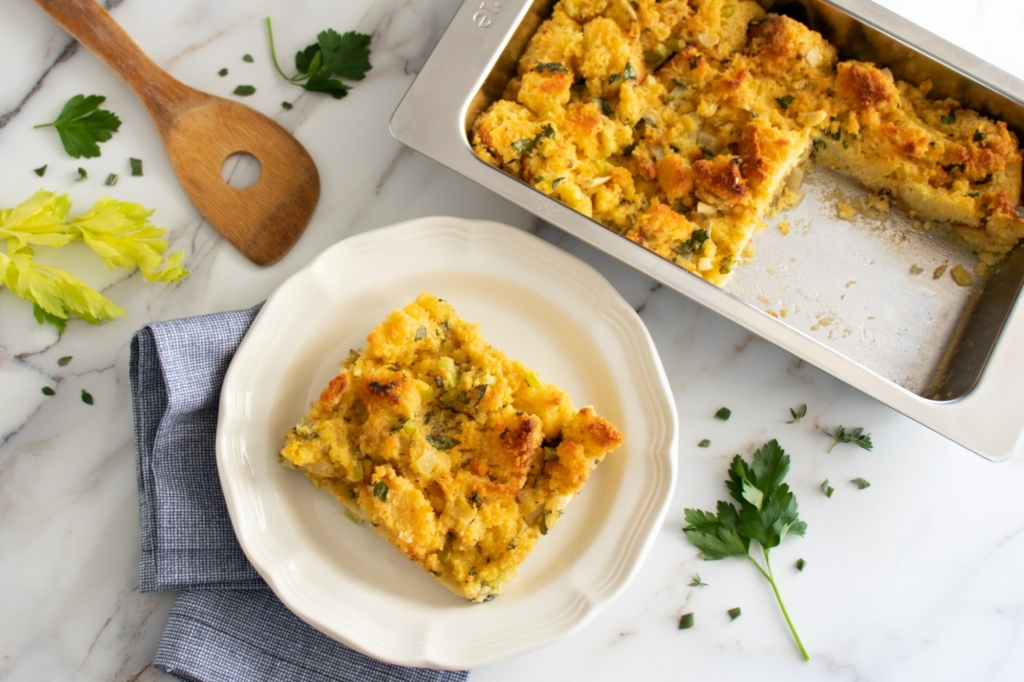 3) Thai Coconut Chicken Curry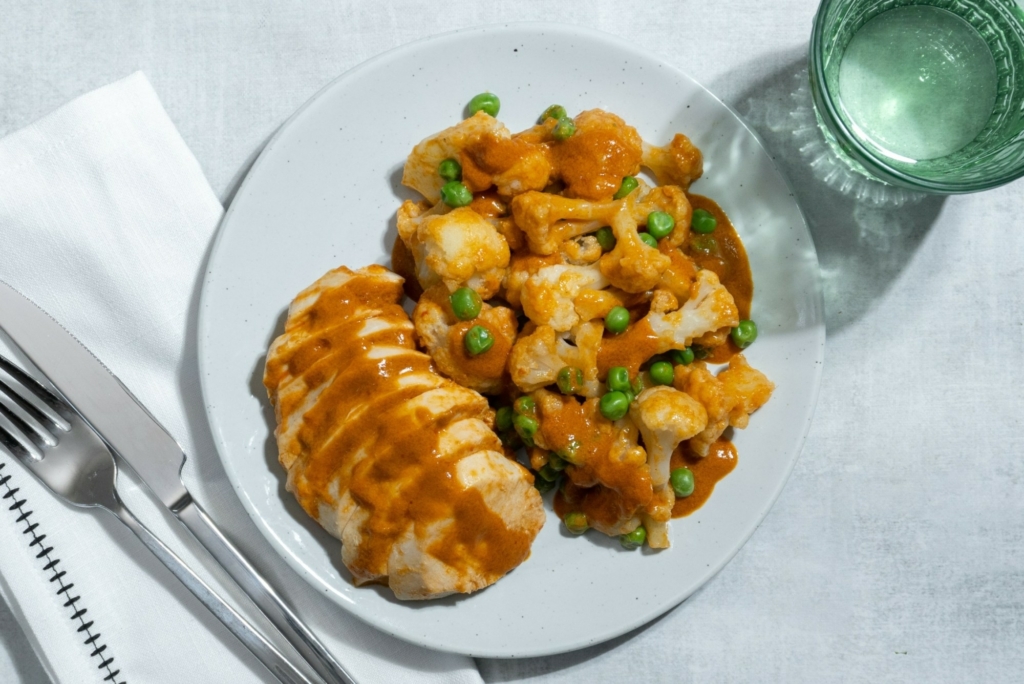 4) How to Slow Cook Chicken Soup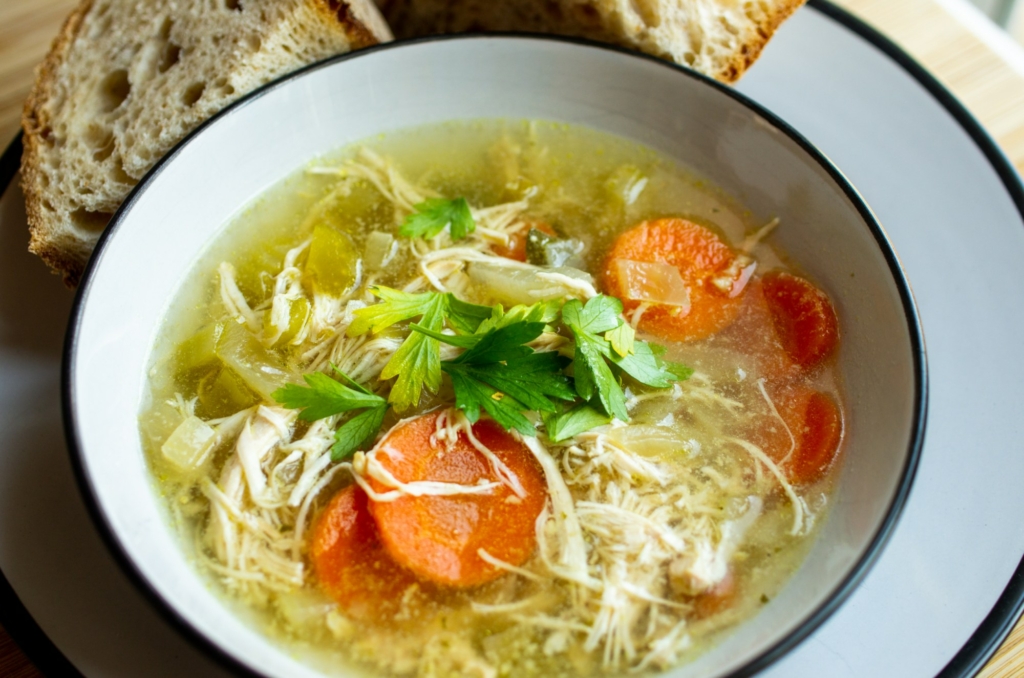 5) How to Sous Vide Spiced-Rum Cranberry Sauce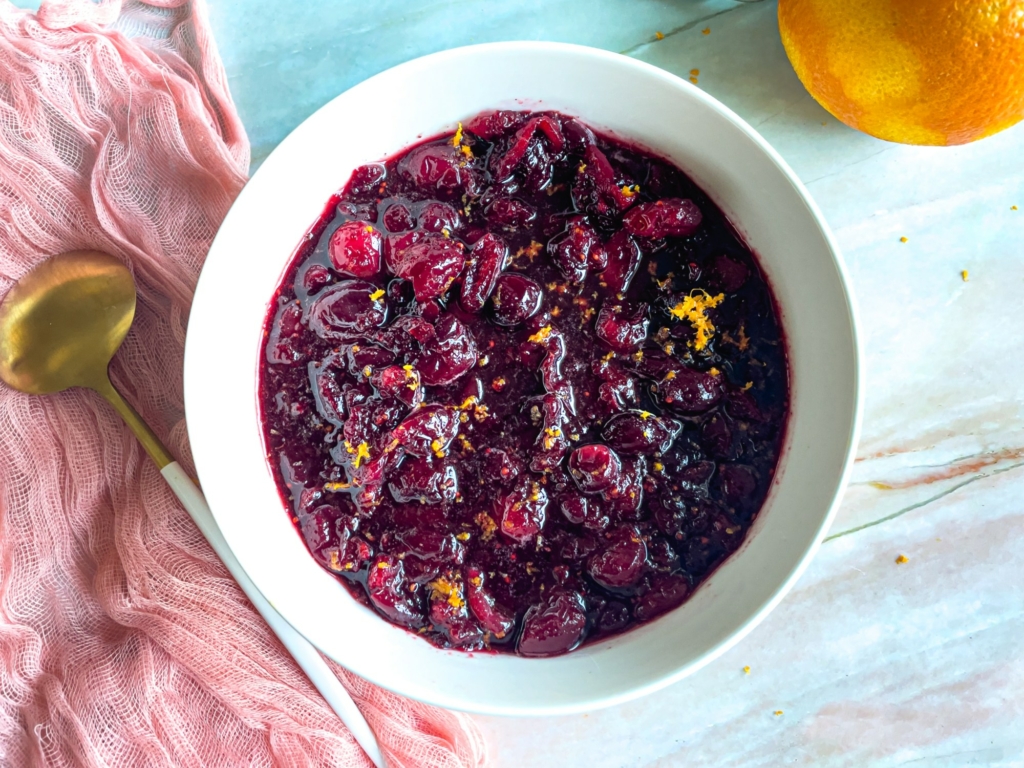 6) Slow Cook Cranberry Sauce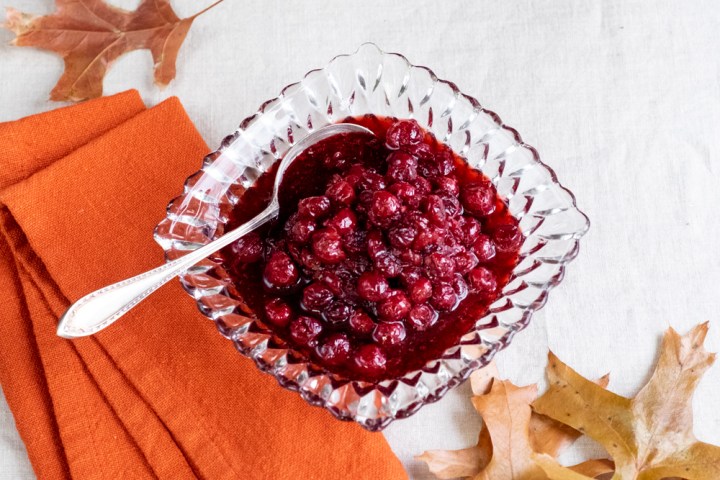 7) Three unusual ways to use Thanksgiving leftovers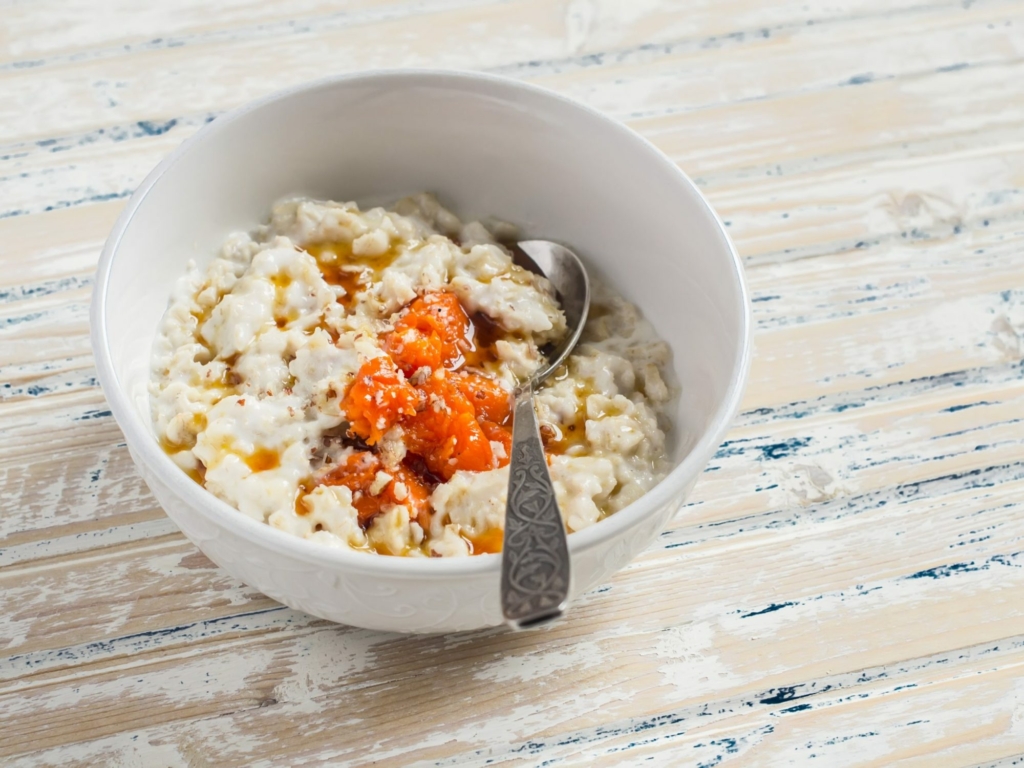 FAQs
I don't have any leftover stuffing, what can I do?
You can use a standard stove top stuffing mix and prepare by following the package instructions. This is definitely worth making stuffing for!
I don't have a waffle iron, is there any way I can use the same mixture?
You could make these into mini pancakes instead. Follow the same instructions but heat a griddle or large cast iron skillet instead, and spoon 1 cup measures of the mixture and flatten with a spatula, and cook until golden and crispy on both sides over medium-low heat (cook slowly on a lower heat so it gives a chance for the eggs to cook through).
Can I use leftover gravy instead of stock to moisten the mixture?
Yes! You just need a little moisture to help the mixture combine, and gravy would be a delicious alternative.