When you've got a Thanksgiving to-do list as long as your arm, it can be tempting to buy a can of cranberry sauce to quickly cross one thing off the list. But there is nothing quite like tart homemade cranberry sauce, which is endlessly customizable. You can choose a blend of your favorite spices; sweeten it with honey, agave, or maple syrup; use a mix of dark, light brown, or granulated sugar; or swap out the rum for orange-flavored liquor, whiskey, bourbon, or omit the booze altogether.
Once you've made homemade cranberry sauce and realize how easy and flavorful it is, you'll have it on your Thanksgiving to-do list every year!
Why Bother Using the Sous Vide Method for Cranberry Sauce?
You might be thinking, why on earth would you bother using the sous vide method to make cranberry sauce when you can throw everything in a saucepan and cook it in 15 minutes? There are a three easons:
Once you put everything in the vacuum bag, you don't have to think about it for an hour — and that one hour is precious time for other Thanksgiving prep.
There won't be any sugar-scorched saucepans to wash up
A poaching liquid of rum, sugar, and spices, not only infuses the cranberries with flavor, but also intensifies the entire sauce and gives it a richness that I've never managed to create with 15 minutes on a stovetop.
As a bonus, if you are using our How to Sous Vide Candied Yam recipe, the water bath temperature and timing are identical, so you can cook the yams and cranberries simultaneously.
Make-Ahead for Thanksgiving
The best part is the sauce can be made 10 to 14 days before Thanksgiving and stored in the vacuum bag (or an airtight container) in the fridge once it's been cooked and cooled in an ice bath. Or you can even freeze the sauce 1 to 2 months in advance.
Chunky Cranberry Compote vs. Syrupy Sauce
Cranberry sauce can be a personal thing. You might prefer a chunky 'compote' style sauce or a more syrupy cranberry sauce. You get a choice with this recipe! Initially, the cranberry sauce will look thin and watery when it first comes out of the hot water. Transferring the bag to an ice bath for 15 to 20 minutes thickens the syrup. If you prefer a chunkier compote, you can drain the cranberries in a colander and mash the cranberries with a fork.
Whatever you do, don't discard that thick delicious cranberry syrup. It's packed with intense spiced berry flavor and makes the perfect substitute for Crème de cassis in a Kir Royale champagne cocktail. A few tablespoons of cranberry syrup would also taste great poured over a tall glass of ice with ginger ale or club soda and a wedge of orange for a delicious mocktail. This recipe yields about ¾ cup cranberry syrup – enough cocktails for a crowd.
Other Spices You Can Add
You can add any warm ground spices to your cranberry sauce or even use whole allspice berries and cloves. Make a bouquet garni for small spices, such as cloves, by wrapping them in cheesecloth and tying with string.
Black pepper
Pumpkin spice
Grated ginger or ground ginger
Bay leaf
Juniper berries
Uses For Leftover Cranberry Sauce
This recipe will make about 1 ½ to 2 cups of sauce (depending on how much you mash the cranberries) which is a perfect amount for a family Thanksgiving dinner. However, if you do happen to have any leftovers, it makes a great accompaniment to duck confit or goes well in sandwiches. You could serve it spooned on top of a wheel of baked brie, or if you have a sweet tooth, over vanilla ice cream or alongside pancakes and whipped cream. You may want to make two batches of cranberry sauce just for these leftover options!
What to Do with Leftover Cranberry Sauce
You can refrigerate any leftover cranberry sauce stored in an airtight container or freezer-safe resealable bag for 10 to 14 days in the refrigerator.
Temperature and Cooking Times for Cranberry Sauce
| | | |
| --- | --- | --- |
| Device | Temperature | Time |
| Suvie | 180°F | 1 hour |
| Immersion Circulator | 185°F | 1 hour |
Recipe: Sous Vide Spiced-Rum Cranberry Sauce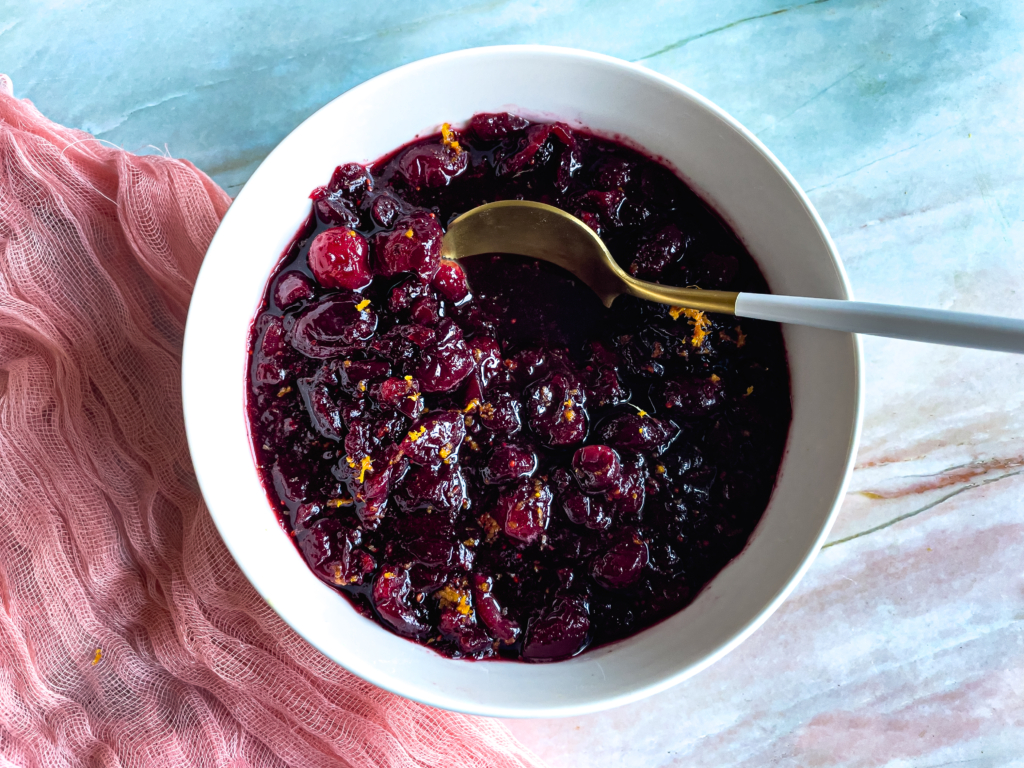 | | | | |
| --- | --- | --- | --- |
| Servings | Active Time | Preheat Time | Cook Time |
| Yields 1½ to 2 cups | 15 minutes | 45 minutes | 1 hour, plus 20 minutes cooling |
Ingredients and Tools
Equipment
Suvie or immersion circulator
Large pot or sturdy container (if using an immersion circulator)
1 large vacuum sealer bags or 1 gallon freezer-safe resealable bag
Colander or fine-mesh sieve for rinsing
Microplane grater or box grater
Tongs
Fork
Ingredients
1 navel orange
1 (12 oz) bag fresh cranberries, rinsed
1 cup light or dark brown sugar
¼ cup spiced or dark rum
1 tbsp apple cider vinegar
1 cinnamon stick
½ tsp ground allspice
¼ tsp ground cloves
¼ tsp ground nutmeg
¼ tsp kosher salt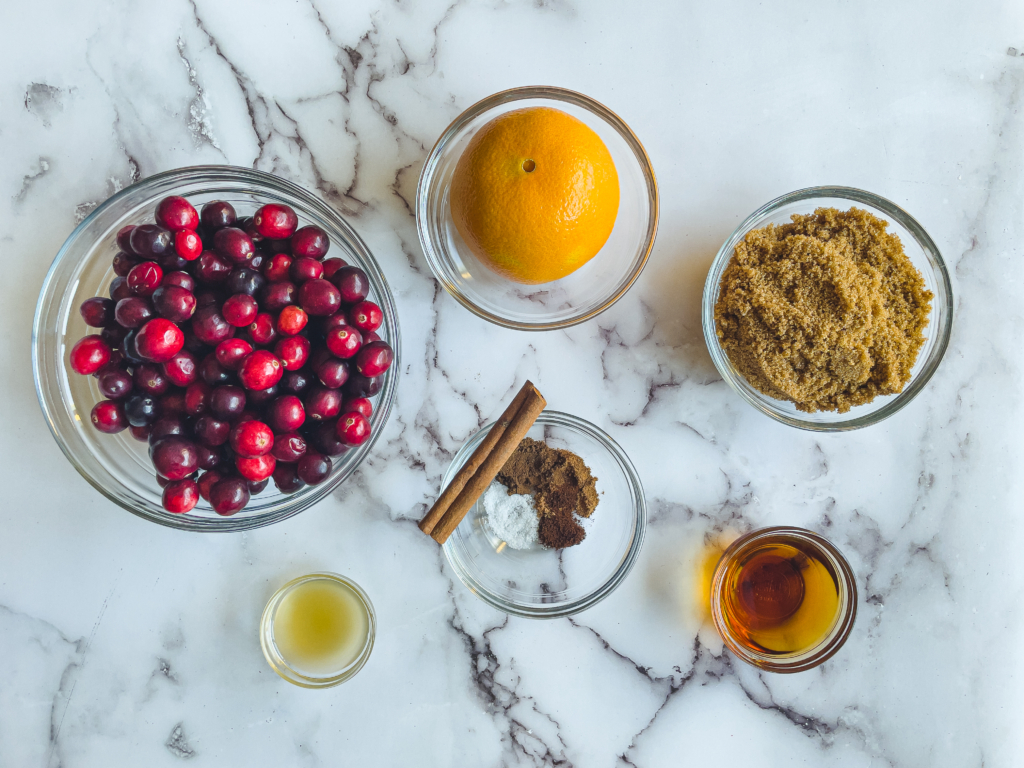 Directions
1) If you're using a sous vide immersion circulator, preheat your water bath to 185°F.
2) Zest and juice 1 orange until you get 1 ½ tsp zest and 3 tbsp juice. Reserve ½ tsp zest for serving.
3) Transfer 12 oz rinsed cranberries to a vacuum bag or resealable bag. Add 1 tsp orange zest, 3 tbsp orange juice, 1 cup brown sugar, ¼ cup rum, 1 tbsp apple cider vinegar, 1 cinnamon stick, ½ tsp ground allspice, ¼ tsp ground cloves,¼ tsp ground nutmeg, and ¼ tsp kosher salt and seal bag. If you're using a resealable bag, use the water displacement method to seal.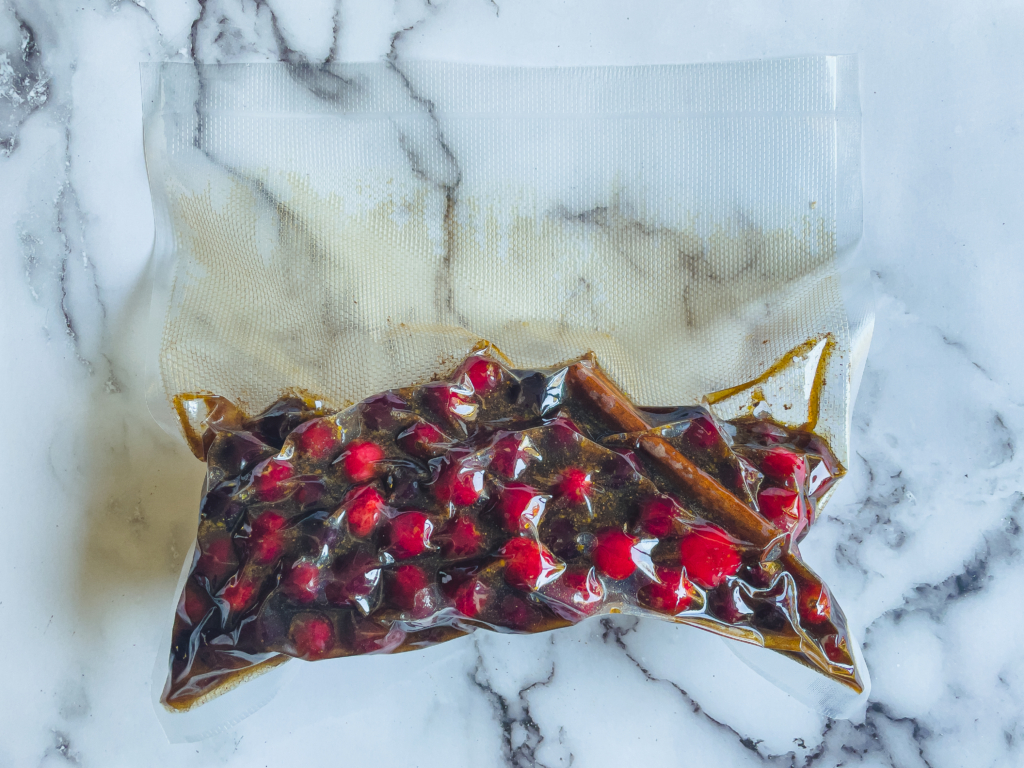 4) Lower the bag into the heated water bath and cook for 1 hour. You may need to add a layer of ping pong balls to keep the cranberries underwater. Alternatively, you can try and weigh down the bag with a couple of large metal serving spoons. If you are not using ping pong balls, cover the water bath with foil or cling wrap to keep the water from evaporating and to sustain a high water temperature.
If you are using your Suvie, place the bag into a Suvie pan and cover entirely with water. Insert pan into the bottom of your Suvie and input the following settings.
Suvie Cook Settings
Bottom Zone: Sous Vide at 180°F for 1 hour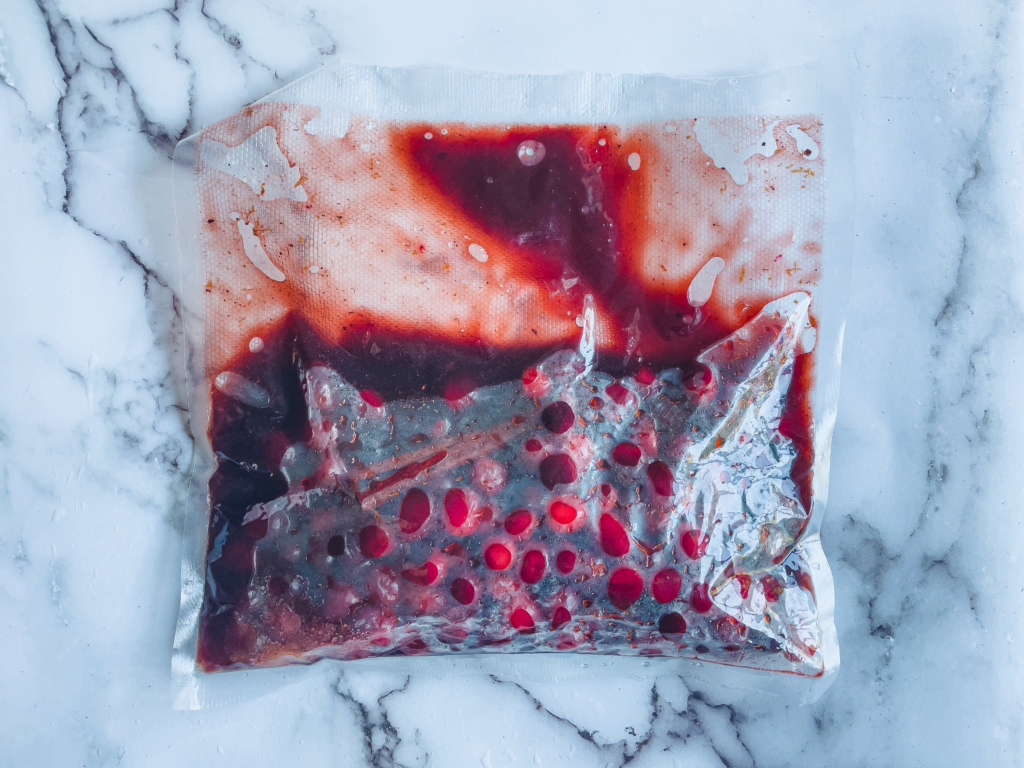 5) In a large bowl, prepare an ice bath. Remove bag from hot water with tongs and transfer to the ice water for 15 to 20 minutes to allow the syrup to thicken. Once cooled, open the bag and discard the cinnamon stick. Mash the cranberries with a fork (if you prefer a chunkier sauce you can drain the cranberries at this stage).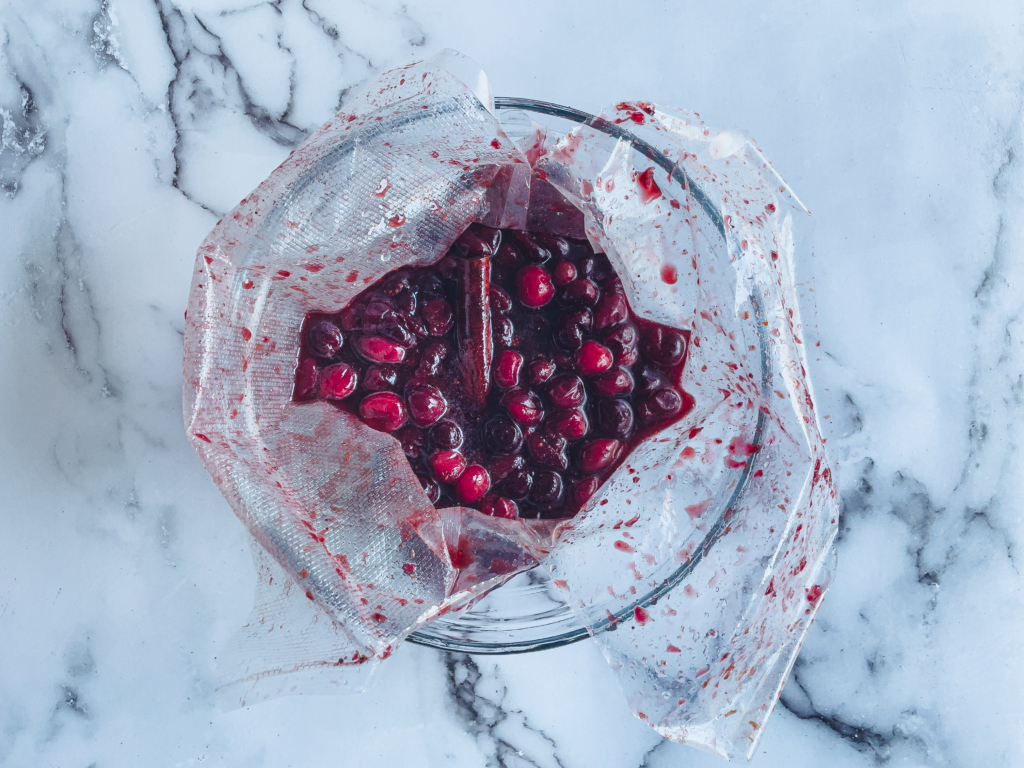 6) Transfer sauce to a serving bowl and sprinkle with remaining ½ tsp grated orange zest, if desired.
RECIPES TO TRY:
1) Candied Yams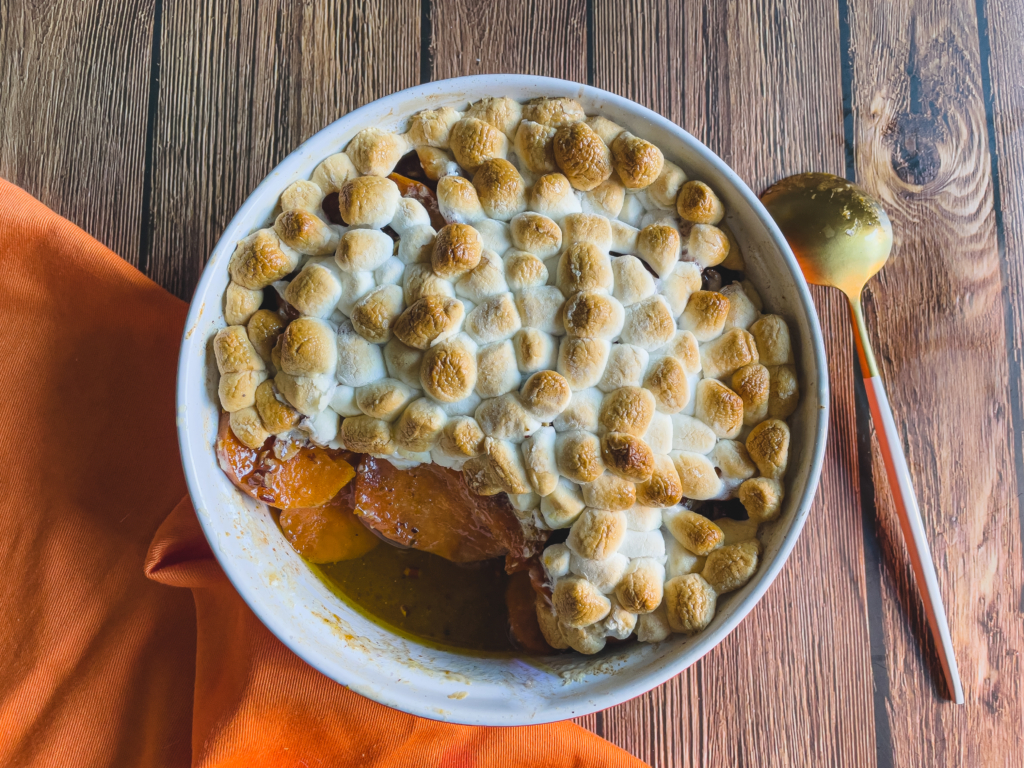 2) Herb Roasted Mashed Potatoes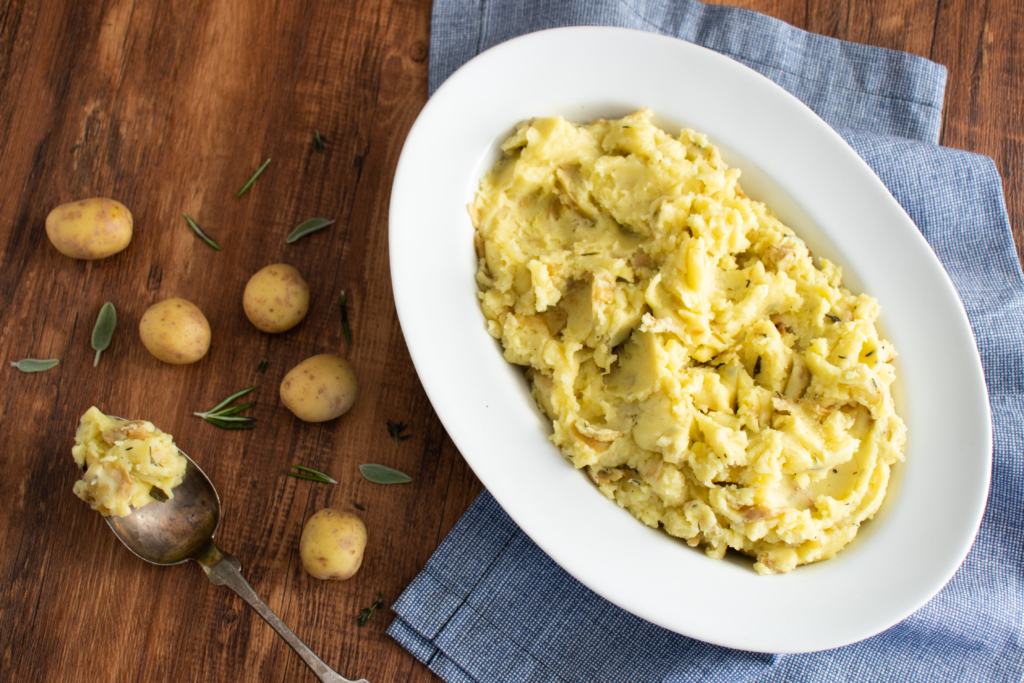 3) Sweet and Spicy Potato Mash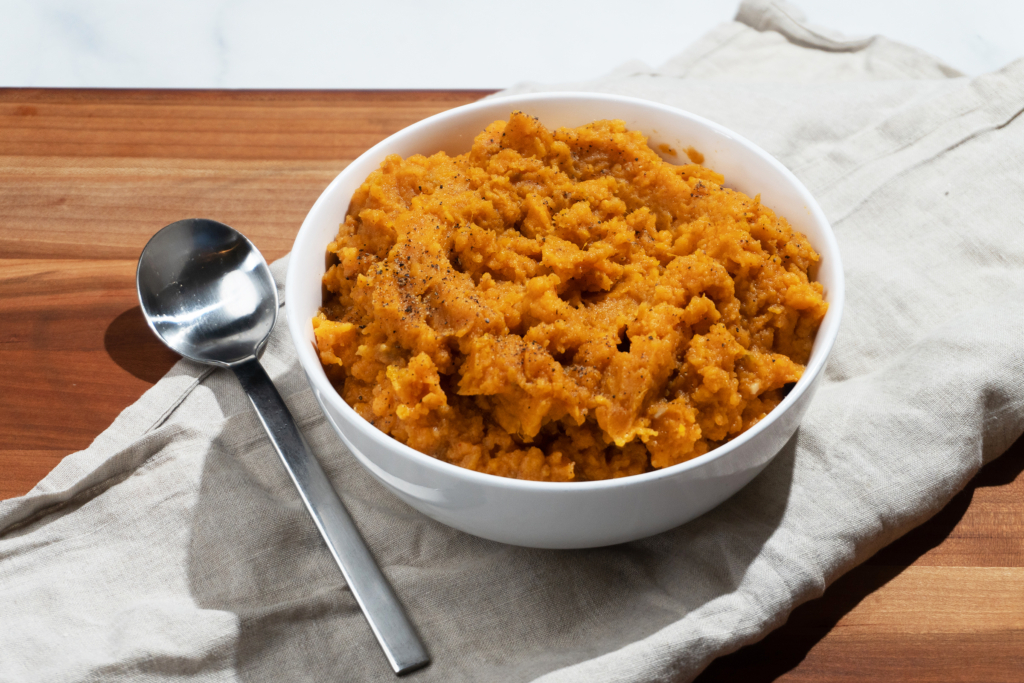 4) Green Bean Casserole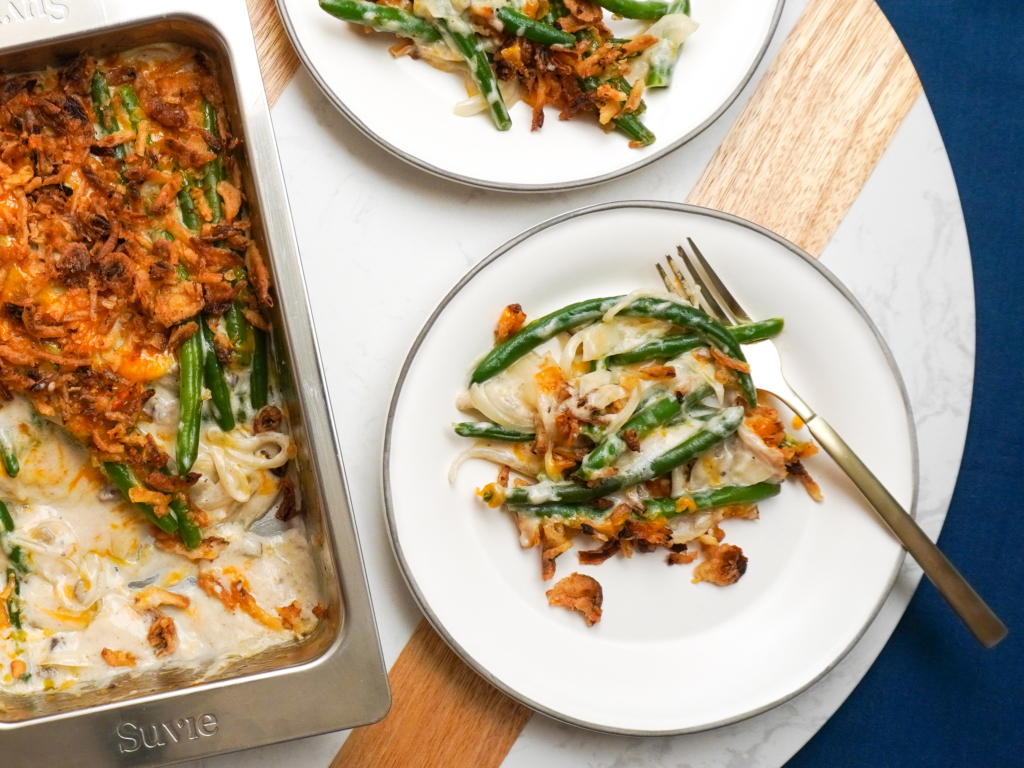 5) Classic Cornbread Stuffing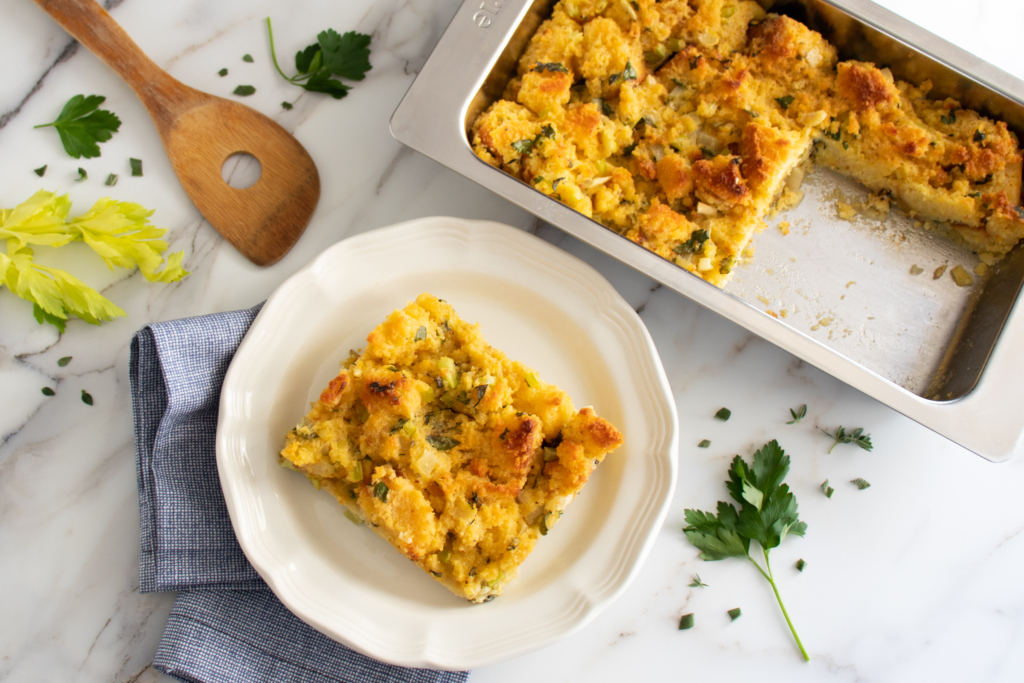 6) Pull-Apart Apple Pie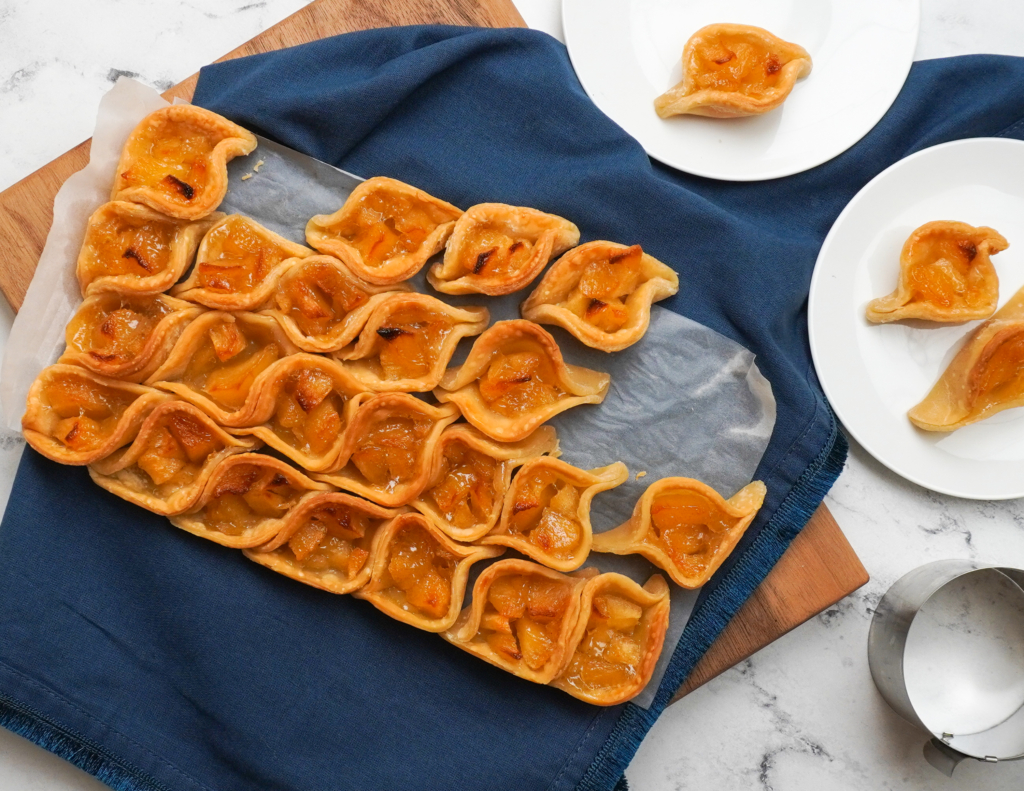 7) Thanksgiving Stuffing Two Ways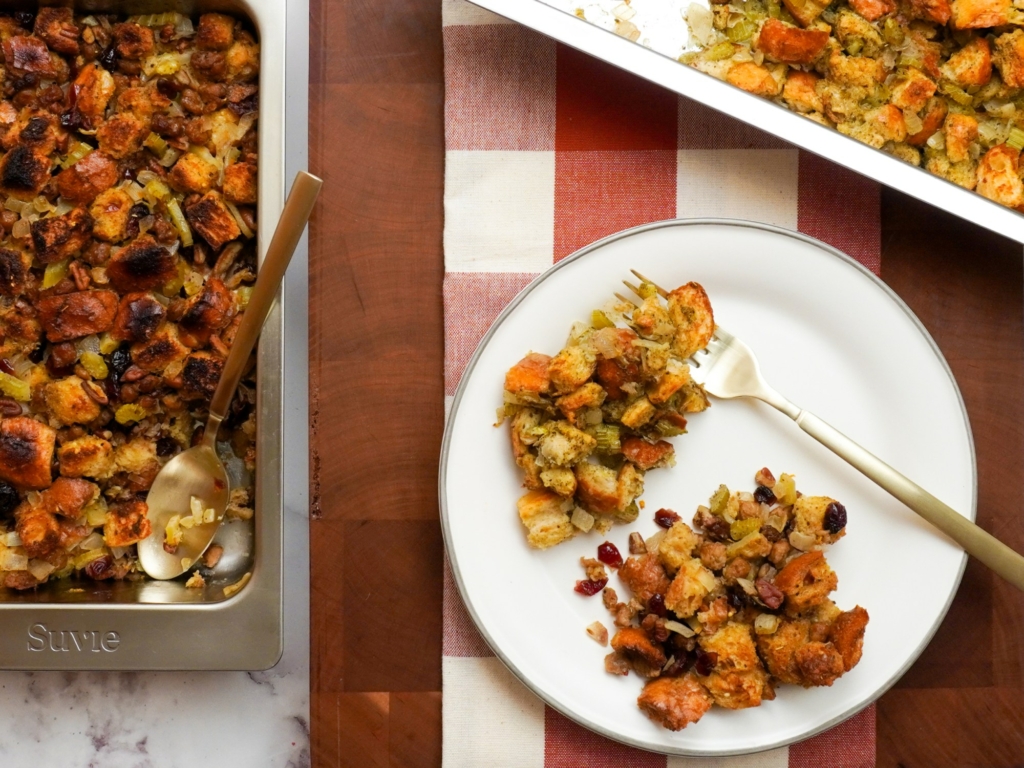 8) Best Baked Apples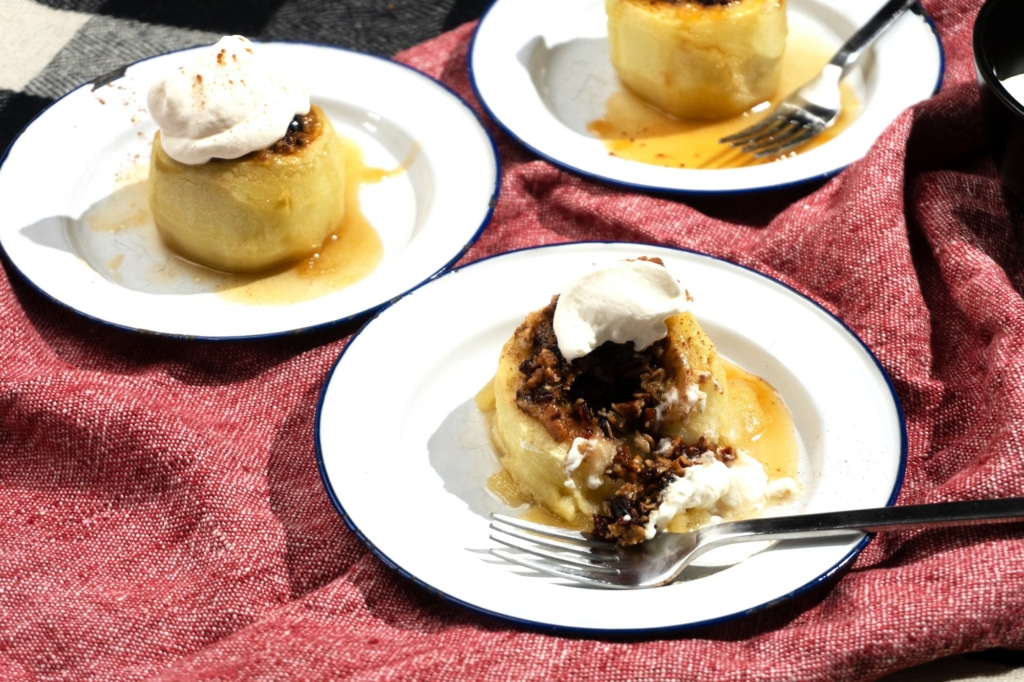 9) Six Showstopper Suvie Thanksgiving Recipes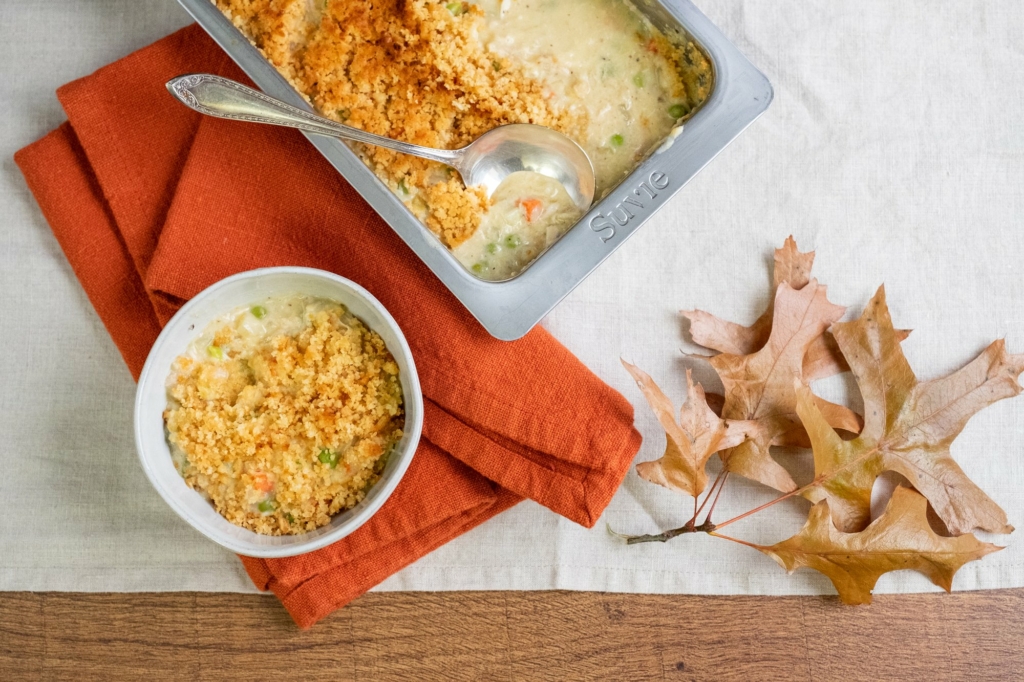 10) Slow Cook: Sausage, Apple, and Pecan Stuffing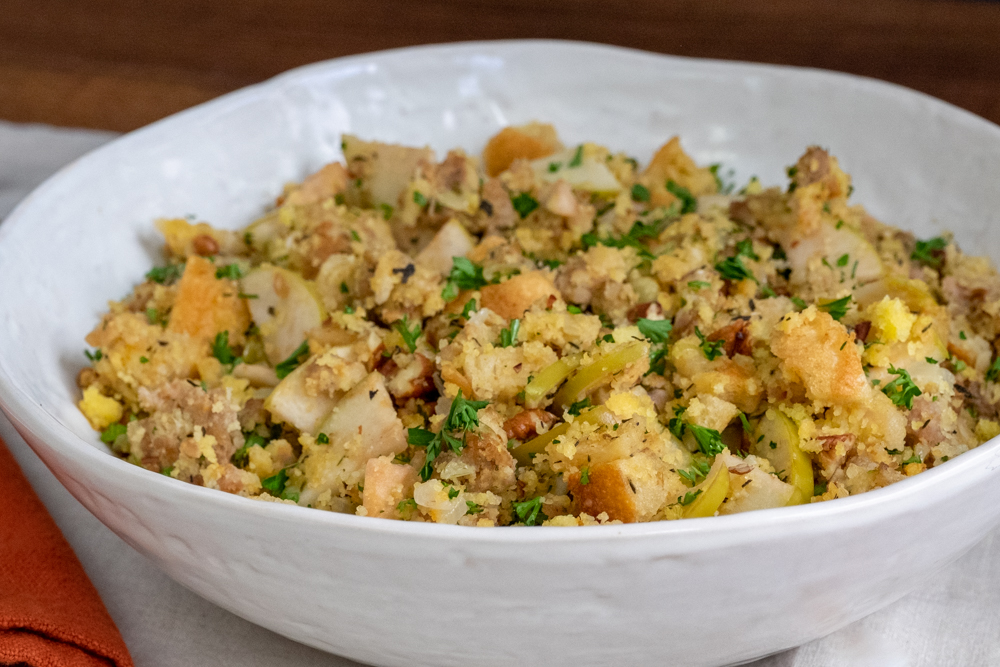 11) Three unusual ways to use Thanksgiving leftovers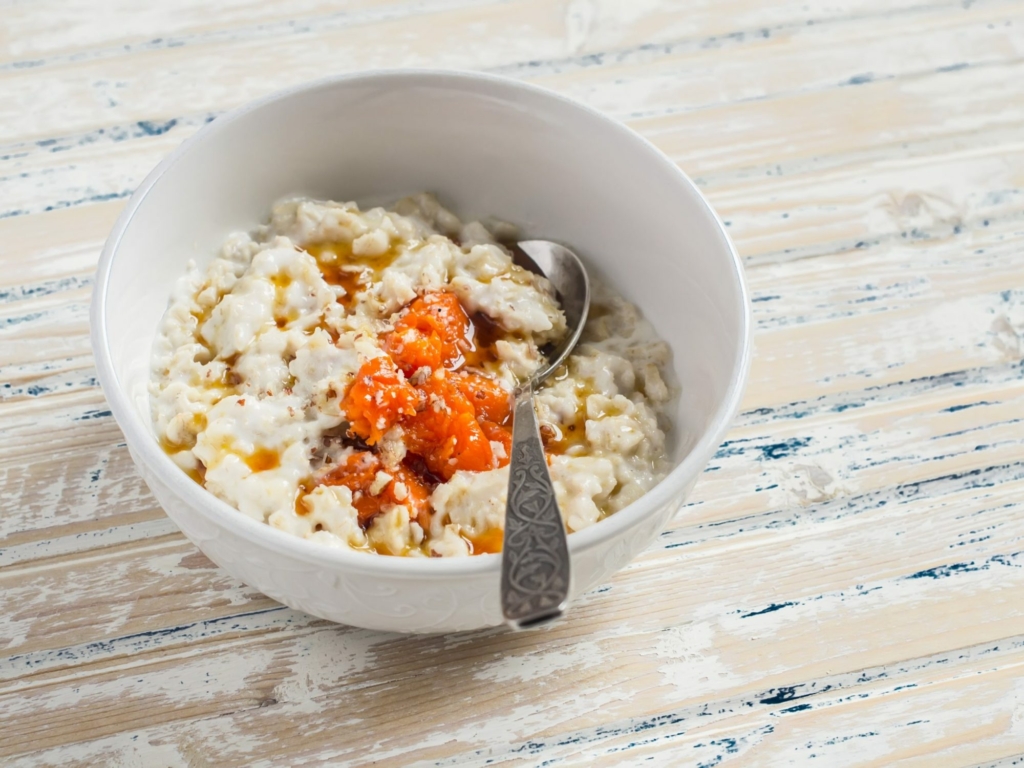 FAQs
I don't have a cinnamon stick, can I use ground cinnamon instead?
Yes you can substitute it with ½ tsp ground cinnamon.
Can I use any type of plastic bag?
You can, however, make sure that they are made from polyethylene. Some branded bags are made using polyethylene, a BPA and dioxin-free plastic that can safely handle sous vide cooking temperatures up to 190°F. Some generic branded plastic bags are made using cheaper polyvinyl chloride (PVC), which cannot handle high temps and contains chemicals that can leach into food.
Can I leave my cranberries in the water bath indefinitely?
You can, but it's best when it's removed after 1 hour; otherwise, the cranberries may not retain the texture.
The bag with the cranberries won't stay underwater; what do I do?
This is often a problem with certain proteins, fruit, and vegetables. There are a few ways to prevent the bag from floating at the top of the water bath. A layer of ping pong balls in the immersion bath will keep the food underwater. Alternatively, you can try and weigh down the bag with a couple of large metal serving spoons.