There are various ways to make the classic French dessert pot de crème, but using the sous vide method is the easiest and most fool-proof way to cook it. Once you've tested and tried it, you'll never go back to making them the traditional way!
The Benefits of Using the Sous Vide Method for Pot de Crème
The risk of making any custard is that it is very easy to overcook the eggs; sous vide provides accuracy and even cooking, so you don't have to worry that you will be serving pot de scrambled eggs! Once the custard mixture is combined and poured into jars, it only takes 1 hour in the water bath, then 2 to 3 hours to chill in the fridge. This method yields a firm, yet velvety texture.
Be Dinner Party-Ready with Make Ahead Pot de Crème
The bonus of using the sous-vide method for this is you can cook the jars and refrigerate two to three days in advance, so it's a perfect, super easy, stress-free dinner party dessert. It could even be a delectably delicious dessert for date night.
Other Flavorings You Could Add to Your Pot de Crème
You can level up your chocolate custard base with all kinds of interesting spices and flavorings such as cinnamon and a pinch of cayenne pepper for a Mexican chocolate-style custard, or for a Reese's Pieces flavor profile, stir in half a cup of peanut butter into the warm chocolate cream. Want to add a bit of freshness? Why not add a teaspoon of fresh orange zest to the custard? And for double-orange whammy, add a tablespoon or two of Grand Marnier into the whipped cream (brandy or bourbon would also be a delicious alternative).
Instead of topping your whipped cream with raspberries, you could top with chocolate-covered espresso beans or a pinch of flaky sea salt and chopped toasted nuts.
You could scrap the chocolate altogether and increase the vanilla extract if you wanted to make a vanilla custard pot de crème instead.
What is the Difference Between Chocolate Pot de Créme and Chocolate Mousse?
Although both are similar in flavor, pot de crème is a cooked custard that has a denser texture. Chocolate mousse is not usually cooked and has whipped egg whites, creating a lighter, fluffier texture caused by the air bubbles.
What to Do With Leftover Egg Whites
Once you've made your pot de crème you'll be left with some extra egg whites. Why not make an egg-white omelet? Or if you are feeling adventurous, why not make homemade nougat. Or, it's the perfect excuse to make a lemon meringue pie!
Temperature and cooking times for chocolate pot de crème
| | | |
| --- | --- | --- |
| Device | Temperature | Time |
| Suvie | 176°F | 1 hour |
| Immersion Circulator | 176°F | 1 hour |
Recipe for Sous Vide Pot de Crème
| | | | |
| --- | --- | --- | --- |
| Servings | Active Time | Preheat Time | Cook Time |
| 6 | 15 minutes | 30 to 45 minutes | 1 hour 5 minutes, plus 2 to 3 hours chilling |
Ingredients and Tools
Equipment
Suvie or immersion circulator
Large pot or sturdy container (if using an immersion circulator)
6 (8 oz) canning jars with lids or 12 (4 oz) jars for Suvie
Tongs
Chef's knife and cutting board or food processor
Whisk
Medium saucepan
Medium/large mixing bowl
Ingredients
2 bars (3.5 oz each) 70% dark chocolate, finely chopped
6 large eggs, at room temperature
3 ¾ cups heavy cream, divided
1 tbsp instant espresso powder
6 ½ tbsp granulated sugar, divided
2 tsp vanilla extract, divided
1 cup fresh raspberries for serving
Directions
1) If you're using a sous vide immersion circulator, pre-heat your water bath to 176°F. This can take up to 45 minutes to get to temperature.
2) Separate the egg yolks from the whites, adding the yolks to a large bowl; (save the egg whites for another use).
3) In a medium saucepan, warm 3 cups heavy cream over medium heat until bubbles start to form at the edge, about 2 to 3 minutes. Turn off the heat and whisk in 2 bars chopped chocolate and 1 tbsp instant espresso coffee powder until fully combined. Remove from heat and set aside.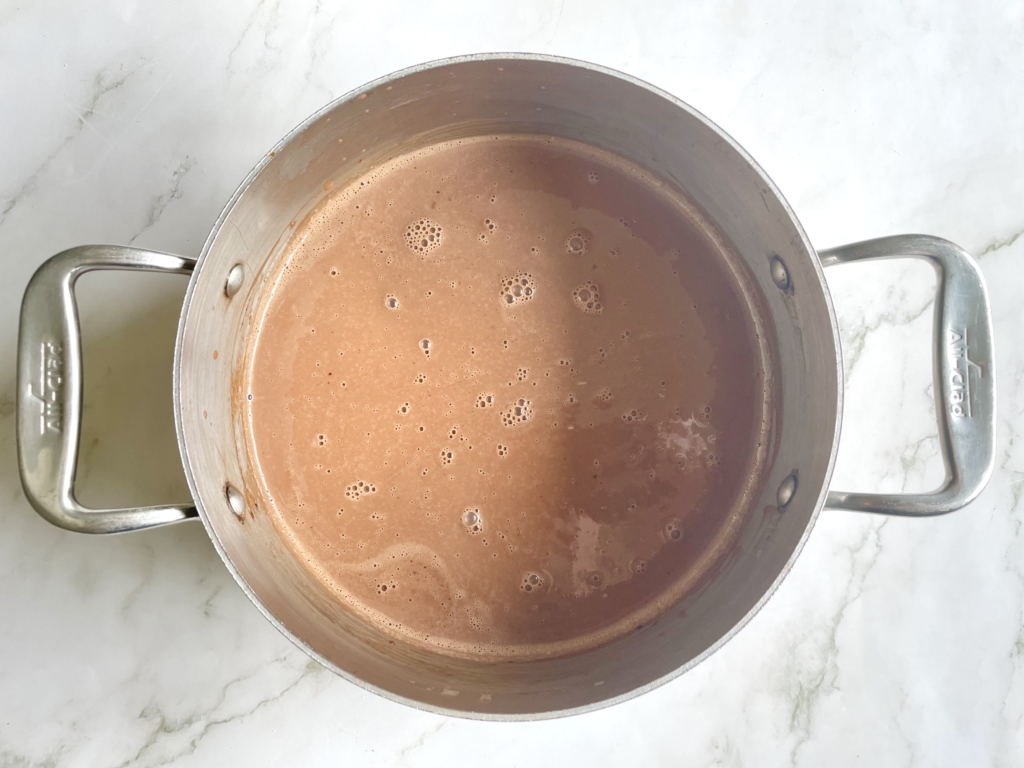 4) Add 6 tbsp granulated sugar, 1 tsp vanilla extract, and 1/4 tsp kosher salt to the bowl with the egg yolks, whisking to combine.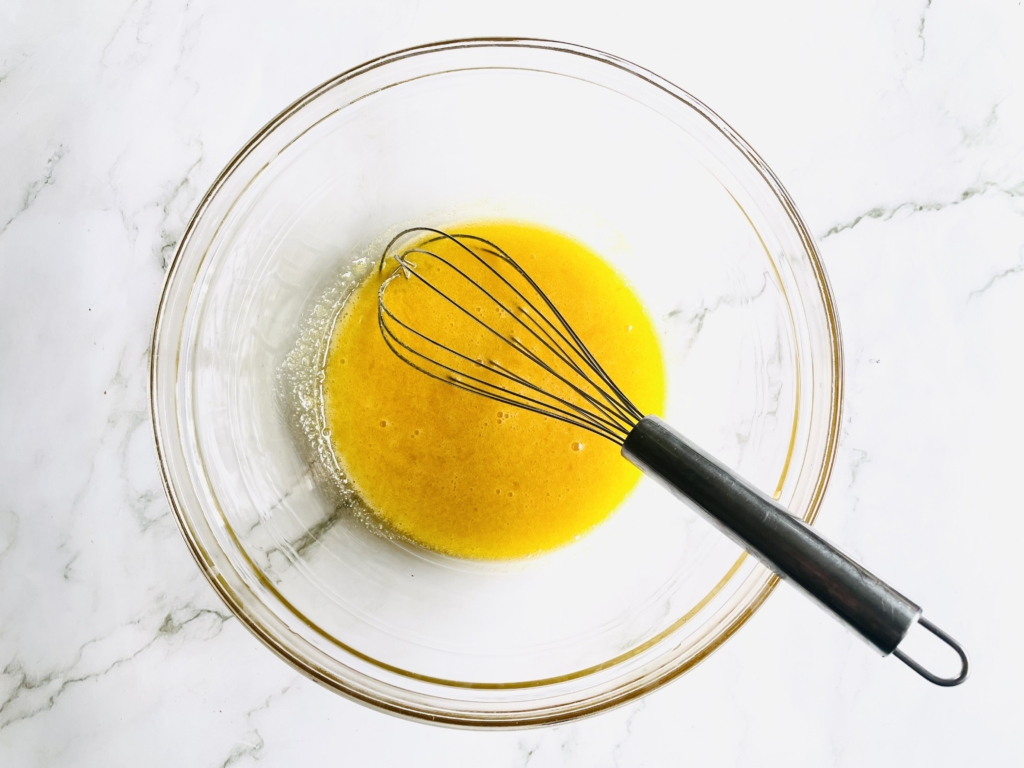 5) Spoon 1 cup of warm chocolate cream into the egg yolk mixture, whisking until combined to temper the yolks (this step ensures the eggs do not curdle).
6) Pour the tempered egg mixture into the saucepan with the chocolate cream and whisk to combine. Transfer to a large measuring cup with a pourable spout.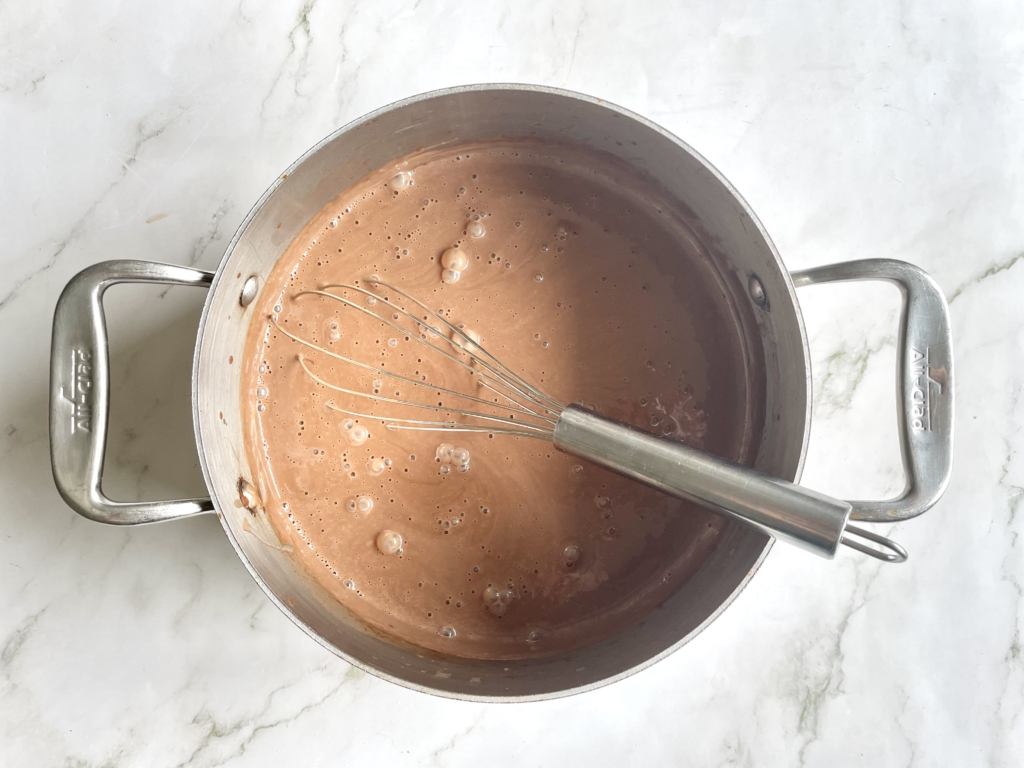 7) Divide the mixture between 6 (8 oz) canning jars (around 6 oz per jar), making sure you leave about a ¾-inch gap at the top. Do not fill to the top. Screw on the lids so they are closed tight enough so they will not leak, but not overly tight.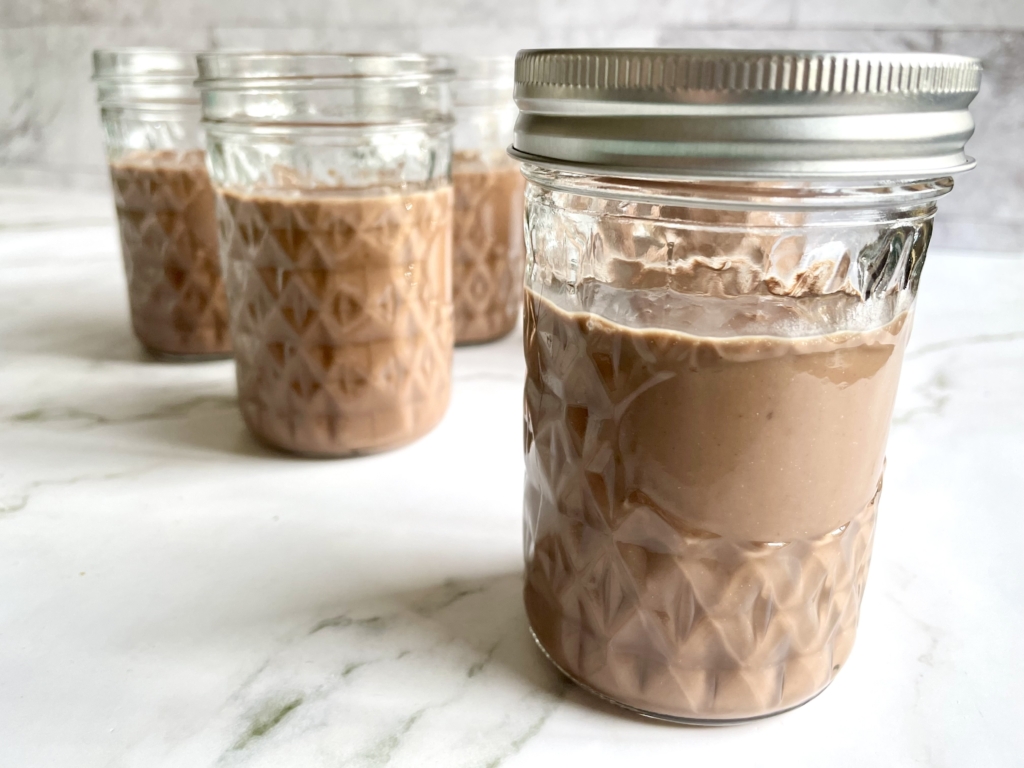 8) Using tongs, carefully lower the jars into the heated water bath, so they are submerged, and cook for 1 hour (if the temperature drops as soon as you put them in, time 1 hour from when it reaches back to 176°F again).
If you are using your Suvie, fill 12 (4 oz) jars with the chocolate mixture as described in step 8. Divide the jars between two Suvie pans and cover entirely with water. Insert pans into your Suvie and input the following settings.
Suvie Cook Settings
Bottom Zone: Sous Vide at 176°F for 1 hour
9) Meanwhile, whisk remaining ¾ cup heavy cream, ½ tbsp granulated sugar, 1 teaspoon vanilla extract, and a large pinch of kosher salt until soft peaks have formed. Transfer to the fridge until ready to serve.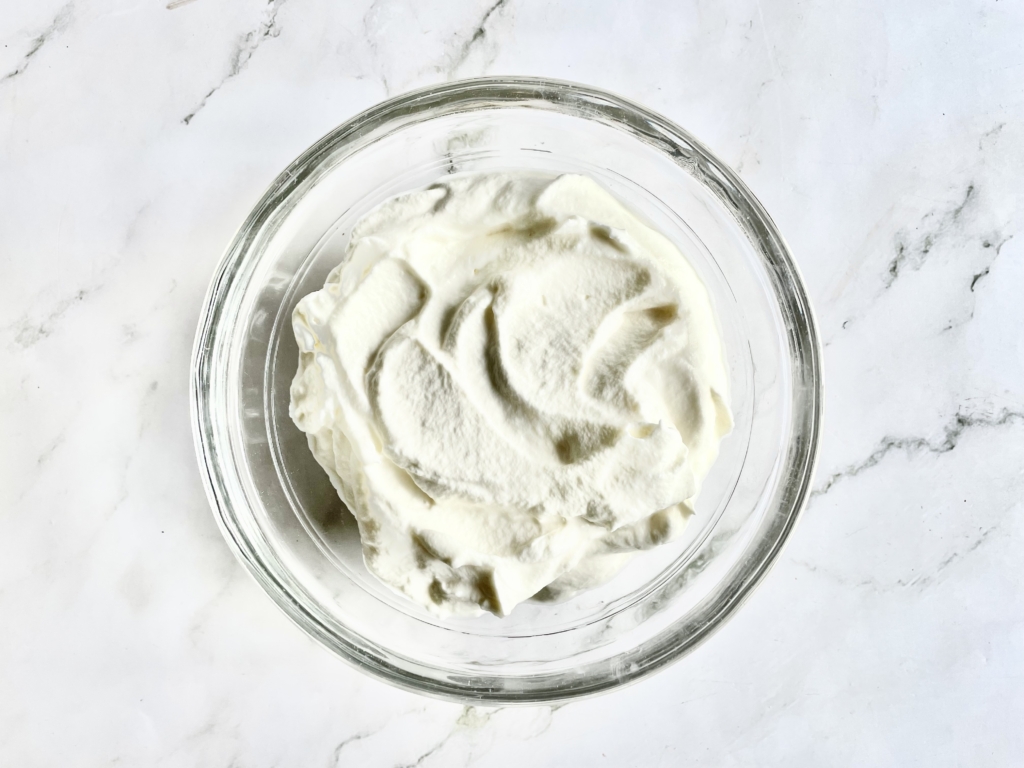 10) When the cook time is up, using tongs, carefully remove the jars from the water bath, transfer to a baking sheet lined with a dishtowel. Allow to cool for 15 minutes, then transfer to the fridge for at least 2 to 3 hours to thoroughly chill and set (or they can be held up to 2 or 3 days until ready to serve, adding the whipped cream just before serving).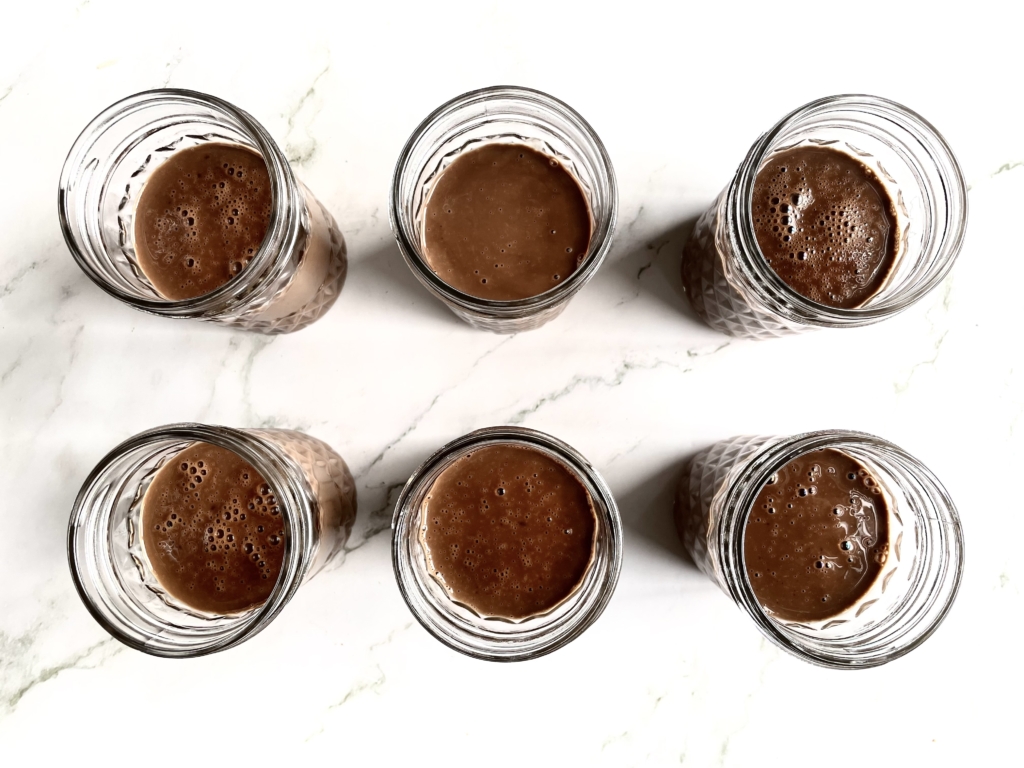 11) When ready to serve, remove lids, and top with a dollop of whipped cream and 1 or 2 fresh raspberries.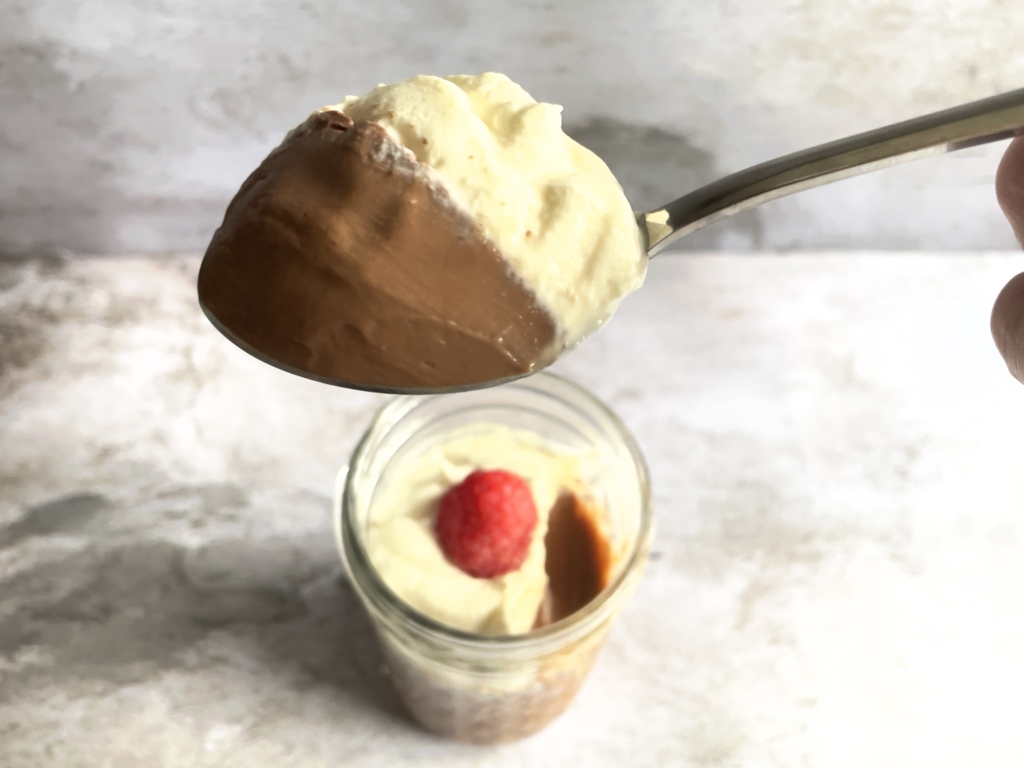 RECIPES TO TRY:
Crema Catalana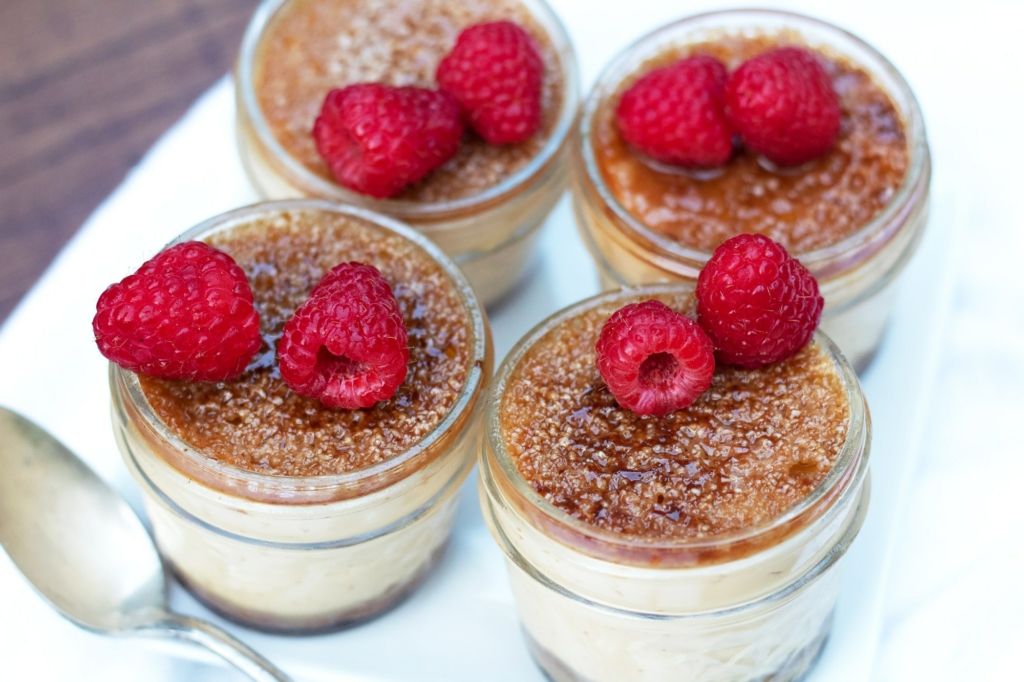 Eggnog Custard Jars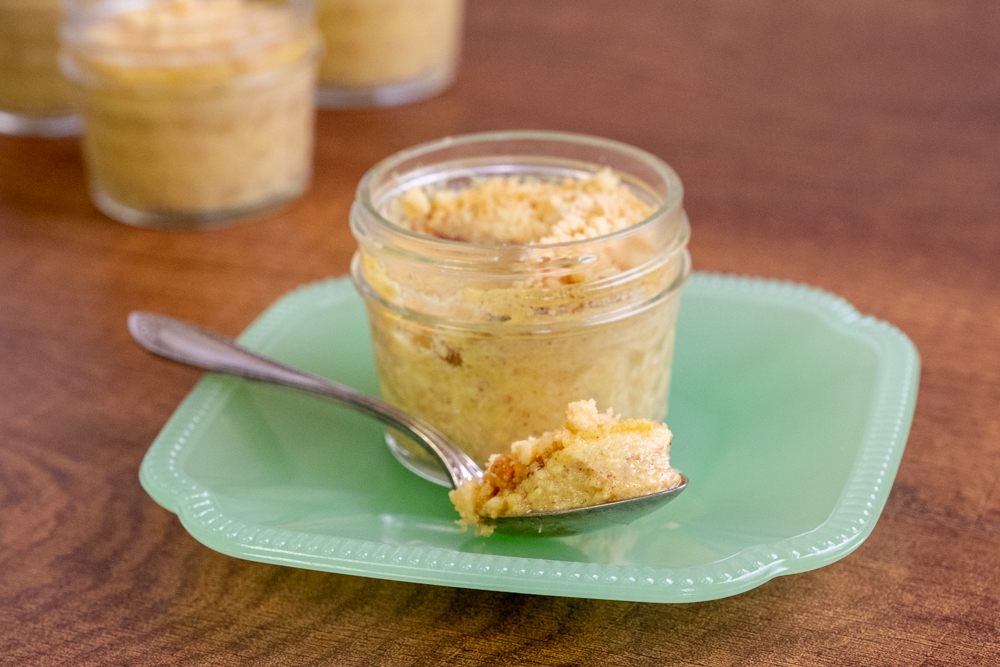 How to Sous Vide Eggs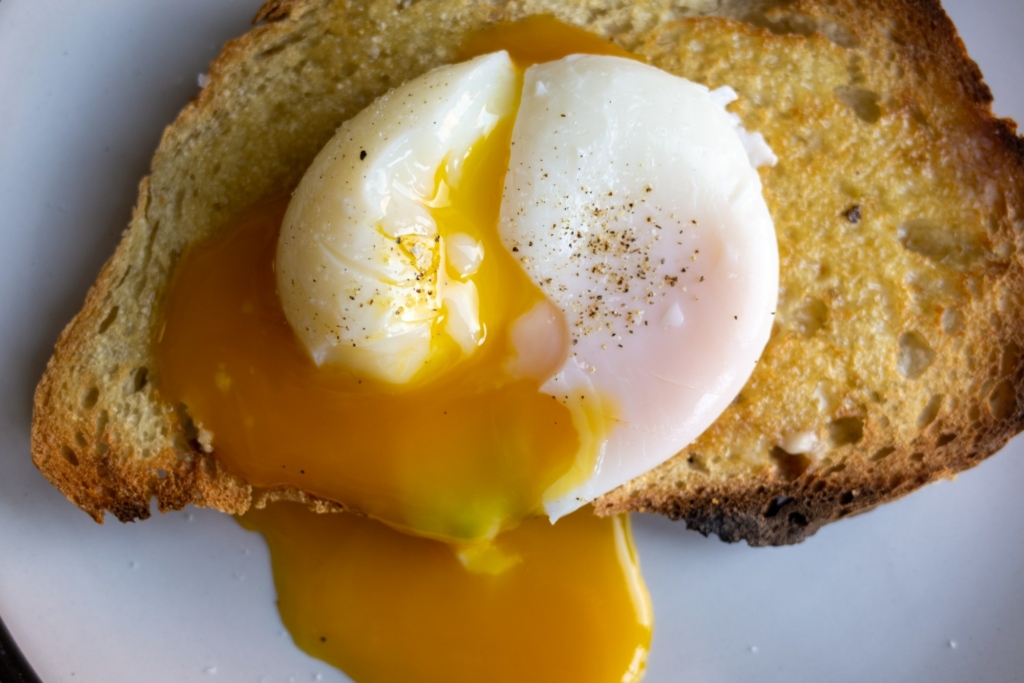 Suvie Desserts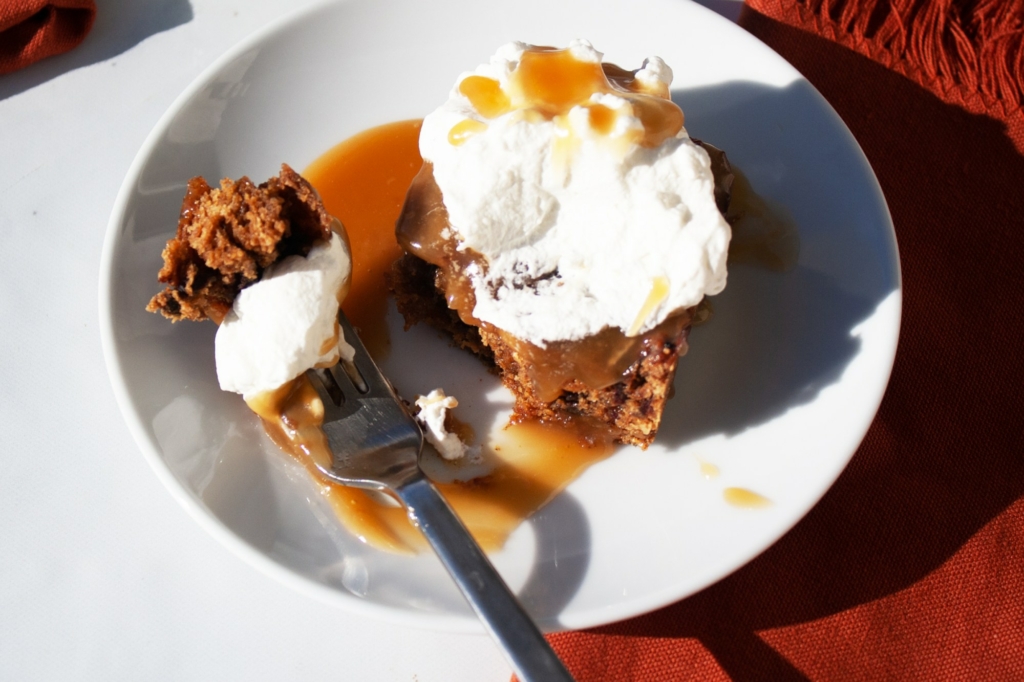 Flan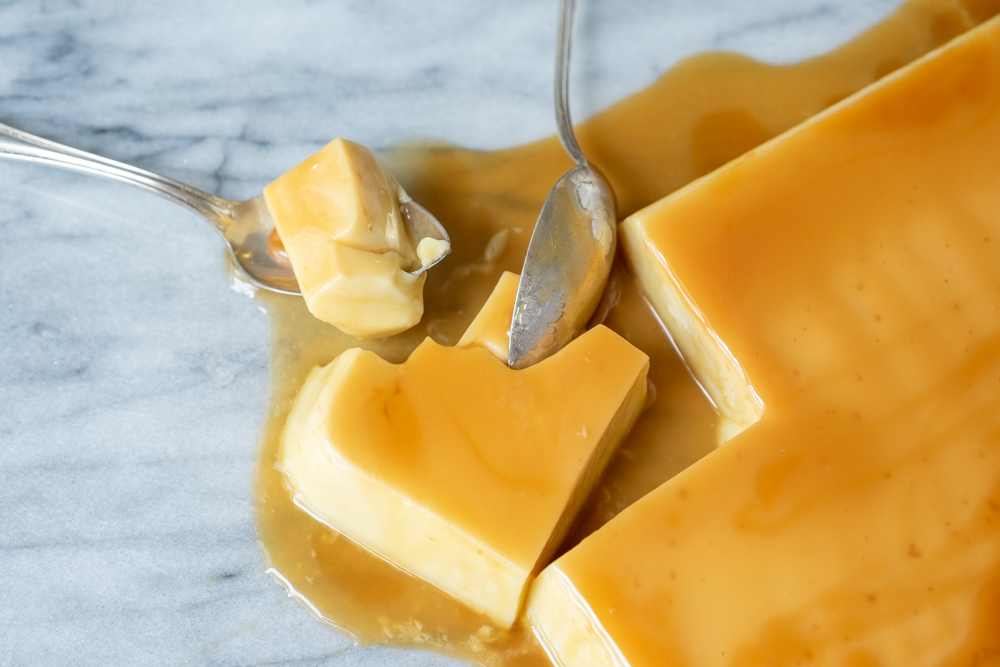 4 Date Night Delights from Suvie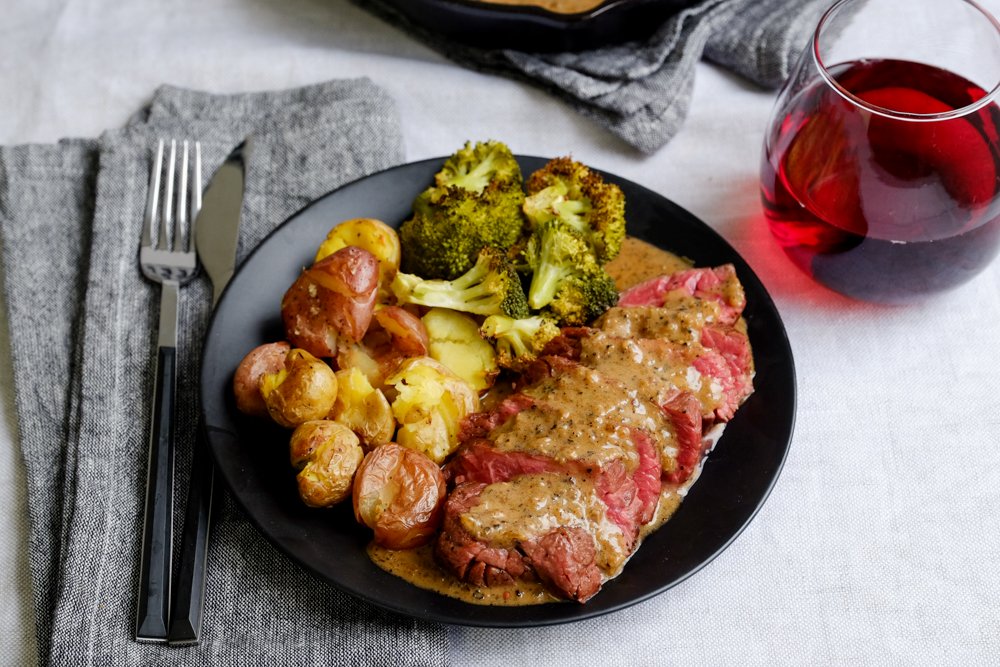 FAQs
How do I know my pot de creme is cooked?
The good thing about the sous vide is that you can be confident that it will be perfectly cooked throughout. To visually see if it is cooked when it first comes out of the water bath and you take the lid off, the custard will be firmer around the edges, but it will wobble in the center if you shake the jar. It will firm up further once it's chilled in the fridge.
Why bother with sous vide when I can just make custard on the stovetop?
Two words: precision and accuracy. Using the sous vide method takes away any guesswork and allows you to cook the custard perfectly without the fear of over-cooking the eggs. It's advantageous if you are preparing for a dinner party as you can do this 2 to 3 days in advance and refrigerate until you are ready to serve.
Can I leave my pots de crème in the water bath once the cook is finished?
We don't recommend it. Our tests have shown that eggs react to longer cook times at a faster rate, so we recommend you remove them from your Suvie, or sous vide as soon as they are done.
How long will my pots de crème keep in the fridge?
If stored in the canning jars, the cooked pots de crème will last for 2 to 3 days in the refrigerator.