As the saying goes, "good things come to those who wait,"  which is entirely valid when it comes to sous vide pulled pork. To make the juiciest pulled pork, it works best to cook it for an extended amount of time at a slightly higher temperature than the standard 145°F to lock in the moisture and make the meat tender.
Temperature and cooking times for pulled pork
| | | |
| --- | --- | --- |
| Device | Temperature | Time |
| Suvie | 180°F | 3 hours |
| Immersion Circulator | 165°F | 18 to 20 hours |
The meat is massaged with a dry rub spice blend and a dash of liquid smoke before sealing the bag, which locks in a deep, smoky flavor.  You can find dry rub blends in the spice section in the grocery store, or you can make your own with what you'll most likely have in your spice rack —personalizing it depending on your taste or spice tolerance. Click here for a selection of our Southern dry rub recipes.

To create a bark-like crust that a pitmaster would be proud of, you can finish off the pork by roasting it in a hot oven or broiling it in your Suvie, but adding this process is unnecessary if you just want melt-in-the-mouth, unctuous pulled pork with no crunch.

You can toss the meat in BBQ sauce and serve in a sandwich, like below. Or use the pulled pork for tacos, salads, soups, stews, or serve alongside fried eggs for a breakfast of champions.

You can refrigerate any leftover pulled pork in an airtight container or resealable bag for 3 to 4 days in the refrigerator or 2 to 3 months in the freezer.
How to Sous Vide Pulled Pork
Please always check your food to ensure your food has been cooked to safe serving temperatures. Please see our guide
here
for recommended FDA Time & Temperatures.
Servings: 6 to 8
Difficulty: 18 to 21 hours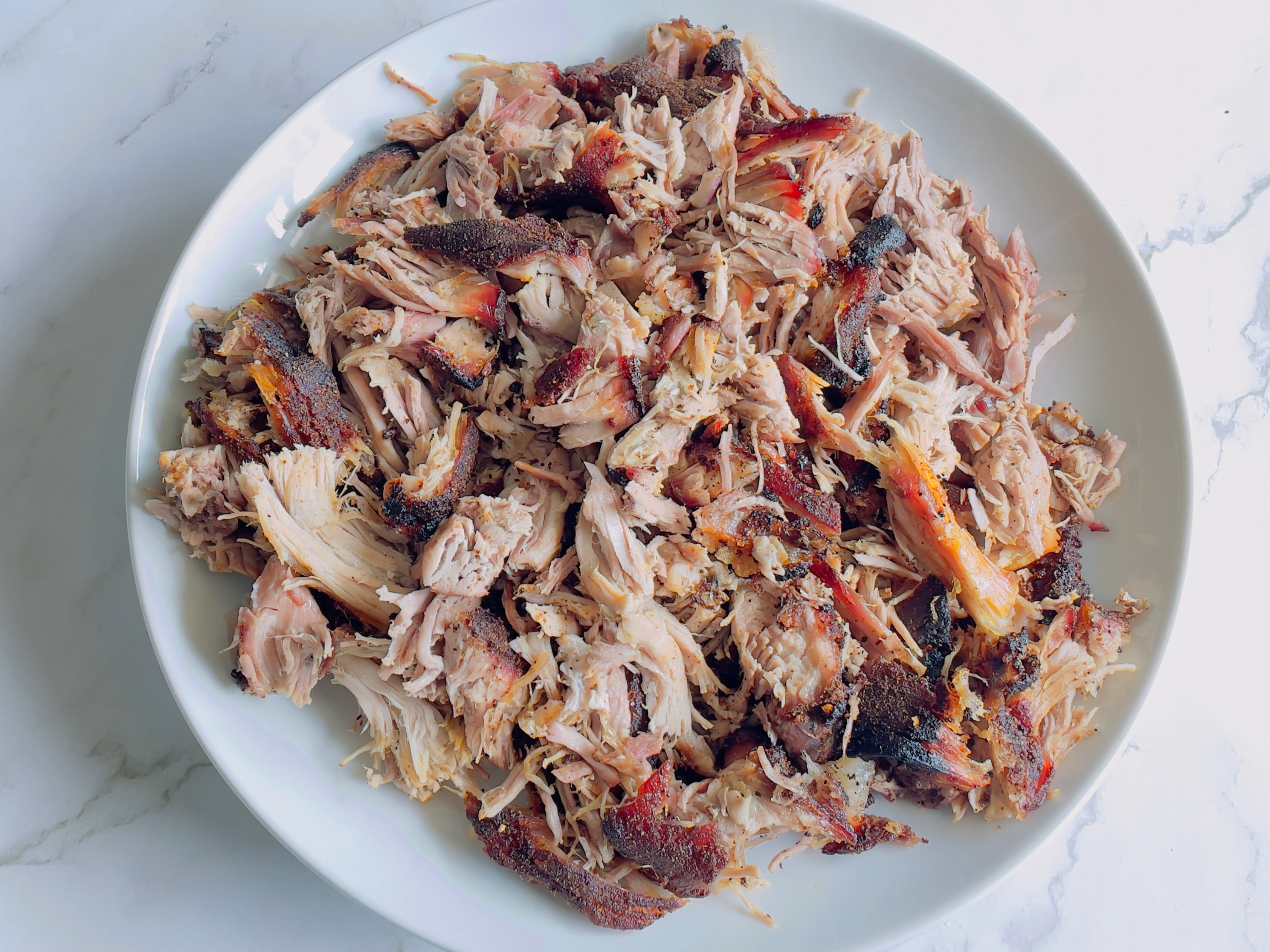 Ingredients and Tools
Equipment
Suvie or immersion circulator
Large pot or sturdy container (if using an immersion circulator)
Vacuum sealer bags or freezer-safe resealable bags
Rimmed sheet-pan with rack (if finishing in oven)
Cutting board, chef's knife, and 2 forks
Ingredients
1 (boneless or bone-in) half pork shoulder (about 3 lb to 5 lb total)
1/2 cup dry rub spice blend, divided (store-bought, or click here for recipes)
1 tsp liquid smoke
Directions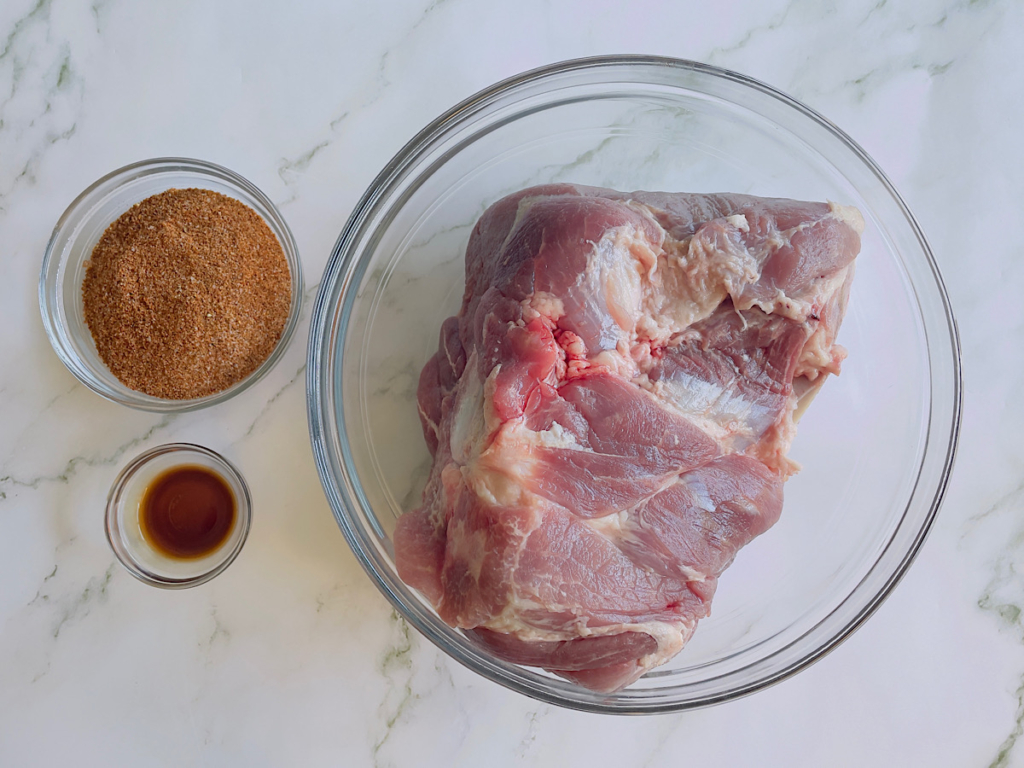 1) If you're using a sous vide immersion circulator, pre-heat your water bath to 165°F.

2) Remove any skin and trim excess fat from the pork; dry with paper towels to remove moisture. If using Suvie, cut pork into 2-inch pieces to better fit in the Suvie. Massage ¼ cup dry rub all over the pork shoulder.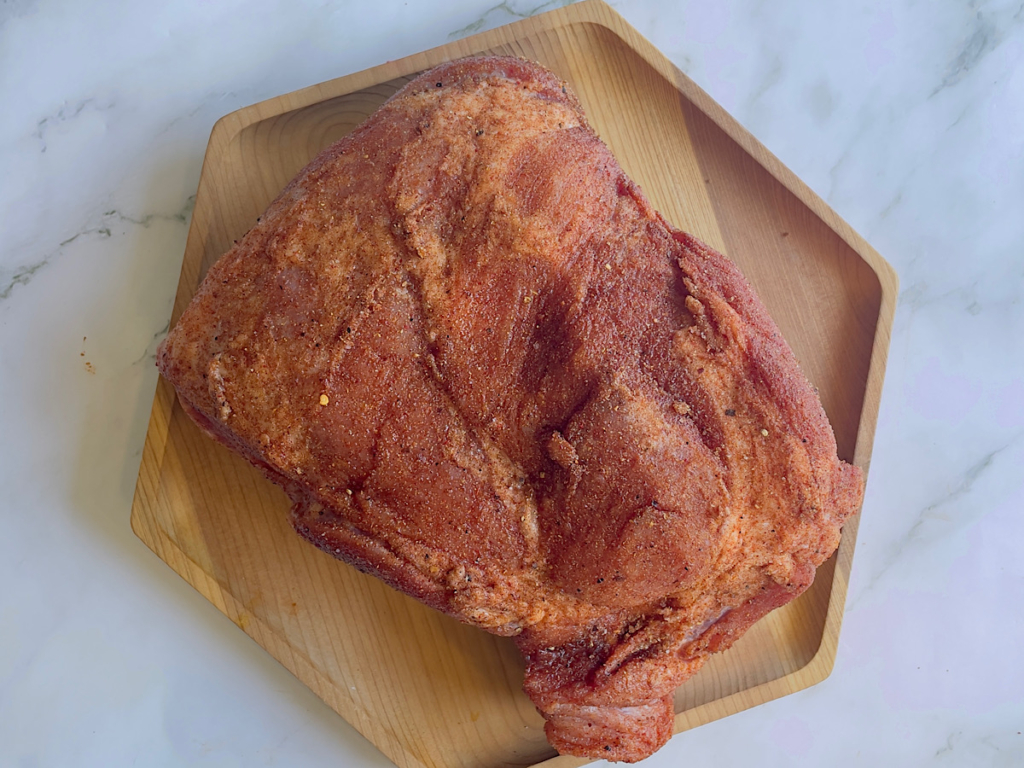 3) Place pork in a vacuum bag or resealable bag, add 1 tsp Liquid Smoke, and seal bag. If you're using a resealable bag, use the water displacement method to seal.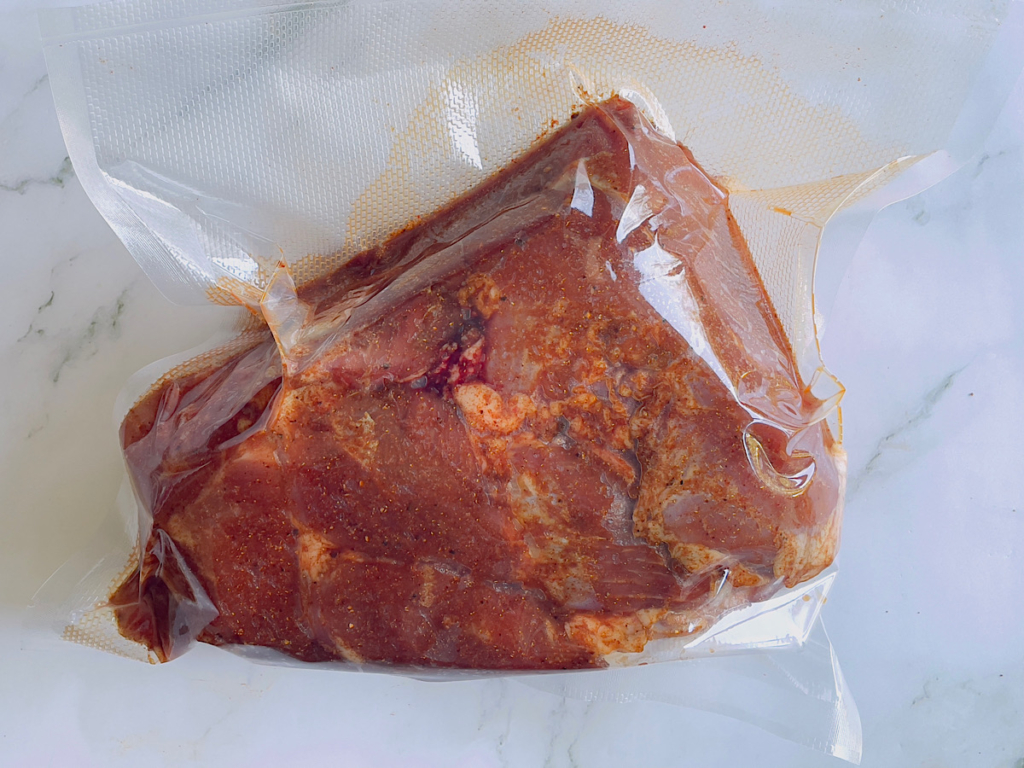 4) Lower the bag into the water bath and cook. Cover the water bath with foil, cling wrap, or a layer of ping pong balls, to avoid the water evaporating during the long cook time.

If you are using Suvie, place the bag into a Suvie pan and cover entirely with water. Insert pan into the top or bottom of your Suvie.
Suvie Cook Settings
Bottom Zone: Sous Vide at 180°F for 3 hours
Top Zone: Sous Vide at 180°F for 3 hours
5) Once the cook is finished, remove the bag from your Suvie or water bath. You may like to reserve ¾ cup of the cooking liquid to stir into the pulled pork at the end (optional). Pat meat dry with paper towels and season all over with the remaining
¼ cup dry rub.
6) If you wish to create a delicious crust, you can either finish the pork off in the oven or broil it in Suvie: (If you prefer to not create a crust, please skip to Step 7)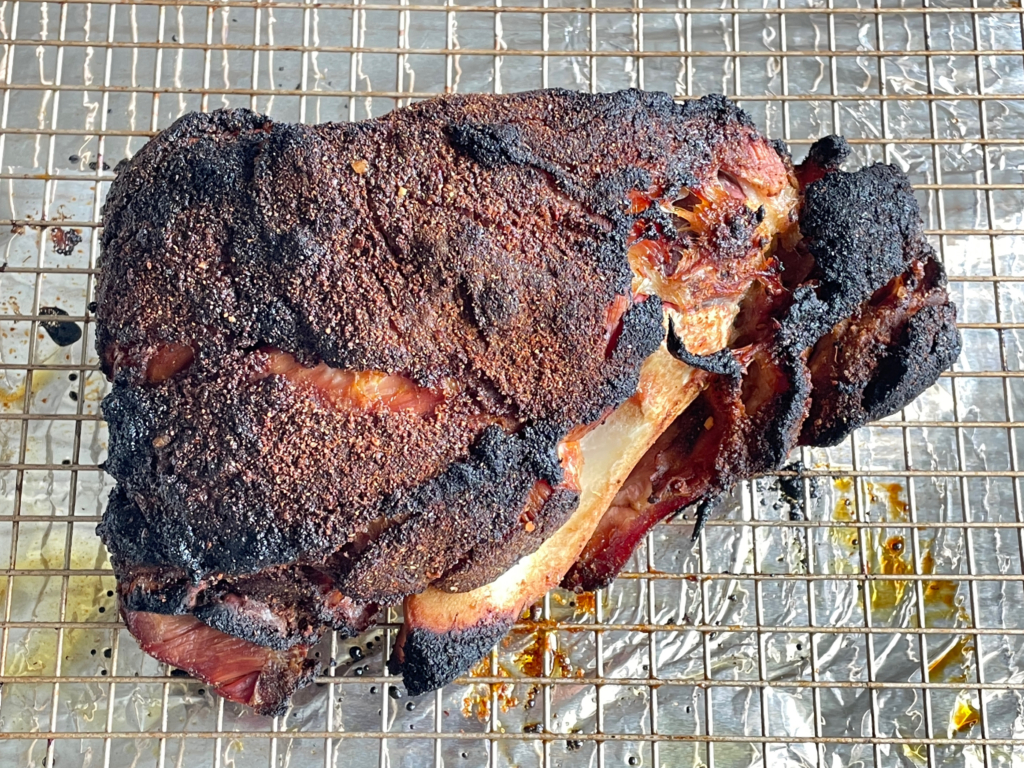 Oven: Position a rack in the middle of the oven; preheat to 450°F. Place the seasoned meat on a foil-lined rimmed baking sheet with a wire rack set inside it. Roast the pork in the top of the oven for about 1 hour, or until a dark crust has formed and is charred in spots.
Suvie: Divide pork between two clean, dry Suvie pans and insert into your Suvie. Broil both pans for 10 minutes, stirring halfway through until pork is well browned and fragrant.
7) Transfer pork to a cutting board, using two forks shred pork into bite-size pieces; you may need to use a chef's knife if you have a thick crust. Discard bone (if you used a bone-in pork shoulder) and reserve to use for stocks or bone broth.
If you reserved ¾ cup cooking liquid, you may stir it into the pulled pork at this stage.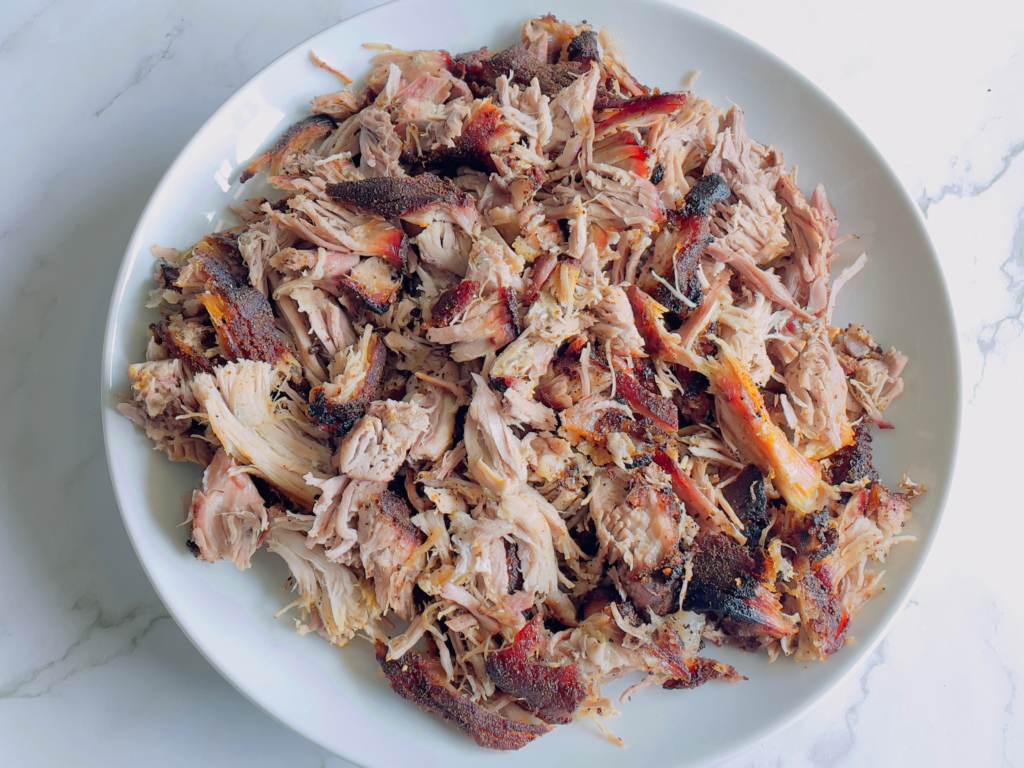 Pulled Pork Sandwiches
Pulled Pork Sandwiches
Please always check your food to ensure your food has been cooked to safe serving temperatures. Please see our guide
here
for recommended FDA Time & Temperatures.
Servings: 4
Difficulty: 5-15 minutes
Ingredients
3 cups pulled pork
¾ cup BBQ sauce
4 brioche buns
2 tbsp softened butter
1 cup creamy coleslaw
½ cup pickled red onions (optional)
12 hamburger dill pickle chips
Directions
1) In a large bowl, mix 3 cups pulled pork with ¾ cup BBQ sauce and toss to coat.
Transfer to your Suvie and bake at 300°F for 10 minutes to reheat, or transfer to a small saucepan, and stir over medium heat for about 2 minutes until warmed through.

2) Heat a large non-stick skillet or griddle over medium heat. Lightly butter the insides of the brioche buns. Place bun halves face down on the skillet and toast for 30 seconds to 1 minute until golden. You may have to do this step in 2 batches. Alternatively, broil split buns in your Suvie for 2-3 minutes until golden brown.

3) Divide the pulled pork between the 4 toasted bun bottoms. Top each serving of pork with ¼ cup coleslaw, 1 tbsp pickled onions (if using), and 3 hamburger pickles. Finish with bun top. Serve —and enjoy the praise!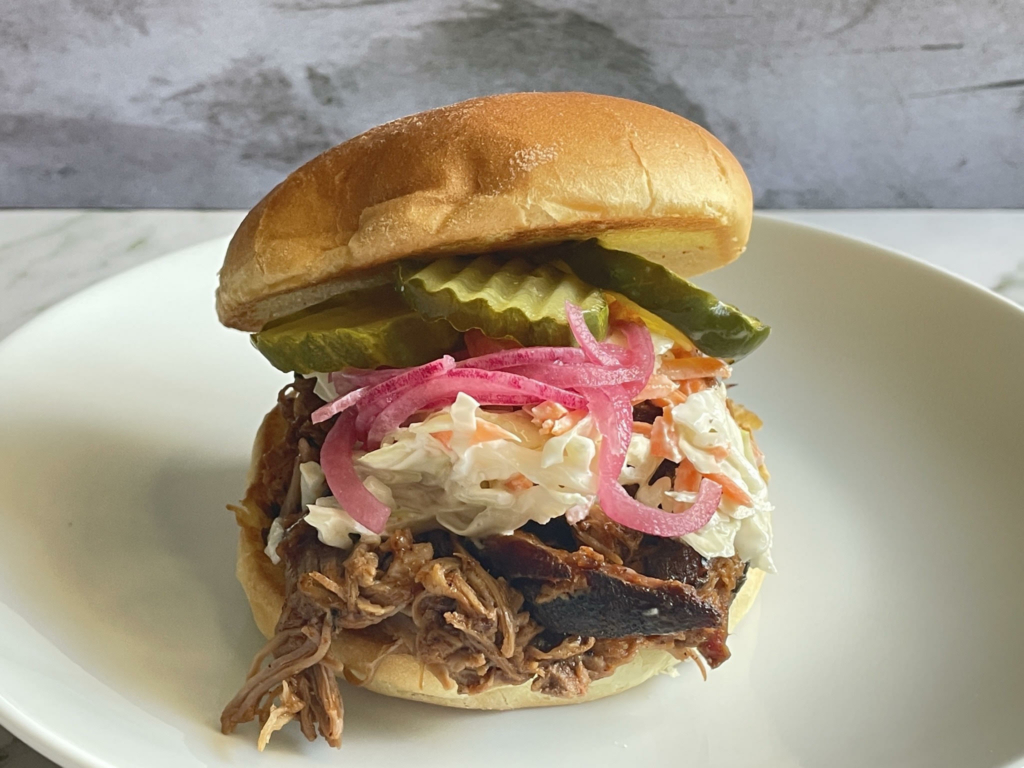 Nutrition
Nutritional Information per serving (4 servings per recipe): Calories 510, Total Fat 19g, Total Carbohydrates 57g, Total Sodium 1420mg, Total Protein 22g,
Other Pulled Pork Recipes to Try
East Carolina Pulled Pork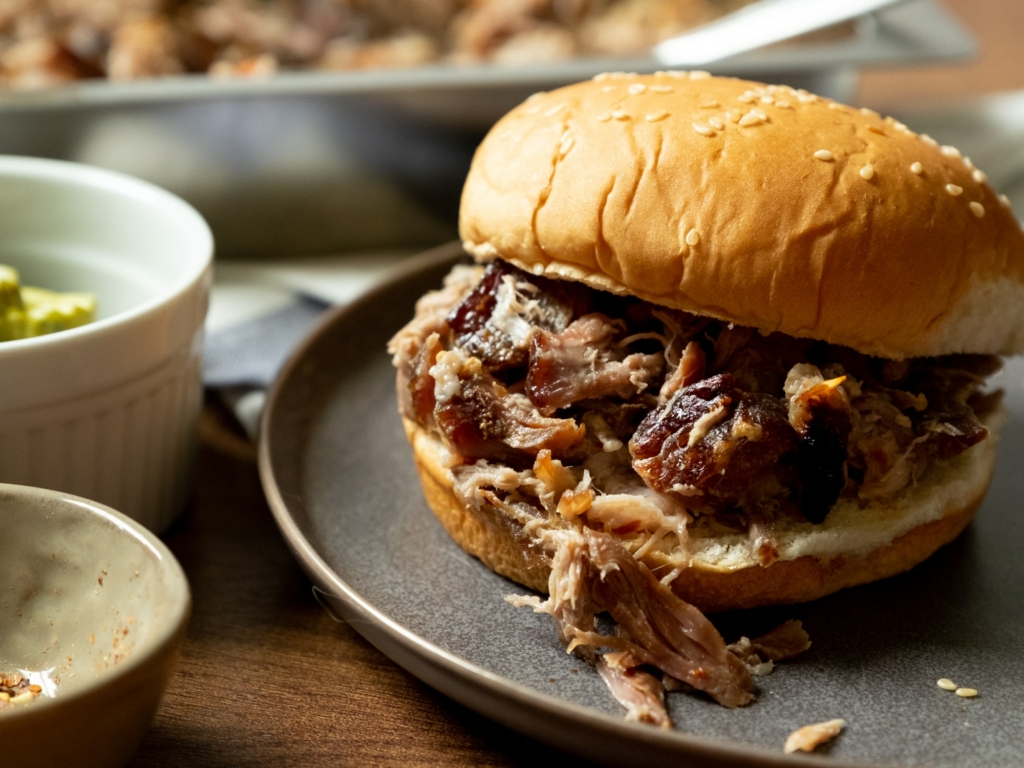 Pulled Pork with Beans and Coleslaw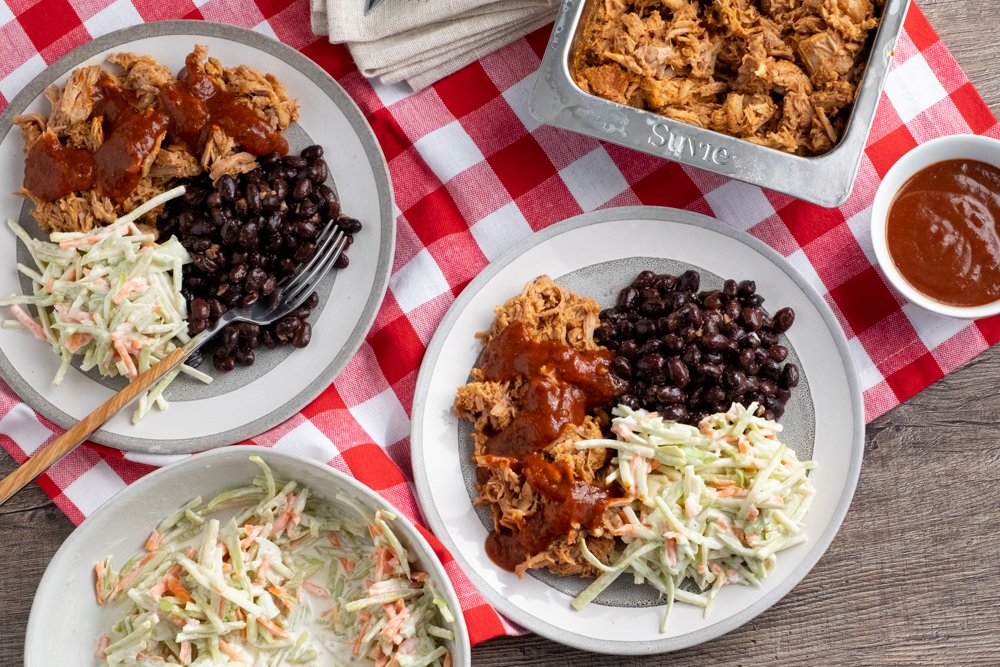 Cider-Braised Pulled Pork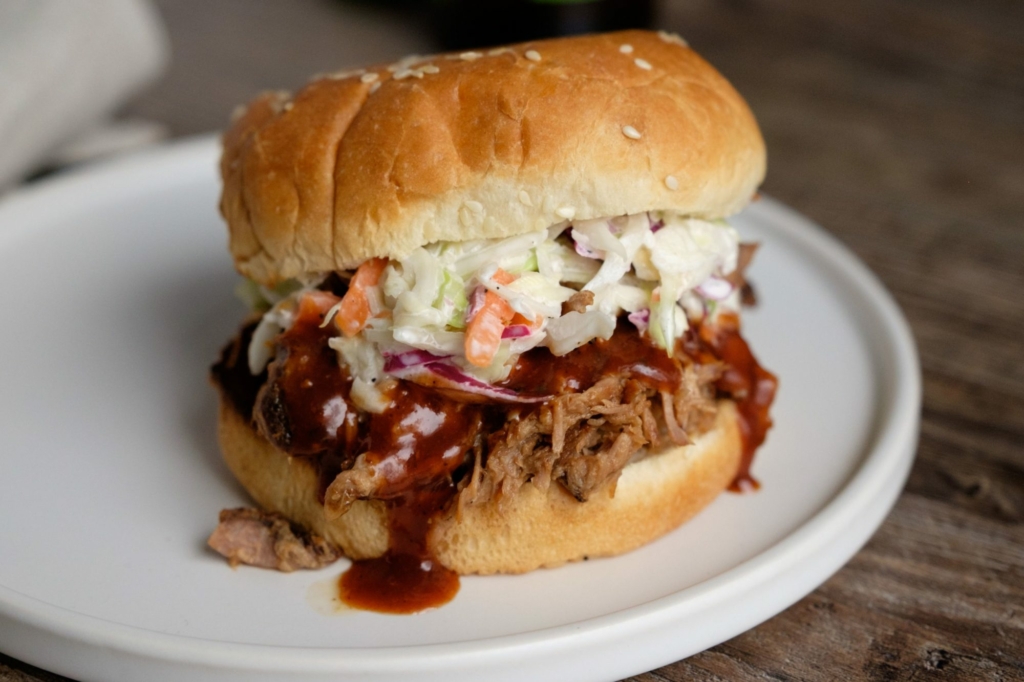 Brunswick Stew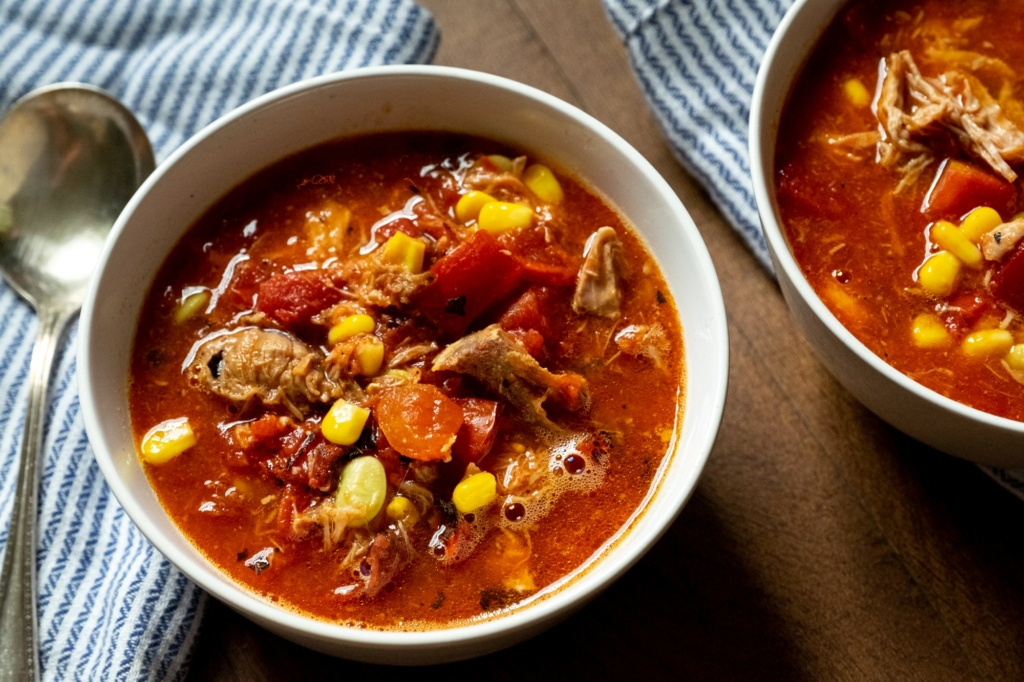 FAQs
Can I use any type of plastic bag?
You can, however, make sure that they are made from polyethylene. Brand name resealable bags are made using polyethylene which is a BPA and dioxin-free plastic that can safely handle sous vide cooking temperatures up to 190°F. Some generic branded plastic bags are made using cheaper polyvinyl chloride (PVC), which cannot handle high temps and contains chemicals that can leach into food.
Can I leave my pork in the water bath indefinitely?
You can, but you shouldn't. While leaving pork in sous vide for extended periods won't result in overcooking, it may affect the overall texture of the meat.
Can I finish off the pork shoulder on the grill?
You can finish on the grill to create the crust, but as the meat will be very tender, it runs the risk of falling apart or falling into the grates, so using Suvie or the oven is recommended to finish off creating the crust.