Kerala is a state in the southwestern portion of India known for its spice trade, which dates back thousands of years. Located on the coast, Kerala's cuisine is also rich in seafood. Our recipe for Kerala fish curry exemplifies these two facets of Kerala: its historic spice trade and its seafood-rich cuisine. An aromatic blend of onion, garlic, and serrano chili provides the backbone for this dish, which is enhanced with mustard seeds, curry powder, tomatoes, and coconut milk. The fish is sous vide separately to ensure it is cooked perfectly. We are serving our flavorful fish curry with green beans and basmati rice for a well-rounded and delicious dinner. Note: As written, this recipe is made from start to finish without scheduling, but we have included instructions at the bottom if you want to schedule this meal ahead of time.
*Note: do not add water to reservoir before broil*
Kerala Fish Curry
Please always check your food to ensure your food has been cooked to safe serving temperatures. Please see our guide
here
for recommended FDA Time & Temperatures.
Servings: 4
Difficulty: 2 hours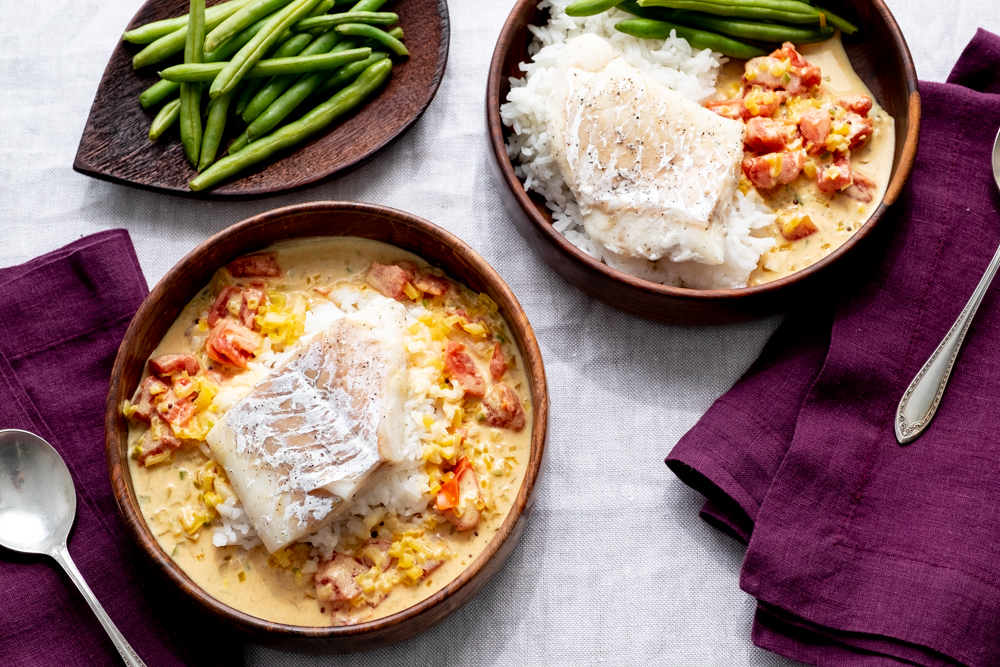 Ingredients
4 (5 oz) cod fillets
1 1/2 cups basmati rice
12 oz green beans
1 small yellow onion
2 garlic cloves
1 serrano chili, or small jalapeno
1 tbsp vegetable oil, plus 4 tsp, divided
1 tsp mustard seeds
1 tbsp curry powder
4 Roma tomatoes or 1 (14.5 oz) can diced tomatoes, drained
13.5 oz can coconut milk
1 tbsp apple cider vinegar
Directions
Peel and finely dice the onion. Mince the garlic. Remove the stem, core and seeds from the serrano chili, and then finely dice. Alternatively, toss onion, garlic, and serrano chili in a food processor and pulse until finely chopped, just be sure to cut the onion into large pieces first.
Stir together 1 tbsp vegetable oil, mustard seeds, curry powder, chopped onion, minced garlic, chopped serrano chili, and ½ tsp salt in a Suvie pan.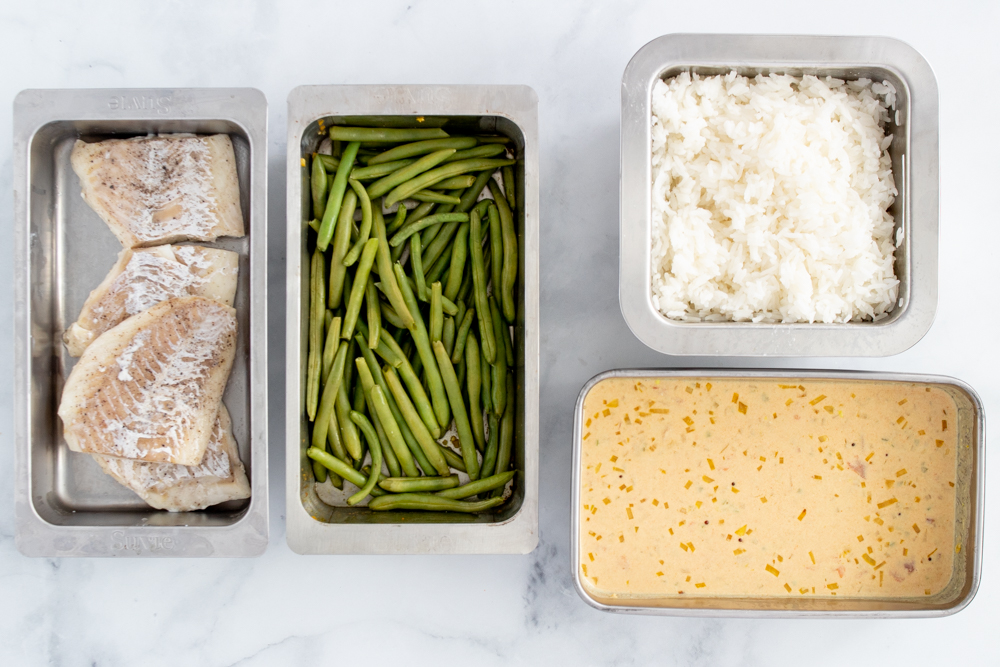 *Do not add water to reservoir before broil* Place pan in upper left zone of your Suvie and broil for 10 minutes, stirring halfway through cooking. Carefully remove pan and transfer vegetables to Suvie sauce pan. Pour coconut milk, drained tomatoes, and cider vinegar over the vegetables and place in the lower left zone of your Suvie.
Pat cod fillets dry and season with salt and pepper. Vacuum seal fillets individually or in pairs with 1 tsp vegetable oil per fillet. Place fish in protein pan and cover with water. Insert into the upper right zone of your Suvie. Place rice and ¼ tsp salt in starch pan and place in the lower right zone of your Suvie. Place green beans in empty Suvie vegetable pan and insert into the upper left zone of your Suvie. Enter the My Cook settings and set to cook.
My Cook Settings
Protein: 130°F for 30 minutes
Starch: 15 minutes
Vegetable: 15 minutes
When the fish is done cooking, carefully remove the protein pan from your Suvie, pour off the water, and remove fish from vacuum bags.
Season green beans with salt and pepper to taste. Fluff the rice with a fork and season with salt to taste. Divide rice and green beans evenly between four plates. Top rice with fish fillets and spoon curry around the rice.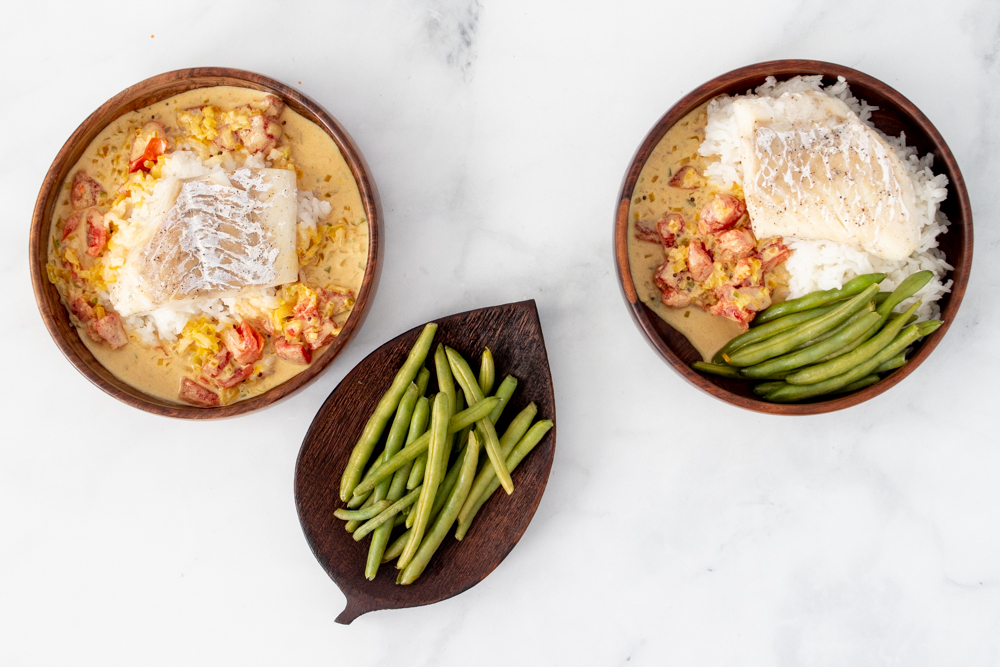 Note: You can make this recipe a scheduled cook by preparing the sauce just before serving. While the fish, green beans, and rice cook, heat the mustard seeds in a large saucepan over medium heat. When the mustard seeds begin to pop, add 1 tbsp vegetable oil, onion, garlic, serrano chili, and ½ tsp salt. Cook for 5 minutes, or until the onion is softened. Add the curry powder, and cook stirring frequently until fragrant, about 1 minute. Add the drained tomatoes, coconut milk, and cider vinegar, and bring to a boil. Reduce heat to medium-low and simmer for 10 minutes until slightly thickened. Season with salt and pepper to taste.
Wine Pairing
When it comes to fish curry you can't go wrong with sweet wines like Riesling or Gewürztraminer. These wines will balance out the spice in the dish and bring out some of the sweeter notes. If you prefer sparkling wine try pairing this dish with a glass of Prosecco.