This vegetarian chili is a hearty, rib-sticking meal packed with tons of flavor. Poblano peppers are not overly spicy, but they are very flavorful and add a lot of depth to this dish. Cumin and dried oregano are classic chili spices, and a dash of red pepper flakes kicks up the heat a notch. A quick broil of the veggies and spices helps to unlock their fragrance, and softens the onion and garlic. This chili is served over quinoa, a fantastic ancient grain that's packed with high quality protein. Garnish with a little sour cream for added richness and scallion for a pop of color.
Note: do not add water to your reservoir before broil step
Black Bean Chili
Please always check your food to ensure your food has been cooked to safe serving temperatures. Please see our guide
here
for recommended FDA Time & Temperatures.
Ingredients
15.5 oz can black beans
14.5 oz can diced tomatoes
1 poblano pepper
1 small onion
2 garlic cloves
1 tbsp cumin
1 tbsp sweet paprika
1 tsp dried oregano
¼ tsp red pepper flakes
½ cup quinoa
Sour cream and scallions for garnish
Directions
Peel the onion and garlic. Finely dice the onion and mince the garlic. Remove the core and stem from the poblano pepper and discard, finely dice the pepper. In a Suvie pan, stir to combine the onion, garlic, poblano, cumin, paprika, oregano, red pepper flakes, 1 tbsp vegetable oil, and 1/2 tsp salt.
*Do not add water to your reservoir before broil step* Broil for 10 minutes, stirring once halfway through so that the onion and garlic are softened and fragrant (Note: you can also complete this step by sautéing for a few minutes in a skillet).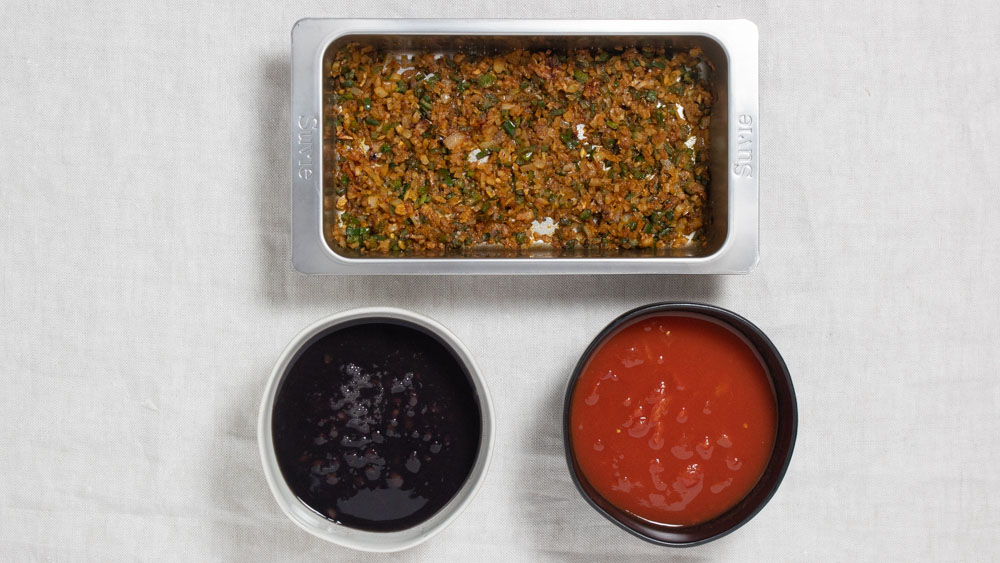 Add the diced tomatoes and black beans with their liquid to the pan. Stir to combine and adjust seasoning to taste.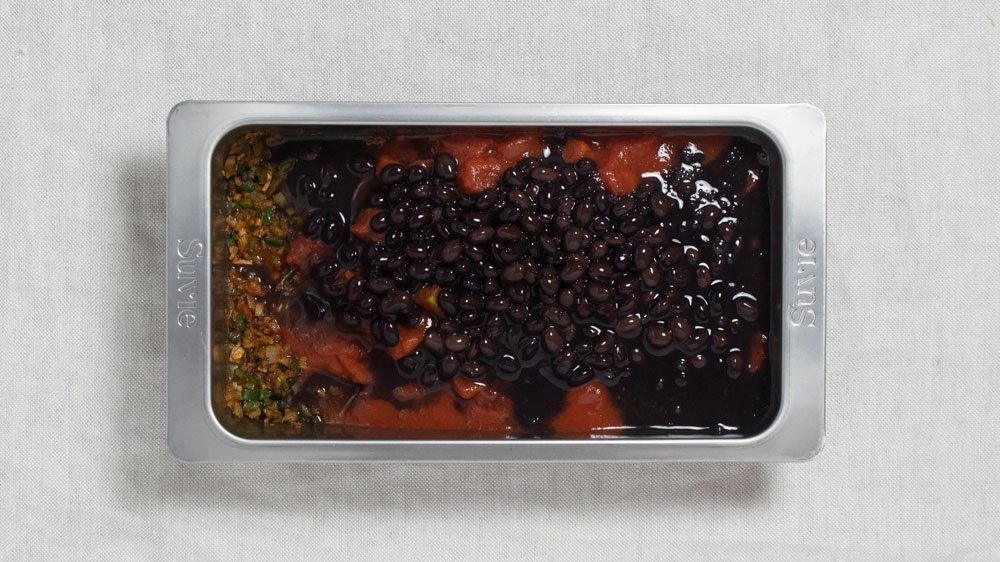 Add the quinoa and 1 tsp salt to the starch pan. Load the black bean chili in the protein slot, and place the starch pan in the boiler. Enter the Slow Cook settings and schedule the cook.
Slow Cook Settings
Protein: LOW, 2 hr
Starch: 15 min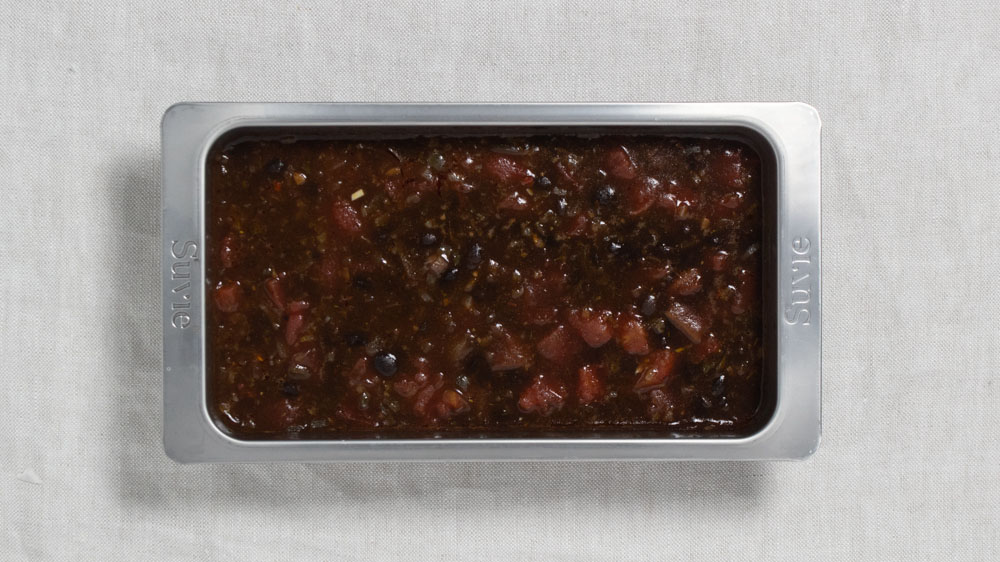 After the cook fluff the quinoa and adjust seasoning to taste. Stir the black bean chili and add more salt and pepper as necessary. Serve the chili over the quinoa and garnish with sour cream and sliced scallions. Bon appetit!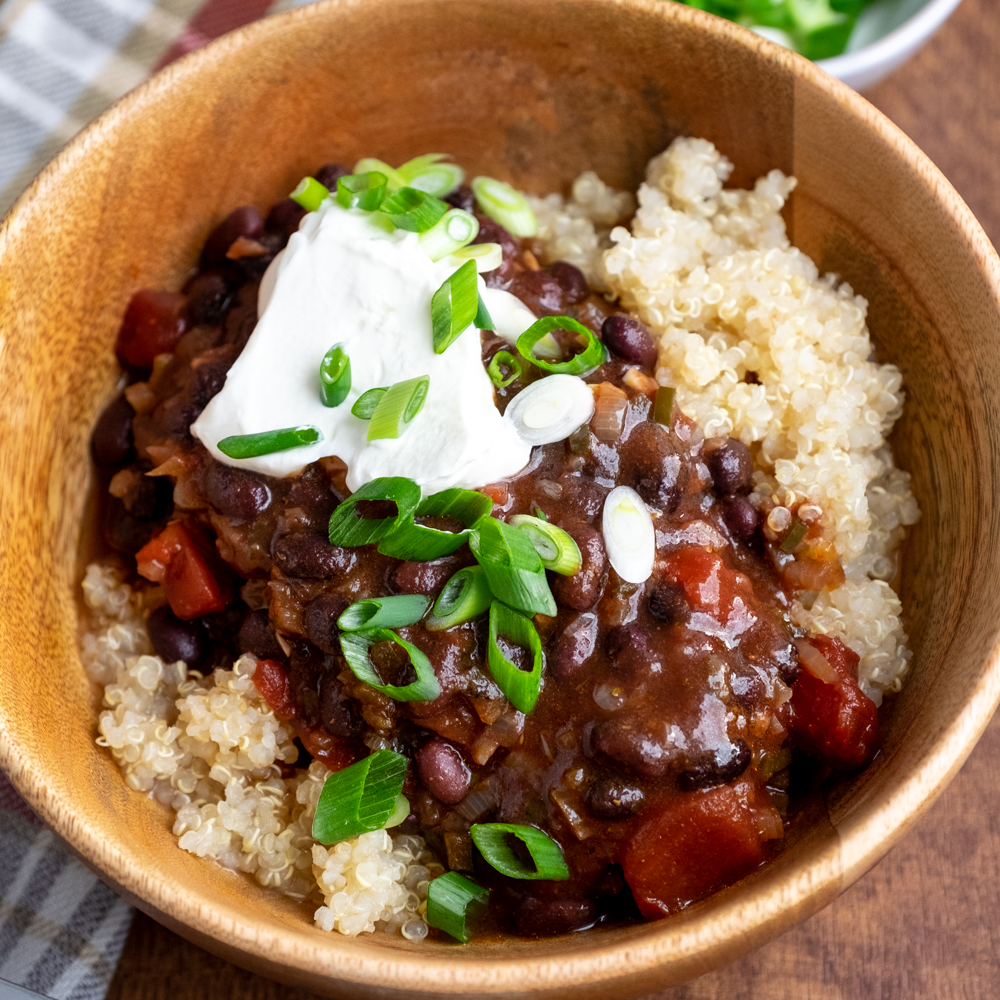 Wine Pairing
Red wines that have a fair amount of acidity and tannins tend to pair well with chili. Robust reds like Malbec, Tempranillo, and Shiraz wont be overwhelmed by the heartiness of the dish and will compliment the cumin and chili in the recipe.